These Super Bowl Appetizer recipes will provide you with tons of options to bring your game day snacking to the next level! From the classics like chicken wings and meatballs, to cheesy dips and sandwiches, you and your guests will have plenty of fuel to get through to the final score.
Are you ready for the big game? No game day is complete without party snacks, and I've got the ultimate list here with 45 of the very best Super Bowl appetizer recipes!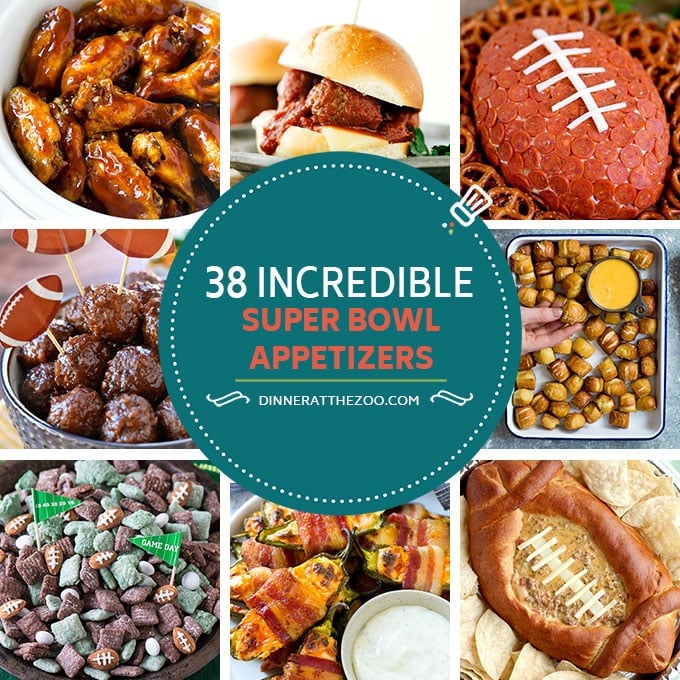 It's almost game day! Did you know the Super Bowl is one of the top times of the year people plan a gathering? So, what do you serve at a Super Bowl party? Hearty finger foods and dips are often the go-to choices.
From recipes shaped like footballs or even an actual stadium, people all over the country really get into their Super Bowl parties. The basic idea is to have a variety of different food options but with easy cleanup. A great combination would be a few dips, the main meat dish, and some healthy-ish sides that are bite-sized.
Still wondering what to serve? Here are my top 45 Incredible Super Bowl Appetizer Recipes. Feel free to use any of these and enjoy your festivities.
For even more appetizer ideas follow my Appetizers Board on Pinterest.
45 Incredible Super Bowl Appetizer Recipes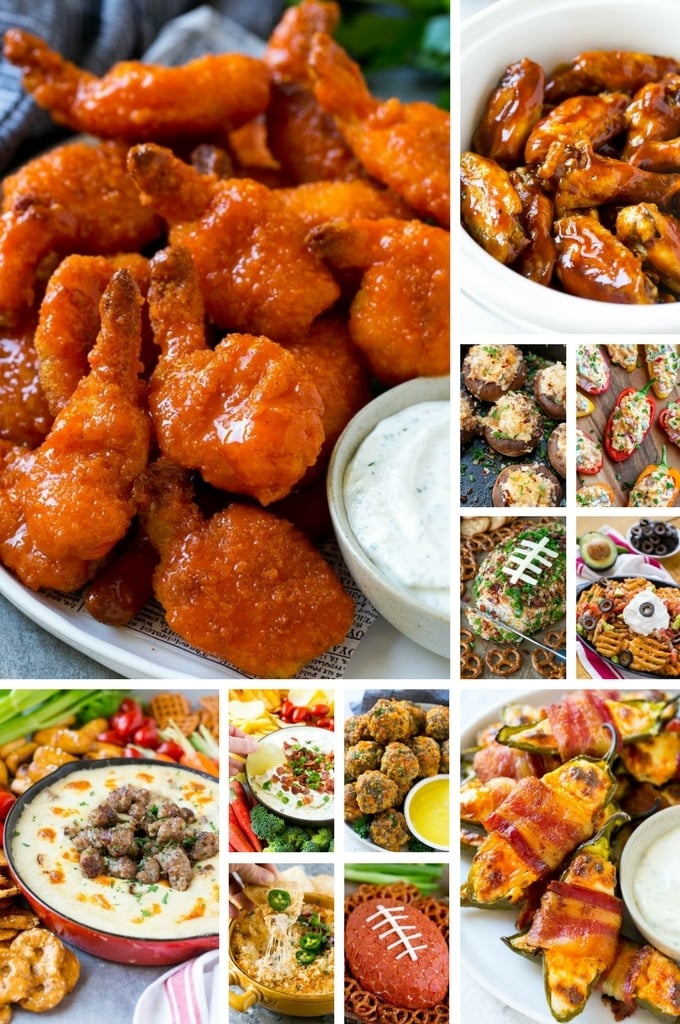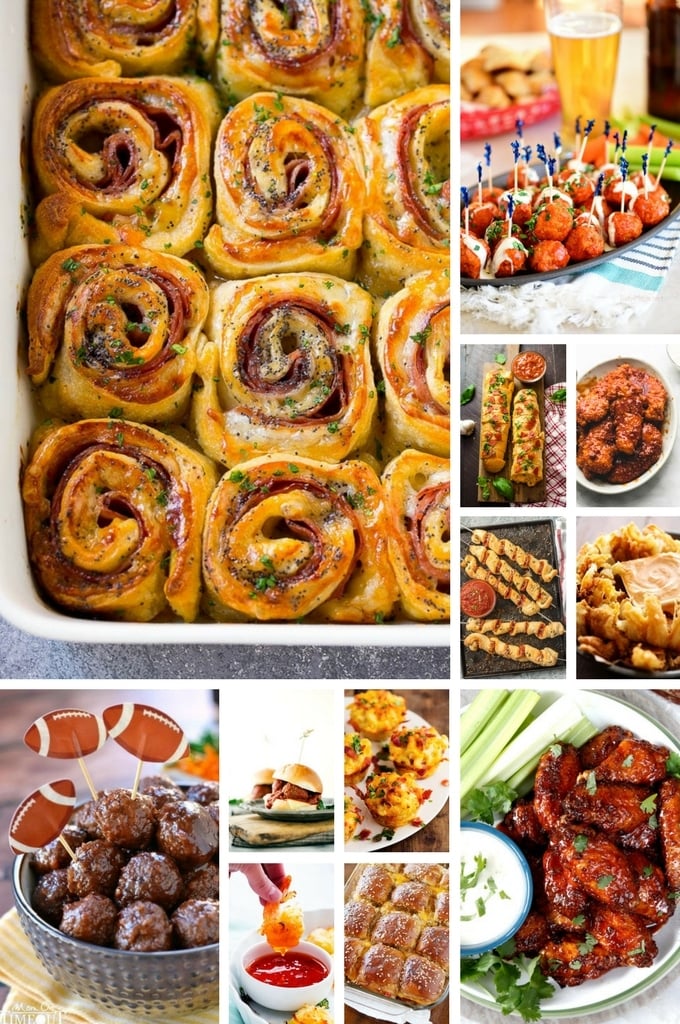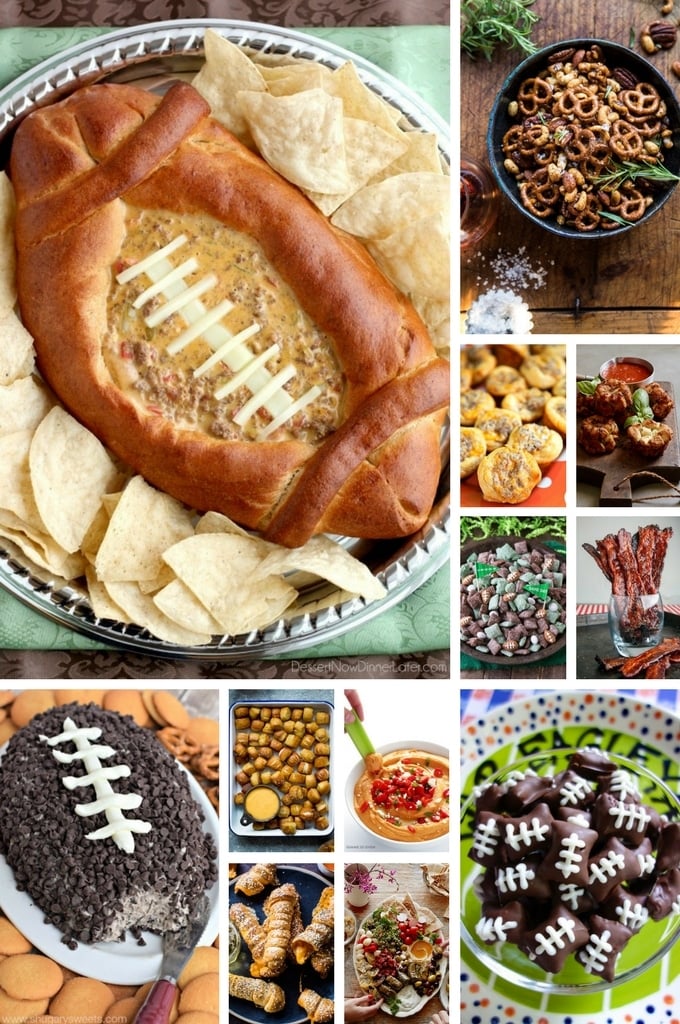 Little smokies were just meant for parties! They're so fun for snacking and I love that they're pre-cooked so you don't need to watch over them waiting for them to cook to a certain temperature. These slow cooker little smokies take just 5 minutes to prepare – fill up your crock pot with sausages, pour a sauce over them, then turn on the heat until you're ready to snack!
Slow Cooker Little Smokies
Serves 6-8
2 packages little smokies (they typically come in 14-16 ounce packages)
1 1/2 cups barbecue sauce
1/2 cup brown sugar
1/2 cup ketchup
1 tablespoon worcestershire sauce
1/2 teaspoon onion powder
1/4 teaspoon garlic powder
Place the little smokies in a slow cooker.
In a small bowl, whisk together the barbecue sauce, brown sugar, ketchup, worcestershire sauce, onion powder and garlic powder.
Pour the sauce over the little smokies, stir to combine.
Cook on LOW for at least 2 hours or until ready to serve.