These candied yams are sweet potatoes tossed in brown sugar, butter and spices, then baked until caramelized. Add a sprinkle of marshmallows and you've got the perfect holiday side dish with minimal effort!
Every holiday meal must include sweet potatoes. When I'm in charge of Thanksgiving dinner, I often make Ruth's Chris sweet potato casserole, mashed sweet potatoes, or these sweet and decadent candied yams.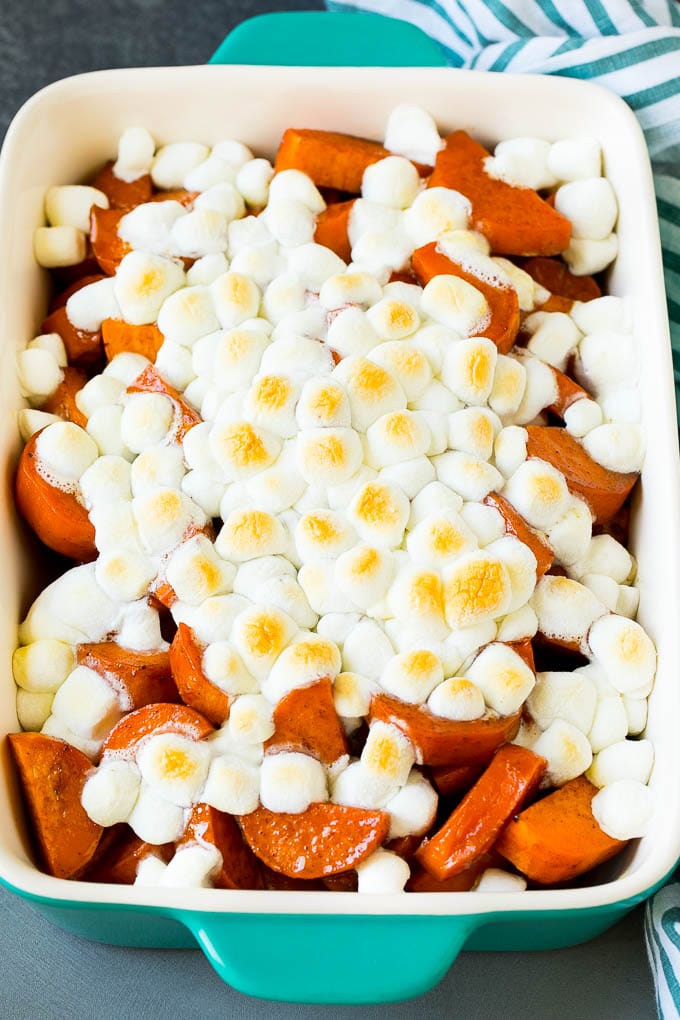 Candied yams are a holiday staple for good reason – they're elegant, easy to make and taste absolutely delicious. This dish is the perfect way to showcase sweet potatoes, whether it's for a special occasion or a simple weeknight dinner.
How do you make candied yams?
To make candied yams you want to find some yams with a nice, orange interior. Peel the yams, then dice them up into small rounds or chunks and place them in a baking dish. Make the delicious sauce that "candies" the yams by whisking together brown sugar, butter, cinnamon and salt. Make sure to add the secret ingredient, a little nutmeg.
Pour the sauce over the yams and toss gently until they are fully coated. Bake everything up until the yams are tender and caramelized. The finishing touch is a handful of miniature marshmallows, then you'll be ready to eat and enjoy!
Tips for candied yams
I like to choose long, thinner sweet potatoes because they are easier to cut into similar size pieces.
Make sure you cut your yams into even sized pieces so they cook at the same rate.
This dish is best served immediately upon coming out of the oven when the marshmallows are nice and hot.
If you need to feed a larger crowd, you can double or even triple the recipe.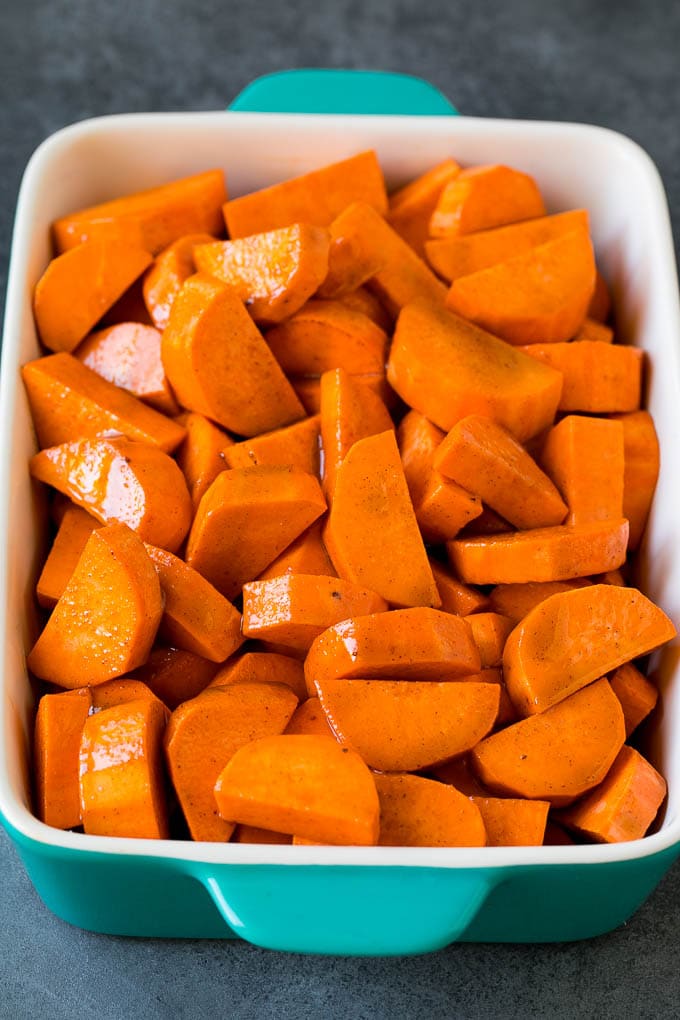 Candied sweet potato variations
Candied yams can be made a number of ways for any holiday or dinner. Here are some fun variations.
You can omit the marshmallows and just enjoy the flavor of the brown sugar sauce.
Feel free to add chopped nuts like pecans or walnuts. You can sprinkle the nuts on top of the yams or mix them into the dish.
Instead of marshmallows, try a streusel topping. You can make a quick streusel by mixing in a bowl 1/2 cup of packed brown sugar, 1/2 cup of flour, 4 tablespoons of melted butter and 1/4 cup of chopped pecans. Mix everything in the bowl until if forms crumbles. Place those crumbles on the yams before they are baked and you will get a warm, browned streusel topping.
Add extra flavor with a squeeze of orange juice or fresh orange zest. You can also add more spices such as allspice or ground ginger.
What is the difference between a sweet potato and a yam?
Yams in the grocery store are sweet potatoes. Sweet potatoes come in different colors and shapes. Sometimes grocery stores label the orange fleshed sweet potatoes as yams. However, there is a difference between sweet potatoes and true yams. A true yam is a root vegetable found in Africa and Asia with a rough, brown skin. You do not want to use a true yam for this recipe, you will not get the same results.
Feel free use any orange or red fleshed sweet potato for this recipe. I like to use the jewel or garnet varieties of sweet potatoes for this dish.
Are yams good for you?
Yams are full of nutrients especially vitamins A, B5, B6, potassium and manganese. They contain fiber and are not particularly high calorie. Yams may have a positive impact on digestion due to the fiber as well as a benefit to your eye sight from the vitamin A. Yams can be part of a healthy diet.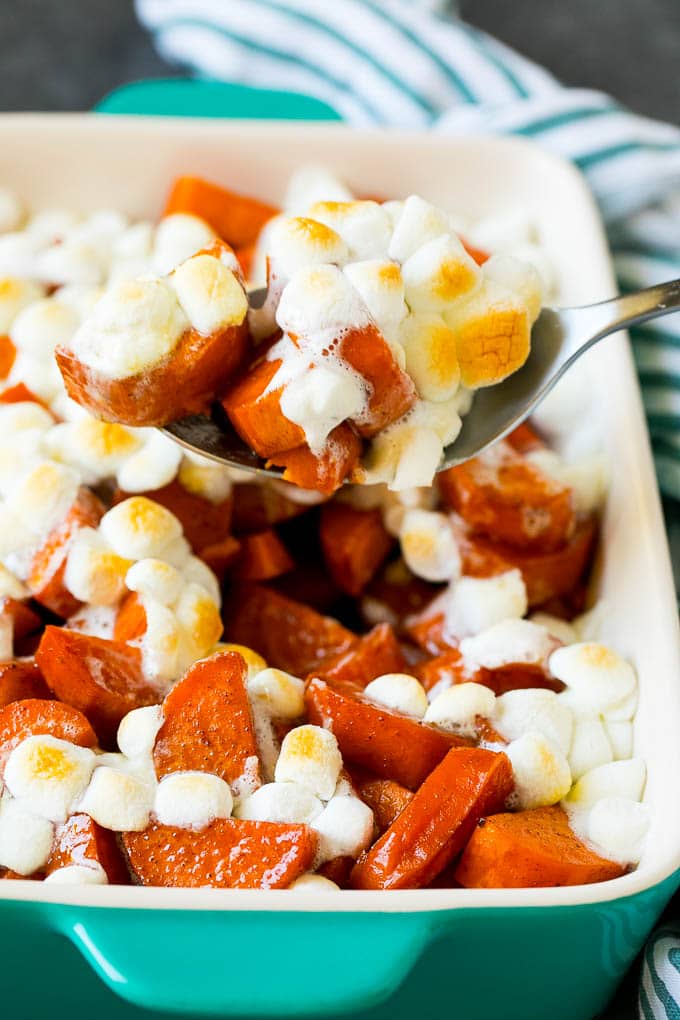 Make Ahead Instructions
This recipe can be partially prepared in advance to make things go a little easier when you're entertaining. You can coat the uncooked yams in the butter and brown sugar mixture, then store them in a covered bowl in the refrigerator for up to 8 hours. Pour the yams into the baking dish and proceed with the rest of the recipe as directed. The butter mixture may solidify in the fridge, but that's totally fine. The other option is to coat the potatoes in the brown sugar and butter, then bake them as directed, cool and reheat later. You'll want to add the marshmallows when you reheat them, not during the initial baking. The yams may have a softer texture if they're baked then reheated since they're essentially being cooked twice.
Candied yams is a classic dish that is great for holidays, special occasions or any time you want a particularly fabulous dinner. If you love sweet potatoes, you'll adore this recipe!
More delicious side dish recipes
Candied Yams Video
Candied Yams
These candied yams are sweet potatoes tossed in brown sugar, butter and spices, then baked until caramelized. Add a sprinkle of marshmallows and you've got the perfect holiday side dish with minimal effort!
Ingredients
4

pounds

sweet potatoes

peeled, halved and cut into 1 inch pieces

2/3

cup

dark brown sugar

packed

6

tablespoons

unsalted butter

melted

1

teaspoon

cinnamon

1/2

teaspoon

salt

1/8

teaspoon

nutmeg

2

cups

miniature marshmallows

cooking spray
Instructions
Preheat the oven to 400 degrees F. Coat a 9x13 inch pan or 3 quart baking dish with cooking spray.

Place the sweet potatoes in an even layer in the dish.

In a small bowl, whisk together the brown sugar, butter, cinnamon, salt and nutmeg.

Pour the brown sugar mixture over the sweet potatoes. Toss to coat them evenly in the sauce.

Bake the yams for 30-40 minutes, stirring every 15-20 minutes, until tender and caramelized.

Sprinkle the marshmallows over the top, and bake for another 5 minutes or until marshmallows are melted and browned. Serve immediately.
Nutrition
Calories:
381
kcal
|
Carbohydrates:
74
g
|
Protein:
4
g
|
Fat:
9
g
|
Saturated Fat:
5
g
|
Cholesterol:
23
mg
|
Sodium:
286
mg
|
Potassium:
789
mg
|
Fiber:
7
g
|
Sugar:
34
g
|
Vitamin A:
32438
IU
|
Vitamin C:
5
mg
|
Calcium:
88
mg
|
Iron:
2
mg
This post was published on September 10, 2019 and was updated on September 30, 2021 with new content.