The best chicken meatballs baked until golden brown and flavored with garlic, herbs and spices. These meatballs are great served as an appetizer, or over a big plate of spaghetti.
My family loves meatballs, I often make their favorite versions including slow cooker meatballs, sweet and sour meatballs, and this lighter chicken version.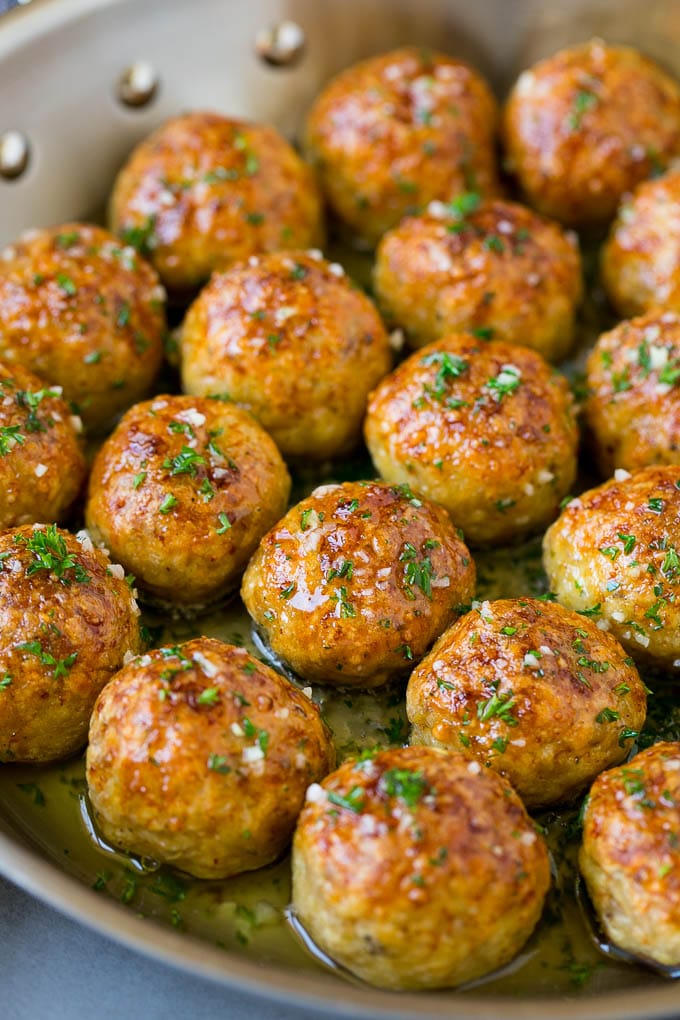 My family loves meatballs, and these tender and juicy chicken meatballs are their all-time favorite. Chicken meatballs are a little lighter than their beef counterparts, but they're still plenty flavorful and are super easy to prepare.
How do you make chicken meatballs?
To make chicken meatballs, place ground chicken, eggs, breadcrumbs, Parmesan cheese, olive oil and seasonings in a large bowl. Mix everything thoroughly, then roll 1 inch balls out of the mixture.
Place the uncooked meatballs on a foil lined sheet pan and they are ready to bake. Put them in the oven until the meatballs are golden brown and cooked through. Add a sprinkle of parsley, then serve and enjoy.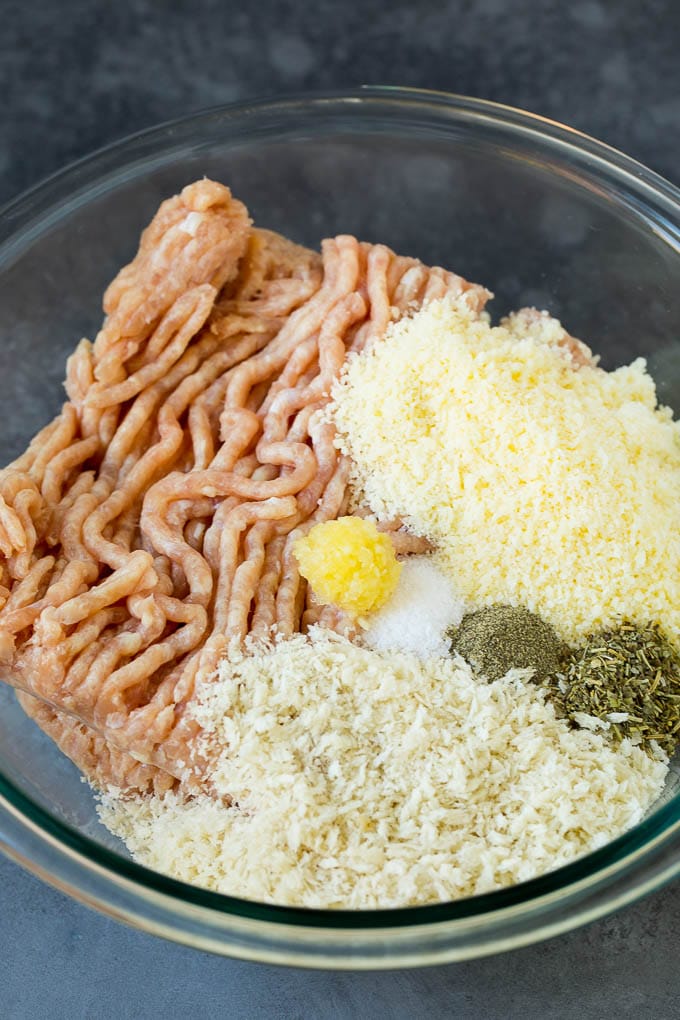 Tips for chicken meatballs
You can use ground turkey instead of ground chicken with great results.
When you select your ground chicken, pick 93-96% lean ground chicken. Avoid 99% lean ground chicken breast.
I like to serve these meatballs in garlic butter sauce. To make garlic butter sauce, simply cook in a pan 4 tablespoons of butter, 1 teaspoon of garlic, 2 tablespoons of fresh chopped parsley and a little salt and pepper to taste. You can also serve these meatballs in marinara sauce or with marinara sauce for dipping.
Try putting a little cooking oil on your hands when you form the meatballs. That helps keep the meat from sticking to you and gives you smoother meatballs.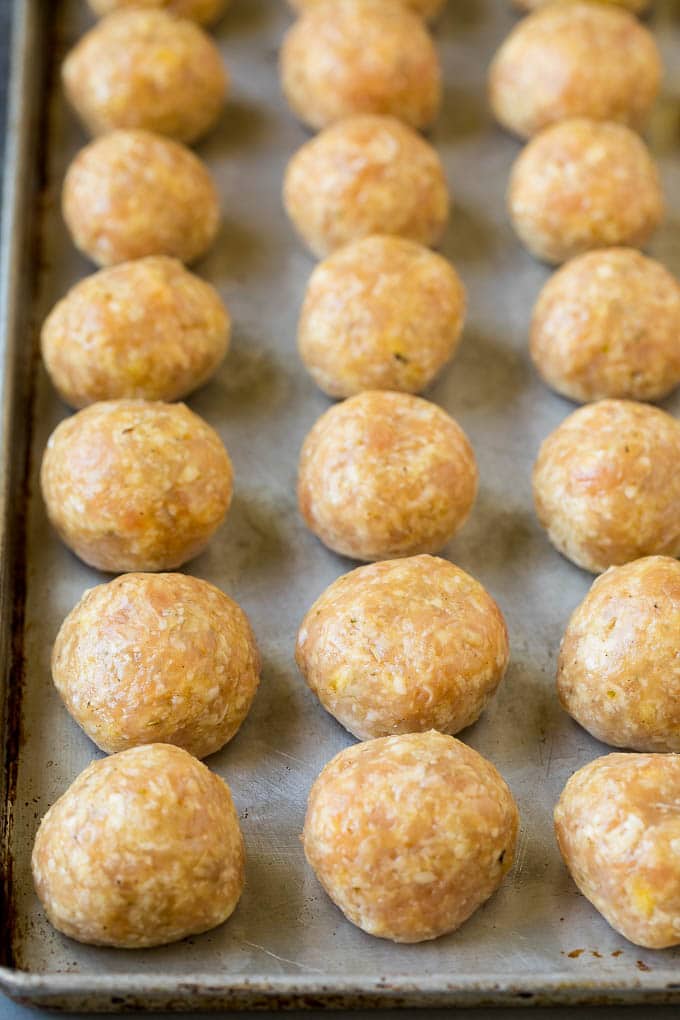 How do you keep meatballs moist?
There are a few tricks to keep your meatballs moist.
Make sure you add the olive oil indicated in this recipe.
Mix the meatballs thoroughly so the eggs and bread crumbs are evenly distributed.
Use chicken meat that is 93-95% lean so that the meat has moisture.
Don't over bake the meatballs. Take them out of the oven when they are cooked through and the tops are browned.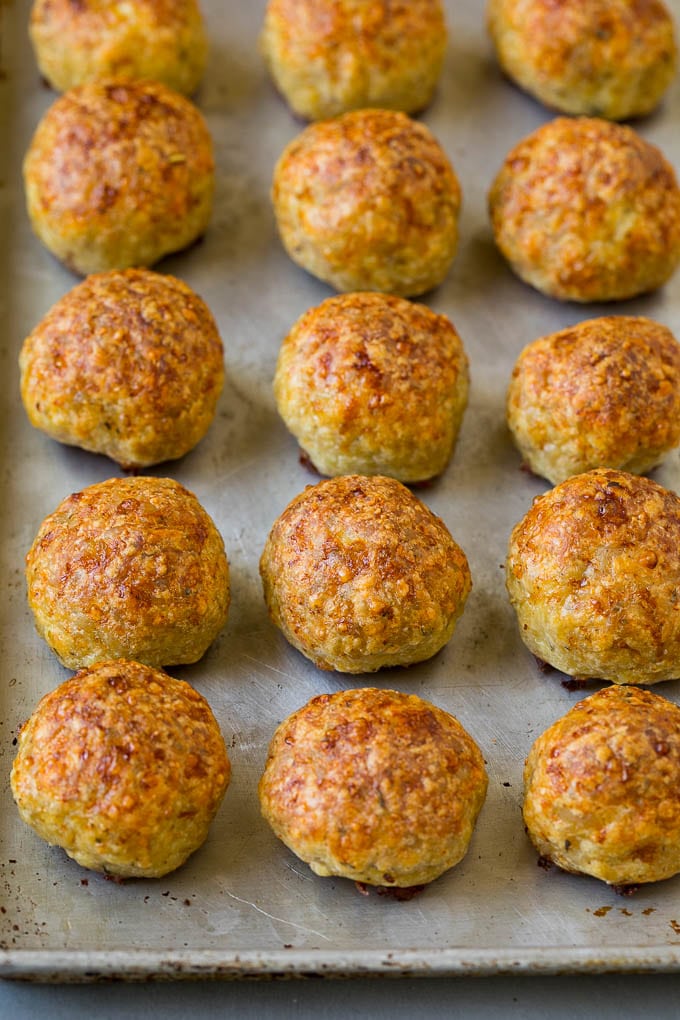 Chicken meatball variations
These chicken meatballs are fantastic because they can be used in practically any sauce or modified as you like. Here are some changes you can try.
Greek style: Add 1/2 cup chopped cooked spinach and substitute feta cheese for the parmesan cheese.
Cheese lovers: Add 1/2 cup each of shredded mozzarella and cheddar cheese to the meatballs.
Mexican: Omit the Italian seasoning, instead use 1 tablespoon of chili powder. Use shredded cheddar cheese instead of parmesan cheese. Sprinkle a little cilantro over the top of the meatballs when serving them instead of parsley.
Bacon: Try adding 1/2 cup of cooked crumbled bacon to the meatballs.
Stuffed meatballs: Put a 1/2 inch cube of mozzarella cheese inside each meatball. The cheese will be melted and gooey when you cut the meatballs open.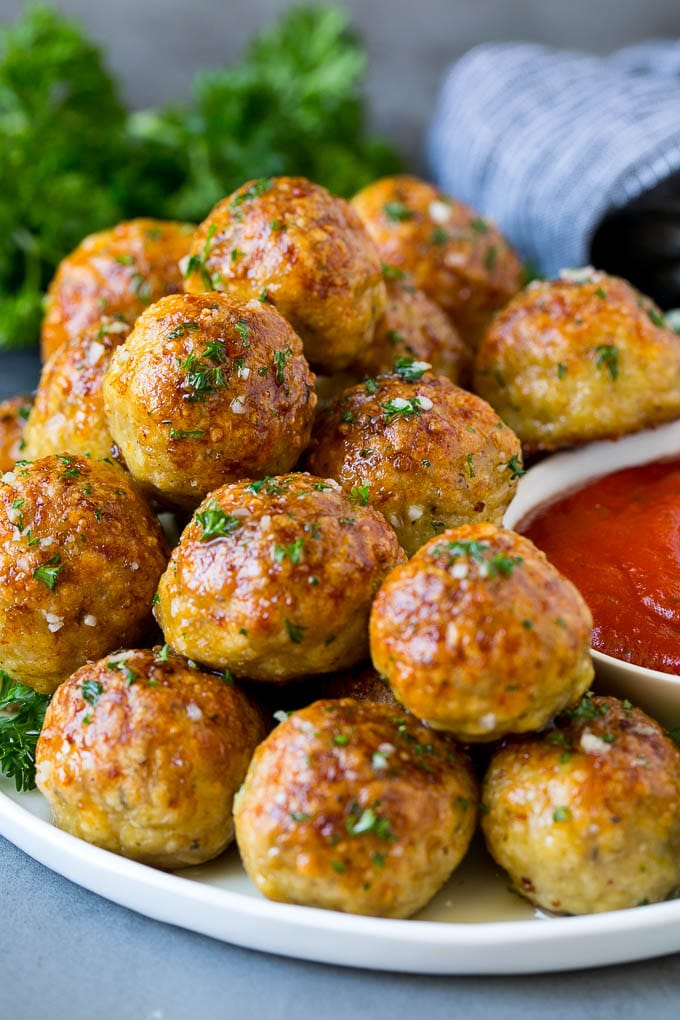 These chicken meatballs bake up browned on the outside and moist on the inside. They work perfectly in pasta, as a pizza topping, in a meatball sandwich, or as a party snack. The possibilities are endless!
More meatball recipes you'll love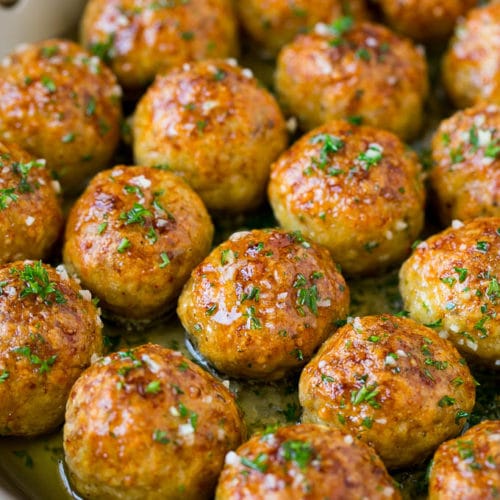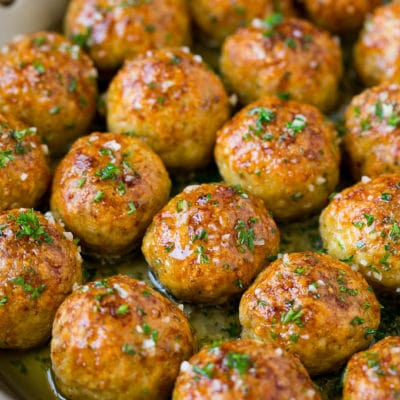 The best chicken meatballs baked until golden brown and flavored with garlic, herbs and spices. These meatballs are great served as an appetizer, or over a big plate of spaghetti.
Ingredients
2

pounds

ground chicken

96% lean

1

egg

1

cup

panko breadcrumbs

1/2

cup

grated parmesan cheese

2

tablespoons

olive oil

1

teaspoon

minced garlic

1

teaspoon

salt

1/2

teaspoon

pepper

1

teaspoon

dried Italian seasoning

cooking spray

1

tablespoon

chopped parsley
Instructions
Preheat the oven to 400 degrees F. Line a sheet pan with foil, and coat the foil with cooking spray.

Place the ground chicken, eggs, breadcrumbs, parmesan cheese, olive oil, garlic, salt, pepper and Italian seasoning in a bowl. Mix until thoroughly combined.

Roll 1 inch sized meatballs, and place the meatballs in a single layer on the baking pan.

Bake for 20 minutes, or until meatballs are browned and cooked through. Sprinkle with parsley, then serve.
Nutrition
Calories:
310
kcal
|
Carbohydrates:
6
g
|
Protein:
29
g
|
Fat:
19
g
|
Saturated Fat:
5
g
|
Cholesterol:
185
mg
|
Sodium:
554
mg
|
Potassium:
824
mg
|
Fiber:
1
g
|
Sugar:
1
g
|
Vitamin A:
80
IU
|
Vitamin C:
0.2
mg
|
Calcium:
36
mg
|
Iron:
2
mg