A guide to creating the best cheese board with a variety of different cheeses, crackers, fruit and accompaniments. An easy and impressive appetizer for any gathering, and this one always gets rave reviews!
When I'm entertaining, I like to put out an assortment of party snacks including sausage balls, a fresh and colorful veggie tray, and a cheese board.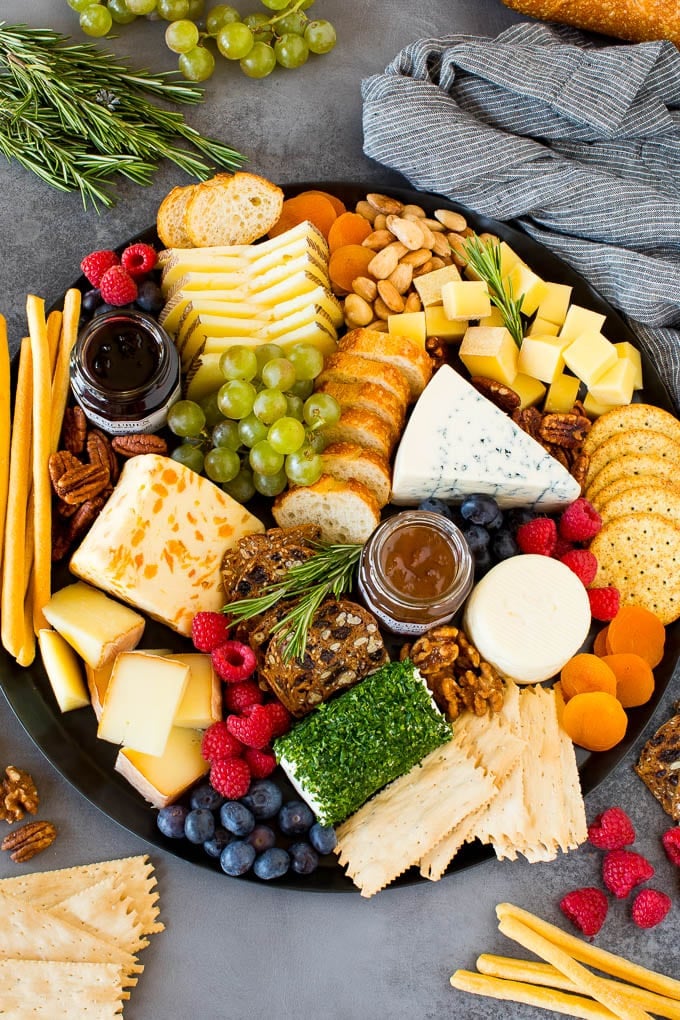 You can never go wrong with a cheese board, it's the perfect way to feed a crowd with minimal effort. My version includes plenty of cheese of course, along with some sweet and savory garnishes that truly enhance the flavor of the cheese.
How do you make a cheese board?
Start by arranging your pieces of cheese on a large platter or board. You can keep some of the pieces whole, slice others, or even make a pile of cheese cubes. Arrange crackers, honey or jams, fruit, bread and nuts around the cheeses. Garnish with fresh herbs such as rosemary or parsley, then serve and enjoy.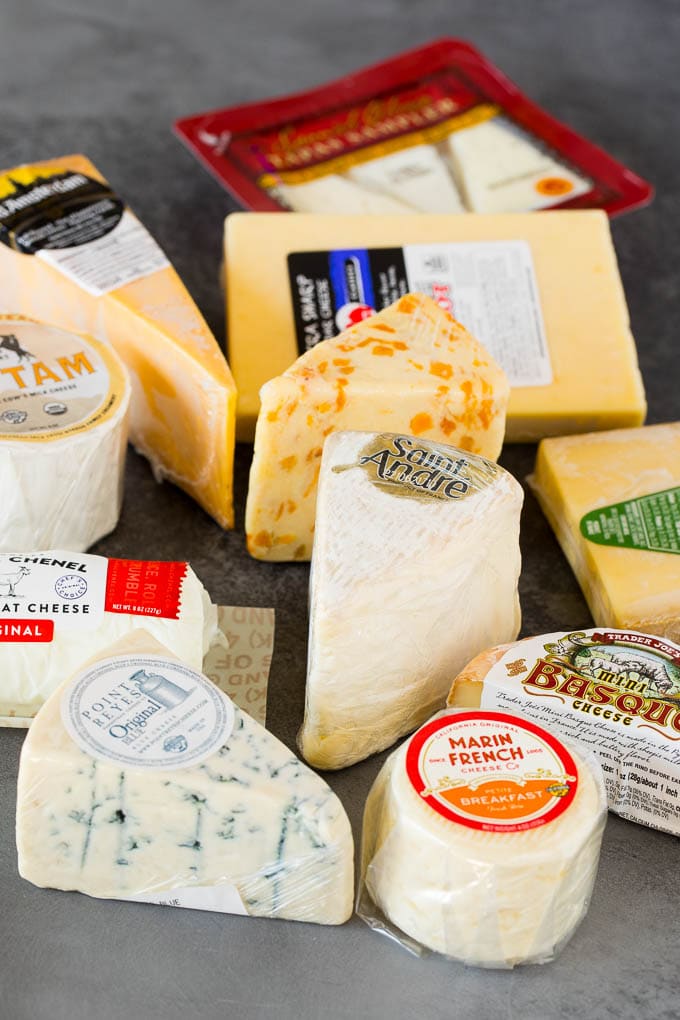 What should go on a cheese board?
The most important part of a cheese board is, of course, the cheese! You want offer a variety of types of cheese, to provide plenty of different flavors and textures including one from each of the following categories.
Soft: Brie, Camembert, Boursin, Goat, Burrata
Hard: Parmigiano-Reggiano, Manchego, Comte, Gruyere, Mimolette
Aged: Vintage Cheddar, Grana Padano, Gouda
Blue: Cambozola, Stilton, Roquefort, Gorgonzola.
You should also serve crackers or bread alongside your cheese.
Breadsticks: I like to offer sesame breadsticks, olive oil breadsticks or cheese straws on my board.
Crackers: Put out a few different types such as water crackers, buttery crackers, multigrain crackers and flatbread crackers.
Bread: Try adding some sliced baguette, toasted crostini or even strips of focaccia to your platter.
Fruits, nuts and spreads are also cheese board essentials.
Fruit: I prefer to use a mix of both dried and fresh fruit. Good fresh fruit options include berries, apples, grapes and pears. For dried fruit, try dried apricots, pears or cranberries.
Nuts: Use a few varieties for the best results. I always include candied pecans because I think they pair well with most cheeses. Other great options are roasted almonds, cashews and pistachios.
Spreads: It is very common to offer sweet spreads with cheese such as fig jam, berry jam or honey. I also like to put out savory options such as olive tapenade.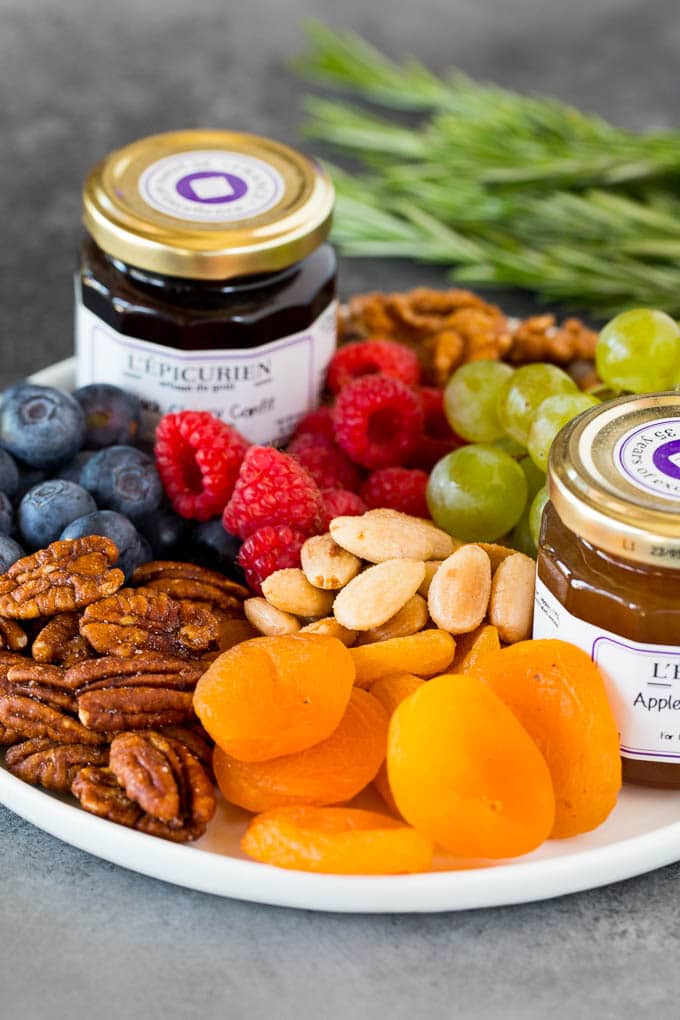 Tips for the perfect party tray
Most cheeses taste best after they've had a chance to sit at room temperature for about 20 minutes.
The platter can be prepared up to 8 hours before you plan to serve it. Cover everything tightly with plastic wrap, then store in the refrigerator. Let it come to room temperature before serving.
It's helpful to label the cheeses so that your guests know what they're eating!
Be sure to put out plenty of serving implements such as knives and spreaders so that it's easy for people to serve themselves.
Many grocery stores have a higher end cheese selection these days. I find that you can locate a better assortment of cheeses in the deli area instead of the dairy aisle.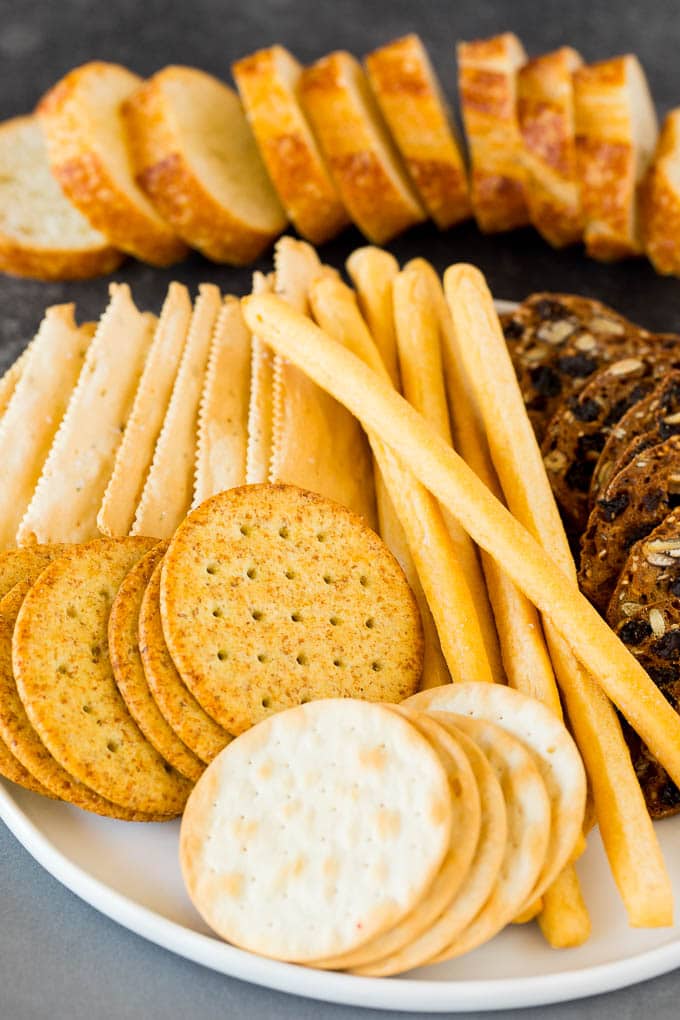 What can you put on a cheese platter besides cheese?
A standard cheese board contains cheeses, crackers, fruit and nuts. You really can take this concept though and turn it into more of a charcuterie or snacking board with a variety of additions.
Meats: Add in some cured meats such as salami, pepperoni, prosciutto or coppa.
Vegetables: Use fresh or pickled veggies including cucumber, cherry tomatoes, cornichon pickles or pickled green beans.
Antipasto: Make it Italian style with roasted Roma tomatoes, marinated mushrooms, grilled artichoke hearts and roasted bell peppers.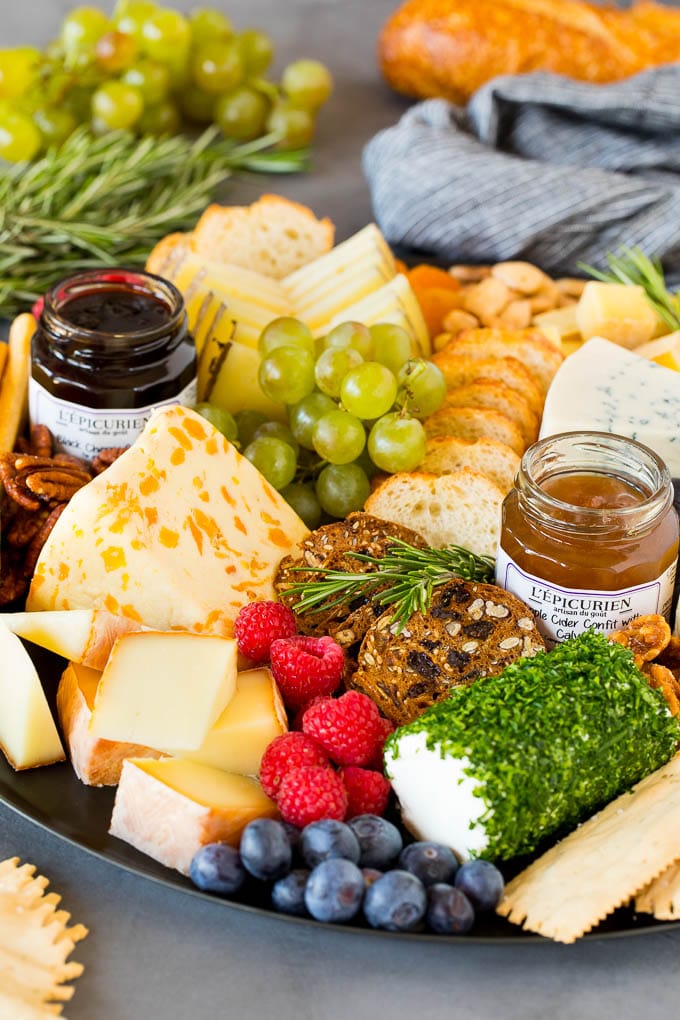 No matter what you choose to put on your cheese platter, it's sure to be a huge hit!
More recipes you might enjoy
Cheese Board Video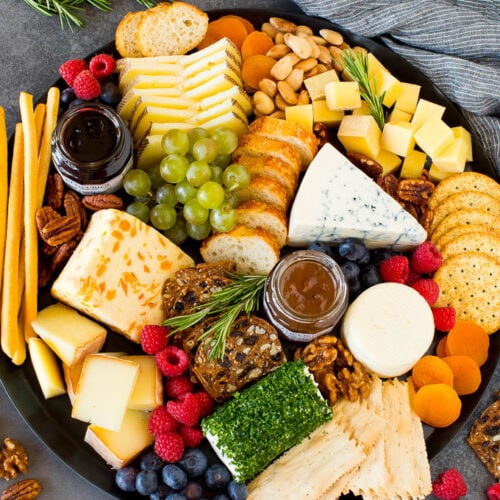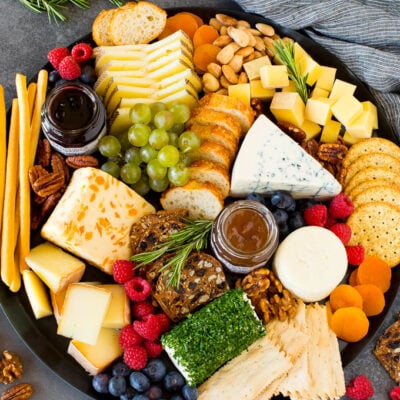 A guide to creating the best cheese board with a variety of different cheeses, crackers, fruit and accompaniments. An easy and impressive appetizer for any gathering, and this one always gets rave reviews!
Ingredients
8

ounces

aged cheese

cheddar, gouda

8

ounces

blue cheese

gorgonzola, stilton

8

ounces

soft cheese

goat cheese, brie

8

ounces

hard cheese

parmigiano-reggiano, comte

1

cup

fresh fruit

berries, sliced apples or pears

1/2

cup

dried fruit

apricots, cranberries

16

ounces

assorted bread

baguette slices, breadsticks, crackers

3/4

cup

nuts

candied pecans, almonds, pistachios

1-2

small jars

honey or jam

fresh herbs for garnish
Instructions
Arrange all the ingredients on a large board or platter. Garnish with fresh herbs. Let the cheese sit at room temperature for 20 minutes, then serve.

If you want to make this platter in advance, assemble everything on the board except the bread products and fresh herbs. Cover and refrigerate for up to 8 hours. Remove from the refrigerator, uncover, and add bread and herbs. Let stand for 20 minutes, then serve.
Nutrition
Calories:
282
kcal
|
Carbohydrates:
10
g
|
Protein:
14
g
|
Fat:
22
g
|
Saturated Fat:
11
g
|
Cholesterol:
48
mg
|
Sodium:
503
mg
|
Potassium:
174
mg
|
Fiber:
3
g
|
Sugar:
3
g
|
Vitamin A:
1503
IU
|
Vitamin C:
2
mg
|
Calcium:
347
mg
|
Iron:
1
mg