These grape jelly meatballs are homemade meatballs tossed in a two ingredient sauce and slow cooked to perfection in the crock pot. A quick and easy appetizer or dinner option that always gets rave reviews!
When it's time for a party, you simply can't have too many appetizers. Some of my favorite party snacks include garlic parmesan wings, savory bacon wrapped water chestnuts, fresh and colorful black bean and corn salsa, and these classic grape jelly meatballs.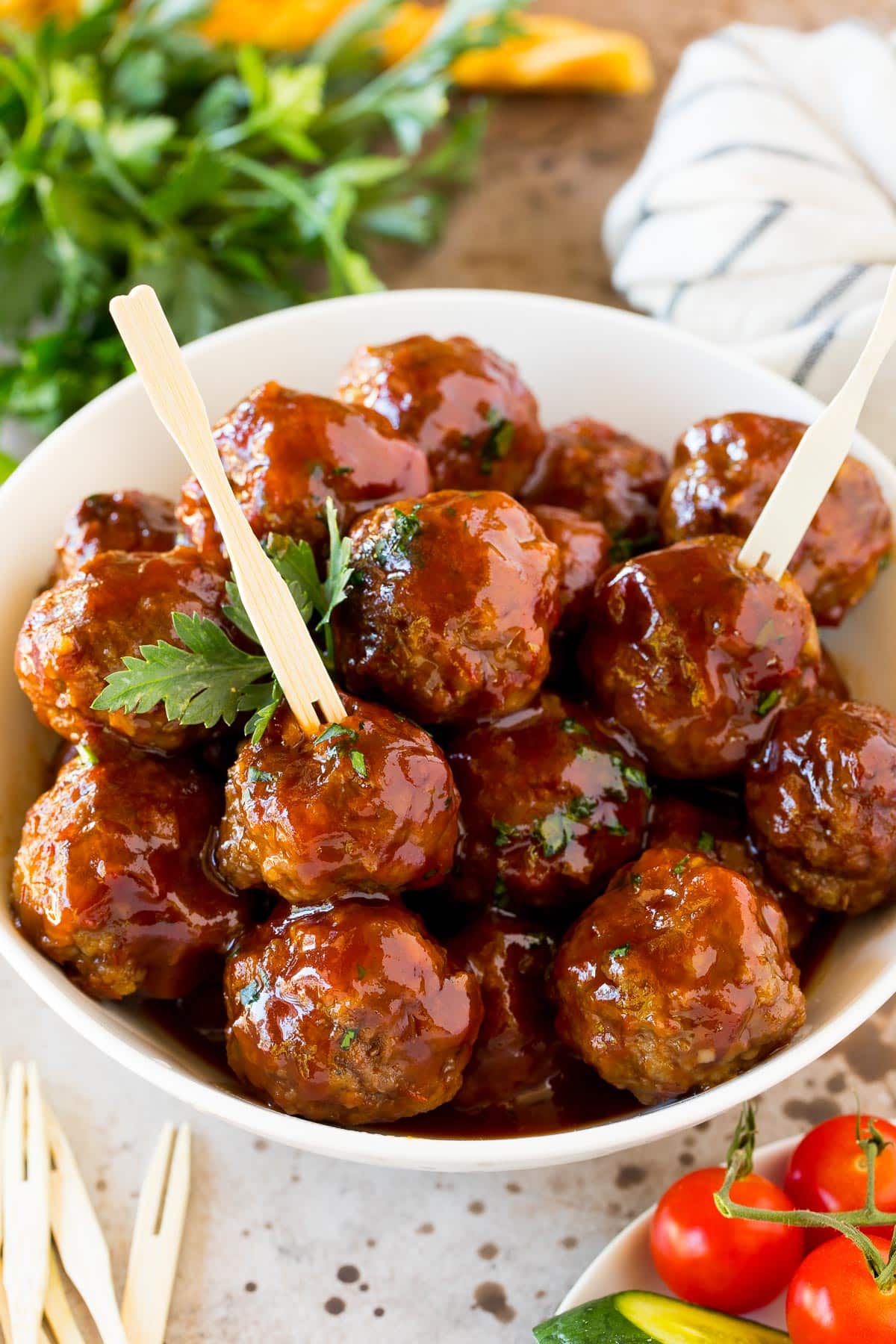 Grape jelly meatballs are a ubiquitous appetizer that can be found at parties, potlucks and many other gatherings. The great thing about this recipe is that it takes just minutes to put together, and can easily be doubled or tripled for a crowd.
Meatball ingredients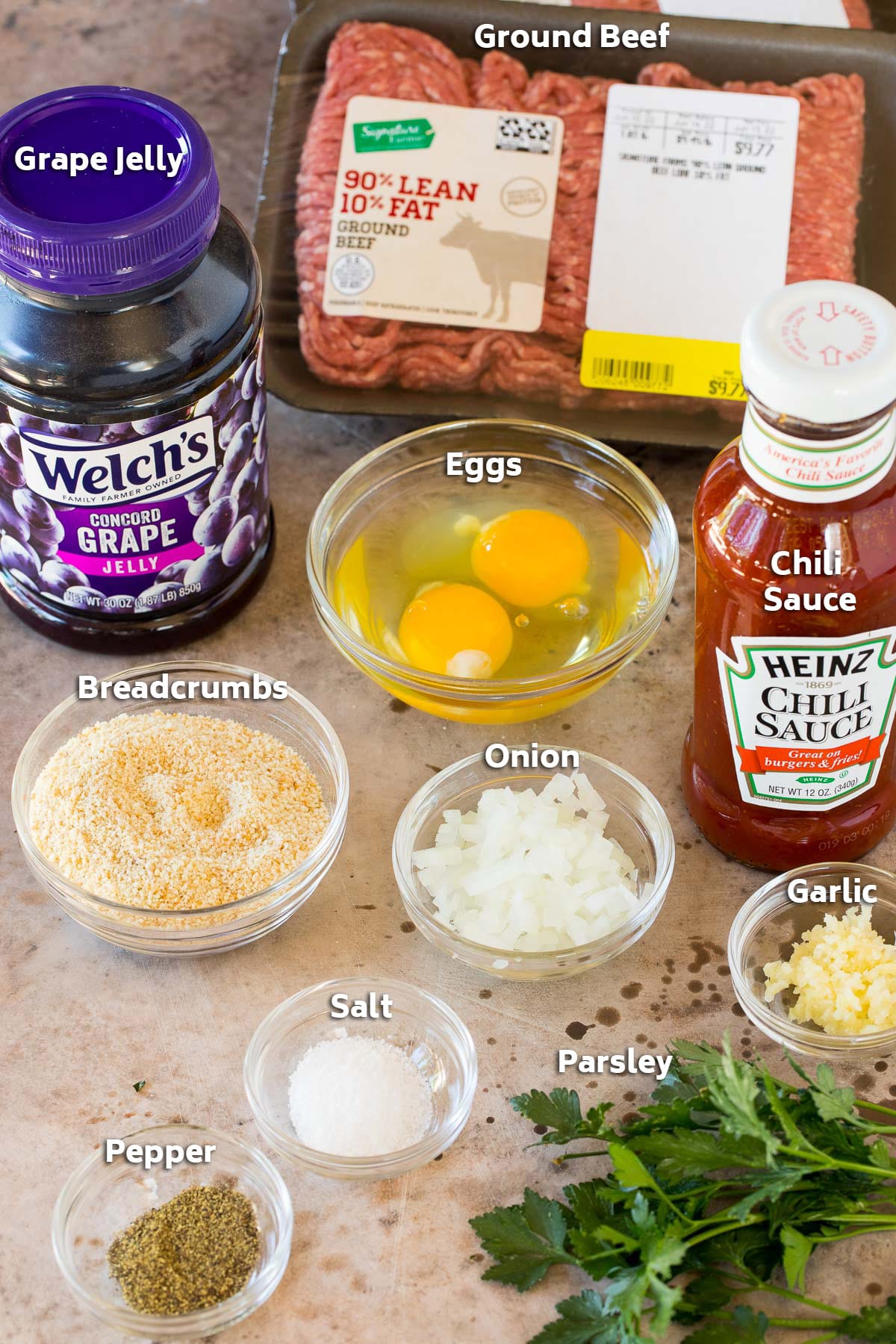 The meatballs in this dish are made with ground beef, eggs, breadcrumbs, onions, garlic, salt and pepper. The sauce is a mixture of chili sauce and grape jelly. Freshly chopped parsley adds color and visual interest to the finished dish.
How do you make grape jelly meatballs?
Place all of the ingredients for the meatballs into a large bowl, and stir to combine. Roll the meat mixture into balls, then broil the meatballs until they're golden brown. Place the meatballs into a slow cooker. In a medium bowl, melt the grape jelly, then add a bottle of chili sauce. Whisk the two ingredients together to make the sauce. Pour the sauce over the meatballs, then cook. Right before you're ready to eat, uncover the slow cooker, add a sprinkle of parsley, then serve and enjoy.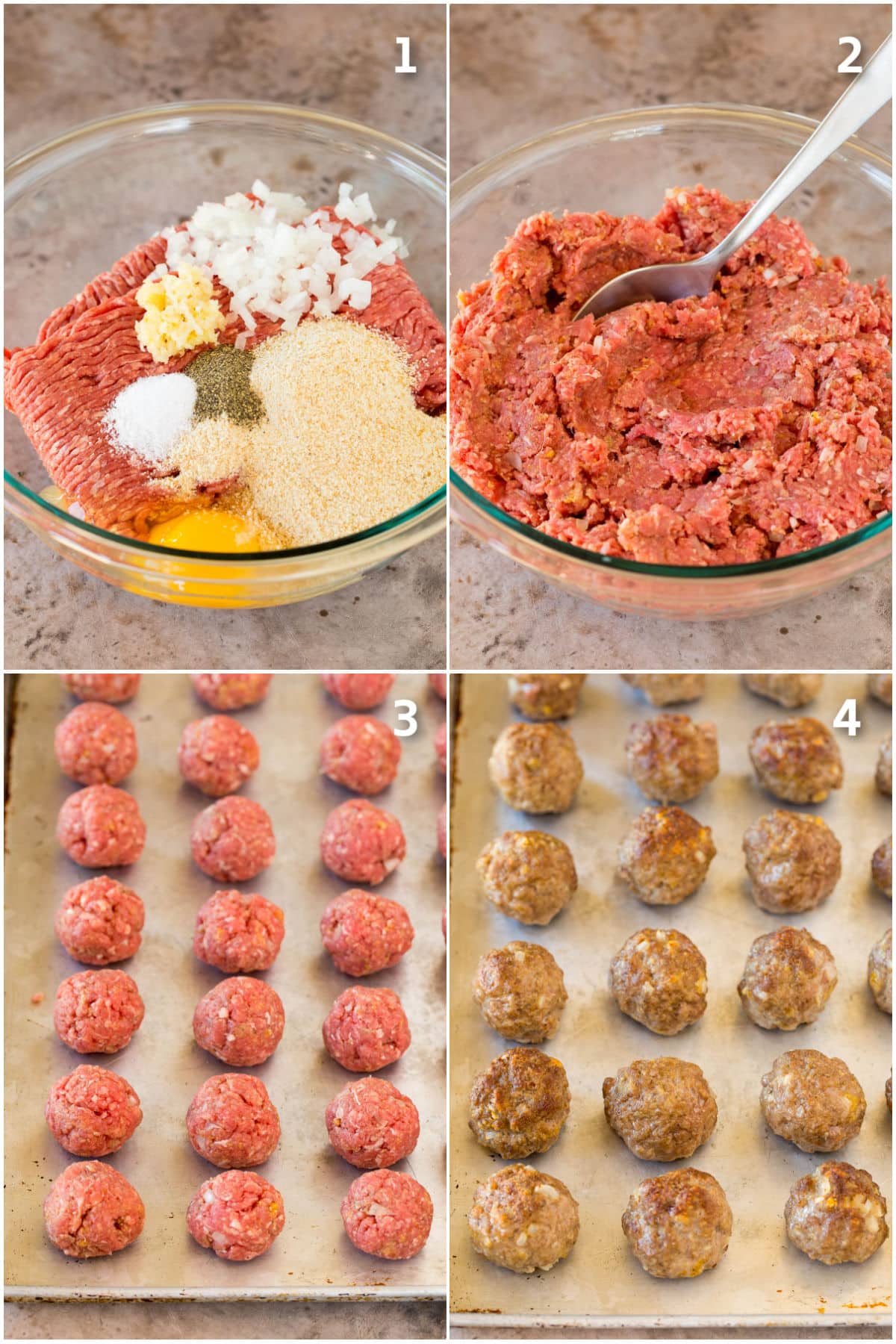 Tips for the perfect dish
I prefer to use homemade meatballs because I think they have better flavor and texture than frozen meatballs. If you're in a pinch, you can use 2 pounds of frozen meatballs. You don't need to thaw the meatballs, simply add them to the slow cooker from frozen.
It's ok if there are a few lumps in the sauce, as the jelly will continue to melt in the slow cooker.
The chili sauce in this recipe is a tomato based sauce similar to ketchup, but with a slightly different flavor profile. Chili sauce tends to be thicker, and despite the name, it is not spicy at all. Chili sauce can be found in the grocery store near the ketchup and other condiments, and is sold under the Heinz brand.
Serve your meatballs with toothpicks as an appetizer, or offer them over mashed potatoes as a main course.
Recipe FAQs
Where did grape jelly meatballs come from?
It is thought that the original recipe for grape jelly meatballs originated in the 1960's from a cookbook. This particular recipe is known under many names, including cocktail meatballs, sweet and sour meatballs and chafing dish meatballs.
What can I substitute for grape jelly in meatballs?
If you don't have grape jelly on hand, you can use a different type of jelly such as apple jelly. I also like using apricot preserves. You may want to puree the preserves before using to keep the sauce smooth. Another great option is a can of jellied cranberry sauce.
How long will meatballs stay fresh?
Leftover meatballs will stay fresh in the refrigerator for up to 3 days, and in the freezer for 2 months.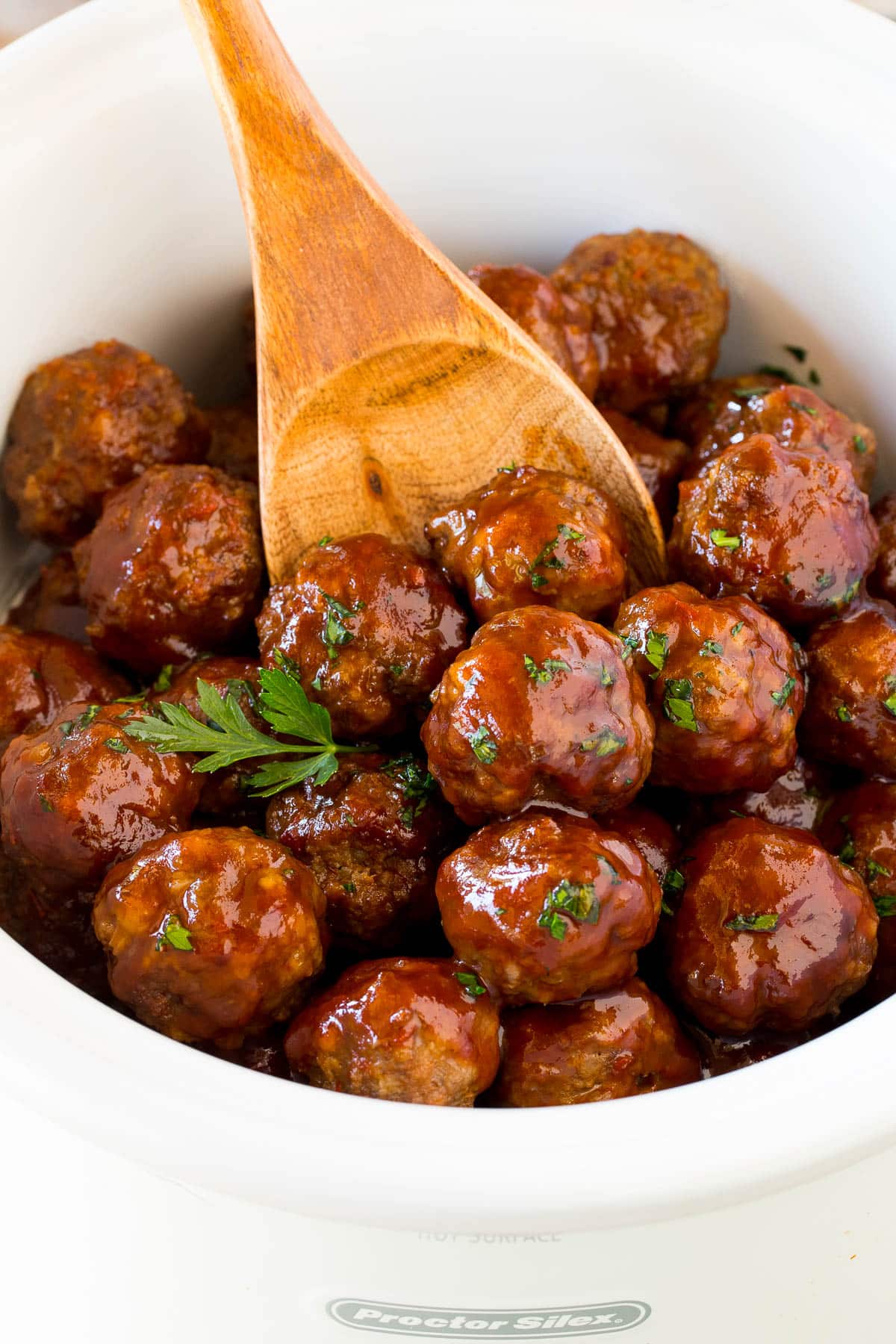 Grape jelly meatballs flavor variations
This recipe is great as written, but you can substitute other ingredients you have on hand if needed.
Meat: I typically make my meatballs with 90% lean ground beef as it has plenty of flavor without a lot of grease. You can use ground beef with a different fat content, or use other types of meat such as ground chicken or turkey.
Sauce: No chili sauce on hand? It's fine to use ketchup instead. You can always add some spices to the ketchup for a little extra flavor, such as garlic powder. If you're looking for a different flavor profile, try using a can of jellied cranberry sauce instead of the grape jelly.
I make these grape jelly meatballs for all my gatherings, and they're so popular that I never have any left over!
More great appetizer recipes to try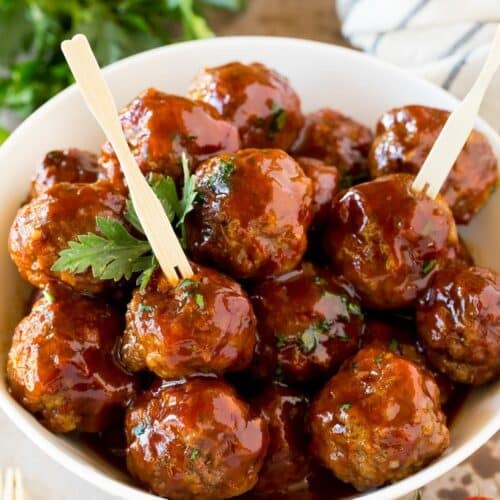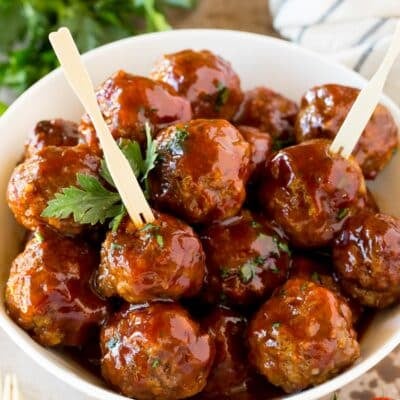 These grape jelly meatballs are homemade meatballs tossed in a two ingredient sauce and slow cooked to perfection in the crock pot. A quick and easy appetizer or dinner option that always gets rave reviews!
Ingredients
For the meatballs
2

pounds

ground beef

1/2

cup

plain breadcrumbs

2

eggs

3

tablespoons

onion

finely minced or grated

1/2

teaspoon

garlic

minced

1

teaspoon

salt

1/2

teaspoon

pepper

2

tablespoons

parsley

cooking spray
For the sauce
12

ounce bottle

chili sauce

such as Heinz brand

1 1/2

cups

grape jelly
Instructions
Preheat the oven broiler. Line a sheet pan with foil and coat the foil with cooking spray.

Place the ground beef, breadcrumbs, eggs, onion, garlic, salt and pepper in a large bowl. Stir until thoroughly combined.

Shape the meat mixture into 1 inch meatballs and place the meatballs in a single layer on the sheet pan.

Broil for 8-10 minutes or until golden brown.

While the meatballs are cooking, prepare the sauce.

Melt the grape jelly. You can do this by microwaving it in 30 second increments or melting it in a saucepan over medium heat.

After the jelly has melted, whisk in the chili sauce.

Coat a 4 quart or larger slow cooker with cooking spray. Add the meatballs, then pour the sauce over the top. Toss gently to combine.

Cover the slow cooker and cook for 3 hours on low. Sprinkle with parsley, then serve.
Notes
I typically use 90% lean ground beef.
If you don't want to make your own meatballs, you can use 2 pounds of frozen meatballs instead. They do not need to be thawed first.
Nutrition
Calories:
357
kcal
|
Carbohydrates:
56
g
|
Protein:
26
g
|
Fat:
13
g
|
Saturated Fat:
5
g
|
Cholesterol:
114
mg
|
Sodium:
610
mg
|
Potassium:
611
mg
|
Fiber:
3
g
|
Sugar:
36
g
|
Vitamin A:
435
IU
|
Vitamin C:
14.1
mg
|
Calcium:
55
mg
|
Iron:
3.8
mg