Who says eating healthy has to be difficult? With these 36 easy meal prep recipes, you'll be covered for breakfast, lunch and dinner. There's everything from stir fries to salmon to pancakes, plenty of ideas to keep you on track to meet your health goals!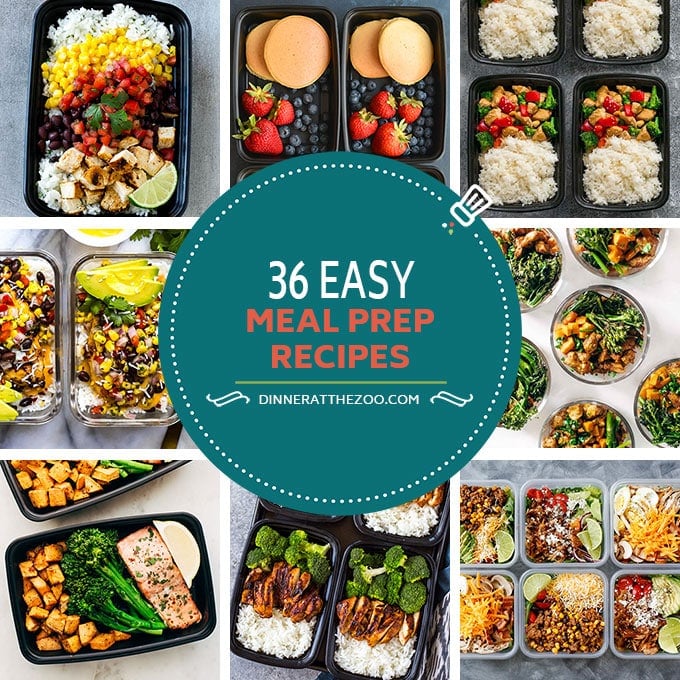 Meal prep recipes are the talk of the town when it comes to being healthy and proactive with your foods. Watching what you eat doesn't have to mean skimping on flavor and your favorite dishes. It may simply mean cutting back to smaller portions.
Meal prepping can help with that and also take the guessing game out of what to make for lunch or dinner on a whim. You're less likely to make a stop at a fast food joint if you have a meal already waiting for you!
With these 36 easy meal prep recipes I have gathered for you, you are set for lunch, dinner, and some breakfasts for weeks to come. Another idea for prepping ahead is to plan freezer meals. These are great to make one time, meal prep them for later use and pull one out at a time when you are ready for it.
The easiest way to eating healthier is to plan in advance; with all these great meal prep recipes you'll never get bored!
36 Easy Meal Prep Recipes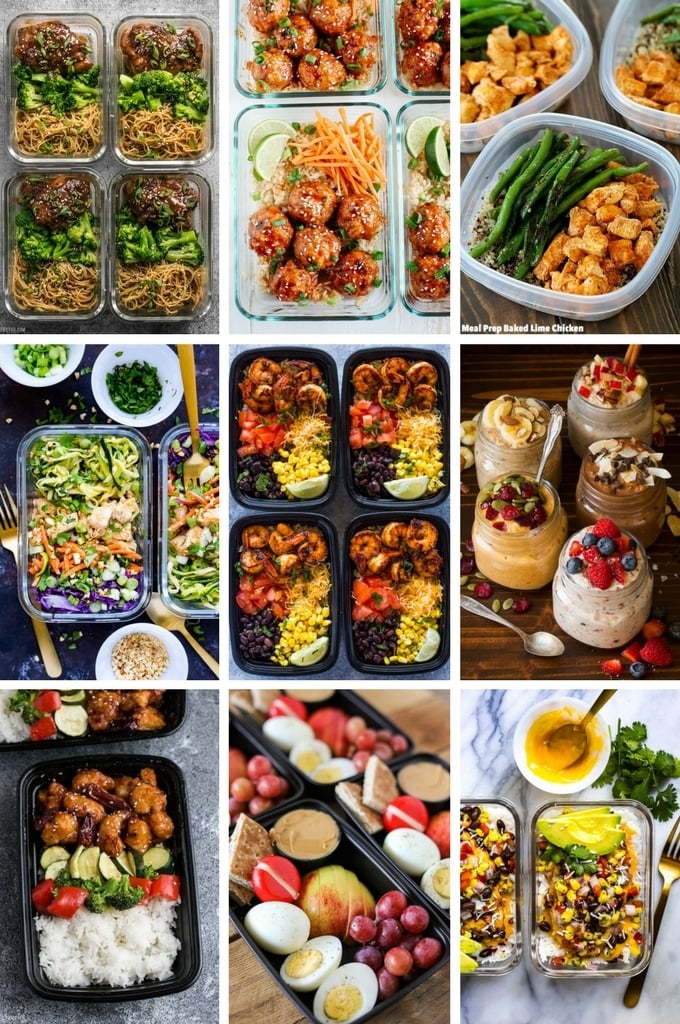 What does it mean to meal prep?
Meal prep is a once or twice a week large batch preparation of meals to last for 4-5 days. Meal prep is a great way to save time because you only cook a few times a week as opposed to cooking every single day. It's also a great way to eat healthier – you'll be a lot less likely to hit the fast food drive through if you have a meal ready to go in the fridge. You'll also save money because cooking in bulk tends to be cheaper, and it's way less expensive than going to a restaurant for lunch.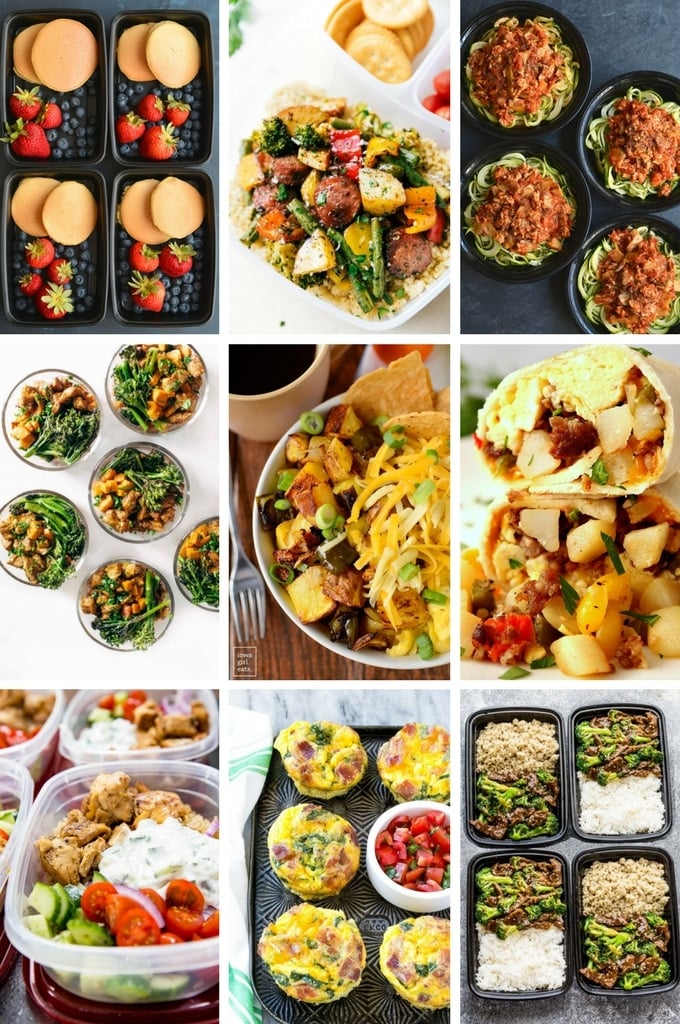 Where can I buy food prep containers?
I like to use reusable plastic containers as shown in the photos. They're lightweight, inexpensive and hold plenty of food. I purchase these meal prep containers on Amazon. I also like to use the square plastic tupperware style containers that are sold in most grocery stores near the plastic bags and plastic wrap.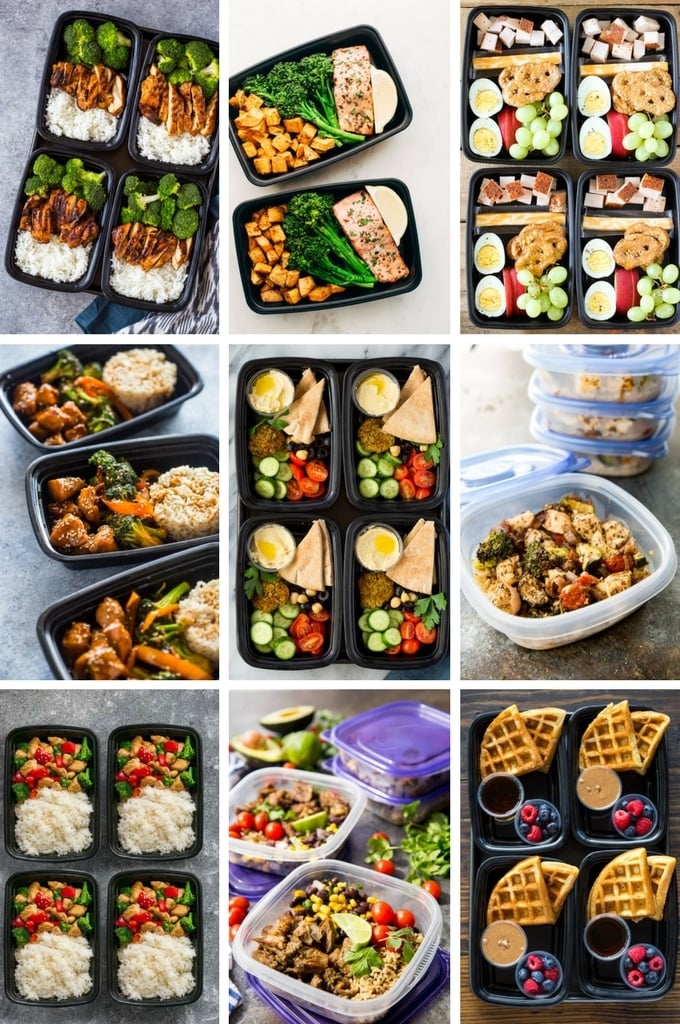 How long can I keep meals in the fridge?
I typically plan on making meals for 3-4 days during my meal prep sessions, depending upon the protein I'm using. If I'm using seafood, I never go more than 3 days, and sometimes just do 2 day's worth. For chicken and beef, I prep for 3-4 days at a time. I keep certain components like sauces separate until I'm ready to eat so that the food doesn't get soggy in the fridge.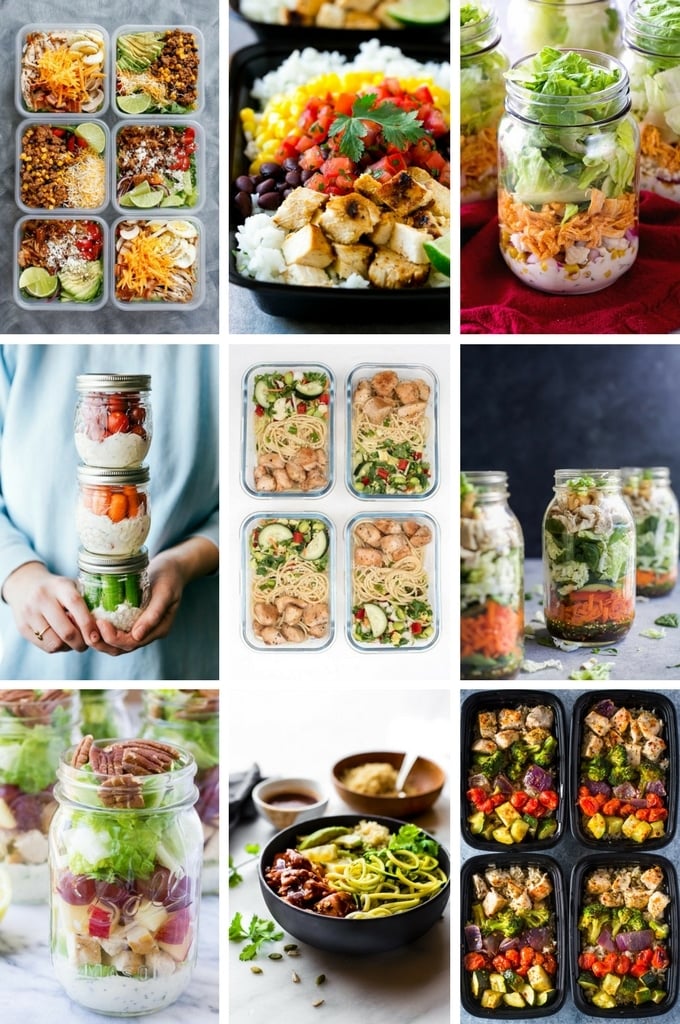 Can you freeze meal prep recipes?
Some meal prep recipes will freeze better than others. Proteins like chicken, turkey and beef will hold up well to freezing. Typically starches like pasta do not hold up well in the freezer as they'll be mushy when thawed. Rice and potatoes are great candidates for the freezer. Many vegetables can be frozen, but veggies with a high water content, such as zucchini and lettuce, do not freeze well.
How to make meal prep burrito bowls
The first step to making these burrito bowls is marinating your chicken. The chicken gets marinated in a mixture of lime juice, olive oil and seasonings, then grilled to perfection. If you don't want to fire up the grill, you can cook this chicken inside on a grill pan or in a regular skillet. The chicken is combined with cilantro lime rice, black beans, corn and fresh salsa to make an amazing meal that tastes like it came from a restaurant.
These meal prep burrito bowls are highly customizable. You can add more toppings like cheese, shredded lettuce, sour cream or guacamole right before serving. You can also swap out the rice for quinoa or substitute brown rice instead of white rice. Sometimes I also add sauteed veggies like peppers and onions. The sky is the limit!
Meal Prep Burrito Bowls Video
Meal Prep Burrito Bowls
These meal prep chicken burrito bowls are filled with grilled marinated chicken, cilantro lime rice, black beans and fresh salsa. It's an easy and healthy meal prep recipe idea that's quick to assemble and tastes delicious!

Ingredients
For the chicken:
1 1/4

pounds

boneless skinless chicken breasts

1/4

cup

olive oil

1/3

cup

lime juice

1

teaspoon

honey

1

teaspoon

kosher salt

1/4

teaspoon

ground cumin

2

cloves

garlic

minced

1/4

cup

water

1 1/2

teaspoons

smoked paprika

1

teaspoon

onion powder

2

teaspoons

chili powder
For the cilantro lime rice:
3

cups

cooked rice

brown or white, or you can use quinoa

1/3

cup

chopped cilantro leaves

the juice of 1 lime

salt and pepper to taste
Remaining burrito bowl ingredients:
1

15 ounce can

black beans

drained and rinsed

1

cup

corn kernels

thawed from frozen or canned

1

cup

fresh salsa
Instructions
To prepare the marinade, pour the lime juice, olive oil and water into a large resealable bag. Add the garlic, honey, salt, cumin, smoked paprika, onion powder and chili powder.


Seal bag and shake to combine. Add the chicken to the bag of marinade, seal and place in fridge - marinate at least 30 minutes or up to 8 hours.

Preheat a grill, grill pan or skillet over medium high heat. Add the chicken and cook for 5-6 minutes on each side or until cooked through.


Chop the cooked chicken into bite sized pieces.


Place the rice or quinoa in a large bowl; add the cilantro, lime juice and salt and pepper to taste; toss to coat the rice evenly.


Divide the rice between 4 meal prep containers. Arrange the chicken, beans, corn and salsa on top. Cover and store in the refrigerator until ready to heat and serve.

Nutrition
Calories:
418
kcal
|
Carbohydrates:
65
g
|
Protein:
42
g
|
Fat:
14
g
|
Saturated Fat:
2
g
|
Cholesterol:
90
mg
|
Sodium:
427
mg
|
Potassium:
968
mg
|
Fiber:
9
g
|
Sugar:
3
g
|
Vitamin A:
520
IU
|
Vitamin C:
9.2
mg
|
Calcium:
48
mg
|
Iron:
3.1
mg