The most fabulous and impressive Christmas cupcake recipes, everything from adorable snowmen to elegant snowflakes!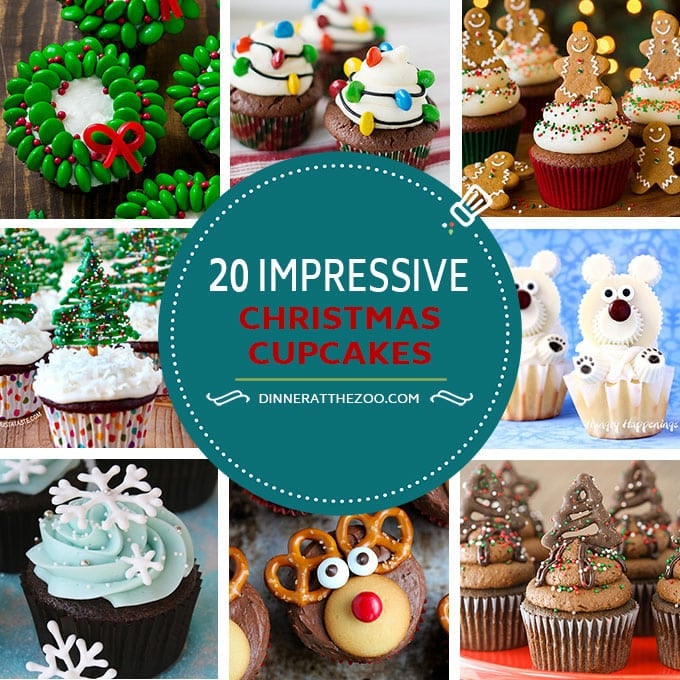 Christmas is around the corner and your "to-do" list is growing faster than weeds after a summer rain. I get it. Holidays are always a chaotic time. You are planning the perfect Christmas dinner and you need all the Pinterest perfect recipes for it to make it a memorable holiday meal.
You do not have to go all out for your dessert. Keeping with the holiday festivities, you can easily make cupcakes. Cupcakes are the perfect choice for your guests since they can take them home with them, leaving you with fewer leftovers and not as much clean up later. It's a win-win situation!
I'm not talking about the regular ol' from a box cupcakes. I'm talking about impressive Christmas cupcake recipes that will really WOW your friends and family.
I put together this top-notch list of 20 impressive Christmas cupcake recipes for you to start with. These recipes really took my breath away and I know they will be a major hit for your holiday dinner. Some of these are more elaborate than others, and some are almost too breathtaking to eat. However after a long day of entertaining, after all your planning, devouring a gorgeous cupcake could really be the icing on the cake… cupcake that is!
What is your go-to dessert for a holiday? Do you mind sharing it with me in the comments below? I absolutely love to read about your traditions. Have a great holiday!
20 Impressive Christmas Cupcake Recipes
Christmas Wreath Cupcakes (recipe below!)
Grinch Cupcakes
Sugar Plum Cupcakes
You don't have to be a professional cake decorator to make these Christmas wreath cupcakes. All you need are some cupcakes with white frosting, green M&M's, red ball sprinkles and red licorice strings. You can use homemade or store bought cupcakes here, this particular time I used a boxed white cake mix, but chocolate chip or chocolate cupcakes would also be nice choices.
You'll need a few bags of holiday M&M's to decorate these cupcakes, and the greens need to be sorted from the reds. After that, you simply press the candies into a wreath pattern on each cupcake, add some red ball sprinkles, then tie a bow with licorice for the finishing touch.
Your family and friends will absolutely love these Christmas wreath cupcakes, and they taste just as good as they look!
Christmas Wreath Cupcakes
Makes 12
12 cupcakes frosted in white icing, homemade or store bought
3 11 ounce bags holiday M&M's, red candies removed and reserved for a different use
1 bottle red ball sprinkles
6 red licorice strings
Cut each licorice string in half and twist into a bow shape. Trim the ends and set aside.
Press the green M&M's into two circular rows around the rim of each cupcake to form a wreath shape. Make sure the M imprints are on the back side of each candy!
Carefully sprinkle the red ball sprinkles into the gaps in the M&M wreaths. You may need to use a tooth pick to nudge them into place.
Place a licorice bow onto each cupcake, then serve. Cupcakes keep for up to 2 days covered in the refrigerator.