Have a fiesta with these 25 incredible Mexican appetizer recipes! From queso to taquitos to bean dips and nachos, there are plenty of snacks to keep your party guests happy. Whether you're looking to host a Cinco de Mayo celebration or entertain on game day, there's a wide variety of Mexican food recipes to choose from!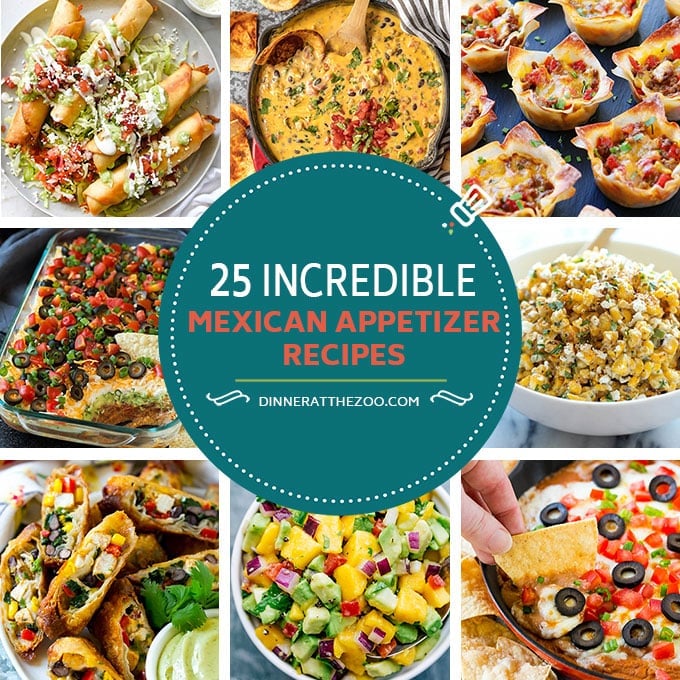 From savory dips to finger foods you can not go wrong with these Mexican appetizer recipes. The possibilities are endless. Whether you're looking for a cheesy delight or a light and refreshing salsa, they're all here! I like to host a Mexican themed party each year for Cinco de Mayo where I serve a buffet of different Mexican style party snacks. It's such a fun way to celebrate the holiday and really, who doesn't love Mexican food? Sometimes I even do an assortment of Mexican appetizers and we call it dinner!
My kids call nights like this buffet nights since there is a little of everything. We try to do these weekly if possible. These recipes are all appetizers, however, I also make amazing tacos, Mexican fruit salad, and even a pizza. You'll have to check those out and add them to your buffet night menu as well.
I have this comprehensive list of incredible Mexican appetizer recipes for you to gander. Make your grocery list out, print the recipes you choose to make and head to the store. Mexican night sounds like a great choice for dinner tonight!
25 Incredible Mexican Appetizer Recipes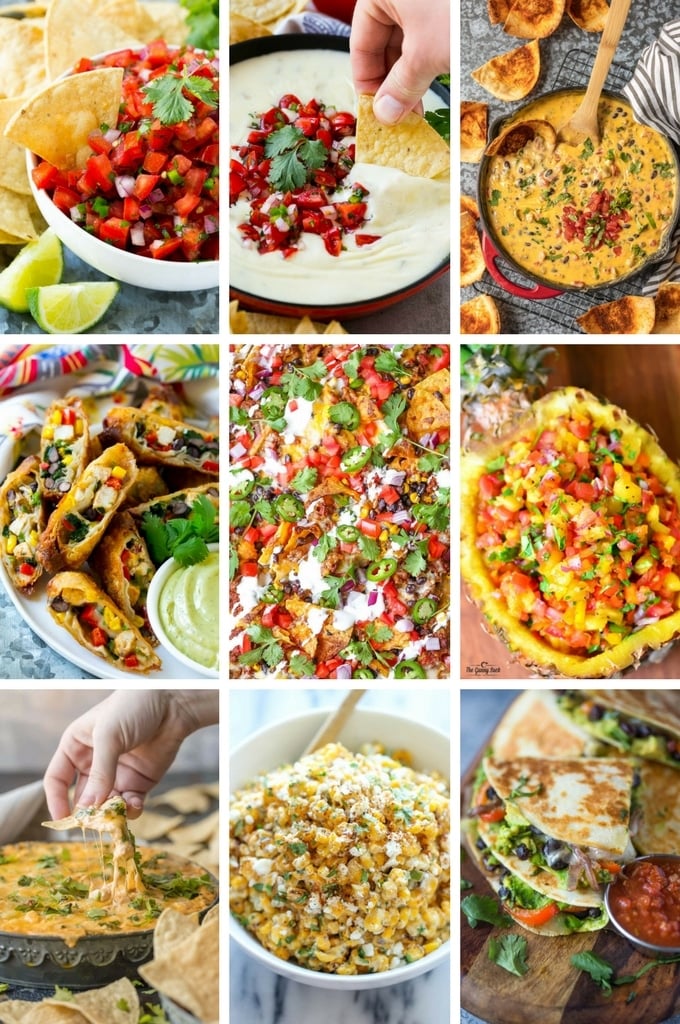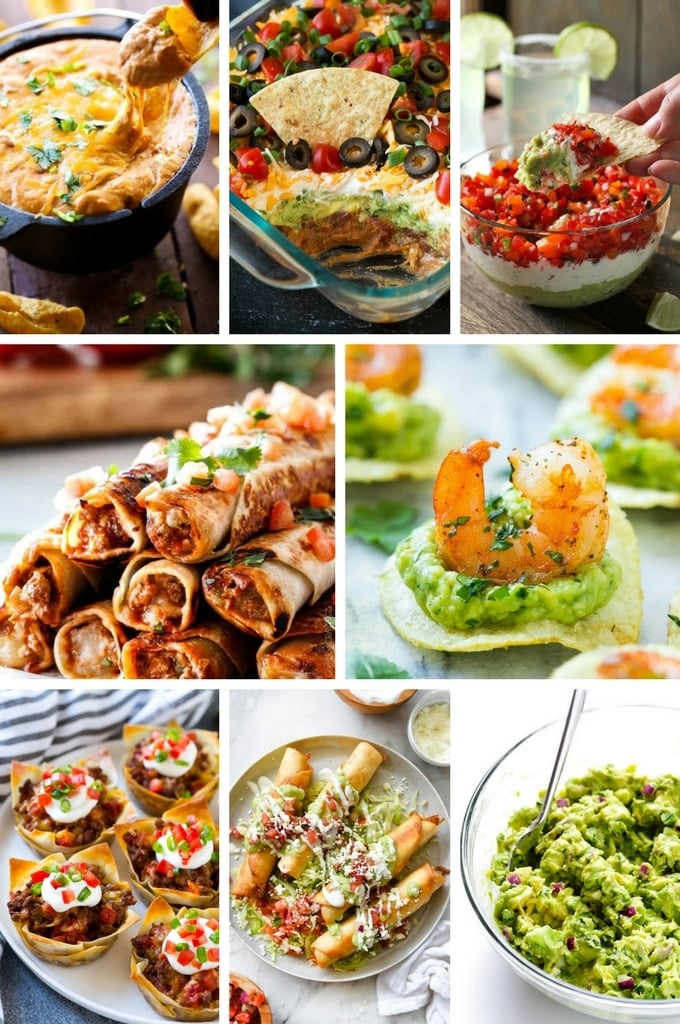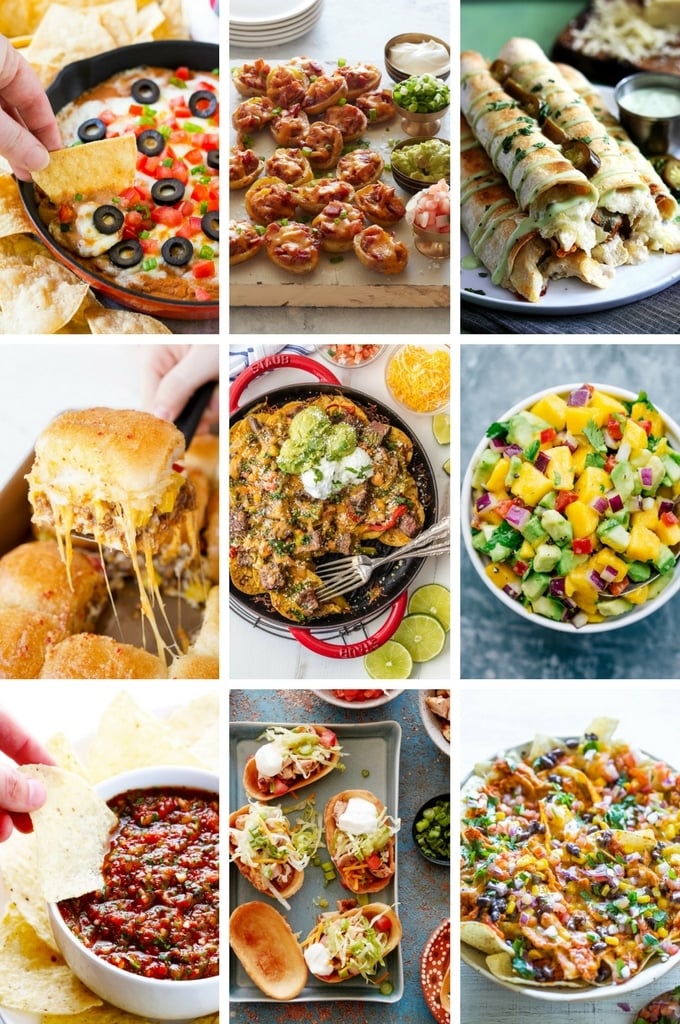 Loaded Bean Dip (Recipe Below!)
How do you make bean dip?
Bean dip is typically made by combining refried beans, cheese and seasoning, then baking it until gooey and melted.
This loaded bean dip has a little bit of everything – a creamy and flavorful refried bean base, plenty of cheese, tomatoes, green onions and olives. You can really go crazy with the toppings here, other great choices include diced avocado, sour cream, sliced jalapenos or fresh cilantro. This dip can be assembled up to a day in advance and baked just before you're ready to eat, making it perfect for entertaining!
What are some of your favorite Mexican recipes? Do you have an old family traditional recipe you could share with us?
Loaded Bean Dip
Serves 6
4 ounces cream cheese softened
1/2 cup sour cream
1 can refried beans
2 teaspoons taco seasoning
1 1/2 cups shredded cheese I use Monterey Jack or cheddar
1/2 cup sliced olives
1/2 cup diced tomatoes
1/4 cup sliced green onions
cooking spray
Preheat the oven to 400 degrees F. Coat a small skillet or baking dish with cooking spray.
In a medium bowl, mix together the cream cheese and sour cream until well combined. Add the beans and taco seasoning and stir until smooth.
Spread the bean mixture into the bottom of the prepared dish. Sprinkle the cheese over the top.
Bake for 15 minutes or until cheese is melted. Sprinkle with olives, tomatoes, and green onions, then serve.