These carne asada tacos are marinated grilled steak piled into corn tortillas along with cabbage, pico de gallo and guacamole. The ultimate taco for meat lovers!
There's not much better than a fabulous steak taco, and it's so easy to make restaurant style carne asada at home. You can use this grilled meat in burritos, nachos, on top of a Mexican caesar salad, or simply serve it over rice and beans!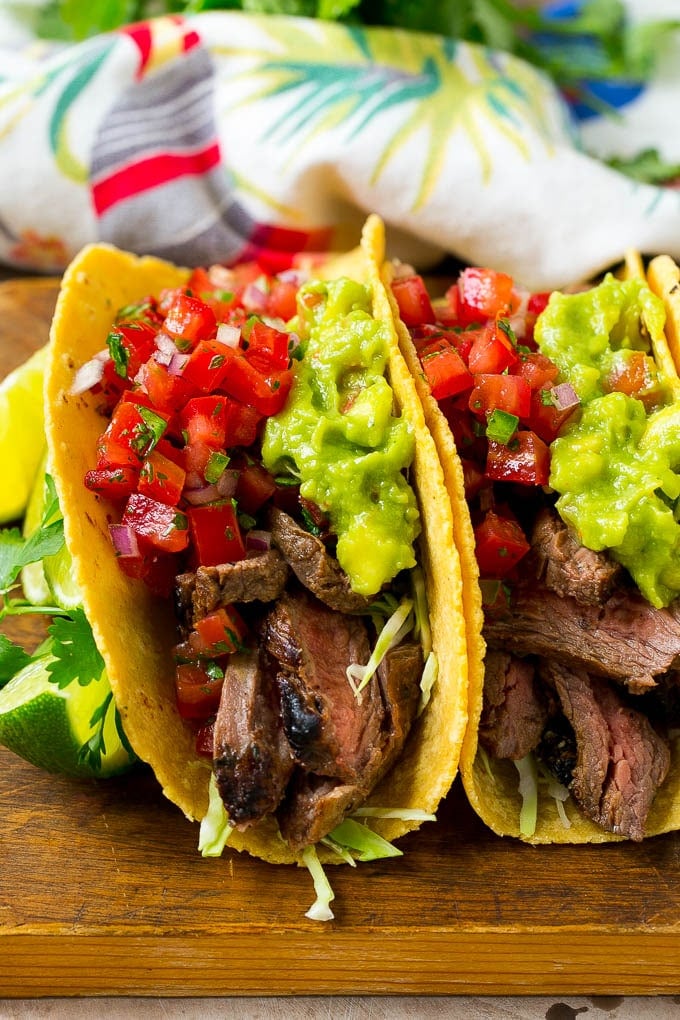 I've got a lot of tacos on this site, in fact, I've covered most of the traditional favorites! One thing I'm missing is a steak taco, and I hereby present you with these incredibly delicious carne asada tacos. They're loaded with slices of tender grilled steak and topped with homemade pico de gallo and guacamole. How can you go wrong with that combination?
What kind of meat is carne asada?
Carne asada is thinly sliced steak that's been marinated and grilled. Carne asada is typically made with flank steak, although skirt steak or sirloin steak can also be used with good results.
How do you make carne asada tacos?
This recipe starts with flank steak, which is marinated in a combination of citrus juice, garlic, cilantro and jalapeno. You can marinate the meat up to 8 hours before you plan to cook it. Before you cook the meat, scrape off any chunks of garlic, jalapeno and cilantro so that they don't burn when you sear the steak.
I prefer to cook this steak on the grill, either outdoors on a charcoal grill or inside on a grill pan. After you've cooked and sliced the meat, layer it into tortillas with cabbage, guacamole and pico de gallo for an amazing meal.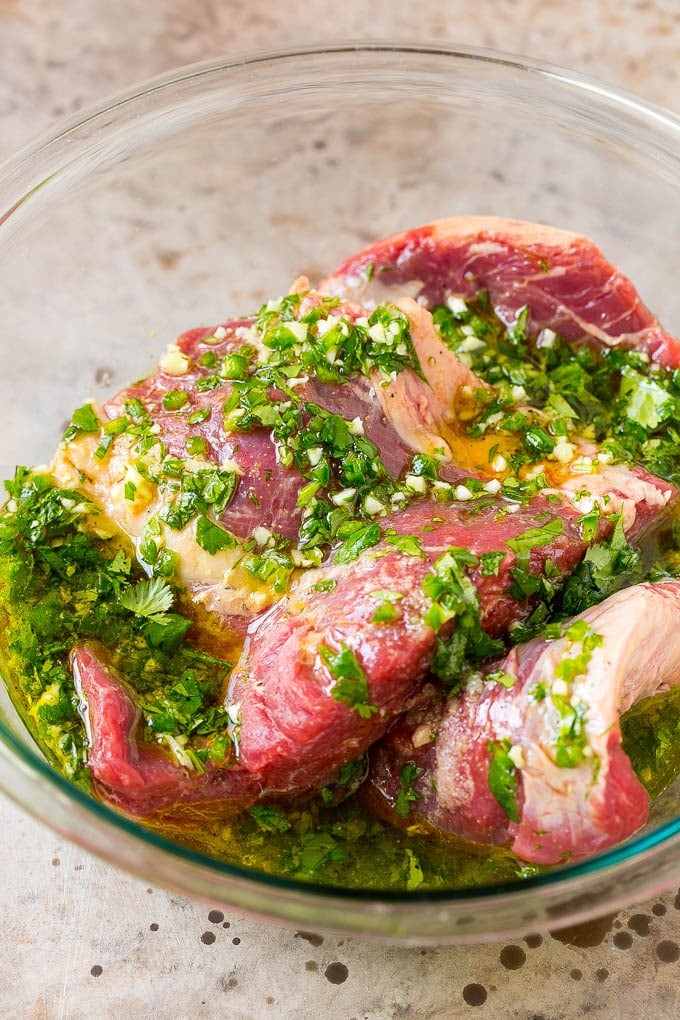 Tips for carne asada tacos
I like to make my homemade pico de gallo recipe to go in these carne asada tacos, but if you're pressed for time, store bought pico de gallo will work too.
You can serve these tacos on either corn or flour tortillas, whichever your family prefers.
This recipe makes a mildly spiced carne asada. If you prefer your meat to be hot and spicy, keep some of the seeds and ribs in the jalapeno when you add it to the marinade.
This steak is best served immediately and the recipe can easily be doubled to serve a crowd.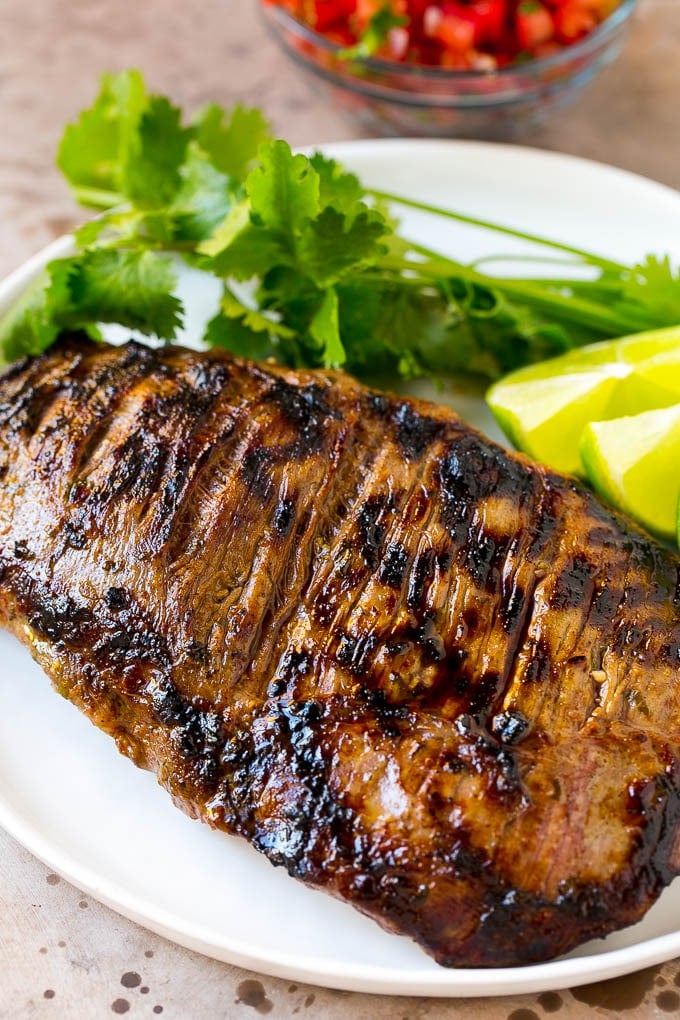 How long do you cook steak?
I typically cook my carne asada steak for about 5-6 minutes per side, which leads to meat that's cooked on the outside yet still pink in the center. The best way to gauge for doneness is to use a meat thermometer. I recommend cooking your carne asada to medium, which is an internal temperature of 145 degrees F. If you don't want your meat to be pink, you can cook it to 150 degrees F for medium well, or 160 degrees F for well done.
How do you slice flank steak?
It's important to slice your flank steak against the grain so that it's as tender as possible. You can find the direction of the grain by looking at your meat and seeing which way the muscle fibers run. Make sure to cut across those fibers rather than parallel to them.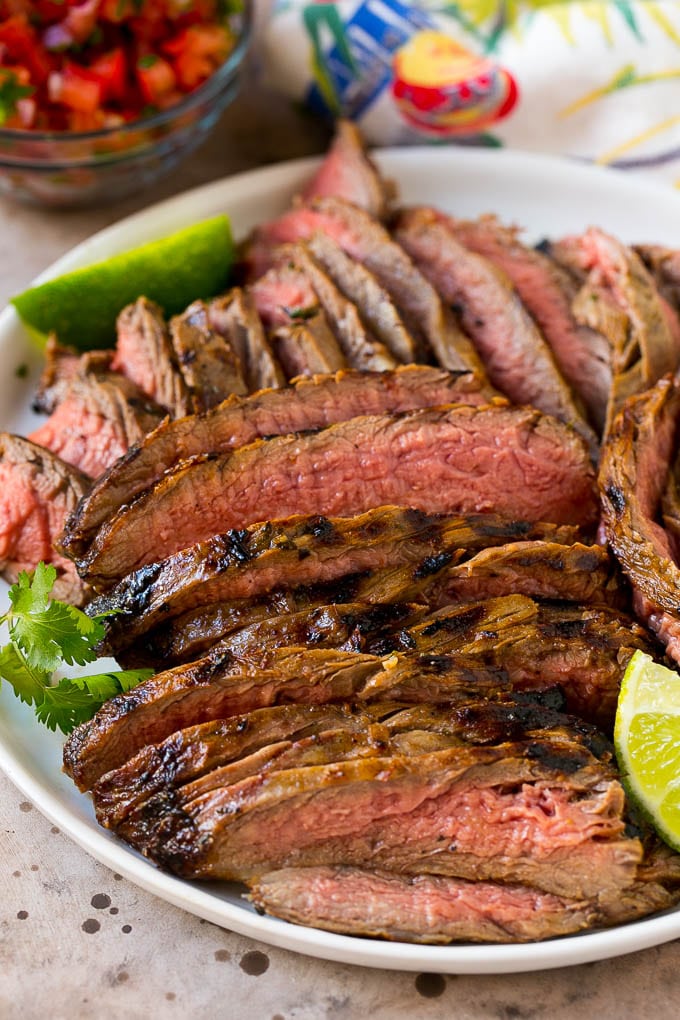 Carne Asada Tacos Variations
These tacos are delicious as is, but you can add a variety of toppings to customize them to your tastes.
Olives: Add sliced black olives to your tacos.
Jalapenos: Garnish your tacos with pickled jalapeno slices.
Sour Cream: Add a drizzle of sour cream to each taco.
Cheese: Add shredded cheddar cheese or crumbled cotija cheese to your tacos.
Lettuce: Swap out the shredded cabbage for romaine or iceberg lettuce.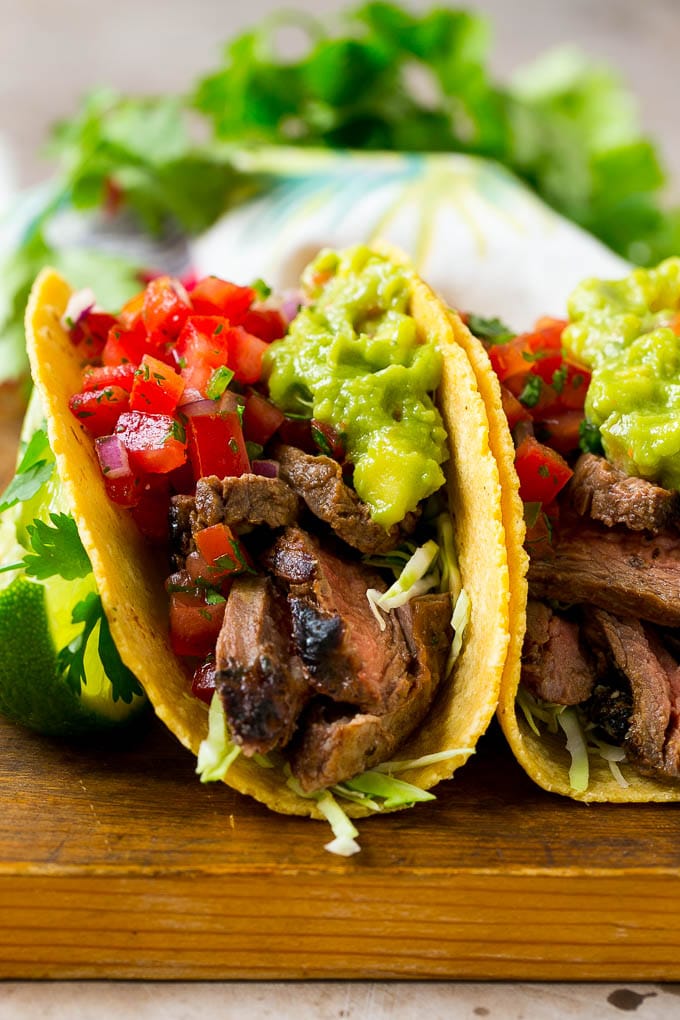 These carne asada tacos are easy enough for a quick weeknight dinner, yet festive enough for a celebration! It's a great way to get authentic Mexican restaurant flavors in the comfort of your own home.
More taco recipes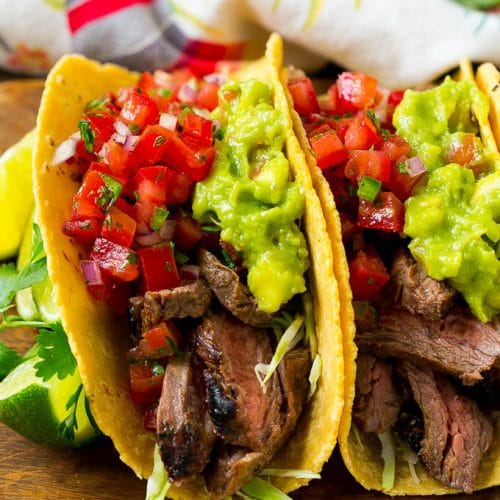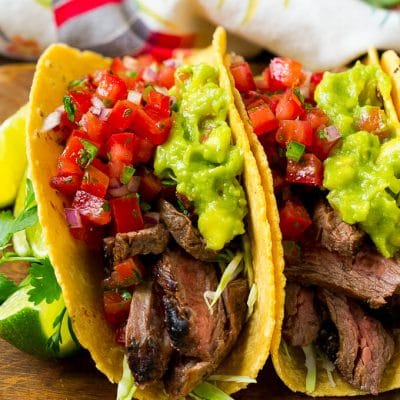 These carne asada tacos are marinated grilled steak piled into corn tortillas along with cabbage, pico de gallo and guacamole. The ultimate taco for meat lovers!

Ingredients
For the meat:
2

lbs

flank steak

1/2

cup

orange juice

1/4

cup

lime juice

2

teaspoons

garlic

chopped

1/4

cup

olive oil

3/4

teaspoon

salt

1/4

teaspoon

pepper

1

jalapeno

seeds and ribs removed, then coarsely chopped

1

teaspoon

cumin

1/2

cup

chopped cilantro leaves
For the taco assembly:
12

small

corn or flour tortillas

1

cup

pico de gallo

homemade or store bought

1

cup

guacamole

1

cup

cabbage

shredded
Instructions
Place the orange juice, lime juice, garlic, olive oil, salt, pepper, jalapeno, cumin and cilantro in a resealable plastic bag. Close and shake to combine.

Place the steak in the bag and marinate for at least one hour, or up to 8 hours.

Preheat a grill or grill pan over medium high heat. Scrape off any large pieces of jalapeno and garlic from the meat after it comes out of the marinade. Place the steak on the grill and cook for 5-6 minutes per side or to desired level of doneness. Cook time will vary based on the thickness of the meat.

Remove the meat from the pan and cover with foil; let rest for 5 minutes.

Thinly slice the steak against the grain.

Divide the cabbage between the tortillas. Top with carne asada meat, pico de gallo and guacamole. Serve.
Notes
Don't have flank steak? Skirt steak or sirloin will also work.
Nutrition
Calories:
324
kcal
|
Carbohydrates:
12
g
|
Protein:
25
g
|
Fat:
19
g
|
Saturated Fat:
4
g
|
Cholesterol:
68
mg
|
Sodium:
621
mg
|
Potassium:
608
mg
|
Fiber:
2
g
|
Sugar:
5
g
|
Vitamin A:
295
IU
|
Vitamin C:
21.6
mg
|
Calcium:
33
mg
|
Iron:
2.3
mg
This post was originally published on January 7, 2018 and was updated on December 30, 2018 with new content.