This old fashioned Southern cornbread dressing recipe is a classic that's a must-have for every Thanksgiving table. It's made with celery, onions, homemade cornbread, white bread and plenty of herbs. You'll never look at cornbread stuffing the same way again!
Looking for the perfect cornbread stuffing recipe for your holiday meal? This cornbread dressing is a staple in many Southern households for good reason – it's absolutely delicious! Serve it alongside slow cooker creamed corn and bacon roasted brussels sprouts.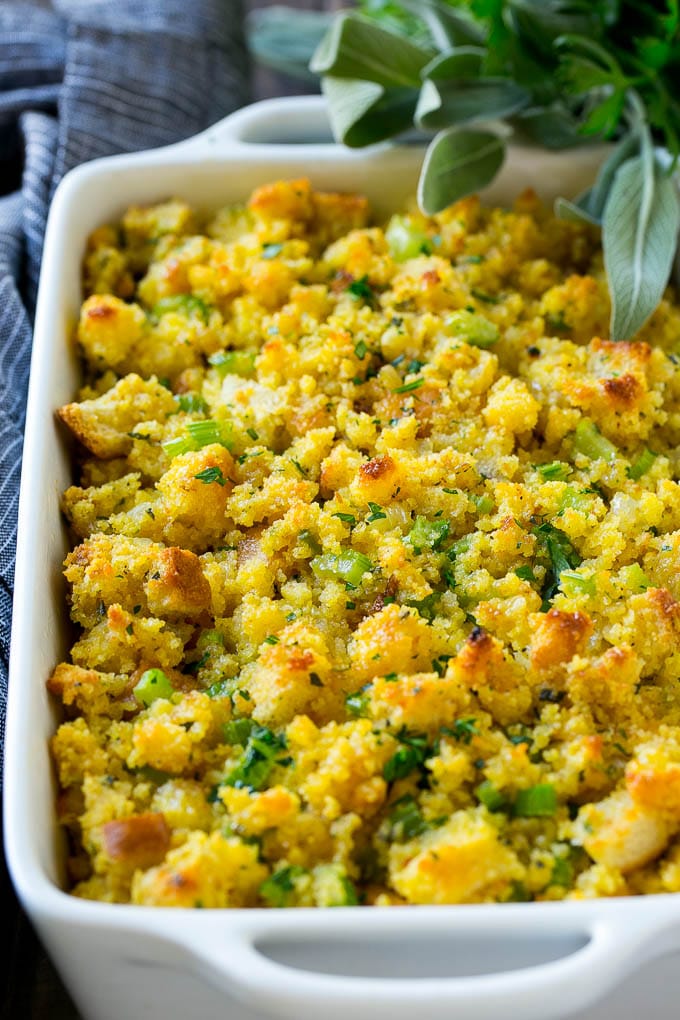 Today we're talking about stuffing, because Thanksgiving is almost here! There are about ten million ways to do stuffing, but this Southern cornbread dressing is my favorite. It's moist and delicious with a light and fluffy texture and the perfect blend of sweet and savory. Not gonna lie, my husband and I both made this our dinner after I took these photos, it's just that good.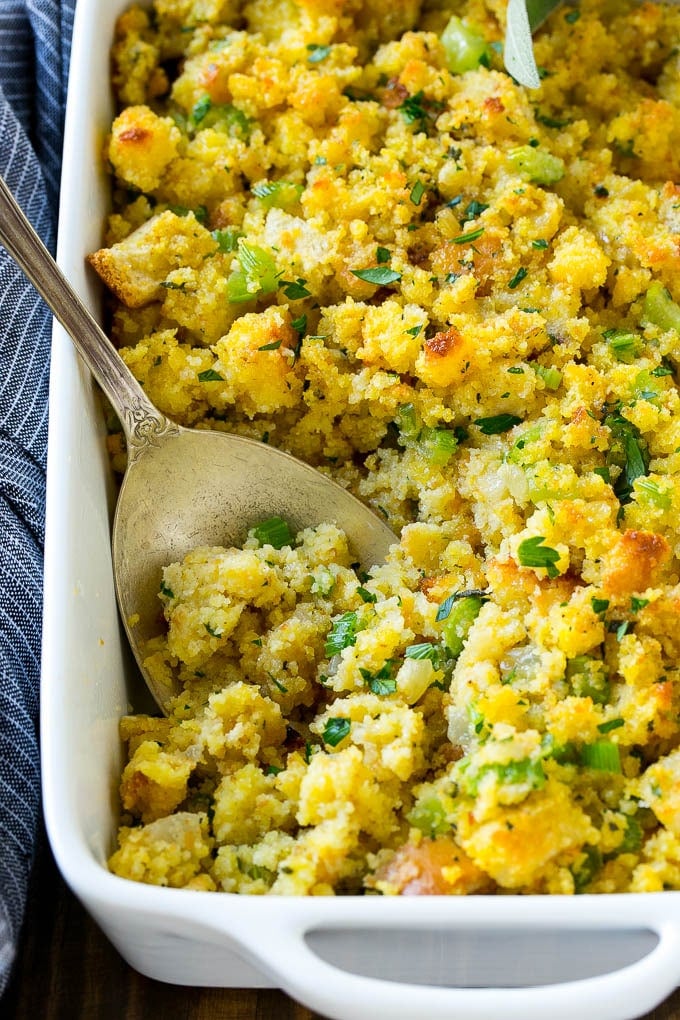 What is the difference between stuffing and dressing?
You'll notice me using the terms stuffing and dressing interchangeably in this post. So what's the difference between the two? Not a whole lot, it's mostly a regional preference as to whether you call it stuffing or dressing.
Dressing tends to be baked almost exclusively outside the bird, while stuffing can either be inside the turkey or in a separate dish. I actually tend to mostly refer to it as stuffing because that's what it is called in my geographic area, although I never stuff my bird. In the South people tend to call it dressing, and this is a Southern style recipe so there you go, we've got Southern cornbread dressing here.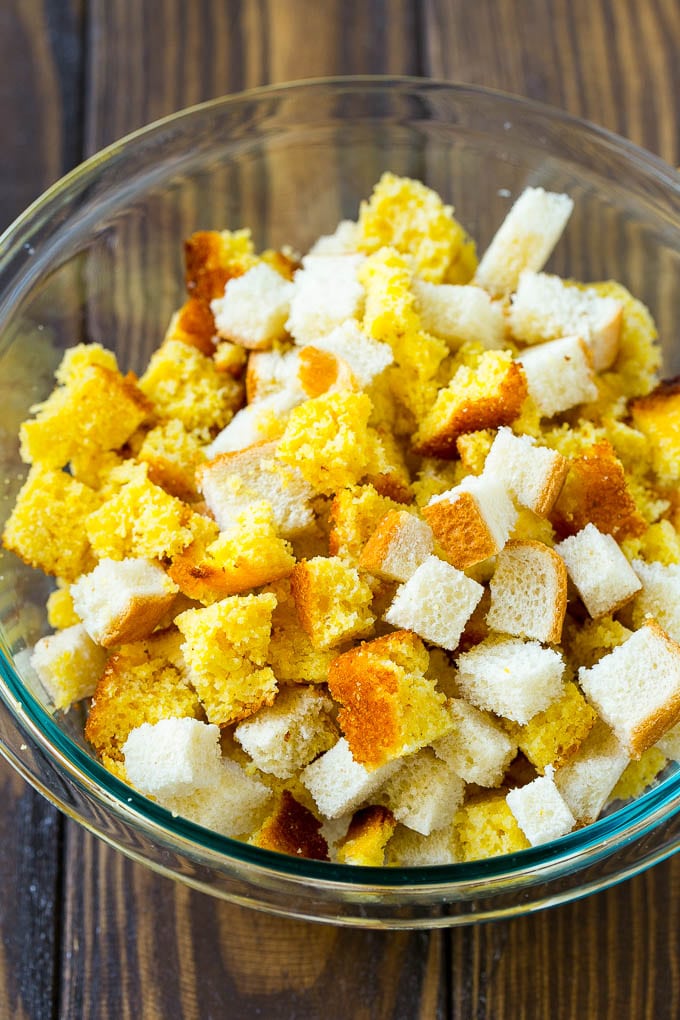 How do you make cornbread dressing?
The first step in this recipe is the cornbread. I use my honey cornbread recipe, but you could use store bought cornbread if you're short on time. I make the cornbread at least one day in advance, stale bread is best for dressing!
The cornbread is mixed with cubes of stale white bread (I use the butter top variety) to form the basis of this dish. The breads are mixed with veggies that have been cooked in plenty of butter, along with some broth, eggs and fresh herbs. Place the whole thing in the oven and bake to golden brown perfection.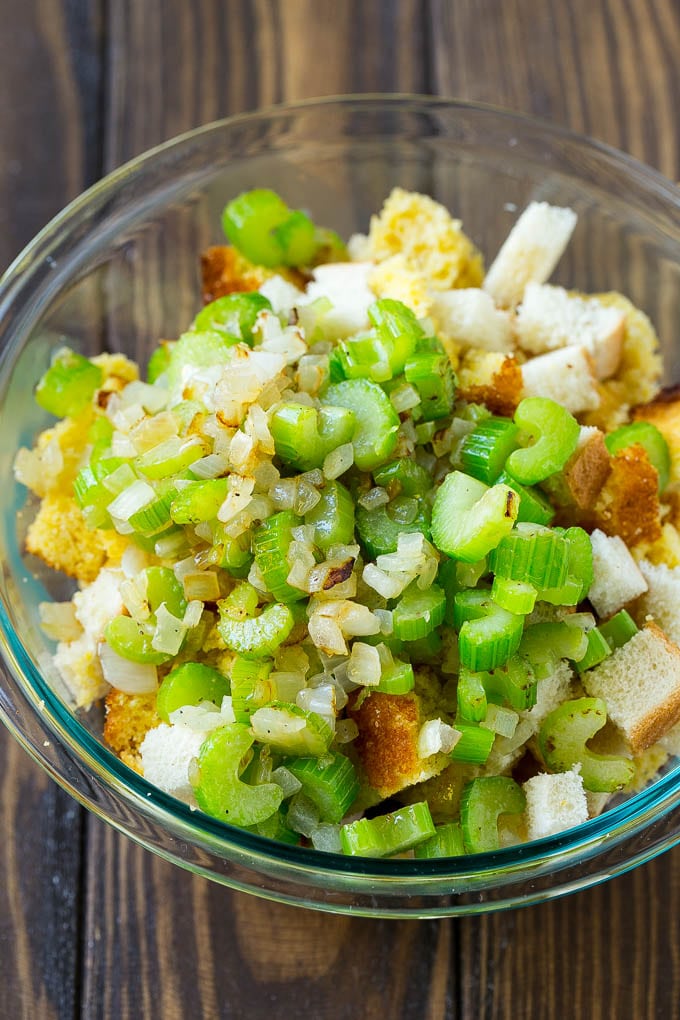 Can dressing be made ahead of time?
You can assemble your dressing up to 8 hours before the big meal. Simply cover your baking dish with foil and store it in the fridge until you're ready to bake it. You may need to increase the cooking time a bit since you'll be starting with a cold dish.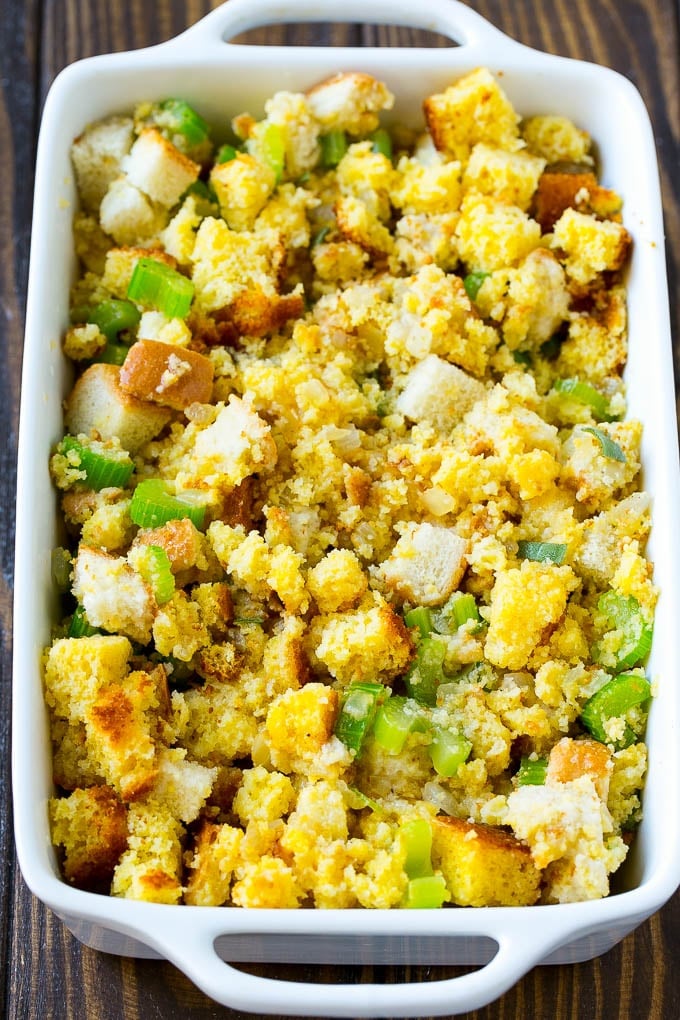 Cornbread dressing tips
You can make your homemade cornbread up to a month in advance and freeze it until you're ready to make stuffing.
I prefer to crumble my cornbread into larger pieces as it will break down some more when you mix everything together.
It's really best to use fresh herbs here as they have a lot more flavor than dried herbs. If you need to use dried herbs in a pinch, cut the amounts by 2/3.
While I typically use plain old white bread in this recipe, you could also use wheat bread, or an artisan bread like a baguette.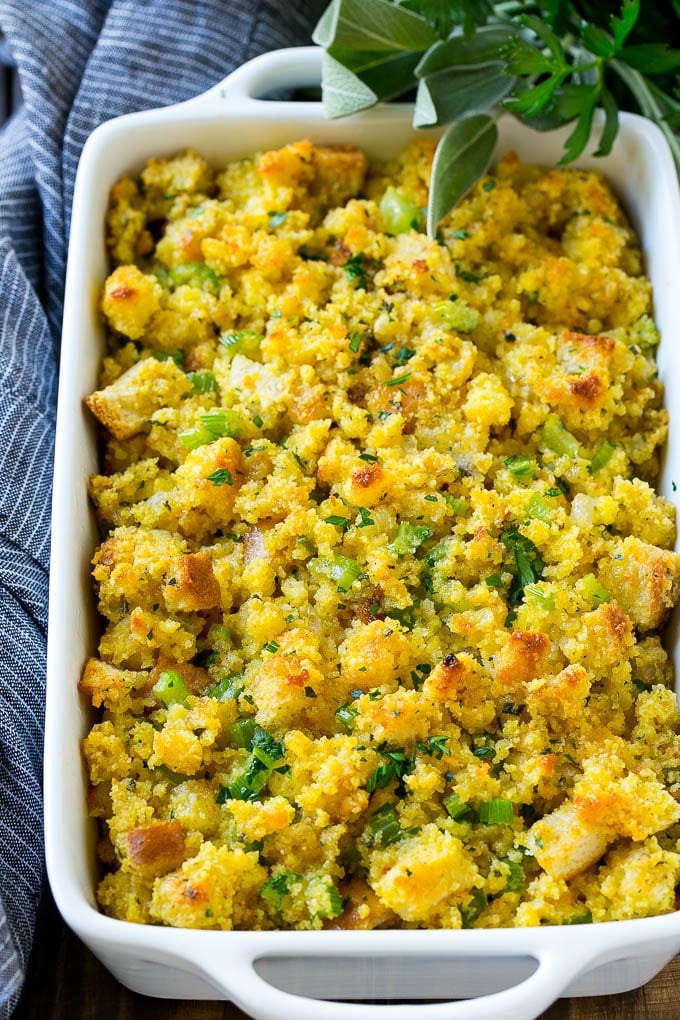 Cornbread stuffing flavor variations
This recipe is great as-is, but you can add other ingredients to customize the flavors to your tastes.
Protein: Feel free to add some cooked breakfast sausage, bacon or smoked sausage to your stuffing.
Vegetables: Stir in some extra veggies such as mushrooms or fennel.
Fruit: Cooked apples are a popular addition to dressing, as are dried cranberries or cherries.
Herbs: Add extra herbs such as thyme, rosemary or marjoram.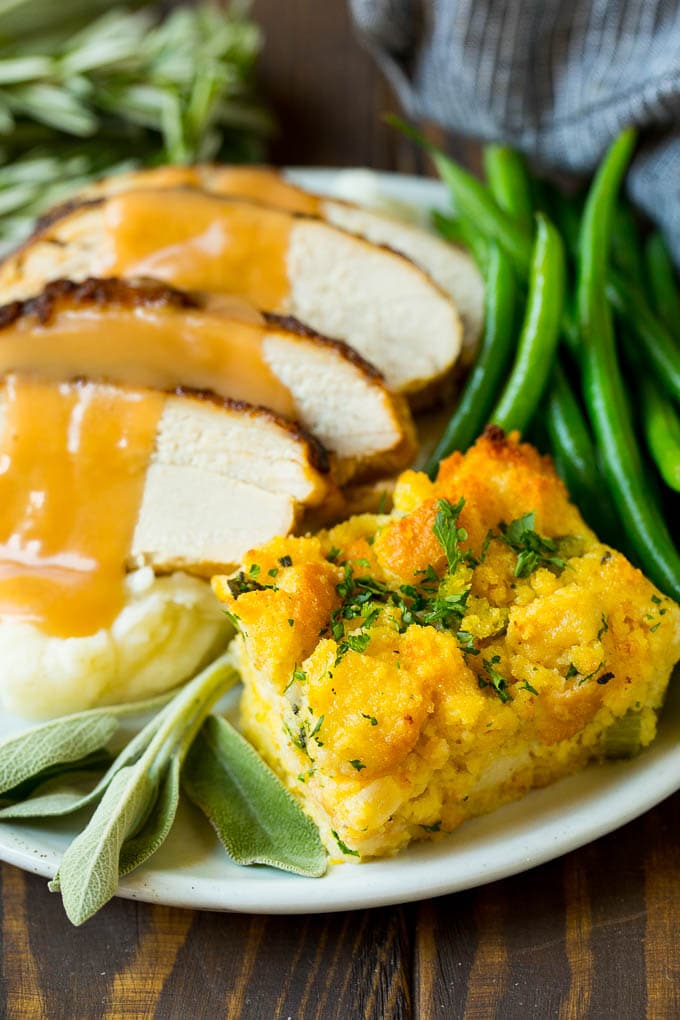 I have a lot of people in my family that are stuffing haters, I can't wait to unveil this Southern cornbread dressing to them this year to see if they change their minds! In my opinion this is the best stuffing recipe I've tried, and I try a different recipe almost every year trying to find one my family will like. The combination of the veggies, two types of bread and fresh herbs just can't be beat. It's buttery and delicious just like any good Thanksgiving recipe should be!
More thanksgiving side dishes
Cornbread Dressing Video
Southern Cornbread Dressing
This Southern cornbread dressing recipe is a classic that's a must-have for every Thanksgiving table. You'll never look at cornbread stuffing the same way again!
Ingredients
1

recipe

honey cornbread

or any 9" square cornbread that's homemade or store bought

5

slices

stale white bread

cut into cubes

10

tablespoons

butter

divided use

1

large

onion

finely chopped

1

cup

celery

finely chopped

4

cups

chicken or turkey broth

5

eggs

1

tablespoon

fresh sage leaves

finely chopped

2

tablespoons

chopped parsley

salt and pepper to taste

cooking spray

optional: sage leaves for garnish
Instructions
Cool the cornbread and crumble. Place the cornbread in a large bowl with the bread cubes and toss to combine.

Preheat the oven to 350 degrees. Coat a 9"x13" pan with cooking spray.

Melt 4 tablespoons of butter in a large pan over medium heat. Add the onion and celery and cook for 6-8 minutes or until softened. Season the vegetables with salt and pepper to taste. Place the vegetables in the bowl with the cornbread mixture.

Melt the remaining 6 tablespoons of butter and pour into a large bowl. Add the chicken broth, eggs, salt and pepper to taste, and sage and whisk to combine.

Pour the butter mixture into the bowl with the cornbread mixture and stir to combine.

Transfer the stuffing mixture to the prepared pan. Bake for 45 minutes or until dressing is browned and cooked through.

Sprinkle with parsley and garnish with sage leaves if desired. Serve.
Nutrition
Calories:
289
kcal
|
Carbohydrates:
26
g
|
Protein:
6
g
|
Fat:
17
g
|
Saturated Fat:
9
g
|
Cholesterol:
137
mg
|
Sodium:
411
mg
|
Potassium:
138
mg
|
Fiber:
1
g
|
Sugar:
8
g
|
Vitamin A:
600
IU
|
Vitamin C:
1.4
mg
|
Calcium:
87
mg
|
Iron:
1.3
mg
This post was originally published on November 14, 2017 and was updated November 5, 2020 with new content.