This cranberry Jello salad recipe combines raspberry gelatin with cranberry sauce, pineapple and orange zest for a delicious side dish or dessert that's perfect for the holidays.
No Thanksgiving dinner is complete without at least one cranberry recipe. My favorite ways to serve cranberries include cranberry relish, cranberry bread, cranberry meatballs and this easy yet elegant cranberry Jello salad.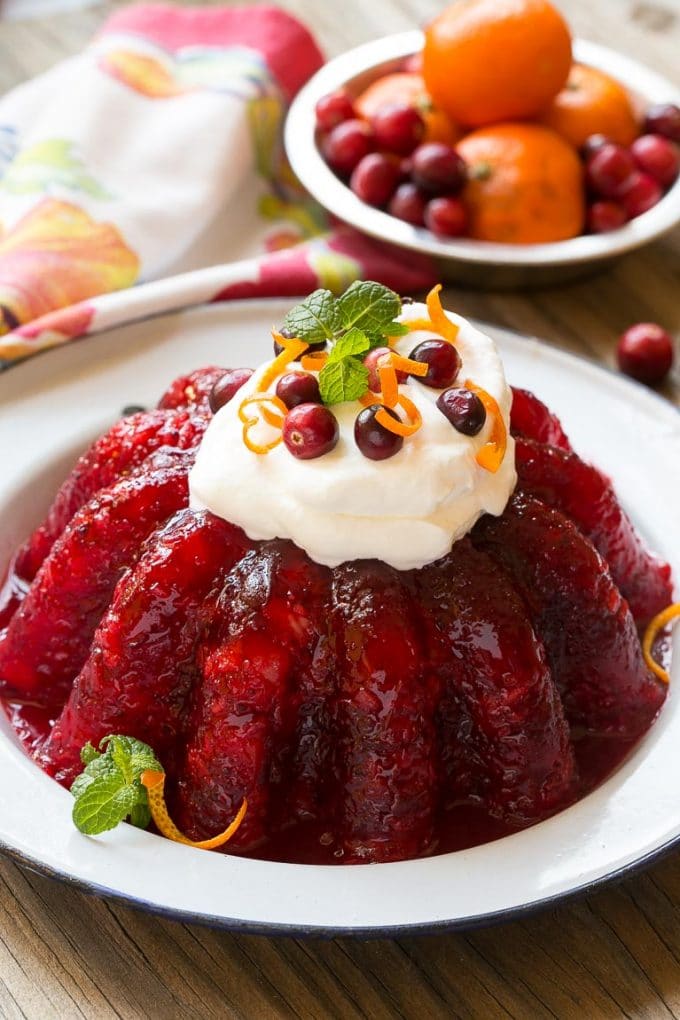 Ah, the gelatin mold. Such an old school classic that has the ability to be super delicious or not-so-appealing depending on how you make it. When I was a teenager we spent Thanksgiving at a family friend's house and they served this amazing cranberry Jello salad. My mom asked for the recipe and we've been making it ever since. This is one of my must-make Thanksgiving recipes along with favorites such as slow cooker mac and cheese, corn souffle and Thanksgiving turkey!
Cranberry Jello Salad Ingredients
To make this recipe, you will need raspberry gelatin, crushed pineapple, whole berry cranberry sauce and orange zest. You can also add some whipped cream, fresh whole cranberries, orange zest and mint sprigs for garnish if you like.
How Do You Make Cranberry Jello Salad?
Coat a gelatin mold or square baking dish with cooking spray. Place the gelatin in a large bowl, then add boiling water. Next, whisk the mixture together until the gelatin has dissolved. Add cold water, along with the crushed pineapple and its juice, cranberry sauce and orange zest. Stir to combine. Pour the mixture into the mold or pan, then cover and chill for at least 6 hours. When you're ready to eat, submerge the bottom of the mold in hot water for 30 seconds. Place your serving dish on top of the open part of the mold, then flip it over. You can serve it as it, or whip together heavy cream and granulated sugar to make a whipped cream topping. You can also garnish with other items such as orange zest, fresh cranberries and mint.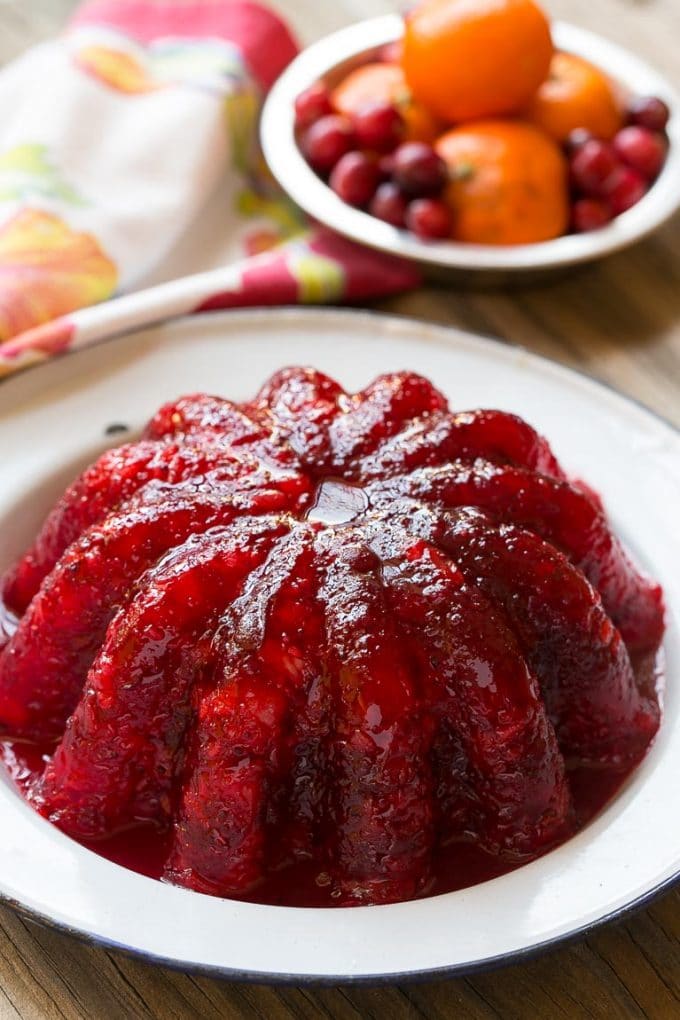 Tips For The Perfect Dish
This recipe makes about 5 cups of Jello salad, so you'll want to use a mold that's around 6 cups in size. It's also fine to use a 9 inch square pan or any other 2 quart baking dish.
I find it works best to prepare your salad a day in advance. This way there's plenty of time for it to set up. Make the whipped cream garnish right before serving.
Use a vegetable peeler to peel larger strips of orange zest for a beautiful garnish. I use a microplane to finely grate the zest that goes into the recipe.
Leftovers will stay fresh in an airtight container for up to 3 days.
Be sure to use canned pineapple in this salad. Do not use fresh pineapple, as it contains an enzyme that can prevent the salad from setting properly.
Quick Tip
If your mold doesn't immediately come out when you flip it over, you can dip it a second time in warm water and try again.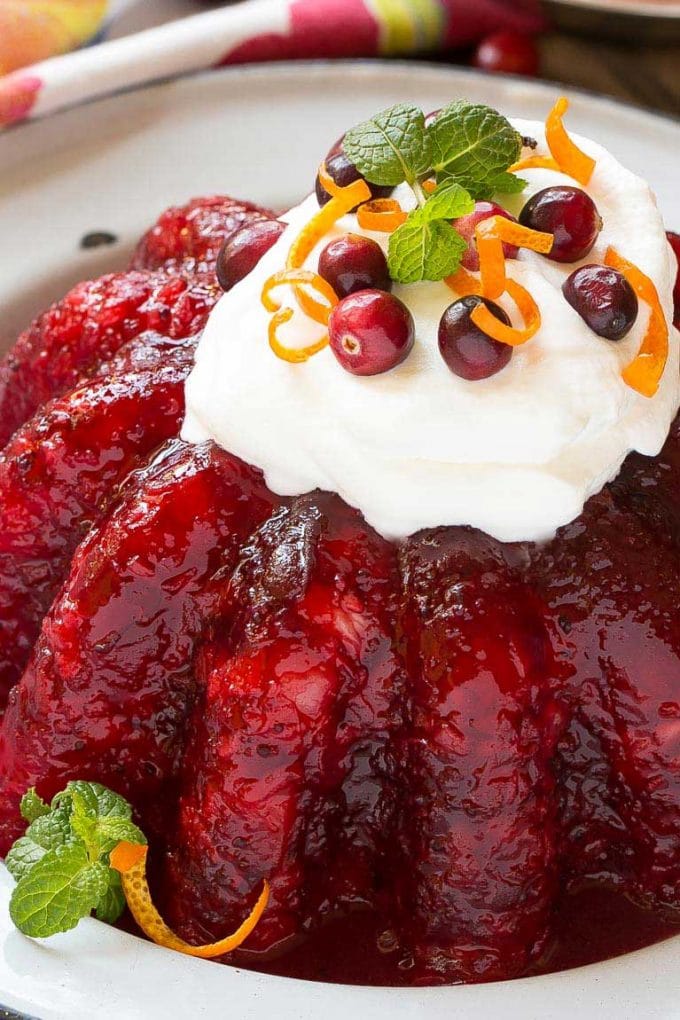 Recipe FAQs
Why is Jello salad called salad?
There are so many different recipes that are referred to as salad, with everything from a classic lettuce based Italian salad to dessert style salads such as snicker apple salad. In this particular case, Jello molds are often named as salad because they contain fruits and sometimes vegetables.
Are Jello salads still popular?
Jello salads reached their height of popularity in the 1960's, but is not uncommon to see gelatin salads in our modern era. They are often served during the holidays or for warmer weather gatherings in the summer due to their refreshing nature.
Flavor Variations
While this recipe is delicious as-is, you can easily substitute or add ingredients to customize the flavors to your tastes.
Gelatin: Swap out the raspberry Jello for other flavors such as strawberry Jello, black cherry Jello or orange gelatin.
Fruit: Instead of pineapple, try other options including canned diced pears, peaches, mandarin oranges or even diced apples.
Flavorings: Feel free to add other ingredients to the salad. You can add up to 1/2 cup of pecans, chopped walnuts or mini marshmallows. You can also stir in 1/2 cup of whipped topping, cream cheese or sweetened condensed milk to make a creamy salad.
Once you see how delicious this cranberry Jello mold is, you'll find yourself adding it to your Thanksgiving or Christmas dinner menu every year!
Love This Recipe?
Please leave a 5-star 🌟🌟🌟🌟🌟 rating in the recipe card below & a review in the comments section further down the page.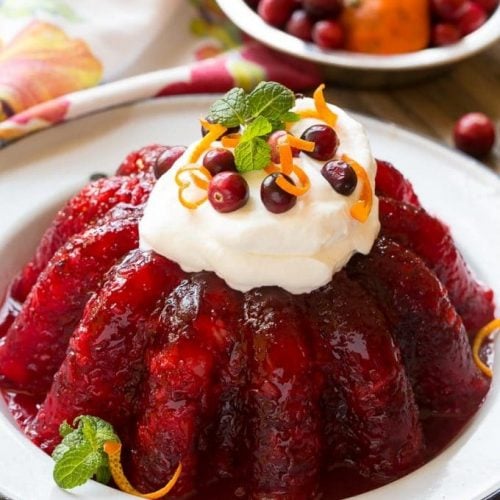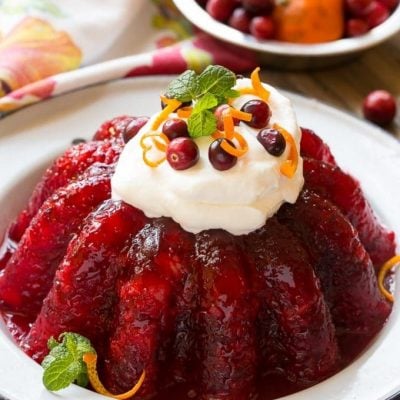 This cranberry jello salad is made with raspberry jello, cranberry sauce, pineapple and orange for a festive treat that's a welcome addition to any holiday table.
Ingredients
For the salad
6

ounces

raspberry gelatin

2 small boxes or 1 large

20

ounce can

crushed pineapple in its own juice

do not drain

14

ounce can

whole berry cranberry sauce

not jellied

the zest of 1 orange

Cooking spray
Optional garnishes
1/2

cup

heavy cream

2

tablespoons

of granulated sugar

fresh cranberries, mint sprigs and orange zest for garnish
Instructions
For the salad
Spray a 6 cup gelatin mold or a 9-inch square pan with cooking spray.

Place the raspberry gelatin in a large bowl. Add 1 cup of boiling water, and stir or whisk until the gelatin is completely dissolved.

Stir in 1/2 cup cold water.

Add the pineapple with its juice, cranberry sauce and orange zest. Stir until everything is well combined.

Pour the mixture until the mold or pan. Cover with plastic wrap, and refrigerate for at least 6 hours.

To unmold the gelatin, submerge the bottom 2/3rd of the mold in very hot water for about 30 seconds. Place your serving platter on top of the open part of the mold and flip it over. If it doesn't immediately come out you can repeat the hot water dips until it comes out.

Place the gelatin mold back into the fridge until you're ready to serve it.
Optional garnishes
Right before serving, make the whipped cream if you're using it. Beat the cream with a mixer until stiff peaks form, about 3-4 minutes. Add the sugar and beat for another 30 seconds. Place the whipped cream on top of the gelatin and top with cranberries, mint sprigs and orange zest.
Notes
The gelatin mold can be made 3 days in advance and stored, loosely covered in the fridge. Add the whipped cream and garnishes right before serving.
Don't have time to make your own whipped cream? Store bought whipped topping is also a great choice.
Nutrition
Calories:
214
kcal
|
Carbohydrates:
38
g
|
Protein:
1
g
|
Fat:
4
g
|
Saturated Fat:
4
g
|
Cholesterol:
20
mg
|
Sodium:
23
mg
|
Fiber:
3
g
|
Sugar:
34
g