This Cajun turkey recipe is a whole turkey coated in butter and homemade seasoning mix, then roasted to golden brown perfection. A fabulous holiday main course offering that is packed with flavor and simple to make.
Every year when Thanksgiving rolls around, I make a feast for my whole family that includes classics such as a Thanksgiving charcuterie board, Ruth's Chris sweet potato casserole, cranberry orange sauce, savory Thanksgiving stuffing, cornbread casserole and a zesty Cajun turkey.
You can never go wrong with a traditional roast turkey for the holidays, but in my opinion, a Cajun turkey is an even better bet. The extra spices and flavorings take this tender and juicy Thanksgiving recipe over the top for a memorable meal.
Cajun Turkey Ingredients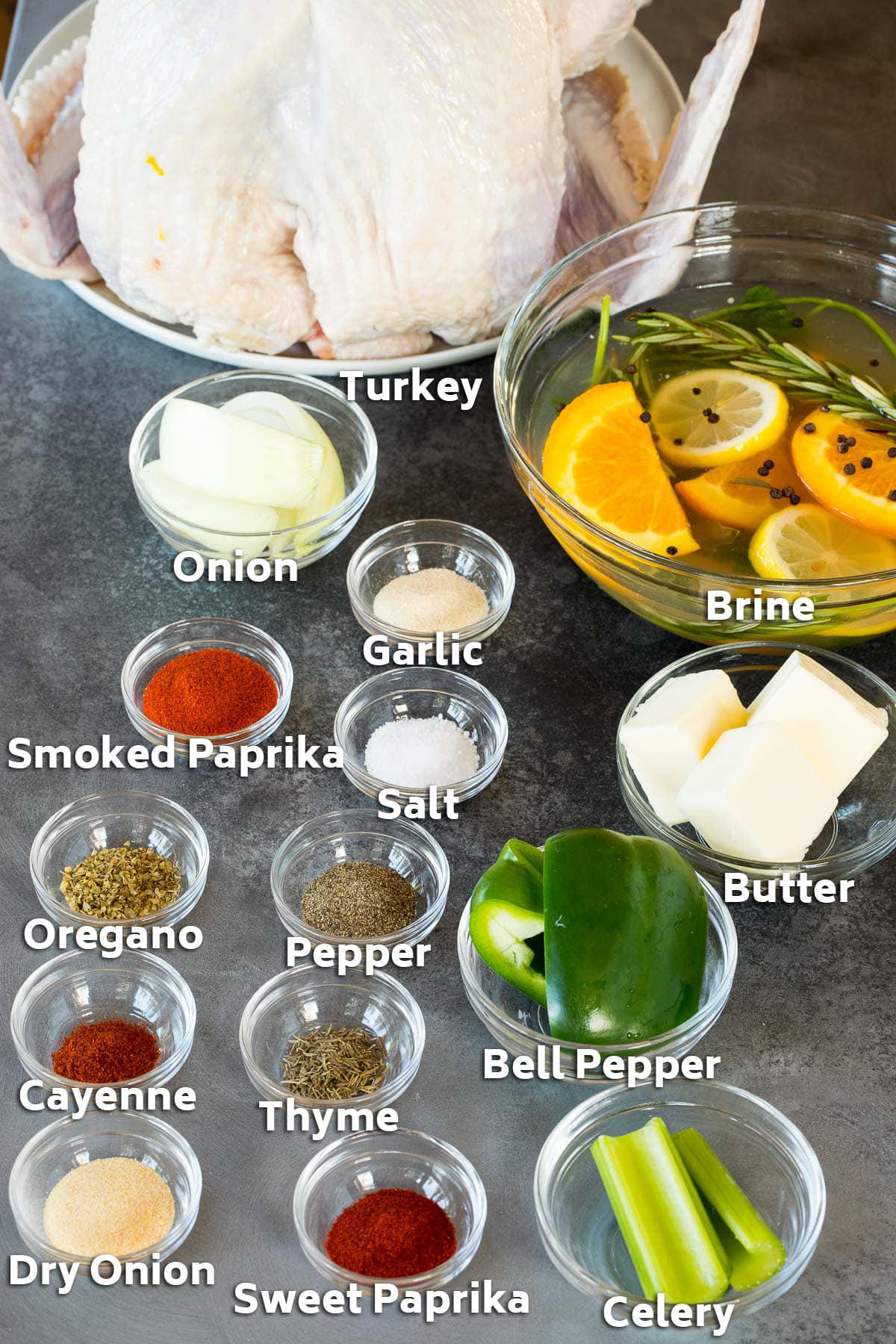 This recipe contains ingredients that you may already have on hand, or are easily accessible at most grocery stores.
Turkey Brine: I recommend using my turkey brine recipe to start your Cajun turkey off with the most flavor possible. The other benefit of a brine is that it helps keep the turkey from drying out as it cooks. While brining your turkey is optional, I do urge you to do it if you have the time.
Turkey: This recipe assumes you're using a turkey that is about 14-15 pounds in size. If your turkey is larger or smaller, you will need to adjust the cooking time accordingly.
Butter: Combine butter and spices to make a rub that will coat the turkey.
Cajun Seasoning: I prefer to make my own Cajun seasoning, and I've provided the ingredients for the Cajun spices in the recipe below.
Vegetables: Stuff the cavity of your turkey with green bell pepper, celery and onion, which are the three veggies that make up the "holy trinity" base of Cajun cooking.
How Do You Make A Cajun Turkey?
Stir together spices including paprika, garlic powder, onion powder, oregano and thyme to make the seasoning. Brine your turkey if possible. Remove the turkey from refrigerator and place it in a large roasting pan. Stuff the cavity of your bird with celery, green bell pepper and onion, then tie the legs together. Mix the seasoning with softened butter, then quickly spread the butter mixture all over the turkey. Roast the turkey until a thermometer inserted into the thickest part of the breast or thigh registers 165 degrees F. Baste the bird as it cooks. Let the turkey rest, then carve and serve.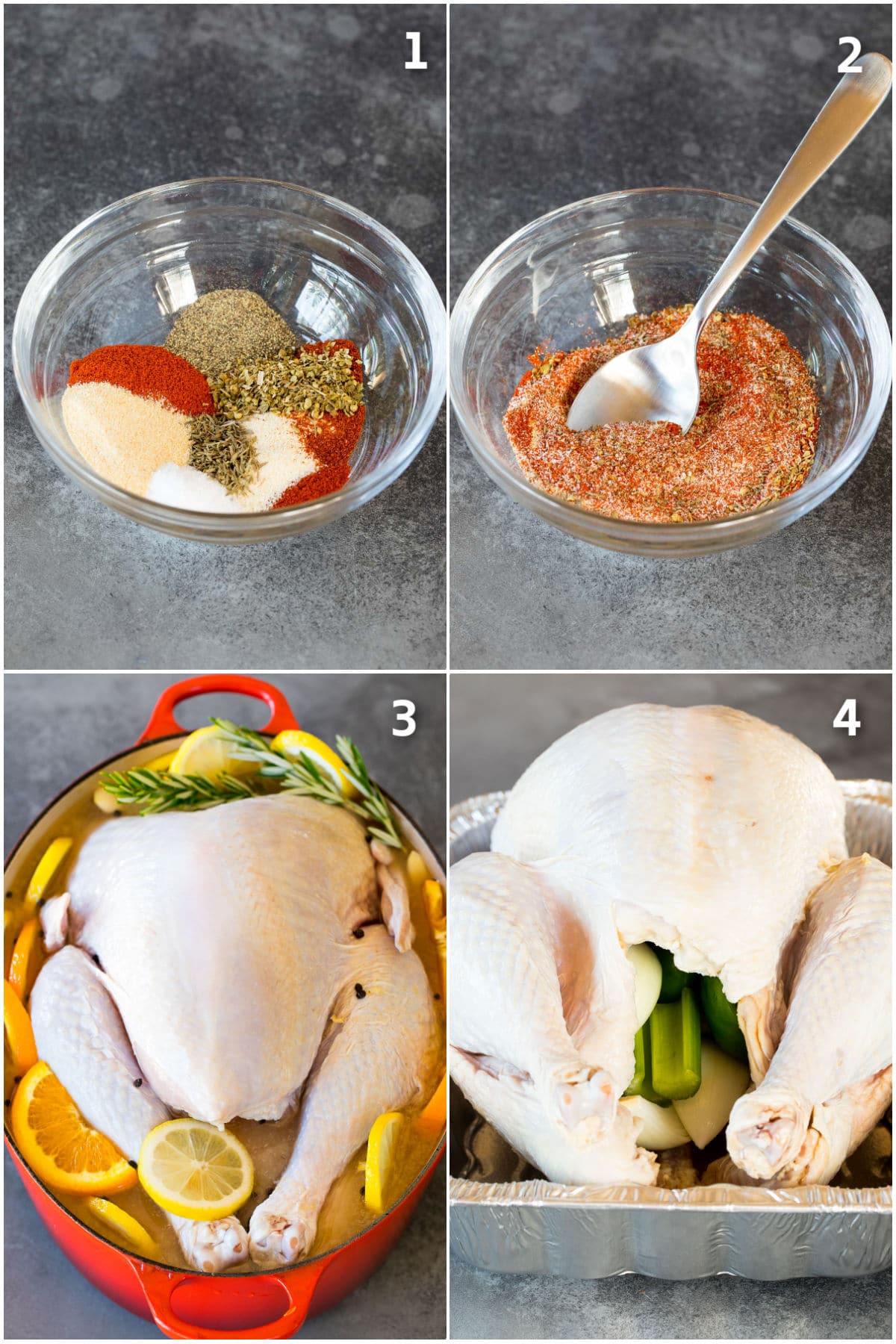 Tips For The Perfect Turkey
It's very important that the butter is soft so that it's easy to spread over the turkey. Keep in mind that the butter will harden when it touches the cold turkey, so you'll want to work quickly. I find an offset spatula works best for this task.
I recommend using an electronic probe thermometer. Insert the thermometer into the thickest part of the turkey to check for doneness.
You can prepare the spice mix up to 3 months before you plan to use it. I often double or triple the spice blend so I have plenty on hand for other Cajun recipes.
Got leftover Cajun turkey? Check out my list of leftover turkey recipes for inspiration!
For extra flavor, make some turkey gravy to pour over your sliced bird.
Quick Tip
I use a disposable aluminum roasting pan to keep clean up to a minimum!
Recipe FAQs
How long does it take to thaw a turkey?
If you're using a frozen turkey, it will need to be completely thawed before you proceed with this recipe. Allow for 24 hours of thaw time in the refrigerator for every 4 pounds of turkey. For example, if you're using a 15 pound turkey, it will take just under 4 days.
Should you cook a turkey covered or uncovered?
I recommend cooking a turkey uncovered to get golden brown and crispy skin. If you feel that the top of your turkey is browning too quickly, you can cover it with foil as needed during the baking process.
How long does turkey last in the fridge?
You can store your cooked leftover turkey in the fridge for up to 3 days. You can also freeze it for two months.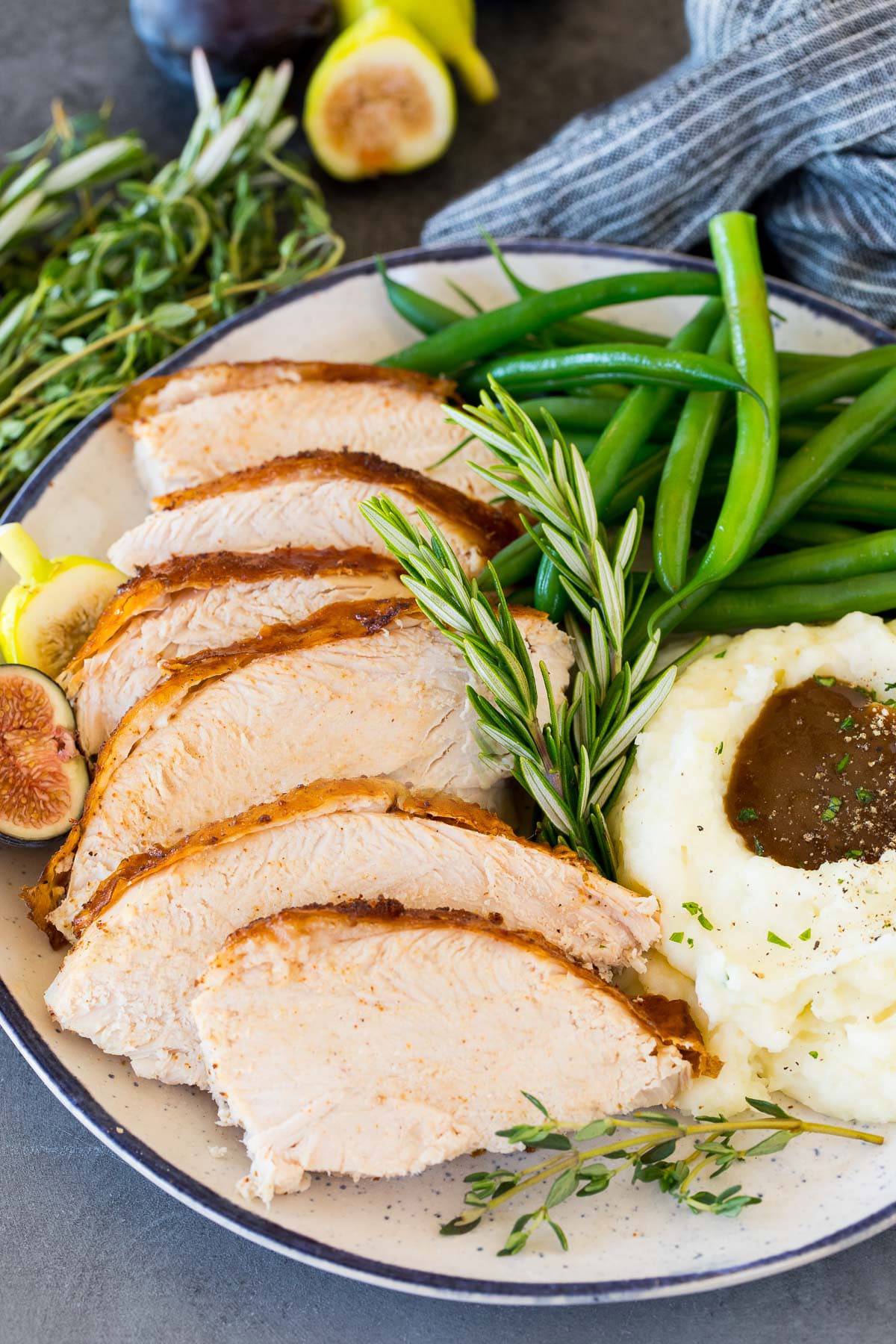 Flavor Variations
This recipe is delicious as-is, but you can easily customize the ingredients to suit your tastes.
Seasoning: If you're looking to save time, you can purchase a pre-made Cajun seasoning blend. Or, feel free to make your turkey spicy by adding extra cayenne pepper.
Protein: Cooking for a smaller crowd? This recipe will also work with a turkey breast or whole chicken. Simply cut the amount of brine in half and reduce the cooking time.
Aromatics: Feel free to add other ingredients to the turkey cavity along with the onion, celery and bell pepper. Some great options include lemon or orange wedges, fresh rosemary or fresh thyme.
This Cajun turkey will be a big hit at your next holiday celebration! Looking for more recipe inspiration? Be sure to check out my list of holiday entertaining recipes for more fabulous dishes.
Side Dishes To Pair With Your Turkey
Love This Recipe?
Please leave a 5-star 🌟🌟🌟🌟🌟 rating in the recipe card below & a review in the comments section further down the page.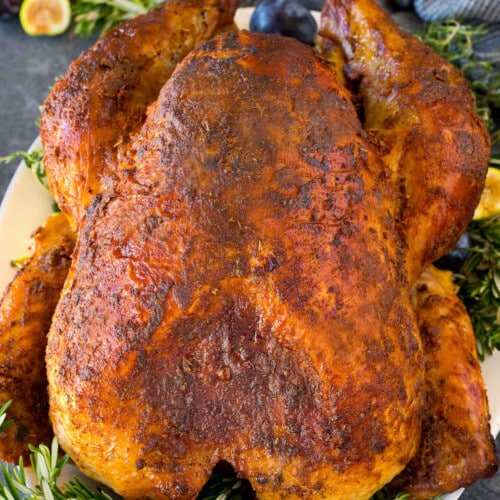 This Cajun turkey recipe is a whole turkey coated in butter and homemade seasoning mix, then roasted to golden brown perfection. A fabulous holiday main course offering that is packed with flavor and simple to make.
Ingredients
For the Cajun seasoning
1

tablespoon

sweet paprika

1 1/2

teaspoons

smoked paprika

1 1/2

teaspoons

kosher salt

1

teaspoon

black pepper

2

teaspoons

garlic powder

1 1/2

teaspoons

onion powder

1

teaspoon

dried oregano

1/2

teaspoon

dried thyme

1/2

teaspoon

cayenne pepper
For the turkey
1

recipe

turkey brine

optional but highly recommended

15

lb

turkey

10

tablespoons

butter

softened

1

small

onion

quartered

1

stalk

celery

cut into 2 inch pieces

1/2

green bell pepper

seeded and cored

Fresh herbs and fruit for garnish

optional
Instructions
For the Cajun seasoning
Place all the seasoning ingredients in a small bowl and stir to combine.
For the turkey
Prepare the brine according to recipe directions. Brine the turkey for 18-24 hours before cooking.

Preheat the oven to 425 degrees F.

Remove the turkey from the brine; rinse and pat dry. Let the turkey stand at room temperature for 20 minutes. Tuck the turkey wings under the body.

Place the onion, celery and bell pepper into the cavity of the turkey. Tie the turkey legs together with kitchen twine.

Place the Cajun seasoning and butter in a bowl and stir until well combined.

Rub the Cajun spice butter all over the outside of the turkey and under the skin of the breast.

Place the turkey in a roasting pan and bake for 30 minutes.

Reduce the oven temperature to 350 degrees F and continue roasting, basting the turkey every 30 minutes with pan drippings, until the turkey is done.

This process will take approximately 3 1/2 hours and you'll know that the turkey is done when a meat thermometer inserted into the thickest part of the turkey thigh or breast registers at least 165 degrees F.

If the turkey seems like it's getting overly browned during the cooking process, cover it with foil.

Remove the turkey from the oven and tent loosely with foil. Let the turkey rest for 10 minutes. Slice, then serve.

Garnish with fruit and herbs if desired.
Notes
You can make this recipe with a turkey larger than 15 pounds, simply add 15 minutes more to the cooking time per pound.
If you don't have time to make your own Cajun seasoning, use 1/4 cup of store bought seasoning instead.
It's best to cook your turkey on a rack to help keep it from sitting in all the juices in the bottom of the pan.
Nutrition
Calories:
352
kcal
|
Carbohydrates:
1
g
|
Protein:
66
g
|
Fat:
16
g
|
Saturated Fat:
8
g
|
Cholesterol:
236
mg
|
Sodium:
514
mg
|
Potassium:
733
mg
|
Vitamin A:
390
IU
|
Vitamin C:
4.1
mg
|
Calcium:
40
mg
|
Iron:
2.7
mg