These Southern style mustard greens are cooked with smoky bacon and seasonings until tender and flavorful. An easy yet satisfying side dish that pairs perfectly with roasted chicken, pork chops or seafood.
When I'm looking for an easy and flavorful side dish that I know everyone will enjoy, I turn to favorites such as corn fritters, baked beans and these savory mustard greens. Pair your greens with classic recipes like Hoppin' John for a dinner that will earn rave reviews!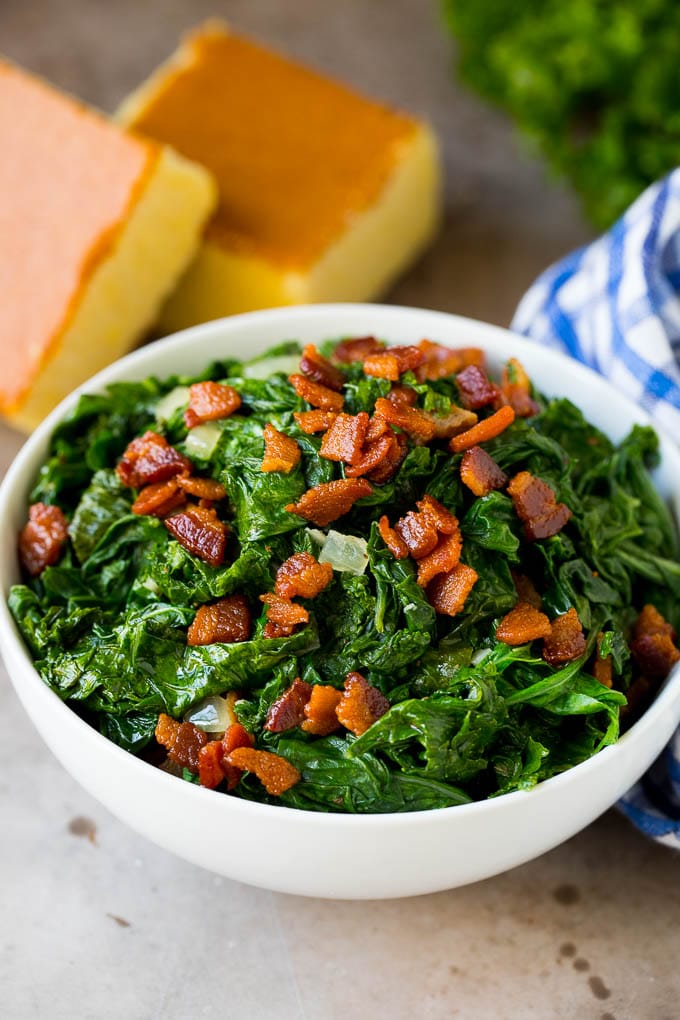 Mustard greens are an underutilized ingredient in my opinion, but if you haven't tried these greens, you're missing out! They have tons of flavor, especially when you pair them with plenty of bacon.
What are mustard greens?
Mustard greens are a bright colored, leafy vegetable with a fresh, peppery taste. The greens come from the same plant that produces mustard seeds and mustard oil, and that's how they got their name. Mustard greens are best served cooked, and can be prepared in many different applications. You can often find mustard greens in various Asian cuisines.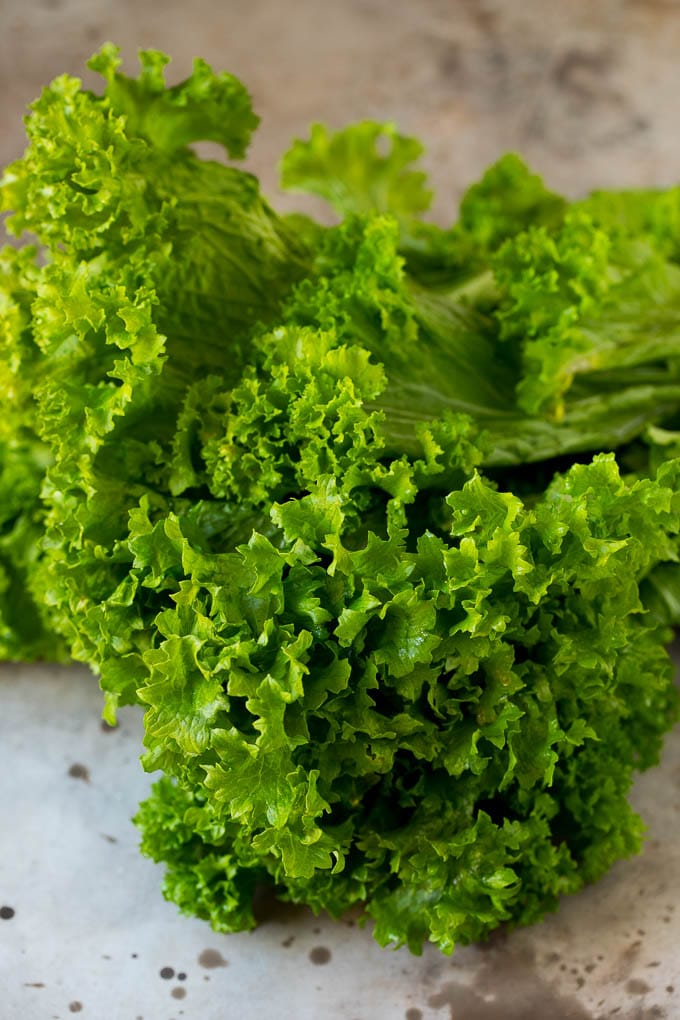 How do you make mustard greens?
Clean your greens well in cold water, making sure to remove all dirt and grit. Slice the stem out of each piece, then roughly chop the leaves. Cook diced bacon until crisp, then remove half the bacon to use as garnish. Add onion and garlic to the bacon grease in the pan, and cook until tender. Place the greens in the pot, along with some chicken broth and seasonings. Simmer until the greens are very tender. Stir in the hot sauce and vinegar, then garnish with reserved bacon and serve immediately.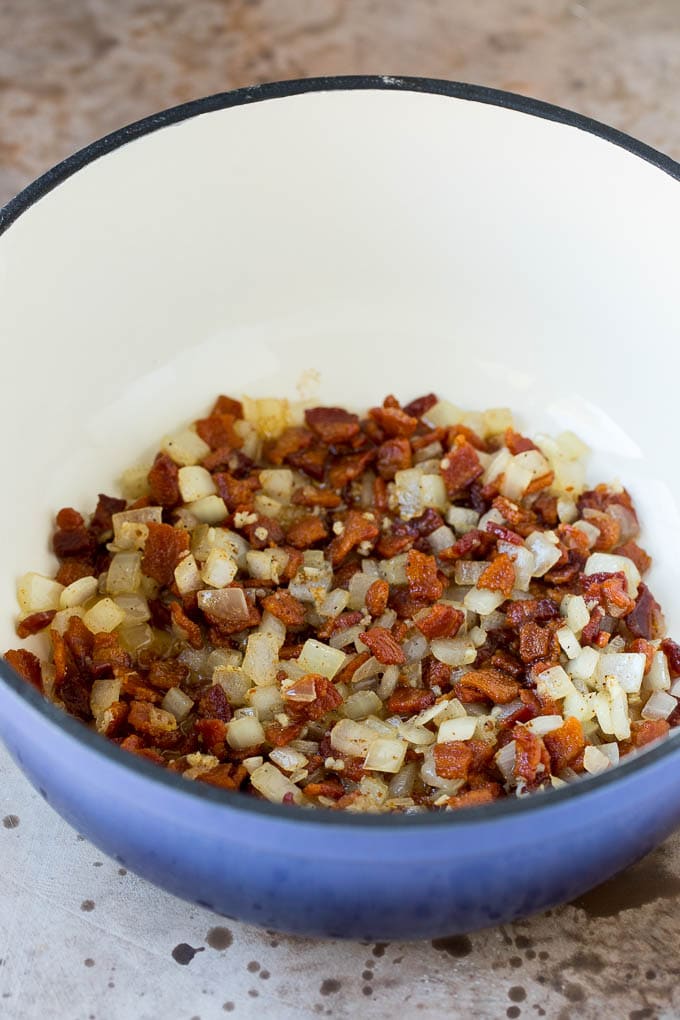 How do you get the bitter taste out of mustard greens?
Sometimes this variety of greens can be a touch on the bitter side, and the best way to counteract this issue is to add a pinch of sugar to your greens. The sugar does not make the dish taste sweet, but it neutralizes the bitter taste. You can also add a little extra salt, or try a teaspoon of fresh lemon juice.
Tips for the perfect dish
Your greens can be cleaned and prepped up to three days before you plan to use them. You can also buy a bag of pre-prepared greens to save some time.
This dish stays fresh in the refrigerator for up to 3 days. I don't recommend freezing this recipe as the greens will be watery when thawed.
I recommend serving your greens with cornbread on the side for optimal enjoyment.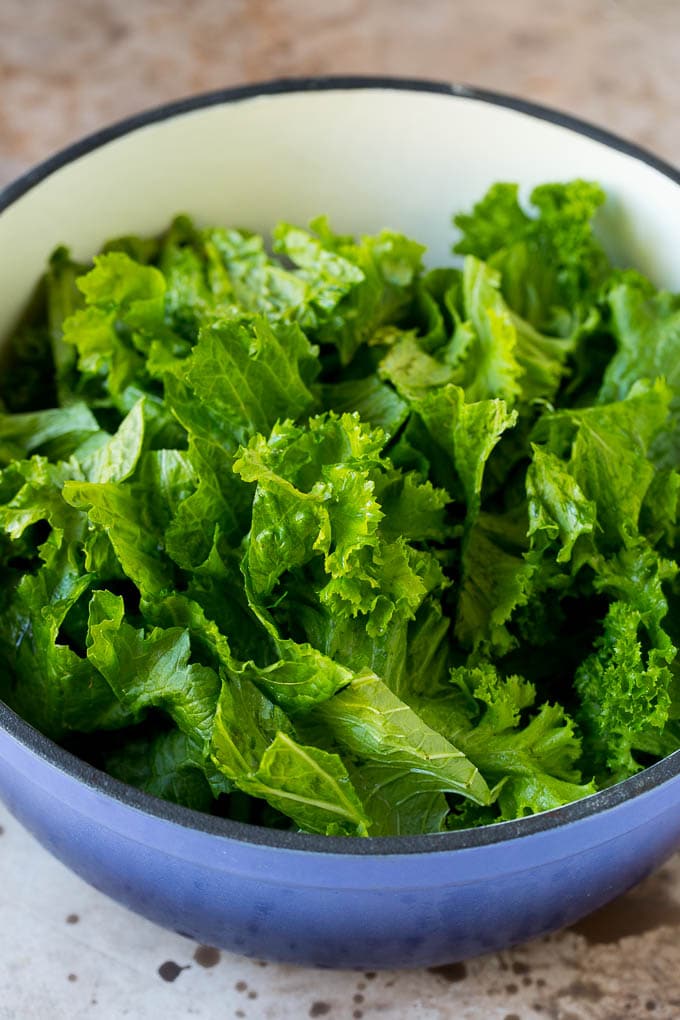 Flavor Variations
While I love this dish as written, there are many ways to change up the flavor to customize it to your tastes.
Meat: Instead of bacon, try another smoky meat such as ham hocks, smoked sausage, diced ham steak or smoked turkey wings. If you use ham hocks or smoked turkey wings, you'll want to simmer them until tender before you add them to the greens. Be sure to cut the meat off the bones to stir it into the finished dish.
Greens: This recipe also works with other varieties of greens such as kale, spinach, collard greens, turnip greens or dandelion greens. You can even use a combination of different types of greens.
Are mustard greens healthy?
Greens contain many nutritional properties and are a great addition to any healthy diet. This veggie is full of calcium, Vitamin K, magnesium and and iron. In their natural state, mustard greens are low in calories, fat and carbohydrates, yet high in fiber. This particular dish calls for bacon, which makes the greens a little less healthy. If you're looking to save on calories, you can reduce the amount of bacon in the recipe by half.
Give these greens a try, it's the best way to eat your veggies and enjoy them too!
More side dishes you'll enjoy
Mustard Greens Video
Mustard Greens with Bacon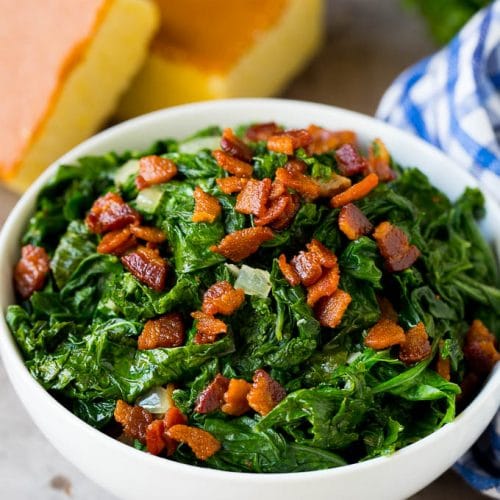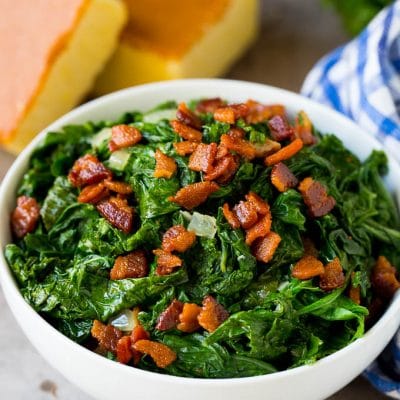 These Southern style mustard greens are cooked with smoky bacon and seasonings until tender and flavorful. An easy yet satisfying side dish that pairs perfectly with roasted chicken, pork chops or seafood.
Ingredients
6

slices

bacon

coarsely chopped

1/2

cup

onion

coarsely chopped

1 1/2

teaspoons

garlic

minced

1

teaspoon

kosher salt

1/2

teaspoon

black pepper

1

pound

mustard greens

cleaned, stems removed, and cut into 1 inch pieces

1

cup

chicken broth

1

teaspoon

sugar

1/4

teaspoon

hot sauce

or more to taste

1/2

teaspoon

apple cider vinegar
Instructions
Place the bacon in a large pot over medium high heat. Cook for 5-6 minutes or until crisp. Remove half the bacon from the pan and reserve for later use.

Add the onion to the pan and cook for 4-5 minutes or until softened. Add the garlic, salt and pepper, then cook for 30 seconds.

Add the greens to the pot and cook for 2-3 minutes or until wilted. Pour in the chicken broth and sugar, then bring to a simmer.

Reduce the heat to low, then cover the pot and simmer for 30 minutes or until greens are tender. Uncover and stir in the hot sauce and vinegar. Cook for an additional 2-3 minutes.

Sprinkle with reserved bacon, then serve immediately.
Nutrition
Calories:
190
kcal
|
Carbohydrates:
9
g
|
Protein:
8
g
|
Fat:
14
g
|
Saturated Fat:
4
g
|
Cholesterol:
22
mg
|
Sodium:
1263
mg
|
Potassium:
430
mg
|
Fiber:
5
g
|
Sugar:
1
g
|
Vitamin A:
5691
IU
|
Vitamin C:
50
mg
|
Calcium:
275
mg
|
Iron:
1
mg