These healthy snack recipes are fresh, colorful and loaded with nuts, grains, fruits and veggies. If you're looking for ways to get a little extra nutrition into your diet, there's sure to be a sweet or savory healthy snack on this list to help keep the hunger away!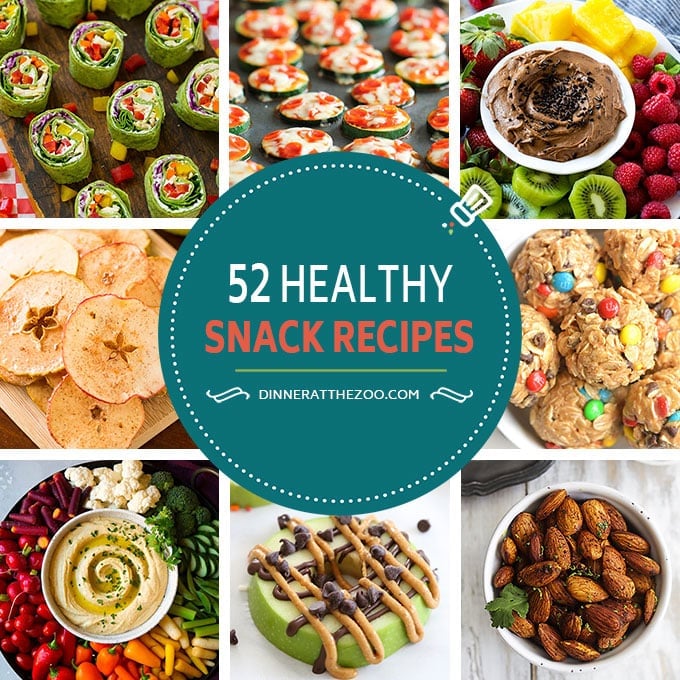 I love a good snack and so do my children. Of course, they prefer the not so healthy ones but what if they didn't know it was good for them? I am a fan of recipes that look sinful however double as a healthy alternative to the cookies and sweets.
Here are 52 healthy snack recipes that are so mouthwatering delicious you (and your kids) won't even blink an eye that they ARE good for you. They're full of colorful veggies, protein packed nuts, healthy grains and more!
Enjoy these recipes guilt free and I won't tell (if you don't) your kiddos that they are good for them. Our secret.
52 Healthy Snack Recipes
Why is it important to have a healthy snack?
Snacks are important because they provide you with needed energy during the day, and can keep you from overeating at meals. Healthy snacks are particularly important because they provide your body with nutrition and will keep you full longer than an unhealthy snack which may be full of sugar and fat.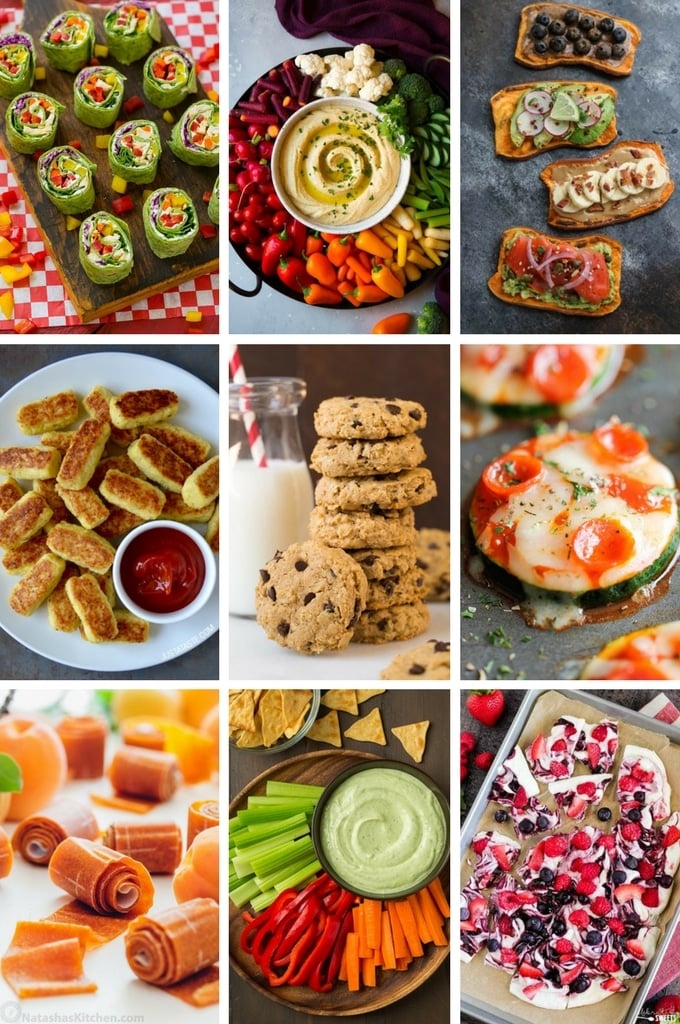 What is a healthy snack?
A healthy snack typically contains some combination of fruit, vegetables, lean protein and whole grains. I typically find that snacks with a protein component help me feel full the longest. Healthy snacks are a great way to make sure you're getting your daily dose of fruits and veggies.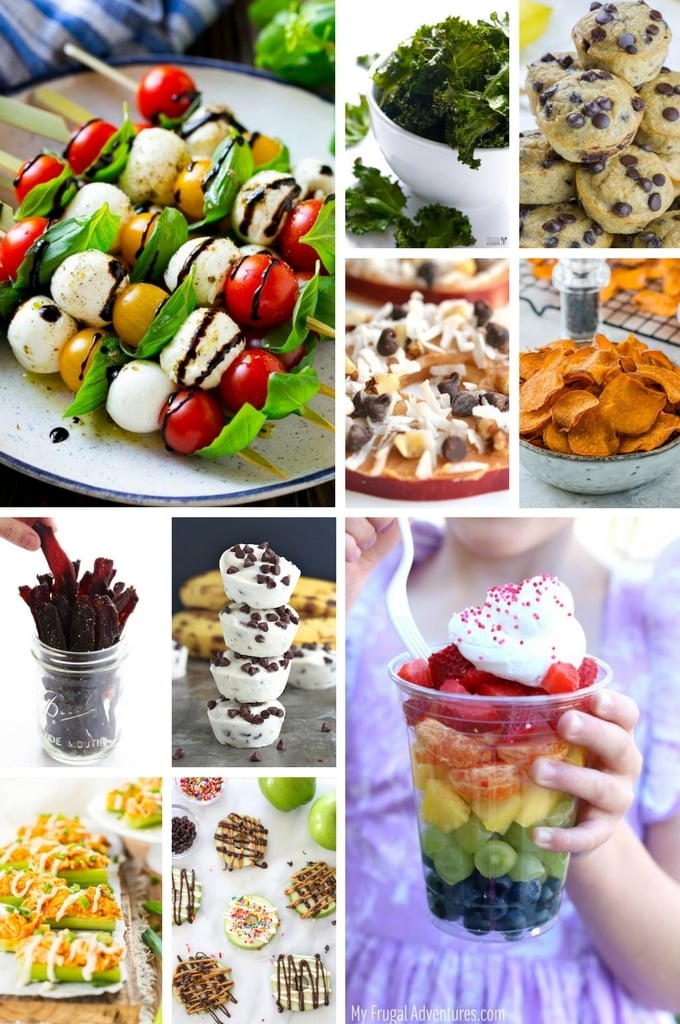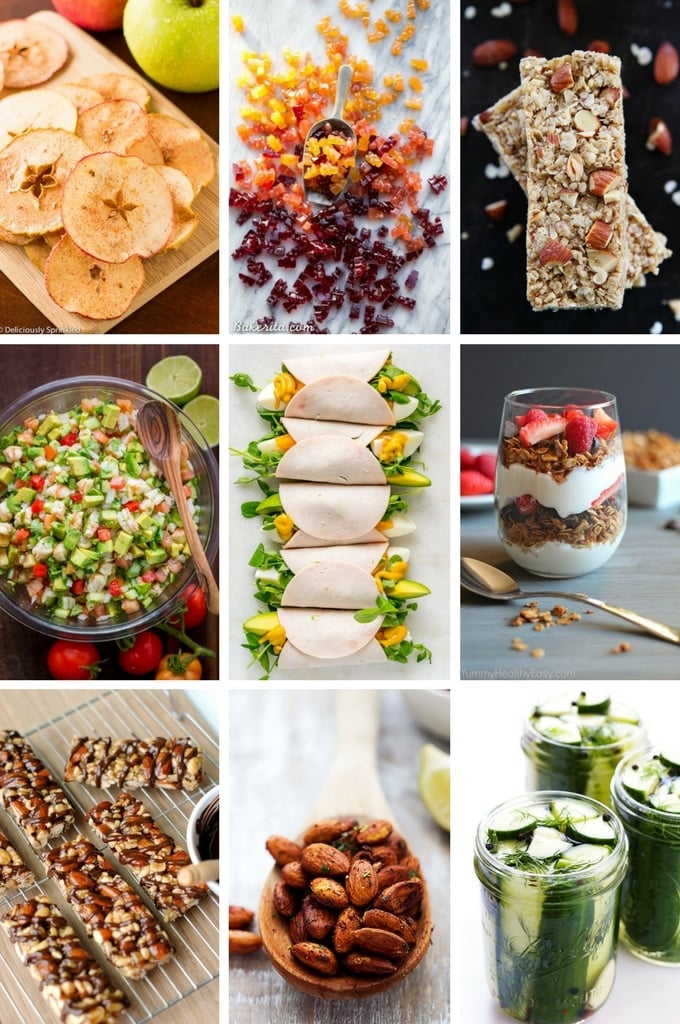 Fresh fruit is the ultimate healthy snack, but sometimes you crave a little more than a basic apple or banana. This easy peanut butter fruit dip has just a handful of ingredients and is ready in minutes. It's got protein packed Greek yogurt and peanut butter with a touch of honey for added sweetness. This peanut butter fruit dip is great paired with apples, bananas, berries and more!
Peanut Butter Fruit Dip
Serves 4
8 ounces vanilla Greek yogurt
1/4 cup peanut butter
1 tablespoon honey
fresh fruit for serving
Place the yogurt, peanut butter and honey in a bowl. Whisk until smooth. Serve with fresh fruit for dipping.