These healthy blueberry muffins are made with whole wheat flour and oatmeal for added nutrition, but they still taste as good as the original recipe!
Just because you're eating healthy doesn't mean you have to give up your favorite baked goods! When I need a lighter breakfast option, I turn to options such as breakfast egg muffins, baked oatmeal cups and healthy blueberry muffins.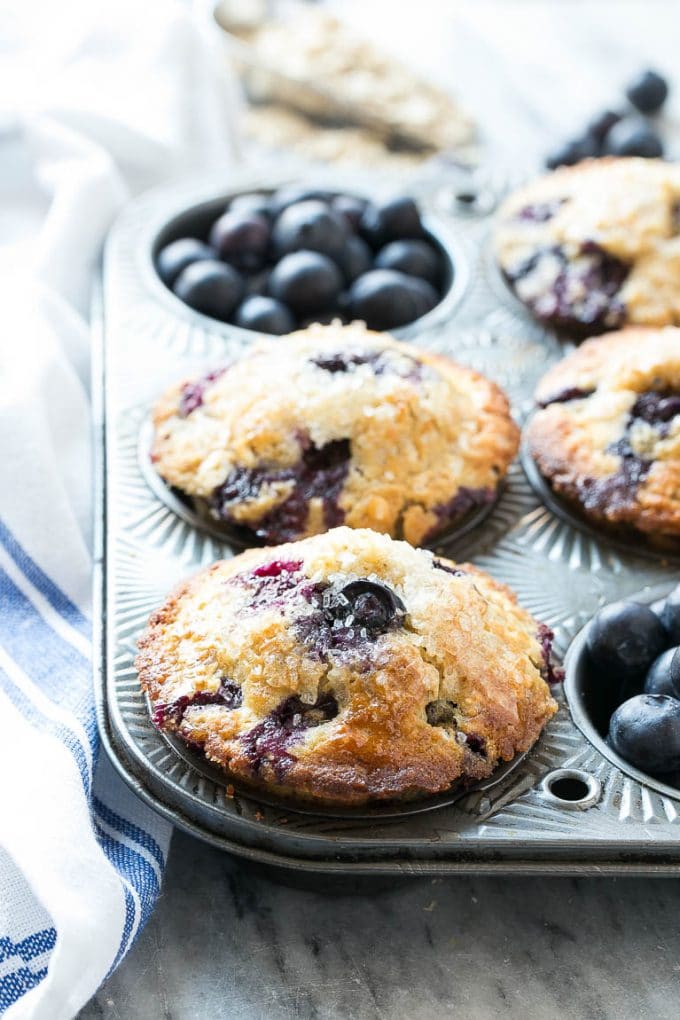 Muffins are notorious for being loaded with sugar and fat, but it doesn't have to be that way. I make some simple swaps in this healthy blueberry muffin recipe to create a lighter end product that you can feel good about feeding to your family.
Healthy blueberry muffins ingredients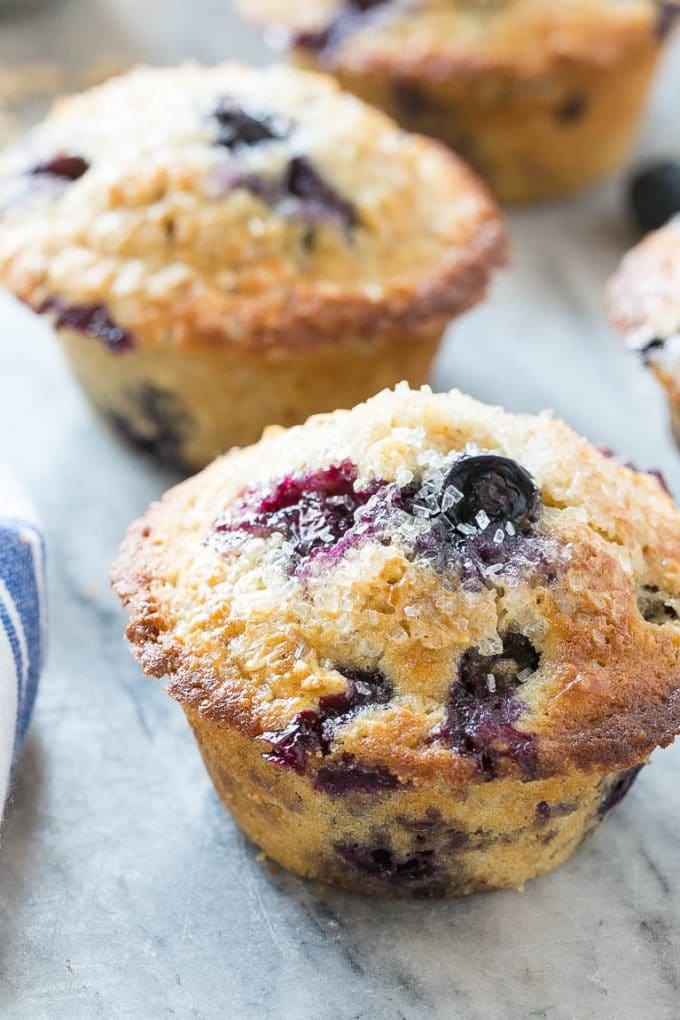 Flour: I use a blend of whole wheat flour and all purpose flour to get the optimal balance of nutrition and texture. For the best results, use a white whole wheat flour or whole wheat pastry flour.
Oatmeal: You can use rolled oats or quick oats in this recipe.
Sugar: These muffins call for less sugar than many other muffin recipes. I use regular granulated sugar for the best texture, but you can use other types of sugar such as raw sugar or coconut sugar.
Salt: Adding a little salt helps to offset the sweetness of the muffins.
Baking Powder: A generous amount of baking powder helps to make these muffins bake up light and fluffy.
Milk: You can use cow's milk, almond milk, soy milk or coconut milk with good results.
Egg: Eggs are necessary to make sure everything binds together.
Oil: Choose a healthier oil such as coconut oil, sunflower oil, grapeseed oil or safflower oil. You can use butter if you prefer.
Vanilla: I use pure vanilla extract to add flavor to my muffins.
Blueberries: You can use fresh blueberries or frozen blueberries in this recipe. If you go with frozen, do not thaw them first.
How do you make healthy blueberry muffins?
Place whole wheat flour, all purpose flour, oatmeal, sugar, salt and baking powder in a bowl, then stir to combine. In a separate bowl, mix together the milk, egg, oil and vanilla. Pour the wet ingredients into the bowl with the dry ingredients, then stir until just combined. Gently fold the blueberries into the batter. Divide the batter among the cups of the muffin tin, then add a sprinkle of coarse sugar. Bake until the muffins are golden brown, then serve and enjoy.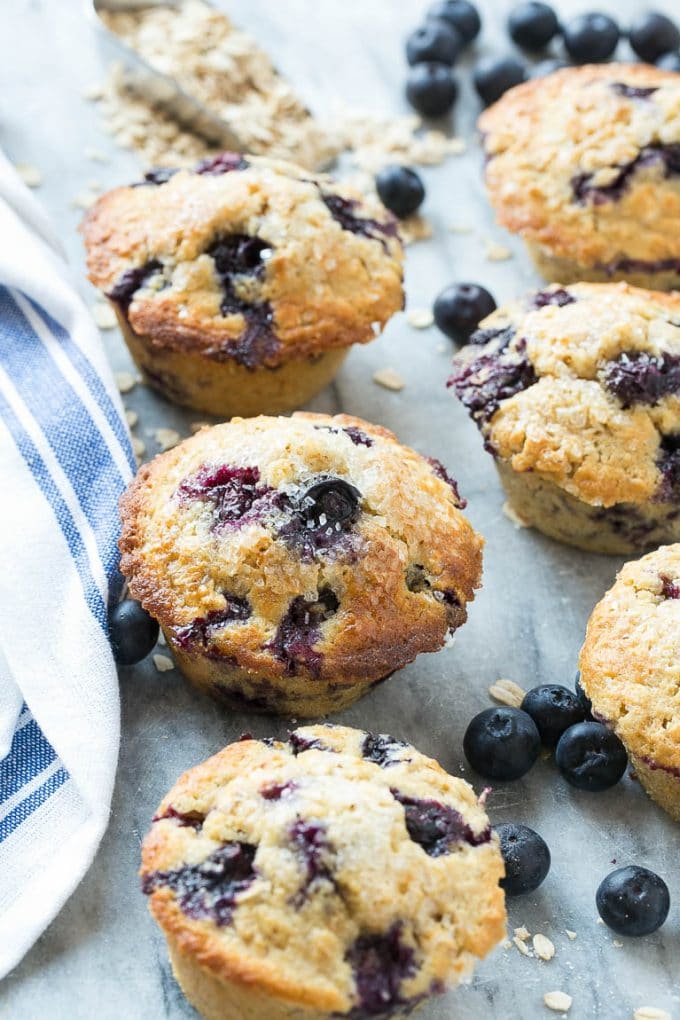 tips for the perfect muffins
The coarse sugar on top is optional but it adds a bit of crunch and sparkle. I've also sprinkled cinnamon sugar over the tops with great results.
Blueberry oatmeal muffins will stay fresh for up to 5 days in an airtight container. I recommend storing them in the refrigerator.
You can freeze these muffins for up to 2 months. I recommend wrapping them individually in plastic wrap, then placing them in a large resealable freezer bag.
Use paper liners in your muffin tins to make clean up easier.
This recipe is designed to be a happy balance between nutrition and flavor. If you want to make your muffins even healthier, you could try using honey or maple syrup instead of the sugar, and replacing some of the all purpose flour with almond flour.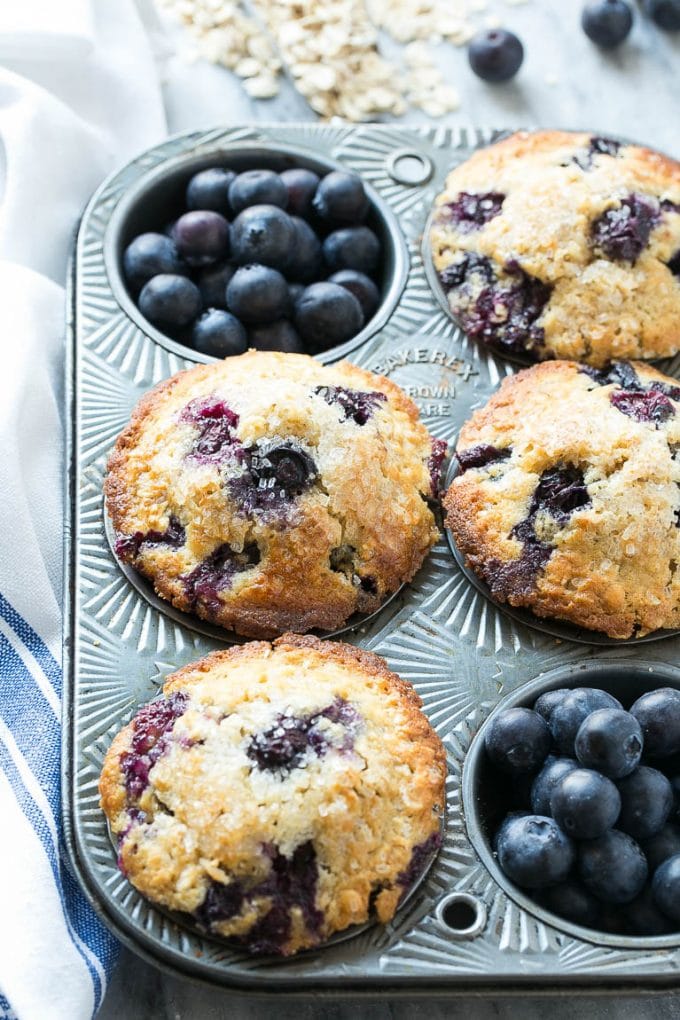 Recipe faqs
How healthy are blueberry muffins?
Blueberry muffins in general are not typically a healthy choice. Many bakery style muffins are made with all purpose flour which does not contain a lot of nutrients. Bakery style muffins also tend to have a lot of fat such as butter or oil, and a large amount of sugar. This recipe remedies those issues by using a healthier type of fat in smaller quantities, less sugar, oats and whole wheat flour.
What makes a muffin healthy or unhealthy?
The primary considerations for healthy muffins are the levels of sugar, fat and white flour. Muffins that have less fat, are reduced in sugar, and contain whole wheat flour or oats are healthier than muffins made with a lot of oil or butter, high amounts of sugar, and all white flour.
Can you eat blueberry muffins on a diet?
The most important part of dieting is watching portions and making sure that you consume less healthy items in moderation. You can absolutely eat blueberry muffins on a diet, you'll just want to only eat one, and make sure it's within your daily calorie allotment.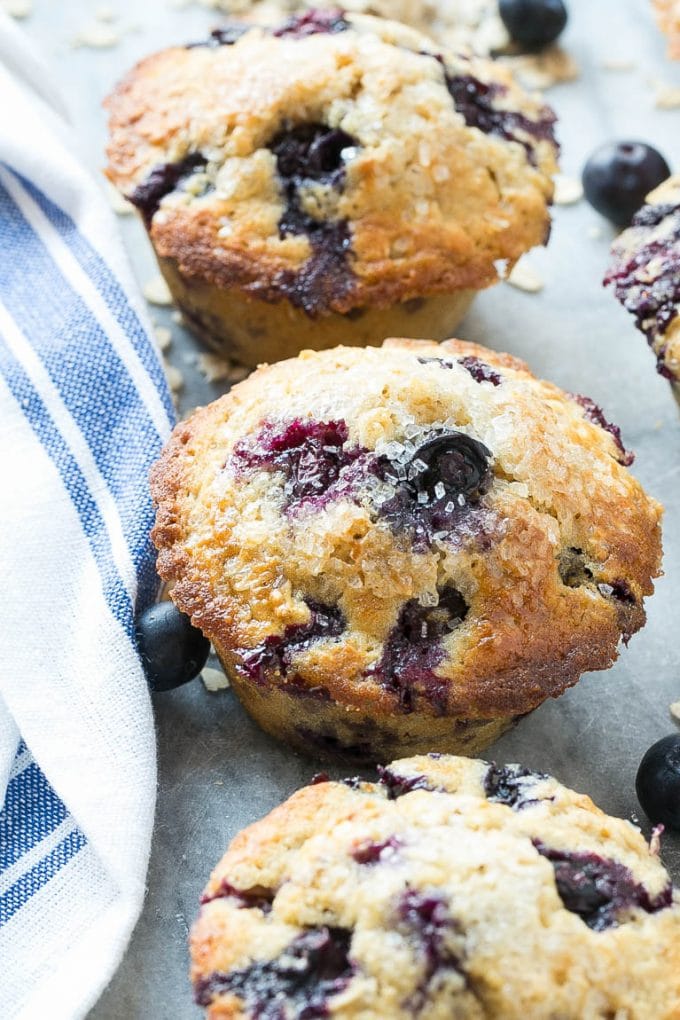 flavor variations
While these muffins are delicious as-is, you can add other ingredients to customize the flavors to your tastes.
Fruit: Feel free to swap out the blueberries for diced apples, raspberries, blackberries, cherries or even mashed banana. Dried fruit will also work, just make sure it doesn't contain any added sugar.
Toppings: You can add toppings to your muffins such as a sprinkling of oats, or sliced almonds. Another option it to serve them with a dollop of Greek yogurt or peanut butter on top for added protein.
Flavorings: Add more flavors your batter such as almond extract, lemon zest, cinnamon, nutmeg or finely diced nuts.
These healthy blueberry muffins are perfect for when you want a more wholesome snack without all the guilt!
More breakfast recipes you'll love
Healthy Blueberry Muffins Video
Healthy Blueberry Muffins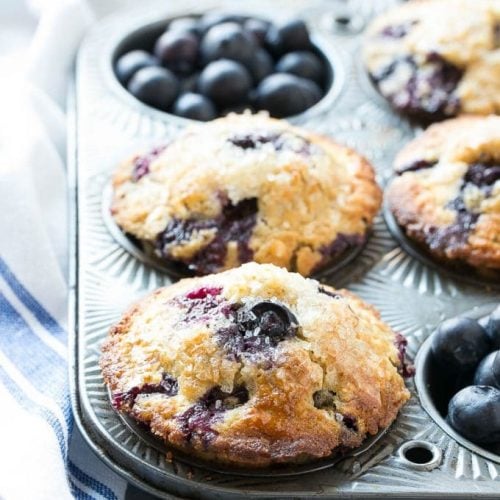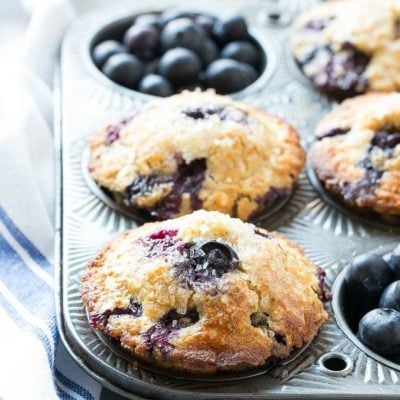 These healthy blueberry muffins are made with whole wheat flour and oatmeal for added nutrition, but they still taste as good as the original version!
Ingredients
cooking spray

1/2

cup

whole wheat flour

I prefer white whole wheat flour

1/2

cup

all purpose flour

1 1/2

cups

oatmeal

quick or rolled oats

1/2

cup

granulated sugar

1/4

teaspoon

kosher salt

1

tablespoon

baking powder

1

cup

milk

1

egg

2

tablespoons

canola oil

2

teaspoons

vanilla extract

1

cup

of blueberries

fresh or frozen

2

tablespoons

coarse sugar

optional
Instructions
Preheat oven to 400 degrees.

Spray muffin tin with cooking spray.

Combine the whole wheat flour, all purpose flour, oatmeal, sugar, salt and baking powder in a large bowl.

In a separate bowl whisk together the milk, egg, oil and vanilla.

Add the wet ingredients to the dry ingredients. Stir just until all of the ingredients are combined.

Gently fold in the blueberries.

Divide the batter evenly between the 12 muffin cups.

Sprinkle the tops of the muffins with the coarse sugar if using.

Bake for approximately 20 minutes until muffins are lightly browned and a toothpick comes out clean.
Notes
Make Ahead: The batter can be made up to a day in advance. Follow the instructions through step 5. When you're ready to bake the muffins, add the blueberries and proceed with the rest of the recipe.
Freeze It: The muffins can be frozen for up to 2 months. I freeze them in a resealable bag. When you're ready to eat them, you can thaw them at room temperature for 30 minutes or microwave them straight from the freezer for about 20 seconds.
Nutrition
Calories:
137
kcal
|
Carbohydrates:
22
g
|
Protein:
3
g
|
Fat:
4
g
|
Cholesterol:
15
mg
|
Sodium:
64
mg
|
Potassium:
186
mg
|
Fiber:
1
g
|
Sugar:
10
g
|
Vitamin A:
60
IU
|
Vitamin C:
1.2
mg
|
Calcium:
73
mg
|
Iron:
0.9
mg