This hummus recipe is a smooth and creamy blend of chickpeas, tahini, lemon juice, garlic and seasonings. Homemade hummus is so much better than anything you'd get at the store, and it also happens to be quite easy to make!
When I'm entertaining, I put out a variety of dips and spreads including herb veggie dip, avocado dip, and this light and flavorful hummus. Once you try my hummus recipe, you'll never need to buy it from the grocery store again.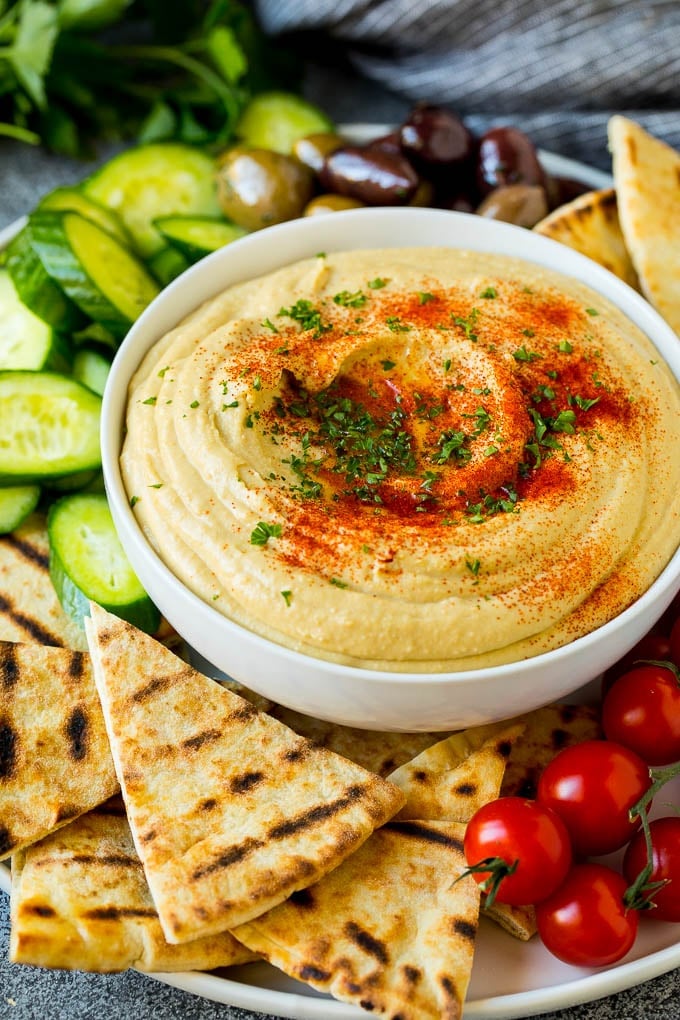 Hummus is a classic dish for good reason – it's super flavorful, pairs well with so many different dippers and ingredients, and is quick to make. I'm sharing my tips and tricks for the absolute best version of this dip that will earn you rave reviews.
Hummus ingredients
This recipe only has a handful of ingredients, but they all come together to create the perfect flavors for this dip.
Chickpeas: This is the most important part of the recipe. You can use canned chickpeas or freshly cooked chickpeas. I've found that both work well, the key is to make sure the chickpeas are super soft so that they make the most creamy puree. Removing the skins will also help create a smooth dip, but that's an optional step.
Tahini: This sesame seed paste can be found near the peanut butter at most grocery stores. It adds great flavor and helps contribute to the creamy texture.
Lemon Juice: It's important to use fresh lemon juice, as the flavor is much better than the type that comes in a bottle.
Olive Oil: A good extra virgin olive oil will give the hummus extra flavor as well as a more pleasing texture.
Spices: It's traditional to add a little ground cumin to give the hummus a smoky, complex flavor. You can also use smoked paprika which is a little less common but totally delicious.
Garlic: Raw garlic is an essential part of this dish, and in this case we're going to soak it in the lemon juice to remove some of it's pungency.
How do you make hummus?
Start by simmering canned chickpeas in boiling water for 15-20 minutes until very soft. It's definitely worth the extra time to do this step. Drain the chickpeas and remove the skins. You don't have to remove the skins if you don't want to, but removing the skins does produce the smoothest dip. Place the garlic and lemon juice in a food processor, then puree it. Let the garlic sit in the lemon juice for 5-10 minutes, the acid from the juice will neutralize the sharp flavor of raw garlic. Add the rest of the ingredients to the food processor, then puree until the hummus is smooth. Add garnishes of your choice, then serve and enjoy.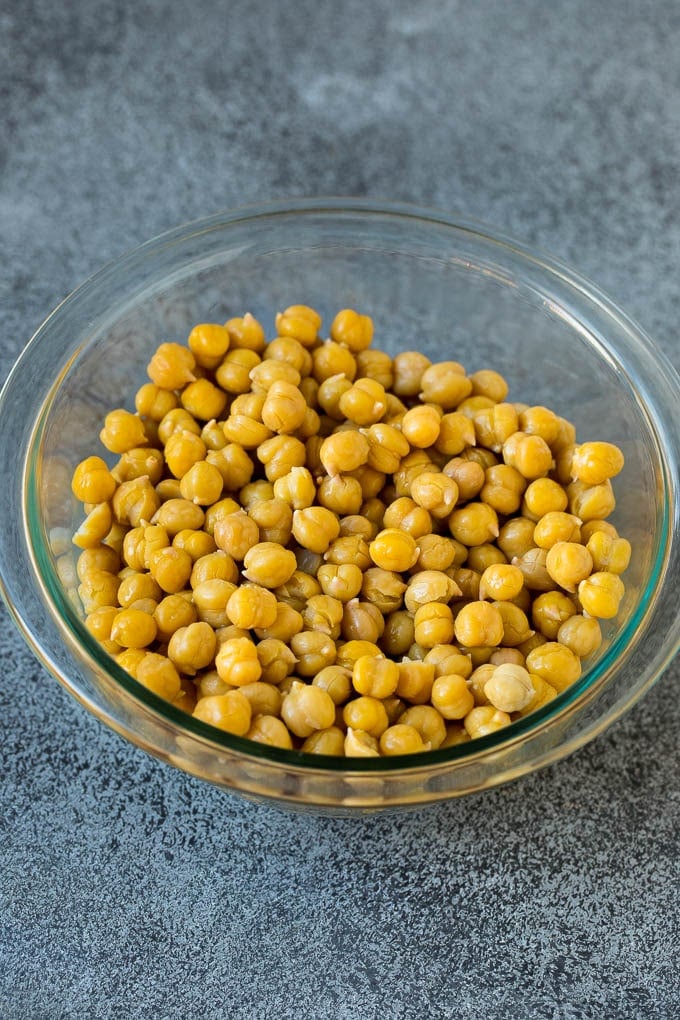 Tips for the perfect dip
This recipe includes a few extra steps such as boiling the canned chickpeas, removing the chickpea skins and letting the garlic soak in lemon juice. These steps are a bit more work, but they do wonders to enhance the flavor and the texture of the end product.
Store your dip in the fridge for up to 5 days.
You can make this recipe in either a food processor or in a high powered blender. Be sure to scrape the bowl occasionally to make sure everything gets pureed nicely.
Serve your hummus with a variety of pita bread, chips and raw vegetables.
Flavor Variations
This is a basic recipe for this classic dish, but you can absolutely add other ingredients to customize it to your tastes.
Tuscan: Use cannellini beans instead of chickpeas, and add 1/3 cup of sun dried tomatoes packed in oil and substitute 1/2 teaspoon of Italian seasoning instead of the cumin.
Olive: Add 1/2 cup of mixed olives and omit the salt.
Red Pepper: Place 1/2 cup of roasted red bell peppers in the food processor along with the other ingredients.
Spicy: Add harissa paste, sriracha or hot sauce to taste.
Cilantro Lime: Use lime juice instead of lemon juice, and add 1/2 cup fresh cilantro leaves to the food processor.
Can you freeze hummus?
You can freeze your dip in an airtight container for up to 3 months. Thaw the hummus in the fridge, then stir it well and you'll be ready to enjoy it.
Topping Ideas
I love to add a variety of toppings to my hummus, it adds great texture, color and flavor.
Herbs: Add a sprinkle of chopped parsley, dill, green onions, basil or chives.
Oil: Drizzle some extra virgin olive oil over the top, or use or a flavored olive oil such as herb or lemon oil.
Nuts: Sprinkle toasted pine nuts or walnuts over the dip.
Spices: Use a little bit of ground sumac, sweet paprika or smoked paprika.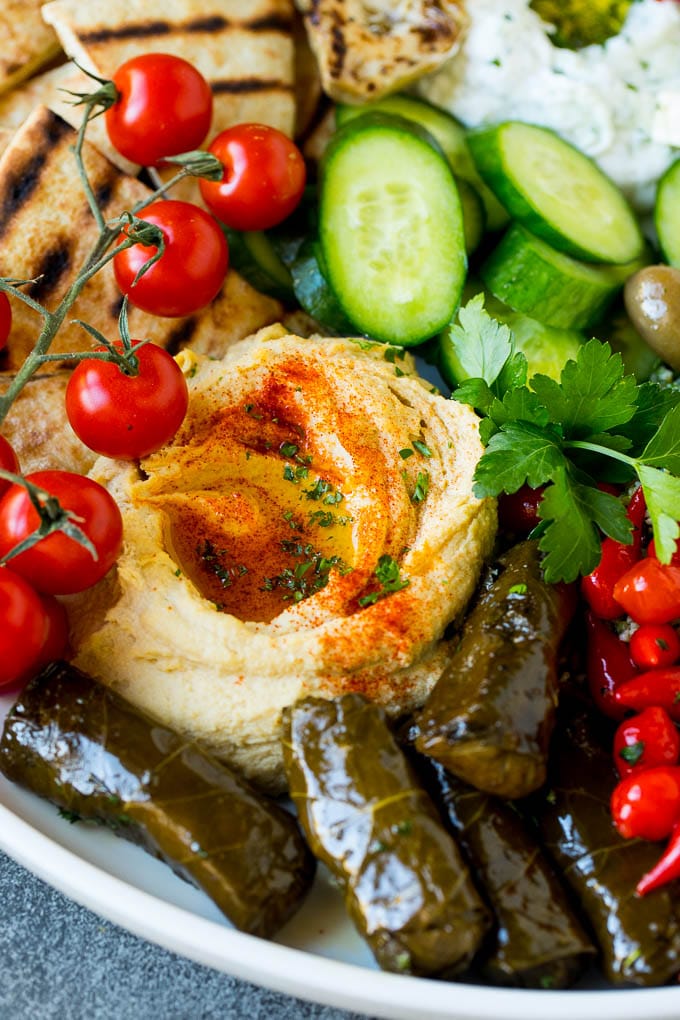 You can never go wrong with homemade hummus, it's the absolute best way to enjoy this popular dip!
More Mediterranean food recipes
Hummus Video
Hummus Recipe
This hummus recipe is a smooth and creamy blend of chickpeas, tahini, lemon juice, garlic and seasonings. Homemade hummus so much better than anything you'd get at the store, and it also happens to be quite easy to make!
Ingredients
15

ounce can

chickpeas

drained and rinsed

3

tablespoons

lemon juice

freshly squeezed

1

teaspoon

garlic

roughly chopped

1/2

cup

tahini

4

tablespoons

olive oil

plus more for garnish

1

teaspoon

kosher salt

3/4

teaspoon

ground cumin

1

tablespoon

water

or more if needed

fresh chopped parsley and smoked paprika for garnish

optional
Instructions
Place the lemon juice and garlic in the bowl of a food processor. Puree, then let the mixture sit for 5-10 minutes. This will neutralize the harsh flavor of the raw garlic.

Place the chickpeas in a pot of boiling water. Cook for 15-20 minutes or until very soft.

Drain the chickpeas. Remove the skins if desired (optional).

Place the chickpeas, tahini, olive oil, salt, cumin and water in the food processor along with the lemon juice mixture. Puree until smooth. Add more water as needed, 1 teaspoon at a time, until the hummus reaches your desired consistency.

Taste and add more salt if needed.

Place the hummus in a bowl. Drizzle with olive oil and garnish with paprika and chopped parsley if desired. Serve.
Nutrition
Calories:
185
kcal
|
Carbohydrates:
18
g
|
Protein:
7
g
|
Fat:
12
g
|
Saturated Fat:
2
g
|
Sodium:
300
mg
|
Potassium:
229
mg
|
Fiber:
5
g
|
Sugar:
3
g
|
Vitamin A:
24
IU
|
Vitamin C:
4
mg
|
Calcium:
49
mg
|
Iron:
2
mg