These healthy zoodle recipes are perfect for people trying to watch their carbs and calories! There are so many different ways to use zucchini noodles, they're great in soups, salads, stir fries and as a replacement for pasta in Italian dishes. Grab your spiralizer and get cooking!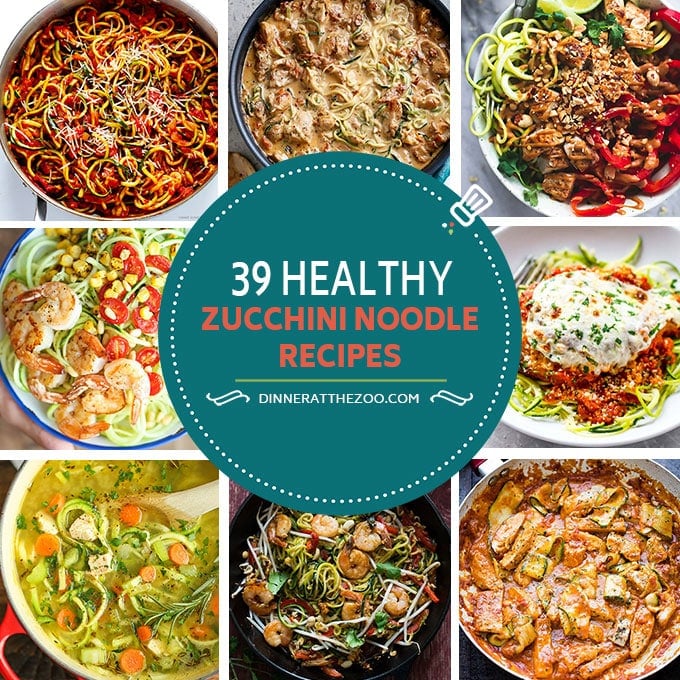 Zucchini noodles, also known as zoodles, are a great way to get your pasta fix without all the carbs. The easiest way to make zucchini noodles is with a spiralizer; my spiralizer comes with different blades to make zoodles that are thin, medium and thick. Zoodles are best when raw or just barely cooked; if you cook them too long they might get mushy.
If you don't have a spiralizer and don't care to purchase one, you can use a vegetable peeler to shave long strands off whole zucchini to make your own "noodles".
I've collected an assortment of quick and easy zucchini noodle recipes – there's everything from shrimp dishes to meal prep ideas and more! So many zoodle recipes to try, so little time! What's your favorite way to eat zucchini noodles?
39 Healthy Zoodle Recipes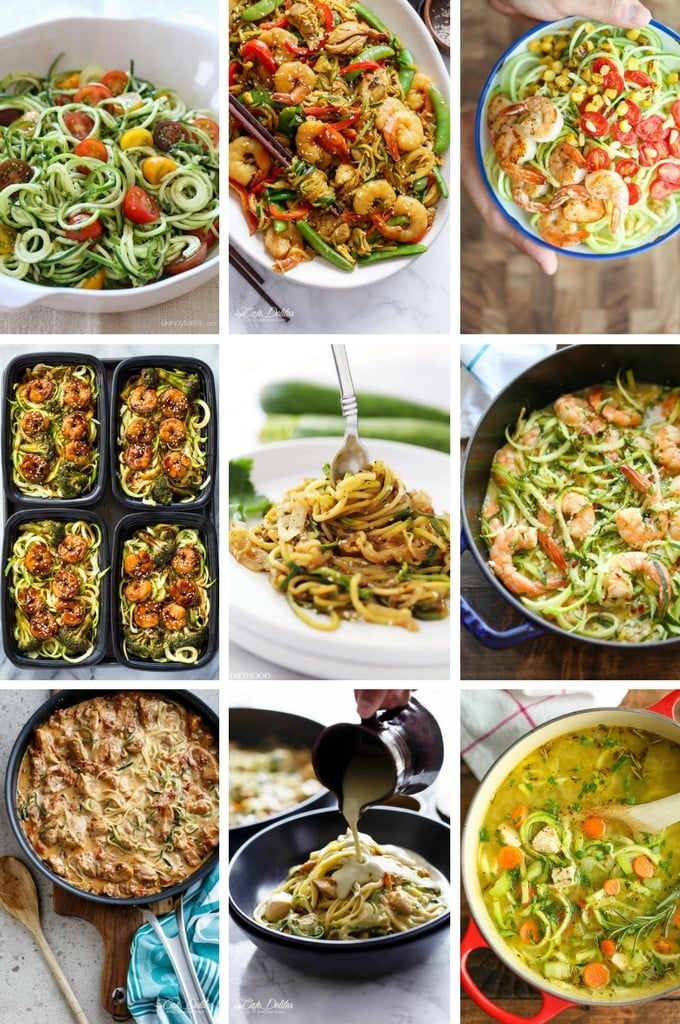 How do you make zucchini noodles?
The quickest and easiest way to make zucchini noodles is with a spiralizer appliance. You can also use a mandoline or a vegetable peeler to make zoodles.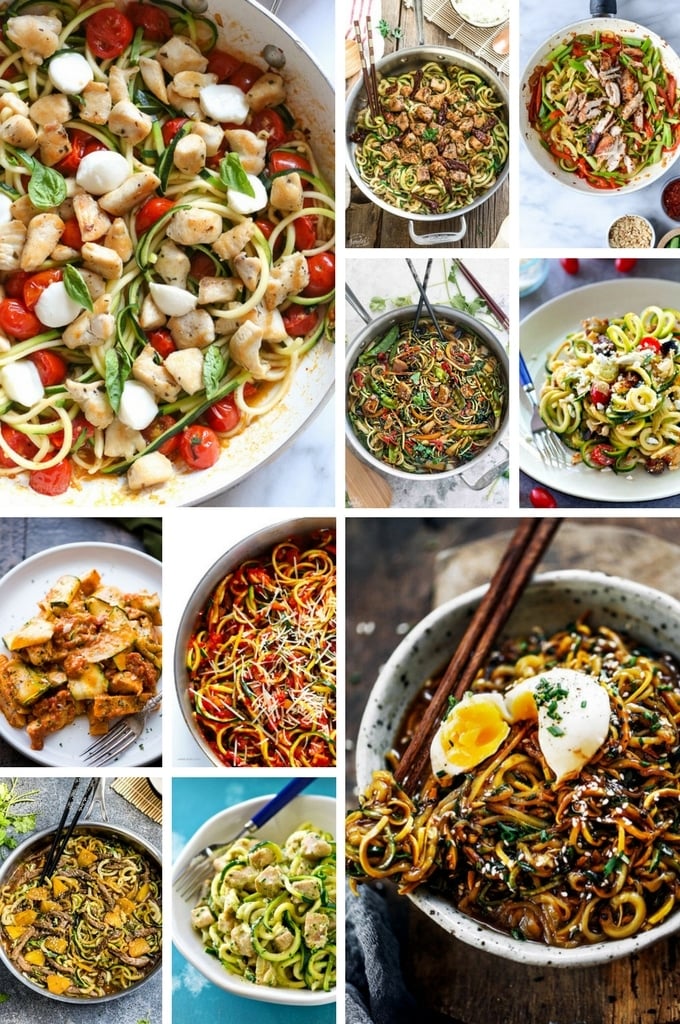 How long does it take to cook zucchini noodles?
Zucchini noodles cook very quickly, they're typically ready in 1-3 minutes. Be sure not to overcook your zoodles or they may get mushy and fall apart.
Peanut Chicken Zucchini Noodles
What vegetables can be made into noodles?
Not a zucchini fan? You can also use carrots, sweet potatoes, cucumbers or butternut squash to make veggie based noodles.

Teriyaki Chicken Zucchini Noodles (Recipe below!)
One of my favorite ways to eat zoodles is this quick and easy teriyaki chicken zucchini noodles recipe! It's chunks of chicken and bell peppers, all tossed in a homemade teriyaki sauce and served over sauteed zoodles. It's light, healthy and the perfect way to get your take out fix at home!
Teriyaki Chicken Zucchini Noodles
Serves 4
1 1/4 pounds boneless skinless chicken breasts, cut into 1 inch pieces
2 teaspoons vegetable oil
1 cup bell peppers, chopped
1/4 cup low sodium soy sauce
1/2 cup water
3 tablespoons brown sugar
2 teaspoons minced garlic
2 teaspoons minced ginger
1 tablespoon honey
1 teaspoon toasted sesame oil
1 tablespoon corn starch
3 zucchini, spiralized into noodles
1 tablespoon sesame seeds
salt and pepper to taste
Heat the oil in a large pan over medium high hat. Season the chicken on both sides with salt and pepper to taste. Place the chicken in the pan and cook for 3-4 minutes on each side or until browned and cooked through. Add the peppers to the pan and cook for another 3-5 minutes or until softened. Add the garlic and ginger to the pan and cook for 30 seconds more.
While the chicken and vegetables are cooking, prepare the sauce. Place the soy sauce, water, brown sugar, honey and sesame oil in a small pot over medium high heat. Stir until sugar is dissolved, about 3 minutes. Turn up the heat to high and bring to a boil.
Mix the corn starch with 2 tablespoons of cold water until dissolved. Add the corn starch mixture to the sauce and boil for 1-2 minutes or until sauce has thickened. Add the zucchini noodles to the pan with the chicken and vegetables. Cook for 3-4 minutes or until just softened. Pour the teriyaki sauce over the chicken and zoodles. Sprinkle with sesame seeds and serve.
This post was originally published on August 9, 2016 and was updated September 8, 2021 with new content.