This shop has been compensated by Collective Bias, Inc. and its advertiser. All opinions are mine alone. #ChooseSmart #CollectiveBias
Two great back to school lunch recipes that use the same base ingredients – Asian quinoa salad and rainbow veggie pinwheels.
Where has the summer gone? It feels like June was just yesterday and now we're all gearing up for school to start. Along with the new school year comes the need for healthy and easy back-to-school lunch options. Today I've got not one, but two lunch options for you – rainbow veggie pinwheels geared towards the kids and Asian quinoa salad for the adults. The best part is that the same veggies are used in both recipes, which means that you only have to do food prep once and you can get two completely different meals out of it! 
My twins were so excited to bring lunch to camp at their preschool this summer. It was their first experience with a packed lunch and my first time coming up with creative lunch ideas that were portable but also healthy. That being said, no adult wants a boring lunch either which is why I'm also giving you a recipe that is perfect to take with you to work or enjoy at home. I do a lot of shopping at Smart & Final, aside from the great prices I'm also a big fan of their all-natural Sun Harvest line which includes everything from organic produce to natural cleaning products. I stopped at the meat, produce and grain aisles to pick up everything I needed for these recipes.
Let's talk about the rainbow veggie pinwheels first. I took a large tortilla, added a layer of homemade ranch spread and then layered on a rainbow of Sun Harvest veggies and some cooked shredded Sun Harvest chicken breast. You can omit the chicken for a vegetarian option.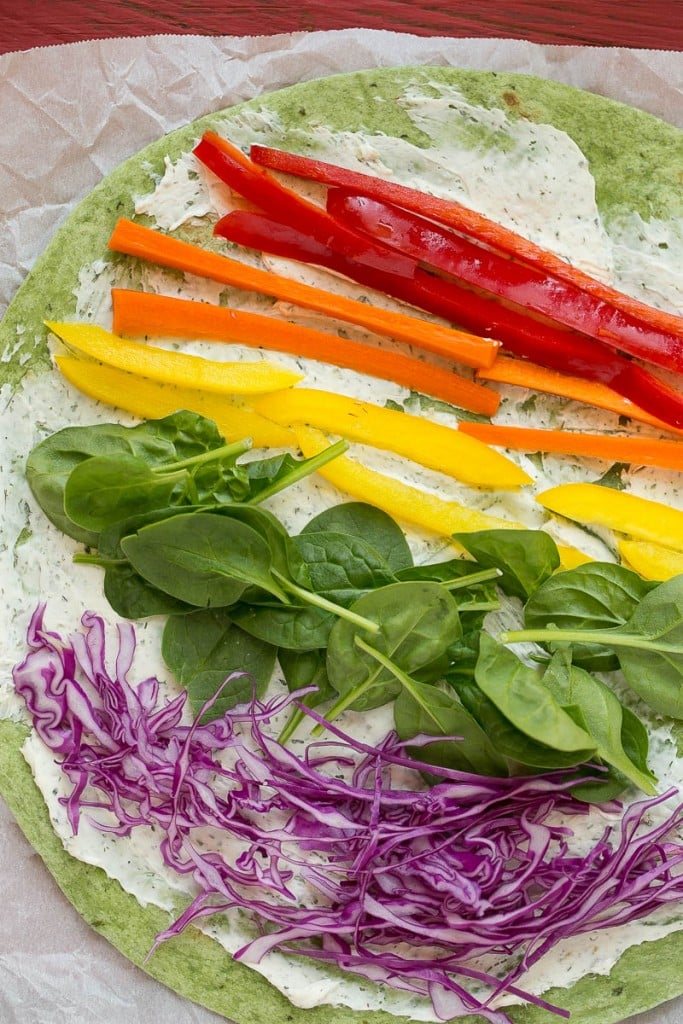 Pretty right? You want to keep the veggie layers thin so that the pinwheels will hold together. The tortilla gets rolled up tightly and then sliced into pinwheels. My girls were thrilled with these, one of them said they reminded her of a veggie sushi! I used my homemade ranch dip powder for the spread but store bought ranch powder will work fine too. It works best to cut the vegetables into long strips; if you cut them small they'll be more likely to fall out of the pinwheels.
After you've finished making these rainbow veggie pinwheels for the kids you can use the same vegetables to make an amazingly delicious Asian quinoa salad. The rainbow veggies, along with some shelled edamame and cucumber, get tossed with cooked Sun Harvest quinoa and an Asian style sesame lime sauce. Chopped herbs, sesame seeds and cashews finish off the salad. If you'd like an extra boost of protein you can cook extra chicken when you make the pinwheels and add some of that chicken into the quinoa too.
This salad can be made a day in advance which means it's the perfect pack and go option for busy mornings when you're struggling to get everyone out of the house on time. You can also serve the quinoa and the rainbow veggie pinwheels together for a restaurant quality lunch!
I've included a video that shows you just how simple it is to make the rainbow veggie pinwheels. Enjoy!
Still hungry? Follow Dinner at the Zoo on Facebook, Twitter, Instagram and Pinterest for more great recipe ideas!
This post may contain affiliate links. Please see my full disclosure policy for details.
Rainbow Veggie Pinwheels
A rainbow of veggies and chicken are combined with ranch spread on a rolled tortilla to make healthy and delicious pinwheel sandwiches.
Ingredients
4

large tortillas

2/3

cup

whipped cream cheese

(can use light)

1

tablespoon

dry ranch powder

(you can also use store bought)

1/2

cup

thinly sliced red bell pepper strips

1/2

cup

thinly sliced carrot strips

1/2

cup

thinly sliced yellow bell pepper strips

1/2

cup

baby spinach leaves

1/2

cup

shredded purple cabbage

1

cup

cooked shredded chicken

(optional)
Instructions
Mix together the cream cheese and ranch powder until thoroughly combined.

Spread the cream cheese mixture evenly over the 4 tortillas.

Leaving a 1 inch border on all sides, lay out 2 tablespoons of each vegetable in rows across the tortillas; top with shredded chicken.

Roll up each tortilla tightly; if the ends don't stay shut you can add a bit more cream cheese to seal. Cut crosswise into pinwheels and serve.
Recipe Notes
Make Ahead: The pinwheels can be made the day before you plan to serve them.
Little Helpers: The kids can actually make these themselves with your supervision, just give them a spoon or spatula to spread the cream cheese instead of a knife.
Nutrition Facts
Rainbow Veggie Pinwheels
Amount Per Serving
Calories 304
Calories from Fat 153
% Daily Value*
Total Fat 17g 26%
Cholesterol 68mg 23%
Sodium 725mg 30%
Potassium 357mg 10%
Total Carbohydrates 23g 8%
Protein 13g 26%
* Percent Daily Values are based on a 2000 calorie diet.
Asian Quinoa Salad
A vegetarian quinoa salad packed with protein, vegetables and tossed in a sesame lime sauce.
Ingredients
1

cup

uncooked Sun Harvest quinoa

1/2

cup

thinly sliced cucumber

1/2

cup

shredded purple cabbage

2

cups

baby spinach

1/2

cup

shredded carrots

1/2

cup

chopped red and/or yellow bell peppers

1/2

cup

shelled edamame

1/4

cup

finely chopped cilantro

1/4

cup

thinly sliced green onions

2

tablespoons

sesame seeds

1/2

cup

cashews

salt to taste
For the dressing:

2

tablespoons

soy sauce

1

tablespoon

lime juice

1

tablespoon

toasted sesame oil

1/2

teaspoon

grated fresh ginger

2

teaspoons

sugar
Instructions
Cook the quinoa according to package instructions. When cooked, stir in 1 teaspoon of salt and cool for 10 minutes. Place the quinoa in a large bowl and add all the vegetables, herbs, sesame seeds and cashews.

In a small bowl whisk together the dressing ingredients. Pour the dressing over the quinoa mixture and toss to coat evenly. Add salt to taste if desired and serve.
Recipe Notes
Make Ahead: The dressing can be made 2 days in advance, the entire salad can be made a day in advance.
Nutrition Facts
Asian Quinoa Salad
Amount Per Serving
Calories 360
Calories from Fat 144
% Daily Value*
Total Fat 16g 25%
Cholesterol 0mg 0%
Sodium 536mg 22%
Potassium 709mg 20%
Total Carbohydrates 42g 14%
Protein 13g 26%
* Percent Daily Values are based on a 2000 calorie diet.
Things You'll Need (or Want!)
Salad Dressing Shaker This salad dressing shaker makes creating and storing homemade dressings so easy – just pour in your ingredients, shake, then serve with the handy pour spout!
Salad Samurai Cookbook I eat a salad for lunch almost every day and I'm always looking to add a little variety to my routine. This Salad Samurai cookbook has 100 amazing looking (and vegan!) salads, it's at the top of my wish list.