This is a sponsored conversation written by me on behalf of The J.M. Smucker Company. The opinions and text are all mine. Thank you for supporting the brands that make Dinner at the Zoo possible!
Is breakfast time boring at your house? Snacks the same old thing every day? I've brought some new creativity into meal and snack time with ideas that are both mom and kid approved! #Peanutbutterhappy
The kids and I often get into food ruts – we can eat the same thing for breakfast or snack time for weeks without getting tired of it. Occasionally I decide that it's time to add a little more variety to our routine and I look for fun ways to take typical meals and make them a little more fun. It helps me to be more creative in the kitchen and the girls really appreciate it! One of our stand by foods is peanut butter – we are a peanut butter happy family! When I was at Walmart the other day I came across some fun products that I knew the whole family would love, Jif Flavored Spreads and Jif Peanut Butter Granola Bars.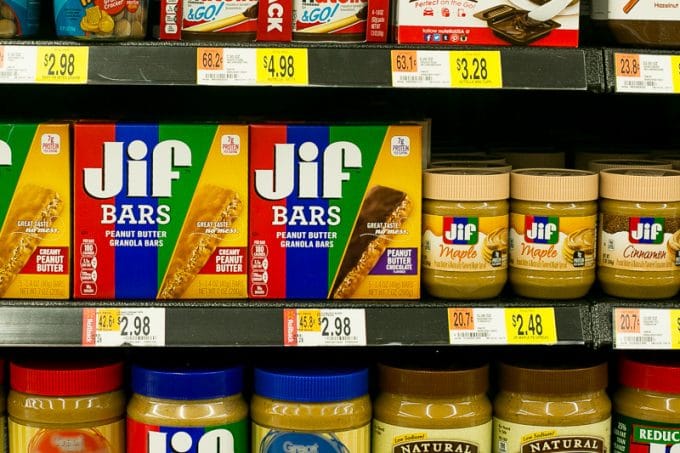 I purchased the Jif Maple and Cinnamon Flavored Peanut Butter Spreads, as well as a box of Jif Bars. The kids were so excited to try them all!
I love that these products pack 7 grams of protein per serving, I'm always looking for more ways to incorporate protein into our diet. We've been putting these spreads on everything from bananas to pancakes! I like to put out a fresh fruit plate and serve it with a bowl of Jif Maple Peanut Butter Spread. I hand each girl a plate and they help themselves to some fruit. I give them spoons to spread the peanut butter spread onto their fruit, the interactive nature of this breakfast makes it that much more fun. It's nutritious, filling and, of course, delicious.
The Jif Cinnamon Peanut Butter Spread is the ultimate toast topper. Sometimes I just serve it as is, and other times I add a sprinkle of granola and raisins on top for extra crunch and texture. Either way it's a big hit!
I'm always on the look out for grab and go snacks and these Jif Bars definitely fit the bill. They come in multiple flavors, and the protein from the peanut butter helps to keep little tummies full for a longer period of time. I keep one of these bars in my purse for a quick snack, they're perfect to eat on the road. If we're at home, I serve them with milk on the side!
Ready to jazz up your meals and snacks? You can grab an Ibotta deal for the Jif Spreads to save a little money when you're feeling peanut butter happy!
So tell me, what's your favorite way to eat peanut butter?
This is a sponsored conversation written by me on behalf of The J.M. Smucker Company. The opinions and text are all mine.