These baked donuts are soft and fluffy cake donuts coated in chocolate frosting then topped with festive sprinkles. A fun and easy treat that's perfect for any breakfast or brunch gathering!
Skip the trip to the donut shop and make these baked donuts at home instead! They've got all the same great flavors without the grease. When I want a grab and go breakfast I make cereal bars, baked oatmeal cups or these baked donuts!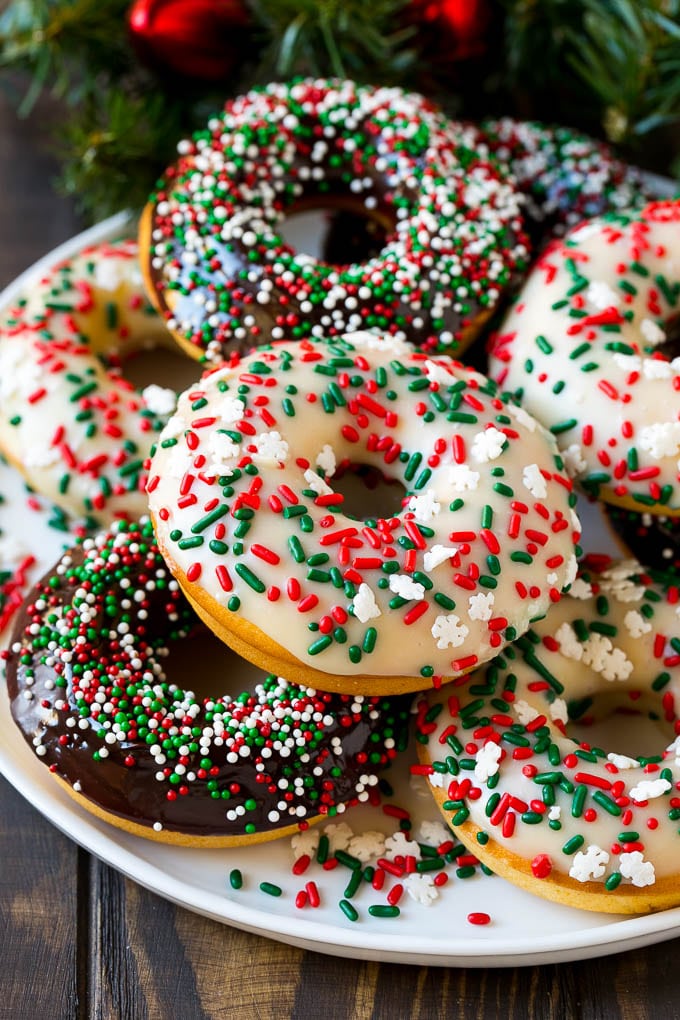 This post is sponsored by Eggland's Best. Thank you for supporting the brands that make Dinner at the Zoo possible!
My kids adore donuts, but I don't buy them that often. It's not always convenient to run out to the donut shop on a Sunday morning, and in my opinion, some donuts can be on the heavier side and weigh you down for the rest of the day. These baked donuts are the perfect solution – they're light and fluffy, and can be whipped up at a moment's notice with ingredients you probably already have in your pantry! Add colorful sprinkles to fit your occasion and you'll have a treat that both kids and adults will enjoy.
These donuts are perfect for holiday mornings and big crowds. When you have a lot of people over for breakfast take a look at my festive cranberry muffins with orange glaze, tempting cinnamon roll french toast casserole and the heavenly donut bread pudding! Want more fabulous kid friendly recipes? Take a look at my collection of 30 Kids Breakfast Ideas!
How do you make baked donuts?
The dough for this recipe is a simple mixture of flour, two types of sugar, butter, vanilla extract and Eggland's Best eggs. I always prefer to use Eggland's Best eggs in my baking and cooking because their nutritional profile is superior to all other eggs. Eggland's Best eggs have six times more Vitamin D and 25% less saturated fat than most other eggs. They taste great too, and are the only egg good enough for my family during the holidays. You can read all about the nutritional benefits on the Eggland's Best website.
You will need a non-stick donut pan for this recipe. Most major retailers carry donut pans and they typically come with 6 donut indentations to a pan. I use a piping bag or a freezer bag with the tip snipped off to pipe the donut batter into the pan. It's the best way to keep the mess to a minimum and end up with perfectly shaped donuts.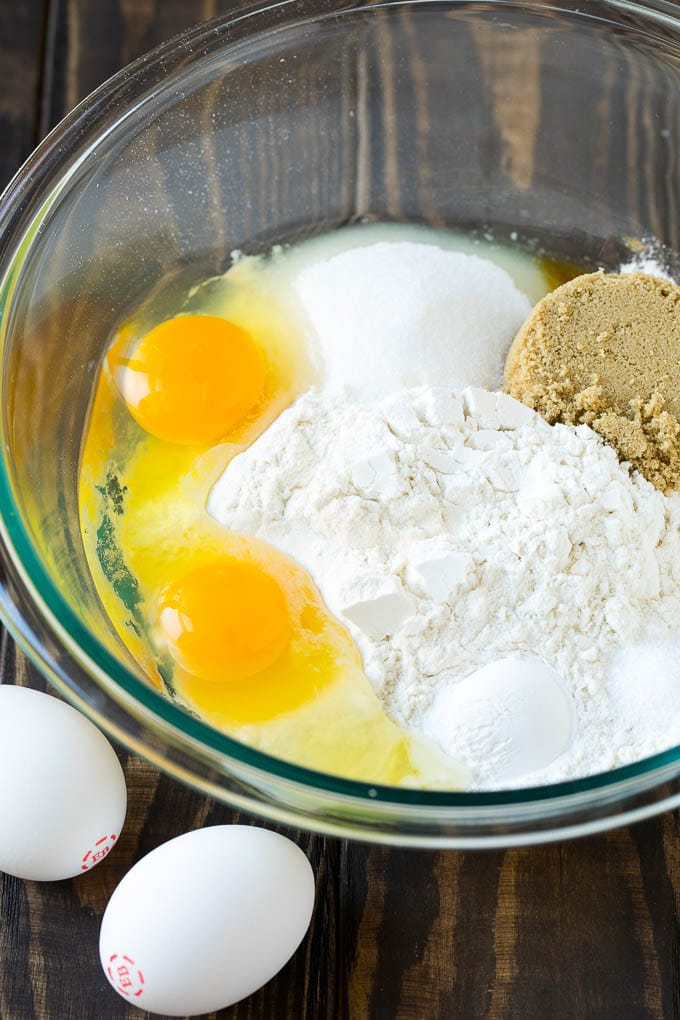 Tips for baked donuts
Be careful not to overfill your donut pan, the indentations should be no more than 3/4 of the way full. If you add too much batter, the donuts will expand over the edges of the pan and lose their shape.
Let the donuts cool completely before you dip them in the frosting.
I often make these donuts on Christmas morning which is why I've decorated them with holiday sprinkles, but you can also make these donuts for any other occasion with different sprinkles.
The donut batter can be made the night before, and then stored covered in the refrigerator until you're ready to use it.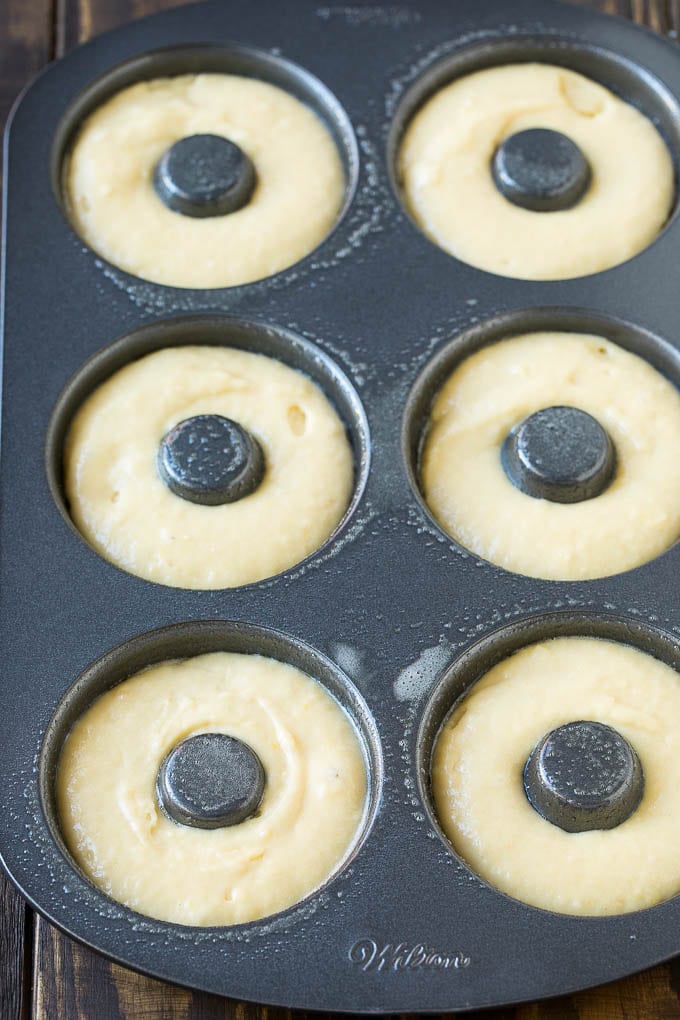 How long do baked donuts last?
You can store your baked donuts in an airtight container for up to 2 days. Just be sure the frosting has fully dried before you stack them so that they don't stick together.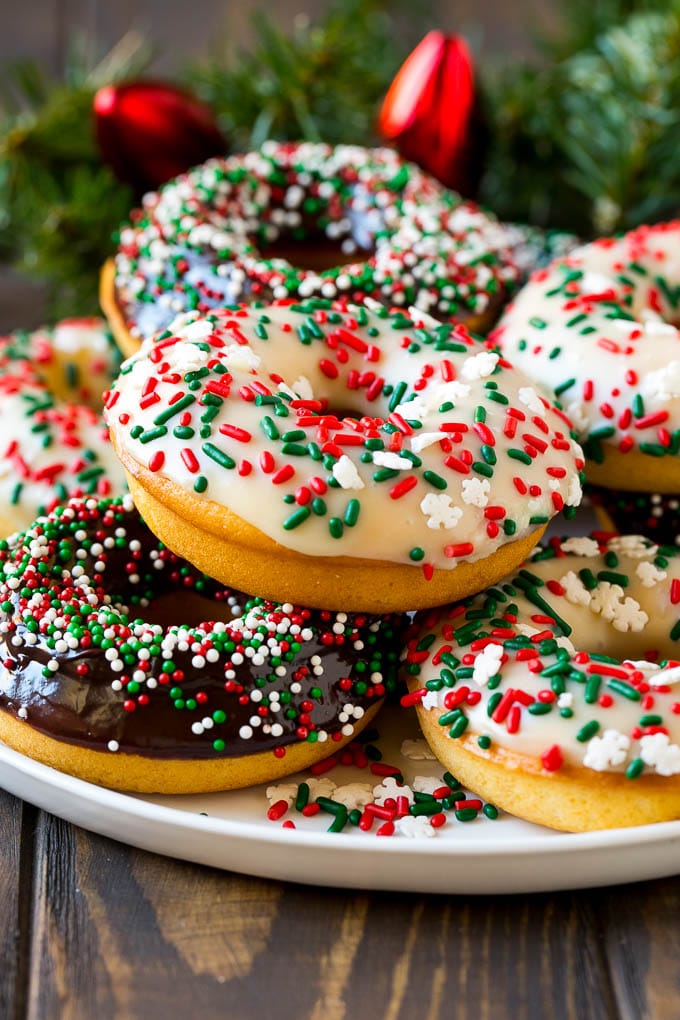 Baked donut variations
I typically make vanilla donuts because I like for the frosting to add the majority of the flavor. That being said, there are many different ways to customize the flavor of your donuts.
Funfetti: Add 1/3 cup rainbow sprinkles to the batter.
Chocolate chip: Add 1/2 cup miniature chocolate chips to the batter.
Spice: Add 1/2 teaspoon cinnamon and 1/4 teaspoon nutmeg to the batter.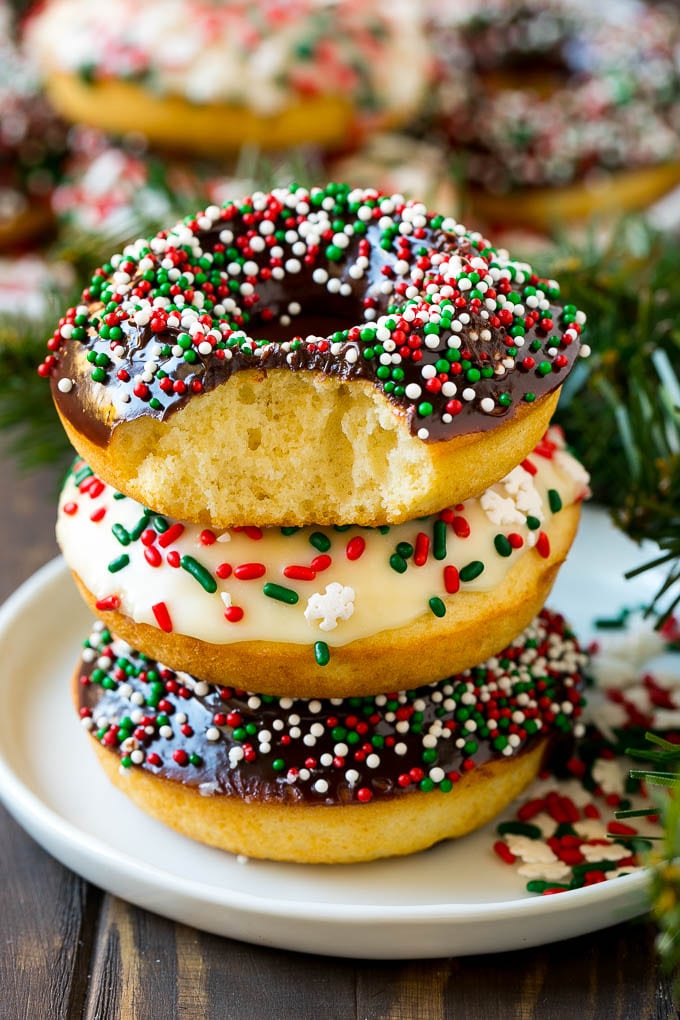 Donut frosting
The frosting for these donuts is actually a simple chocolate ganache made with just two ingredients: chopped chocolate and heavy cream. I like to make two different varieties with semisweet chocolate and white chocolate. Milk chocolate is also a great option. You can also skip the frosting altogether and roll your donuts in cinnamon sugar instead.
Once you taste these baked donuts, you'll never want to go back to the deep fried variety. Try them this year on Christmas morning and watch the rave reviews come in!
Baked donuts video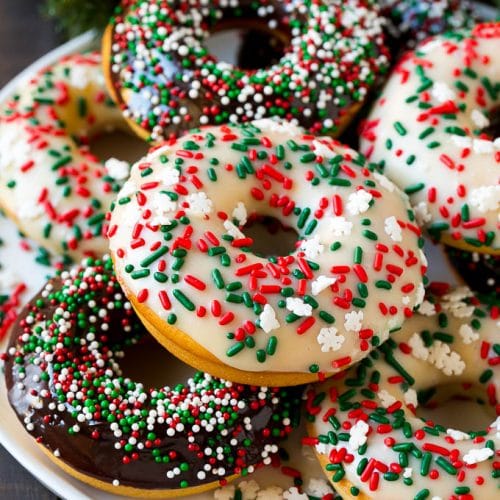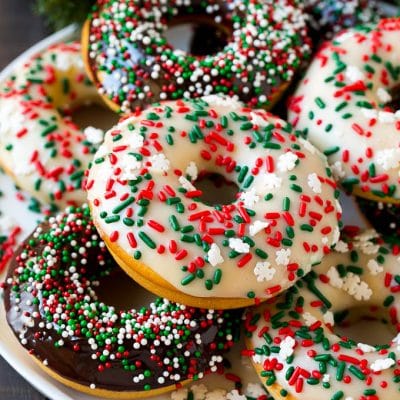 These baked donuts are soft and fluffy cake donuts coated in chocolate frosting then topped with festive sprinkles. A fun and easy treat that's perfect for any breakfast or brunch gathering!
Ingredients
For the donuts
2

cups

all purpose flour

1/3

cup

granulated sugar

1/3

cup

light brown sugar

2

teaspoons

baking powder

1/2

teaspoon

salt

2

Eggland's Best eggs

4

tablespoons

unsalted butter

melted

3/4

cup

milk

1 1/2

teaspoons

vanilla extract

1/2

cup

sprinkles

cooking spray
For the frosting
1/4

cup

+ 3 tablespoons heavy cream

divided use

1

cup

semisweet chocolate

chopped

1

cup

white chocolate

chopped
Instructions
Preheat the oven to 350 degrees F. Coat a donut pan with cooking spray.

Place the flour, granulated sugar, brown sugar, baking powder and salt in a large bowl. Stir to combine.

Add the Eggland's Best eggs, butter, milk and vanilla extract to the bowl. Stir until smooth.

Place the batter in a piping bag or freezer bag. Snip off the tip of the bag with scissors.

Pipe the batter into the wells of the pan. Reserve the remaining batter for the second batch.

Bake the donuts for 10 minutes. Let the donuts rest for 3 minutes, then remove them from the pan and place on a cooling rack.

Wipe the pan with a paper towel and coat with cooking spray. Repeat the process with the remaining batter.

Let all of the donuts cool completely.

Place 1/4 cup of cream in one bowl and 3 tablespoons of cream in a second bowl. Microwave the 1/4 cup of cream for 30 seconds and 3 tablespoons of cream for 20 seconds.

Pour the semisweet chocolate into the bowl with 1/4 cup cream and white chocolate into the other bowl. Cover each bowl with plastic wrap.

Let the bowls sit for 3 minutes, then uncover and stir until smooth. You may need to microwave the bowls for another 15-20 seconds if chocolate isn't completely melted.

Dip each donut into either the semisweet chocolate or white chocolate. Top with sprinkles.

Let the donuts sit for about 15 minutes until the frosting has started to firm up, then serve.
Nutrition
Calories:
247
kcal
|
Carbohydrates:
41
g
|
Protein:
5
g
|
Fat:
12
g
|
Saturated Fat:
8
g
|
Cholesterol:
42
mg
|
Sodium:
128
mg
|
Potassium:
242
mg
|
Fiber:
1
g
|
Sugar:
30
g
|
Vitamin A:
190
IU
|
Calcium:
90
mg
|
Iron:
2.1
mg