This chocolate zucchini bread is a tender loaf filled with grated zucchini, cocoa powder, and plenty of chocolate chips. It's the perfect way to use up any extra zucchini from the garden!
When I find myself with an excessive amount of zucchini on hand, I make grilled zucchini, a zucchini noodle recipe, or bake up a loaf of zucchini bread. My kids request this recipe constantly, it's just that good.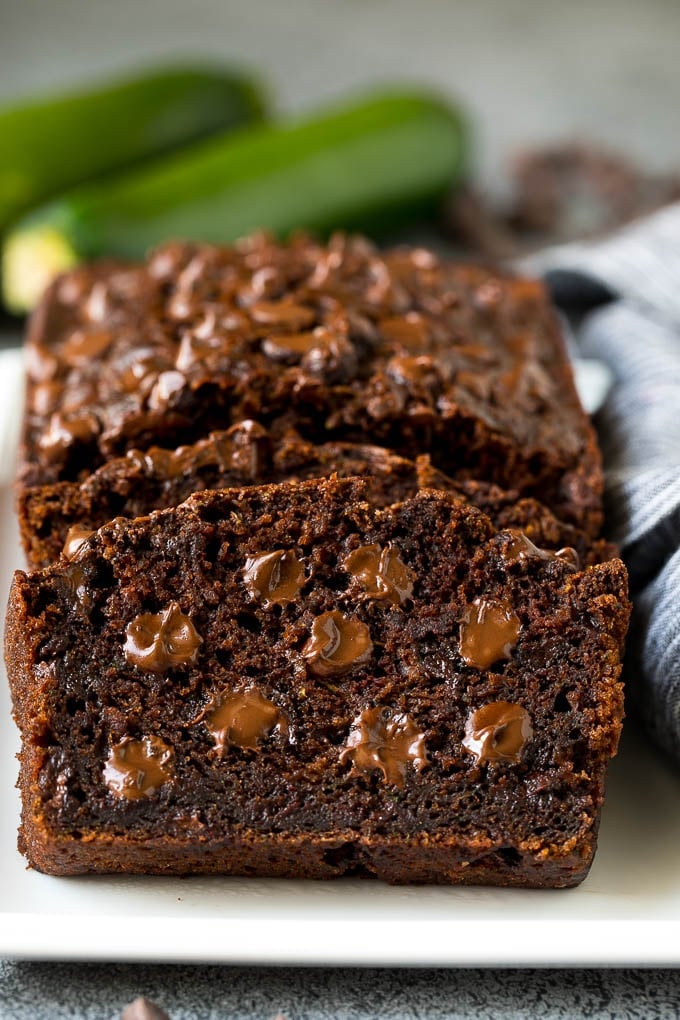 Whenever my garden starts producing an abundance of zucchini, I find myself whipping up a loaf of this decadent chocolate zucchini bread. It uses up a lot of squash, and the rich, chocolate flavor just can't be beat! This bread makes for a great snack or dessert option.
How do you make chocolate zucchini bread?
To make chocolate zucchini bread, prepare a batter by mixing together the dry ingredients. For the wet batter ingredients, mix an egg with sugar and add butter, vegetable oil, vanilla extract and grated zucchini. Mix the wet and dry ingredients until they are just combined. Add chocolate chips to the batter to get those fantastic melted morsels in the bread. Add a sprinkle of chocolate chips on top of the bread, then bake it until it's browned. Once the bread is out of the oven, let it cool, then slice and serve.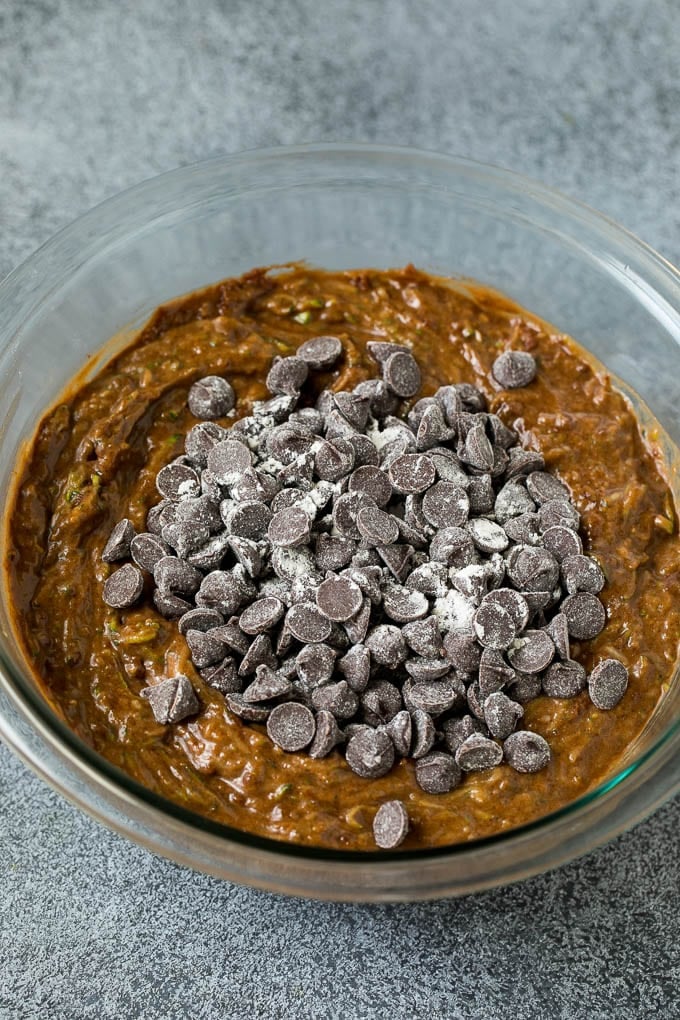 Tips for chocolate zucchini bread
Toss your chocolate chips in a teaspoon of flour so they don't sink to the bottom of the bread.
If your cocoa powder is lumpy, sift it before using it.
To get that finely grated zucchini that makes the bread so moist and delicate, use the side of your grater with smaller holes.
Make sure to set the grated zucchini in a strainer for about 5 minutes to remove any excess water before adding it to the batter.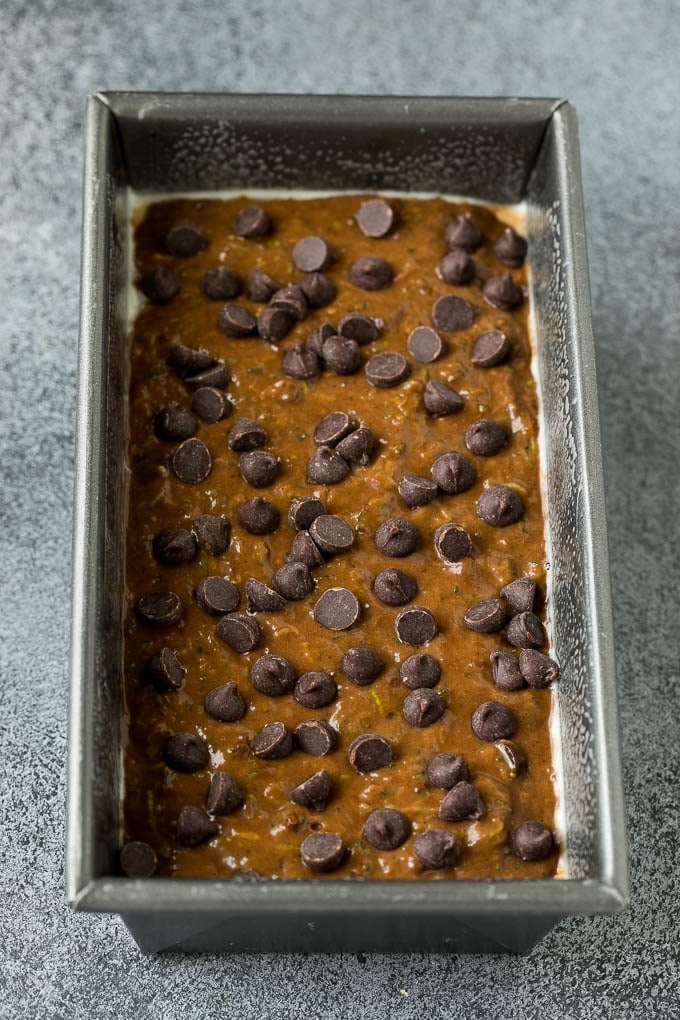 Zucchini bread variations
There are some tasty ways that you can change up this recipe to customize it to your tastes.
Zucchini: You can use yellow squash instead of zucchini or a combination of the two.
Chips: Feel free to use different types of chips such as milk chocolate, white chocolate or peanut butter chips.
Crunch: Add some crunch and texture to the bread by mixing in up to 1/3 cup of chopped nuts or toasted coconut.
Ganache: Make a delicious chocolate coating by preparing a ganache to drizzle over the top of the bread. To make ganache, heat 1/4 cup + 2 tablespoons of heavy cream on the stove or in the microwave until it's scalding hot. Pour the heavy cream over 1 1/2 cups of semisweet chocolate chips and stir the mixture until the chocolate is completely melted. Let the ganache cool for 5 minutes, then pour it over the baked zucchini bread.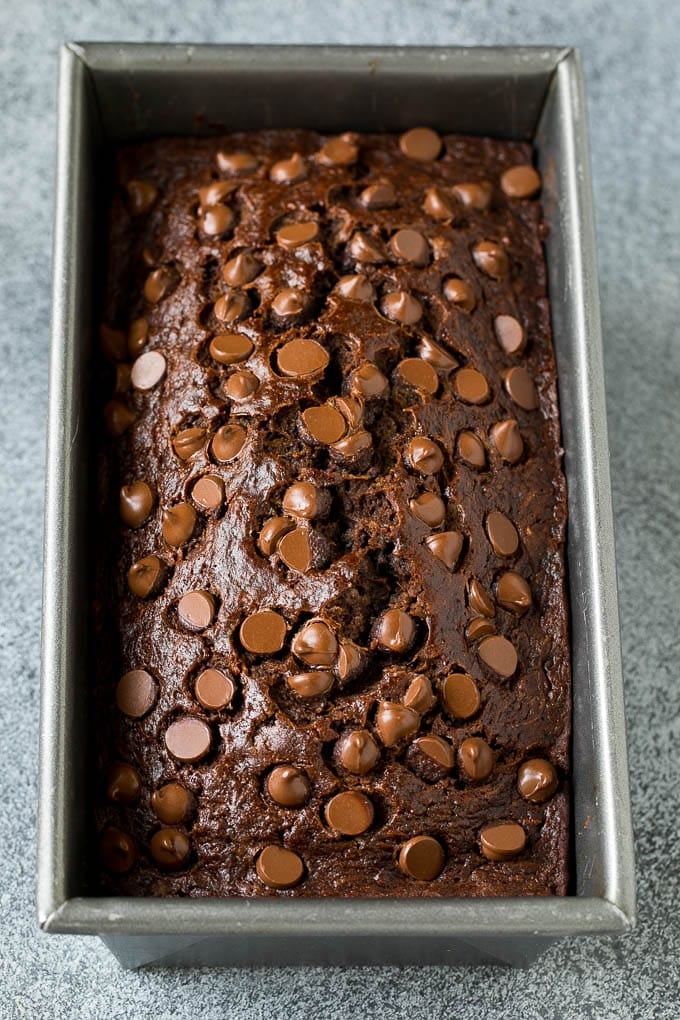 How long is zucchini bread good for?
Zucchini bread generally stays fresh on the counter for 2 days. The bread will stay fresh in a refrigerator for a week. Be sure to store your bread in an airtight container for best results.
Can you freeze zucchini bread?
You can freeze zucchini bread to eat later. Zucchini bread can be stored in the freezer for up to 3 months. If you want to freeze zucchini bread, I recommend slicing the bread, then wrapping the slices with plastic wrap. Place the slices into a freezer safe bag, then chill the bread. Freezing individual slices allows you to thaw each slice when you want it instead of having to thaw the entire loaf or cut through a frozen loaf to get a slice. A slice of frozen zucchini bread can be warmed in in the microwave in about 20-25 seconds. You can also warm the bread in the toaster for a crispier result.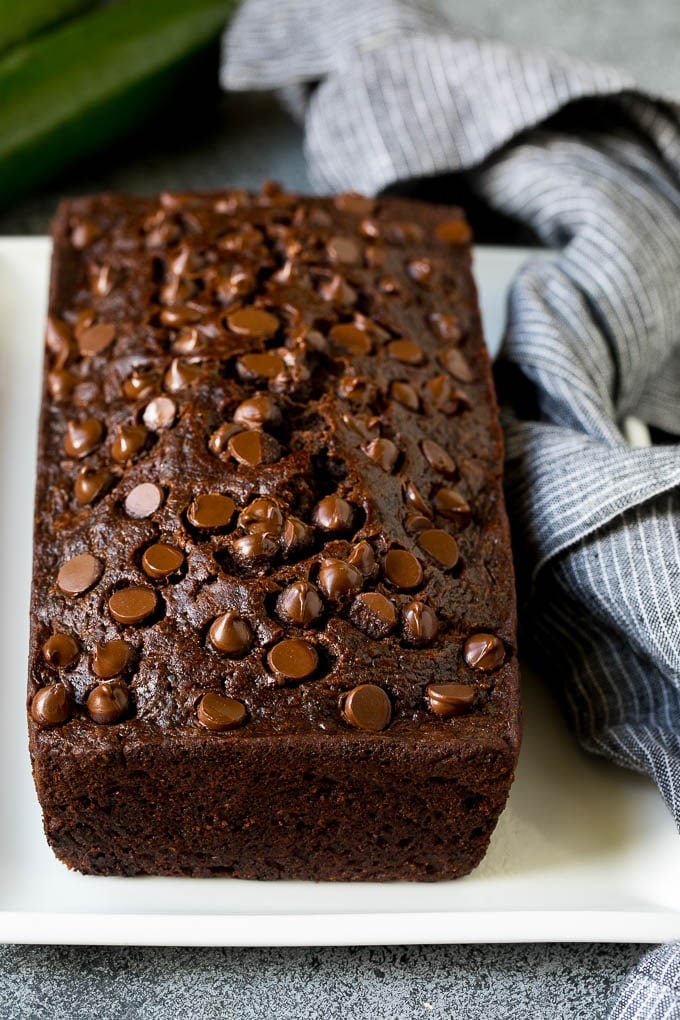 This chocolate zucchini bread recipe makes a delicious, moist loaf with intense chocolate flavor. This bread is perfect for breakfast, brunch or an afternoon snack.
More great ways to use zucchini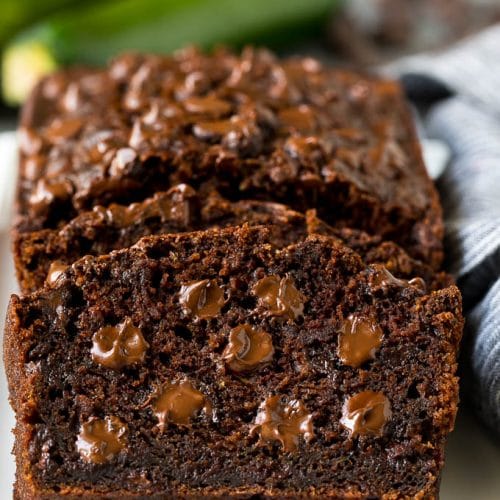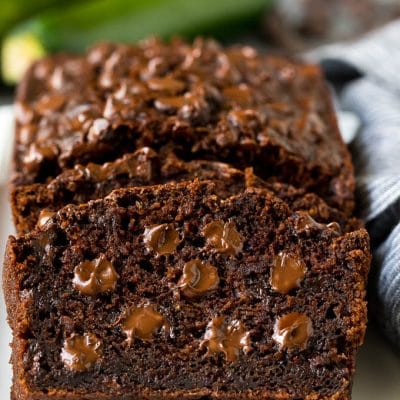 This chocolate zucchini bread is a tender loaf filled with grated zucchini, cocoa powder, and plenty of chocolate chips. It's the perfect way to use up any extra zucchini from the garden!
Ingredients
1 1/4

cups

all purpose flour

+ 1 teaspoon

1/4

cup

cocoa powder

1

teaspoon

baking soda

1/4

teaspoon

salt

1/2

teaspoon

cinnamon

3/4

cup

granulated sugar

1

egg

3

tablespoons

butter

melted

3

tablespoons

vegetable oil

1

teaspoon

vanilla extract

2

cups

finely grated zucchini

drained to remove excess water

1

cup

semisweet chocolate chips

divided use

cooking spray
Instructions
Preheat the oven to 350 degrees F. Coat an 8.5 inch or 9 inch loaf pan with cooking spray.

In a large bowl, mix together the 1 1/4 cups flour, cocoa powder, baking soda, salt and cinnamon.

Place the sugar and egg in a medium bowl. Mix until smooth. Add the butter, vegetable oil and vanilla extract; whisk to combine.

Add the zucchini to the wet ingredients and stir until incorporated.

Pour the wet ingredients into the dry ingredients. Stir gently until just combined.

Toss 3/4 cup of the chocolate chips with the teaspoon of flour.

Add the flour coated chocolate chips to the batter and stir until just combined.

Pour the batter into the loaf pan. Sprinkle the remaining chocolate chips over the top.

Bake for 50 to 55 minutes or until a toothpick inserted into the center of the loaf comes out clean, or with just a few crumbs attached.

Remove the pan from the oven. Cool for 15 minutes, then run a thin spatula or knife around the edges of the pan to loosen the bread.

Cool for another 15 minutes, then invert the pan onto a serving plate. Slice and serve.
Nutrition
Calories:
298
kcal
|
Carbohydrates:
38
g
|
Protein:
4
g
|
Fat:
15
g
|
Saturated Fat:
10
g
|
Cholesterol:
26
mg
|
Sodium:
207
mg
|
Potassium:
158
mg
|
Fiber:
3
g
|
Sugar:
22
g
|
Vitamin A:
140
IU
|
Calcium:
20
mg
|
Iron:
2.2
mg