A list of quick and easy Instant Pot recipes for any occasion with options for chicken, beef and pork including hearty beef stew, flavorful chicken thighs and savory pork chops.
Save some time and unlock amazing flavors with the power of the Instant Pot. Whether you are new to this amazing appliance or you are a pro, make the most of your Instant Pot with these fabulous recipes!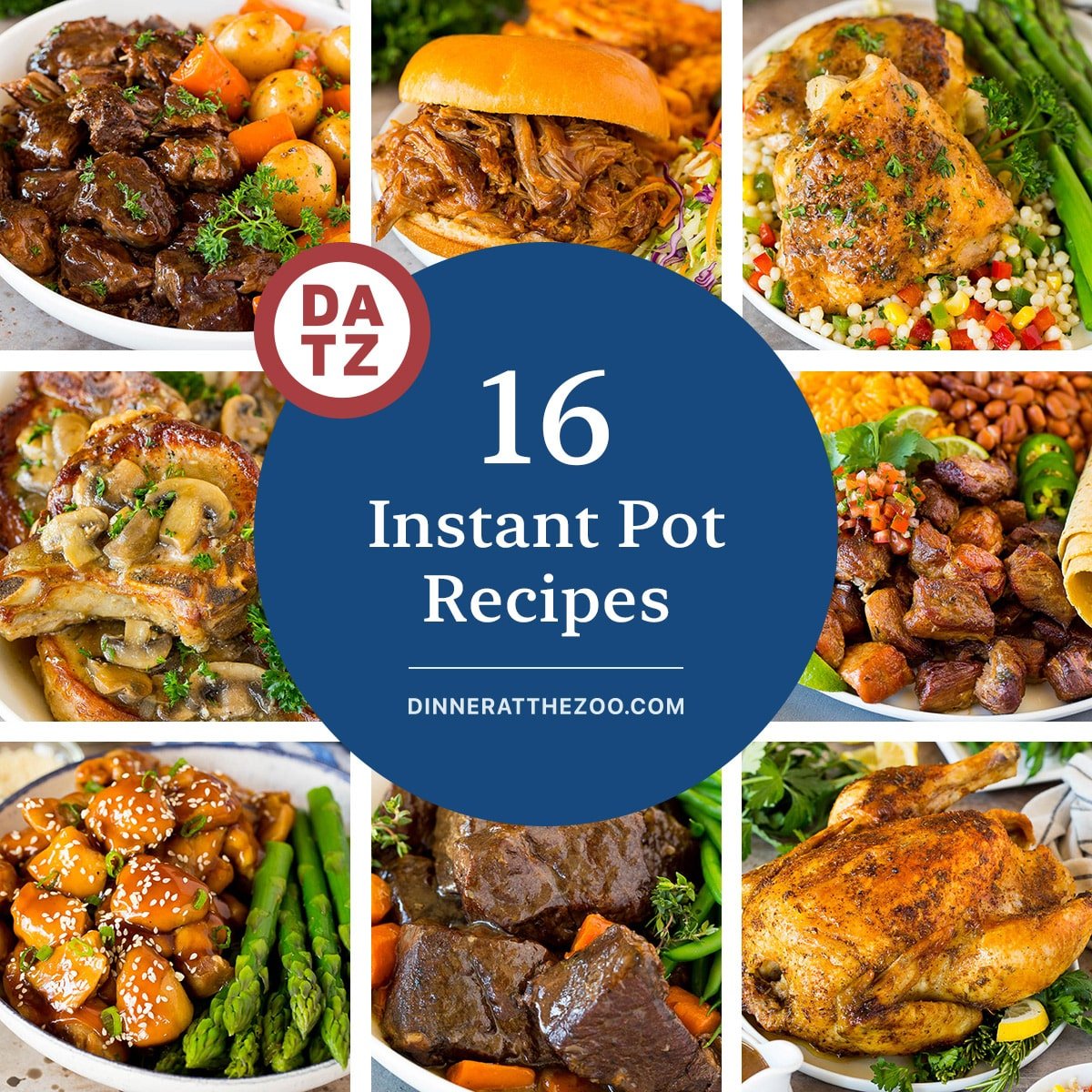 Instant Pot recipes are here for the crazy busy nights that are ahead. It's the fastest kitchen appliance around and it comes with so many different functions like a pressure cooker, slow cooker, yogurt maker, rice cooker, you name it!
This gadget can even speed up holiday meals like ham for Easter, turkey for Thanksgiving or corned beef for St. Patrick's Day. Why not make things a little easier with the Instant Pot?
I am in love with this little appliance that I have no clue how we lived without for so long. You can make ANYTHING in this pot! I've some of my favorite Instant Pot recipes for you to try out. If you haven't jumped on the Instant Pot train yet, now is the time to get cooking!
16 Instant Pot Recipes
The Amazing Modern Pressure Cooker
It is fantastic to save time cooking meat like beef stew and carnitas. For dishes that could take hours, the high heat and pressure makes meat melt-in-your-mouth tender. I love opening the pot after the steam is released and seeing everything inside, it's like opening a present; a delicious present.
Instead of the difficulty of old style pressure cookers, you can cook with a modern Instant Pot with the turn of a lid and the press of a few buttons. One thing to pay attention to is whether the recipe calls for letting the steam release naturally or if the release valve should be used. If you do use the release valve, make sure to use it carefully. I am so glad to have a device that is such an improvement on those old, fussy pressure cookers.
These recipes are some of my favorites that are perfect for everyday dinners and big gatherings. Save time and maximize flavor with this recipe collection today!