A comprehensive list of Instant Pot recipes with plenty of options for chicken, beef, and seafood dinners, along with Instant Pot soups, desserts, tacos and more!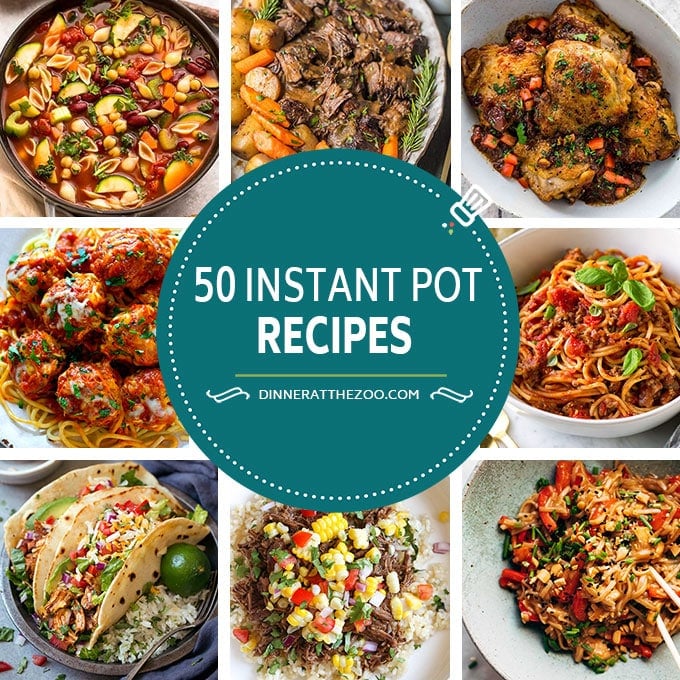 Instant Pot Recipes are here for the crazy busy nights that are ahead. It's the fastest kitchen appliance around, and it comes with so many different functions like a pressure cooker, slow cooker, yogurt maker, rice cooker, you name it!
I am in love with this little appliance that I have no clue how we lived without for so long. You can make ANYTHING in this pot! I've rounded up my top 50 go-to Instant Pot recipes for you to try out. If you haven't jumped on the Instant Pot train yet, now is the time to get cooking!
50 Instant Pot Recipes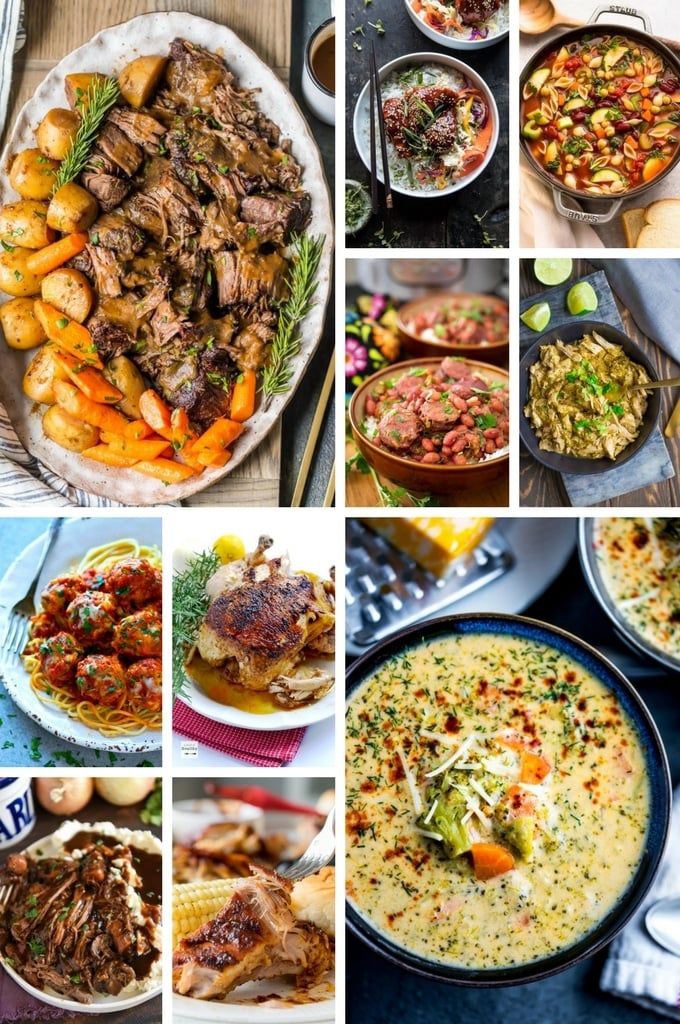 What is an instant pot used for?
An Instant Pot is a pressure cooker that also functions as a slow cooker, rice cooker, steamer, yogurt maker, warmer and saute pan. There are so many different ways to use the Instant Pot, you can use it for everything from traditional crock pot recipes to steaming vegetables, hard boiling eggs, cooking mac and cheese and more.
How long do you cook chicken breast in a pressure cooker?
Many of these Instant Pot recipes use chicken breasts. Generally speaking, chicken breasts cook on high pressure for 8 minutes. Then you can shred the chicken and use it in countless other preparations.
How do you make Instant Pot chili?
This Instant Pot chili is a hearty combination of beef and two types of beans. With the Instant Pot you get that slow simmered chili flavor in just minutes! Serve your chili as is, or pile it up with toppings like sour cream, tortilla strips, cheese and tomatoes. This chili freezes beautifully, so I often make a double batch to save some for another night. It's one of my all time favorite Instant Pot recipes!
Instant Pot Chili
Serves 6
2 teaspoons olive oil
2 lbs lean ground beef I use 90% lean
1 onion finely diced
1 teaspoon minced garlic
1 28 ounce can diced tomatoes
3 8 ounce cans tomato sauce
3/4 cup beef broth
2 tablespoons chili powder
2 teaspoons cumin
2 teaspoons smoked paprika
2 teaspoons cocoa powder
1 teaspoon sugar
1 1/2 teaspoons salt
1 teaspoon black pepper
1 15 ounce can kidney beans drained and rinsed
1 15 ounce can pinto beans drained and rinsed
Assorted toppings such as shredded cheese, tomatoes, green onions and sour cream
Turn your Instant Pot to saute, then add the olive oil to the pot. Add the meat and cook until browned, breaking up the beef with a spatula as you stir.
Add the onion and cook for 3 more minutes or until softened.
Add the garlic, tomatoes, tomato sauce, beef broth, chili powder, cumin, smoked paprika, cocoa powder, sugar, salt, pepper and beans to the pot.
Turn the Instant Pot to the chili setting and place the lid on the pot. Cook for 20 minutes. Release the pressure either manually or allow it to release naturally.
Serve with assorted toppings.
This post was originally published on September 6, 2016 and was updated April 3, 2018 with new content.