This Instant Pot corned beef is pressure cooked until tender, then served with potatoes, cabbage and carrots in a garlic butter sauce. An easy one pot meal that's great for St. Patrick's Day or any other day of the year!
When March rolls around, I always celebrate by making Irish favorites such as colcannon, soda bread and this super easy and delicious pressure cooker corned beef.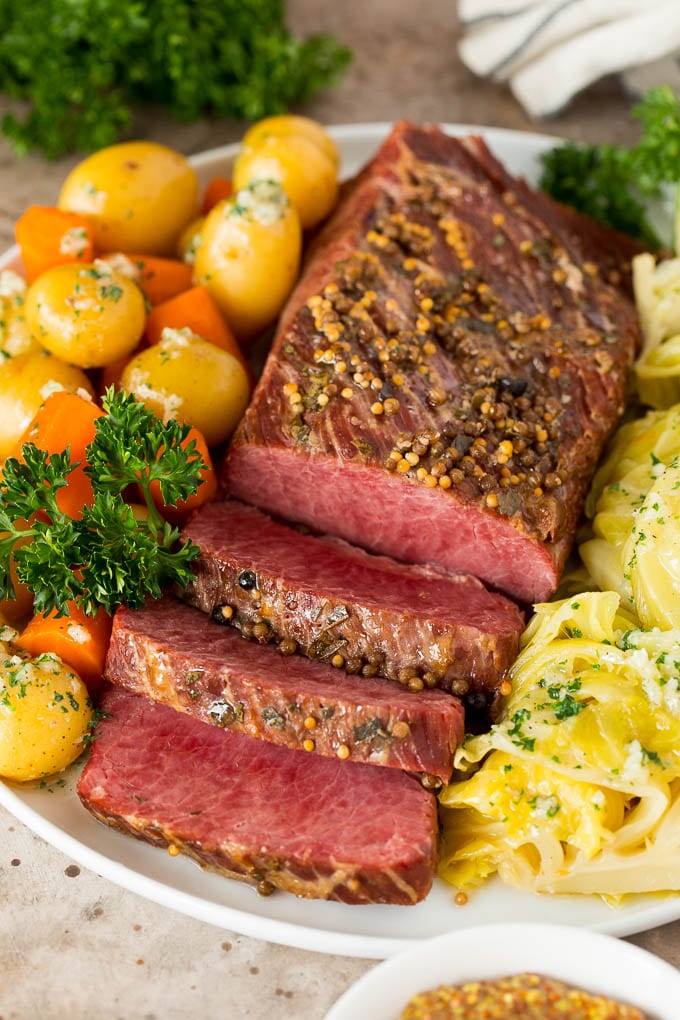 You can never go wrong with a succulent and savory corned beef, but let's be real, this cut of meat takes a long time to cook. My Instant Pot corned beef recipe solves this problem and drastically reduces the cooking time to just 90 minutes. The end result is a perfectly delicious dish that is sure to get rave reviews.
WHAT IS CORNED BEEF MADE OF?
This cut of meat is a beef brisket that soaks in brine and then cures with salt and seasonings. Corned beef gets its distinctive pink color from sodium nitrate which is an ingredient in the curing process. This is a tough cut of meat, so it's always best to cook corned beef for a long period of time so that it becomes tender. Typical cooking methods include boiling, slow cooking or oven roasting the meat, as well as using an Instant Pot or other pressure cooker.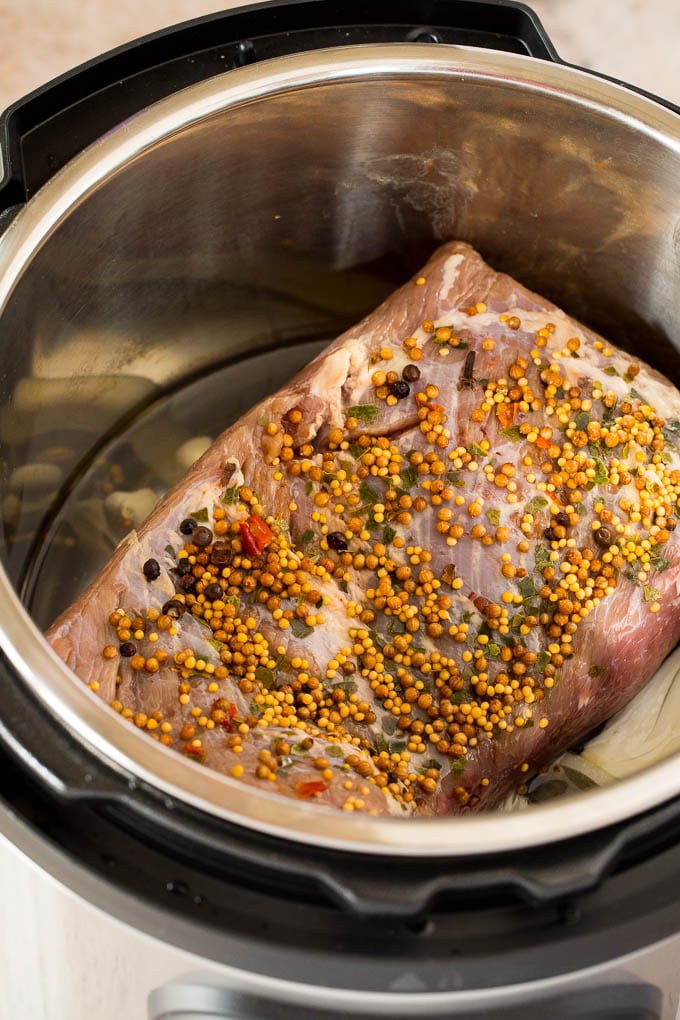 HOW DO YOU BUY CORNED BEEF?
Most stores sell cured and seasoned corned beef, especially in March. There are a few different cuts of corned beef to chose from including corned beef round roast, flat cut brisket, and point cut brisket. The round roast tends to have the least fat, but is also much more prone to drying out for that same reason.
Flat cut brisket and point cut brisket tend to be the better corned beef options because they stay juicy when cooked. I used a flat cut brisket for these photos, as you can see by the uniform size and shape of the slices. Point cut brisket is the fattiest cut, but can also sometimes be the most tender. You will want to choose a piece of meat that fits inside your pressure cooker. It's really up to you which cut you use!
How do you make Instant Pot corned beef?
Start by placing onions and garlic in the bottom of the Instant Pot. Place the corned beef on top, and sprinkle seasonings over the meat. If you meat doesn't come with a seasoning packet, it's fine to just cook it without the seasoning. My corned beef was pre-coated in seasonings. Add water to the pot, then cook on high pressure until the meat is tender. Remove the meat from the pot, and cover to keep warm. Add carrots, potatoes and cabbage wedges to the pot, then cook until the veggies are tender. Remove the vegetables from the liquid in the pot, and arrange on the plate with the brisket. Drizzle garlic butter over the vegetables, then slice the meat and serve.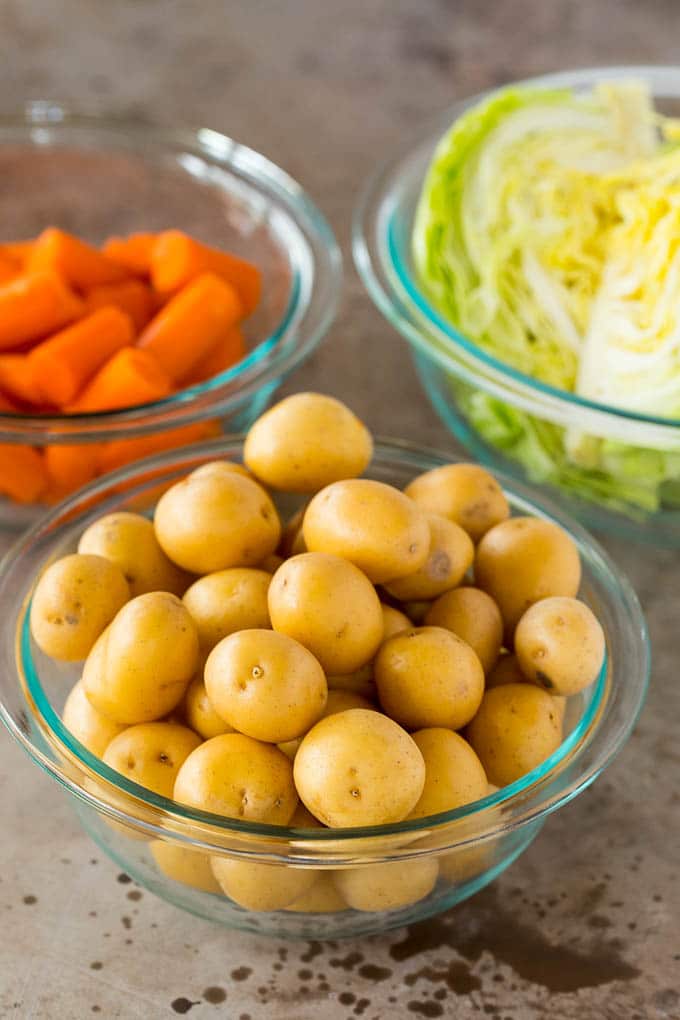 Tips for the perfect dish
Most packaged corned beef contains a packet of spices to sprinkle over the meat when it cooks. If your meat does not come with a packet, you can use 1-2 teaspoons of pickling spice instead.
This dish stays fresh in the refrigerator for up to 4 days. You can freeze cooked corned beef for up to two months. I don't recommend freezing the vegetables as they can become soft and watery when thawed.
Cut your cabbage into wedges with the core attached so that it doesn't fall apart as it cooks.
Be sure to slice your meat against the grain for the most tender slices.
I serve this dish with a side of grainy mustard which pairs perfectly with the savory beef.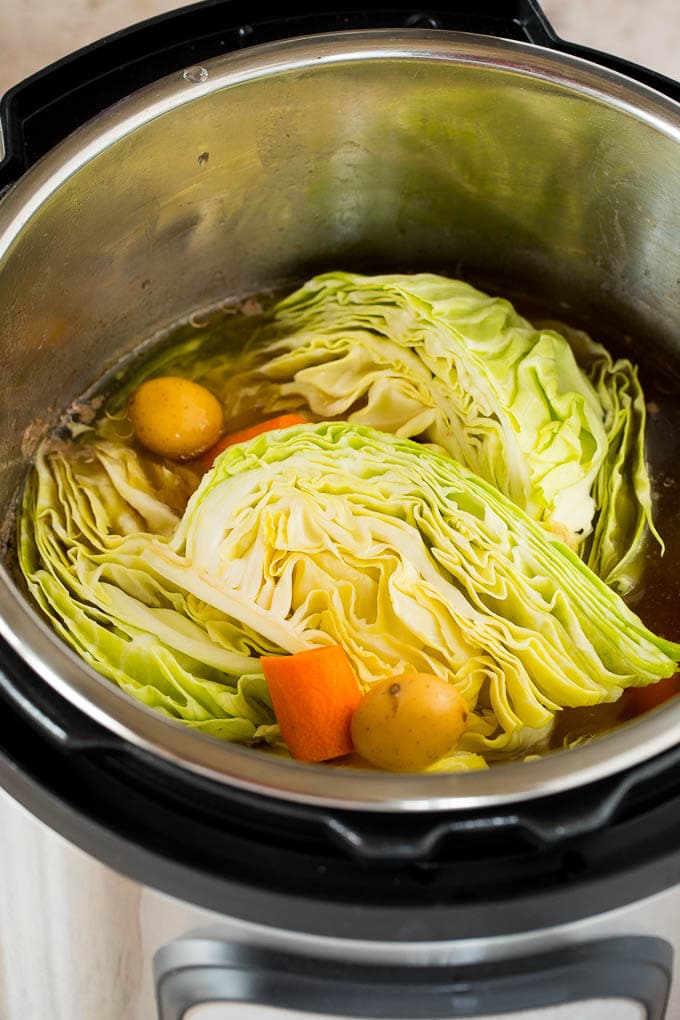 Instant Pot corned beef flavor variations
This dish is delicious as-is, but you can absolutely add other ingredients to customize the flavors to your tastes.
Liquid: Instead of water, feel free to use a light colored beer such as a lager, low sodium beef broth or low sodium chicken broth. It's imperative to use low sodium broth or the finished dish could be overly salty.
Potatoes: I typically use baby Yukon gold potatoes, but baby red potatoes also work. You can also use regular sized potatoes of any variety that have been cut into 1 1/2 inch pieces. Keep the pieces similar in size and shape so that they cook at the same rate.
Vegetables: Try Savoy cabbage instead of traditional green cabbage. You can also add other types of root vegetables to the mix such as parsnips, turnips and rutabaga.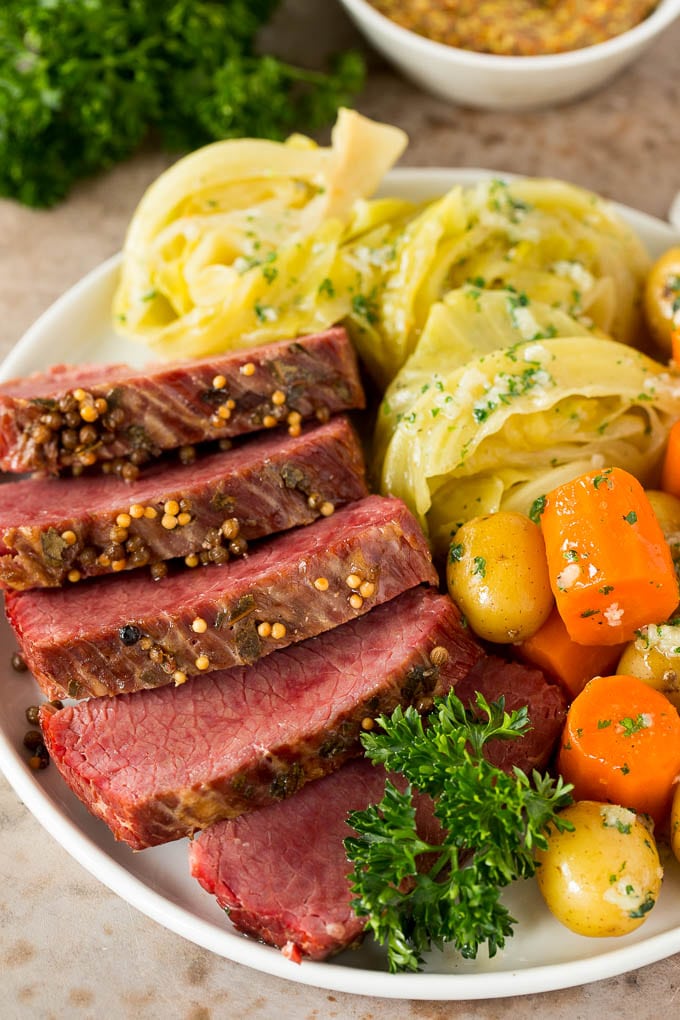 You'll be amazed at how easy it is to use your Instant Pot to turn a simple meal into something extraordinary.
MORE ST. PATRICK'S DAY FAVORITES
Instant Pot Corned Beef Video
Instant Pot Corned Beef
This Instant Pot corned beef is pressure cooked until tender, then served with potatoes, cabbage and carrots in a garlic butter sauce. An easy one pot meal that's great for St. Patrick's Day or any other day of the year!
Ingredients
1

corned beef brisket

3-5 lbs, look for a size that will fit in your pot

1

onion

peeled and cut into wedges

4

whole garlic cloves

lightly smashed

4

carrots

peeled and cut into large chunks

1

pound

small yellow potatoes

whole or halved, your choice

1/2

head

green cabbage

cut into 6 wedges

3

tablespoons

butter

1

teaspoon

garlic

minced

1

tablespoon

chopped parsley

salt and pepper to taste

grainy mustard for serving

optional
Instructions
Remove the corned beef from the package. Rinse with cold water and pat dry with paper towels.

Place the onions and garlic cloves at the bottom of an Instant Pot. Set the corned beef on top of the onions. Add the seasoning packet on top of the meat if your corned beef came with a packet. If there's no packet, you can skip this step.

Pour 4 cups of water into the pot.

Seal the lid, then set the Instant Pot to manual pressure cook on high for 90 minutes.

Carefully release the pressure using the quick release method as described in the Instant Pot owners manual.

Remove the corned beef, onions and garlic from the pot. Discard the onions and garlic, and place the meat on a plate. Cover to keep warm.

Place the carrots, potatoes and cabbage into the liquid in the pot. Seal the pot, then cook on manual high pressure for 5 minutes. Carefully quick release the pressure.

Place the butter, garlic, parsley and salt and pepper in a small bowl. Microwave in 30 second increments or until melted.

Remove the vegetables and potatoes from the pot. Arrange around the corned beef. Drizzle the garlic butter over the potatoes and vegetables.

Slice the meat against the grain, then serve with mustard if desired.
Nutrition
Calories:
564
kcal
|
Carbohydrates:
14
g
|
Protein:
36
g
|
Fat:
29
g
|
Saturated Fat:
14
g
|
Cholesterol:
137
mg
|
Sodium:
987
mg
|
Potassium:
1133
mg
|
Fiber:
4
g
|
Sugar:
3
g
|
Vitamin A:
5345
IU
|
Vitamin C:
97.4
mg
|
Calcium:
75
mg
|
Iron:
6.1
mg