This grilled broccoli is marinated in garlic, herbs and olive oil, then seared to tender perfection. A unique and unexpected way to prepare broccoli that's great for the warmer weather months!
I love to whip up a batch of grilled vegetables, you can't go wrong with grilled corn, grilled asparagus and especially grilled broccoli! I make this recipe almost every week during the summer, and it always gets rave reviews.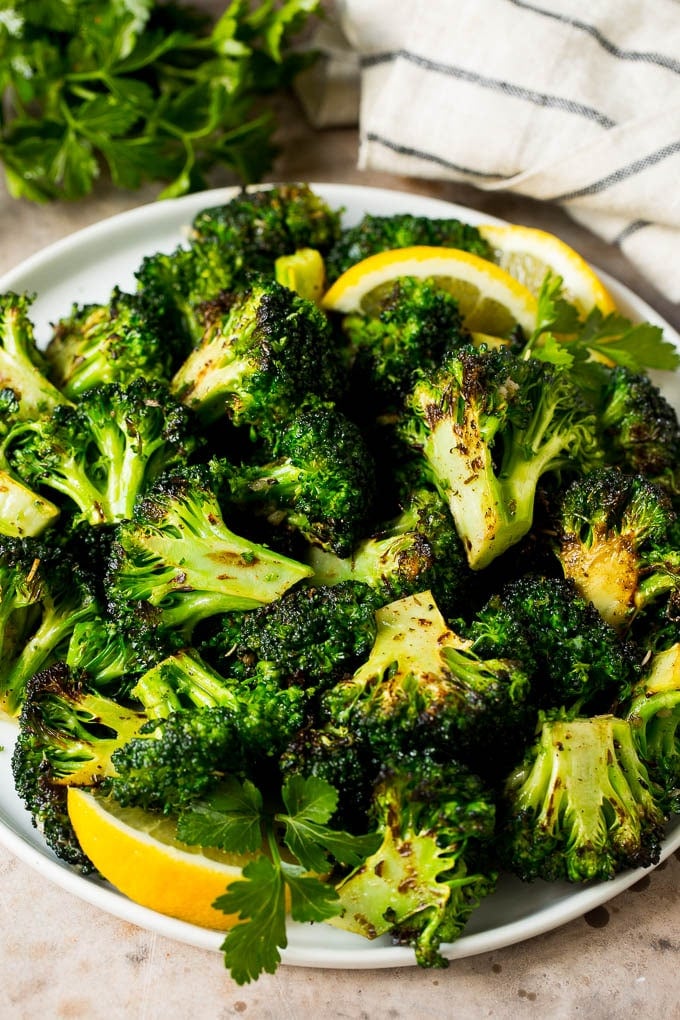 Almost any vegetable can be made on a grill, but I have to say, grilled broccoli is one of my favorites. The broccoli is tender on the inside, and caramelized around the edges, and the flavor just can't be beat.
How do you make grilled broccoli?
This recipe starts with a simple marinade of olive oil, lemon juice, garlic and herbs. Place large broccoli florets in the marinade, and let them sit for at least 20 minutes. Preheat an outside grill, or indoor grill pan, then add the broccoli. Cook the broccoli for 3-4 minutes per side, or until tender. Place the grilled broccoli on a plate, then garnish with fresh parsley and lemon wedges, and serve.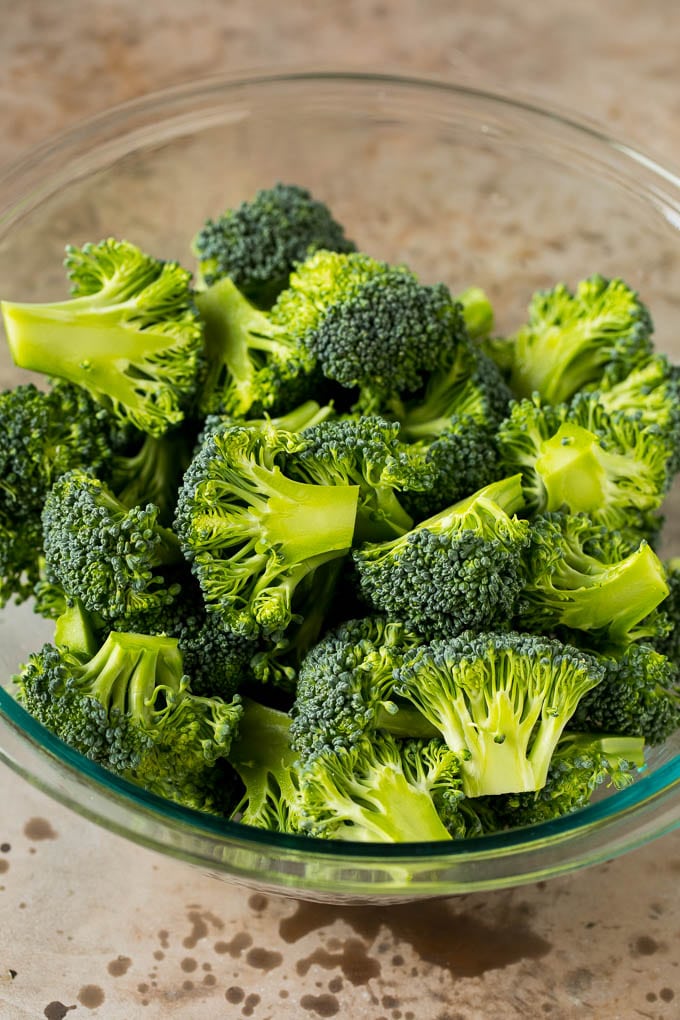 Tips for the perfect broccoli
Using larger pieces of broccoli will keep this vegetable from slipping through the grates of the grill.
I like to finish my broccoli with a sprinkling of parsley. If you don't have parsley on hand, other great options include green onions, thyme, basil or dill.
This recipe calls for dried Italian seasoning, which is located in the spice aisle of most grocery stores. This seasoning is a blend of dried basil, oregano, parsley and garlic powder. If you can't find Italian seasoning, you can make your own by combining the dried herbs and garlic powder in equal amounts.
I find that this dish is best when eaten immediately. Store any leftovers in the fridge for up to 3 days.
This recipe works best with fresh broccoli. Frozen broccoli will be soggy and overcooked if you try to grill it.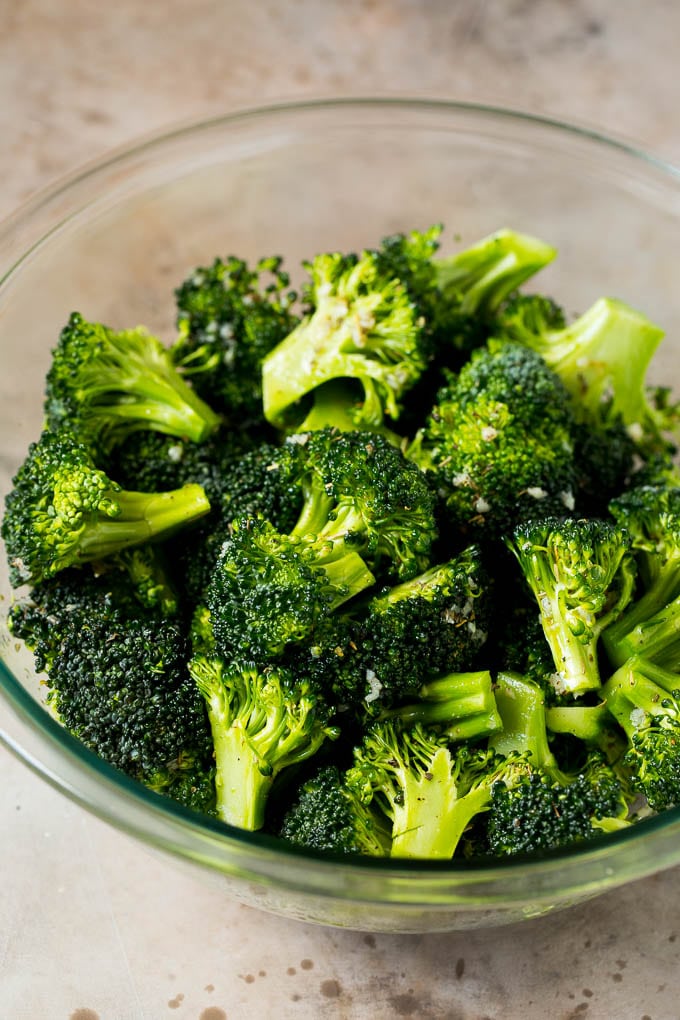 Is grilled broccoli good for you?
Broccoli is a great source of many different nutrients, and is a good choice for a healthy diet. Broccoli contains folic acid, potassium, Vitamin C and calcium. This vegetable is low in carbs and calories, and high in fiber.
Grilled broccoli cooking techniques
There are a couple different ways to grill your broccoli for the best results.
Direct: Place the broccoli florets directly on a grill or grill pan. This method works best with broccoli pieces that are at least 3 inches in size. If you use small pieces of broccoli, they'll be likely to fall through the grill grates into the fire.
Skewer: You can thread smaller pieces of broccoli onto wooden or metal skewers to make grilling go a little easier. If you're using this method, I recommend lightly blanching the broccoli first so that it's soft enough to poke a skewer into.
Grill Basket: For this method, you'll want to purchase a grilling basket or tray. You can place any size of broccoli florets in the basket or tray, and they'll get that great smoky flavor without the risk of losing vegetables into the fire.
Foil Packet: Divide the broccoli between 4 pieces of foil, then fold the foil up into packets. Grill each packet for about 10 minutes or until broccoli is tender.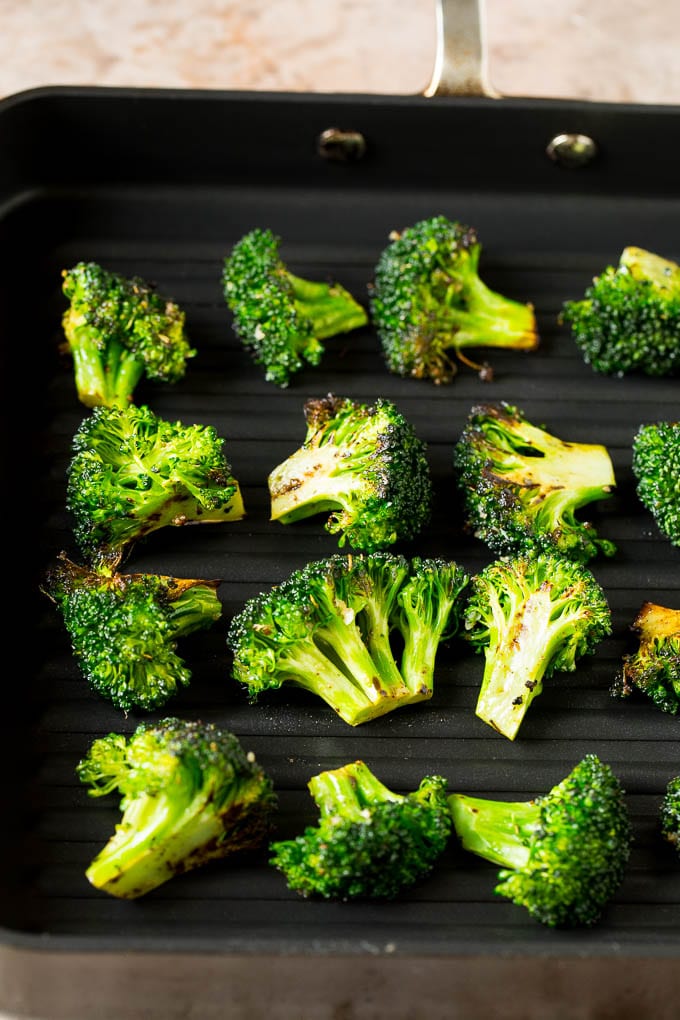 Flavor Variations
There are a lot of different ways to flavor your grilled broccoli, here are some of my favorites!
Cheese: Add a sprinkle of feta or parmesan cheese on top of the cooked broccoli.
Vegetables: Feel free to add other vegetables to the mix such as mushrooms or zucchini.
Flavorings: After your broccoli is cooked, garnish it with toasted pine nuts, olives, sun dried tomatoes or bacon.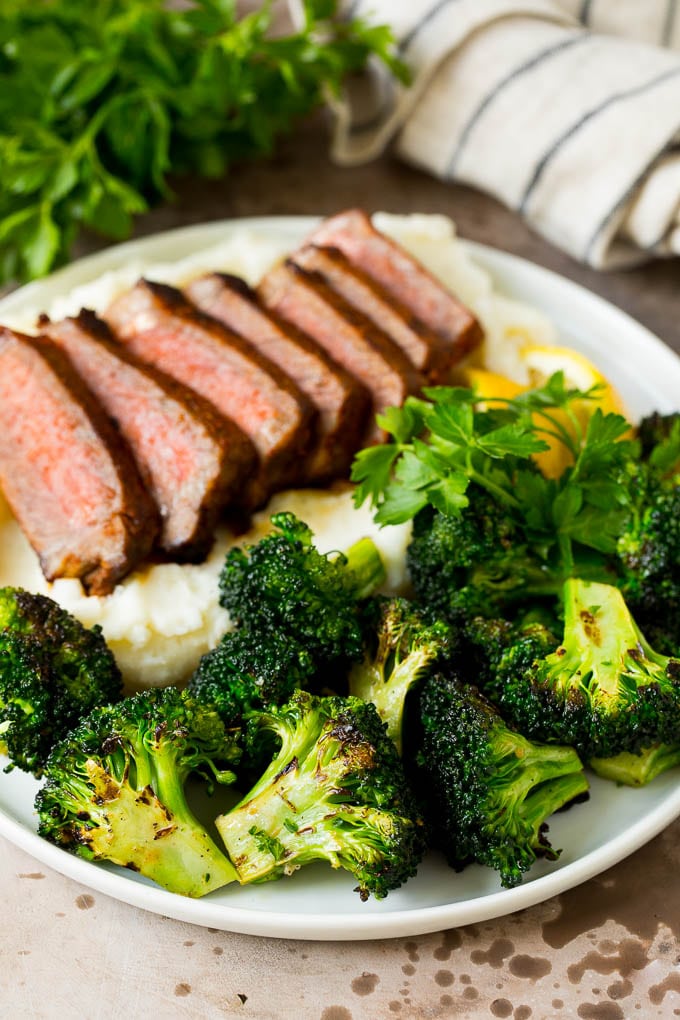 This grilled broccoli is the absolute best way to eat your veggies, even the kids will enjoy this one!
More vegetable recipes you'll enjoy
Grilled Broccoli Recipe
Grilled Broccoli
This grilled broccoli is marinated in garlic, herbs and olive oil, then seared to tender perfection. A unique and unexpected way to prepare broccoli that's great for the warmer weather months!
Ingredients
4

cups

broccoli

cut into 3 inch pieces

4

tablespoons

olive oil

1

tablespoon

lemon juice

1 1/4

teaspoons

kosher salt

1/4

teaspoon

black pepper

1 1/2

teaspoons

dried Italian seasoning

1 1/2

teaspoons

garlic

minced

1

tablespoon

parsley leaves

chopped, plus sprigs for garnish

lemon wedges for serving

optional
Instructions
Place the olive oil, lemon juice, salt, pepper, Italian seasoning and minced garlic in a large bowl. Whisk until well combined.

Add the broccoli pieces to the bowl and toss to coat. Cover and refrigerate for at least 20 minutes or up to 2 hours.

Preheat a grill or grill pan to medium high heat.

Cook the broccoli for 3-4 minutes per side or until browned and tender.

Place the broccoli on a serving plate. Sprinkle with parsley and garnish with lemon wedges and parsley sprigs if desired.
Notes
See post text for other methods of grilling broccoli such as in a foil packet or in a grill basket.
Nutrition
Calories:
138
kcal
|
Carbohydrates:
7
g
|
Protein:
3
g
|
Fat:
8
g
|
Saturated Fat:
1
g
|
Sodium:
392
mg
|
Potassium:
325
mg
|
Fiber:
3
g
|
Sugar:
3
g
|
Vitamin A:
1360
IU
|
Vitamin C:
13.9
mg
|
Calcium:
48
mg
|
Iron:
3.6
mg