These sauteed mushrooms are sliced button mushrooms cooked in butter, garlic and herbs until caramelized and tender. An easy side dish that takes just 10 minutes to make!
In my house mushroom dishes are always a hit, some of our favorites include sausage stuffed mushrooms and mushroom pork chops. These simple sauteed mushrooms pair perfectly with almost any protein and they taste like something you'd get a restaurant.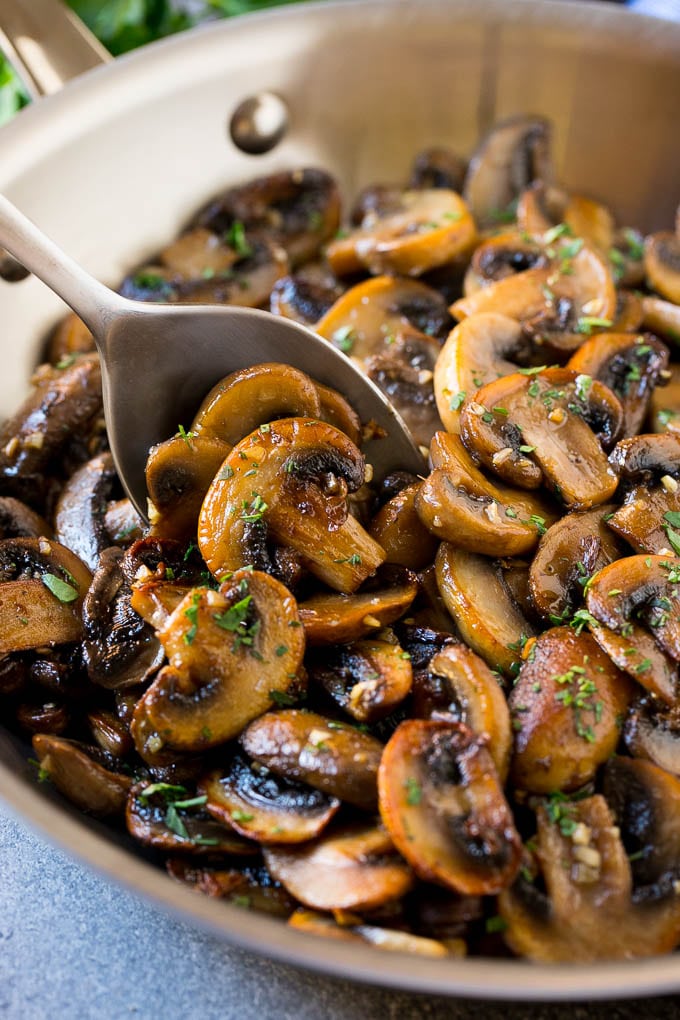 Whenever I go out to eat at a steakhouse, I have to order the sauteed mushrooms. They're so buttery and delicious and pair perfectly with beef. Now you can make your own steakhouse style mushrooms at home with very little effort. You'll be surprised at how easy they are to make!
How do you make sauteed mushrooms?
The first step is to choose your mushroom variety. I typically use the standard button white mushrooms, but you can use other varieties such as cremini, chanterelle, oyster or shiitake. The mushrooms get cooked with butter, salt and pepper until tender, then fresh garlic gets stirred in towards the end. Add a sprinkle of parsley and you'll be ready to eat!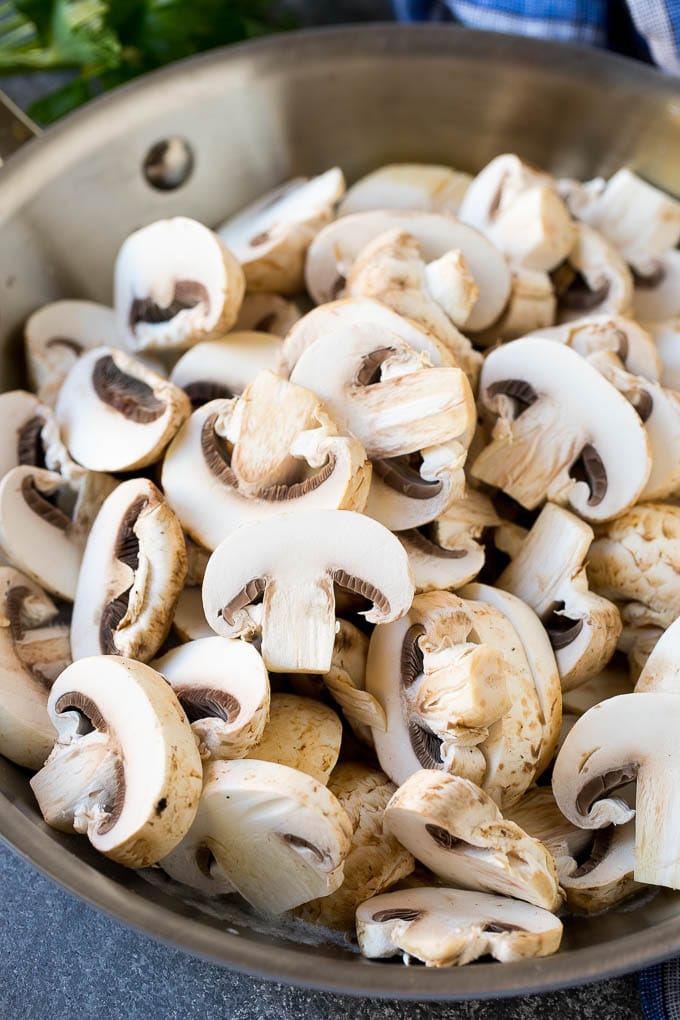 Tips for Sauteed Mushrooms
I cut my mushrooms into thick slices because I find them easier to eat that way, but you can leave your mushrooms whole if you prefer. Just be sure to adjust the cooking time accordingly.
The mushrooms will release a lot of liquid as they cook. If you wait patiently, that liquid will evaporate off and when that happens, the mushrooms will get that great caramelized exterior.
I add the garlic towards the end of the cooking time so that it doesn't burn.
I typically add a sprinkling of fresh parsley to my mushrooms, but other great options are dill, chives or thyme leaves.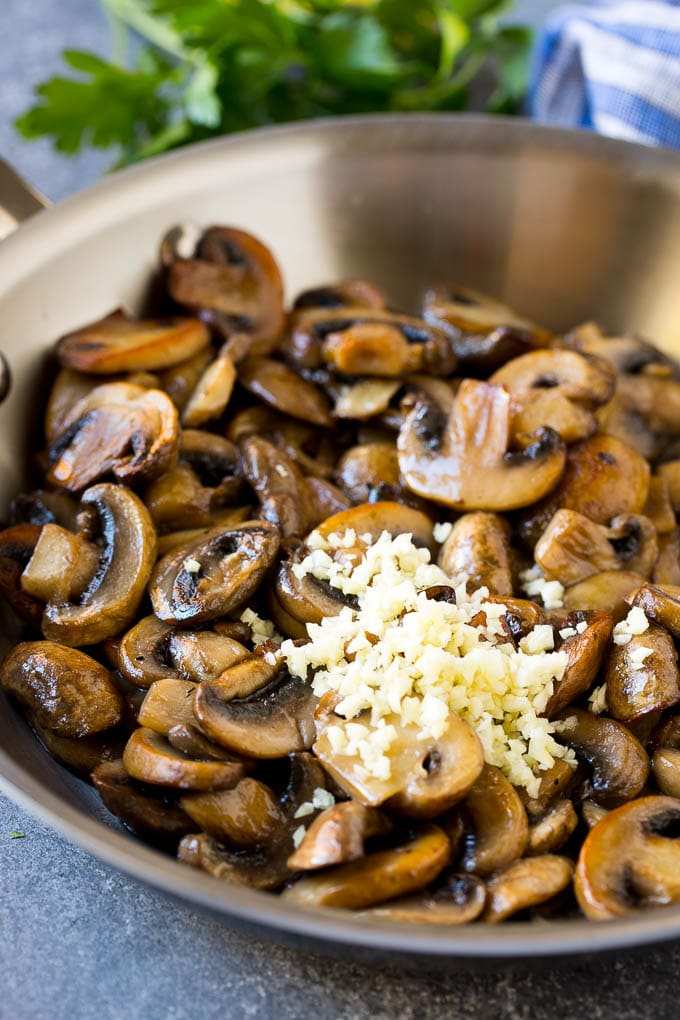 HOW DO YOU CLEAN MUSHROOMS?
The best way to clean mushrooms is to use a damp paper towel to gently rub dirt from each mushroom. You can also rinse your mushrooms in a colander, but be sure to rinse them briefly; do not soak them in water.
Are mushrooms healthy?
Mushrooms are very healthy and contain many nutrients including Vitamin B, copper, potassium and Vitamin D. Mushrooms are low in calories, high in fiber and low in carbohydrates. While this recipe isn't the healthiest choice because of the butter, you can cut the calories a bit by using half the amount of butter.
Sauteed mushroom variations
This is a basic recipe, but you can absolutely add other ingredients to customize your mushrooms to your taste!
Spicy: Add 1/4 teaspoon crushed red pepper flakes.
Creamy: Add 2 tablespoons of heavy cream when you add the garlic, then simmer until cream has started to thicken.
Cheese: Stir in 1/4 cup grated parmesan cheese before serving.
Onions: Add 1 thinly sliced onion when you put the mushrooms in the pan to cook.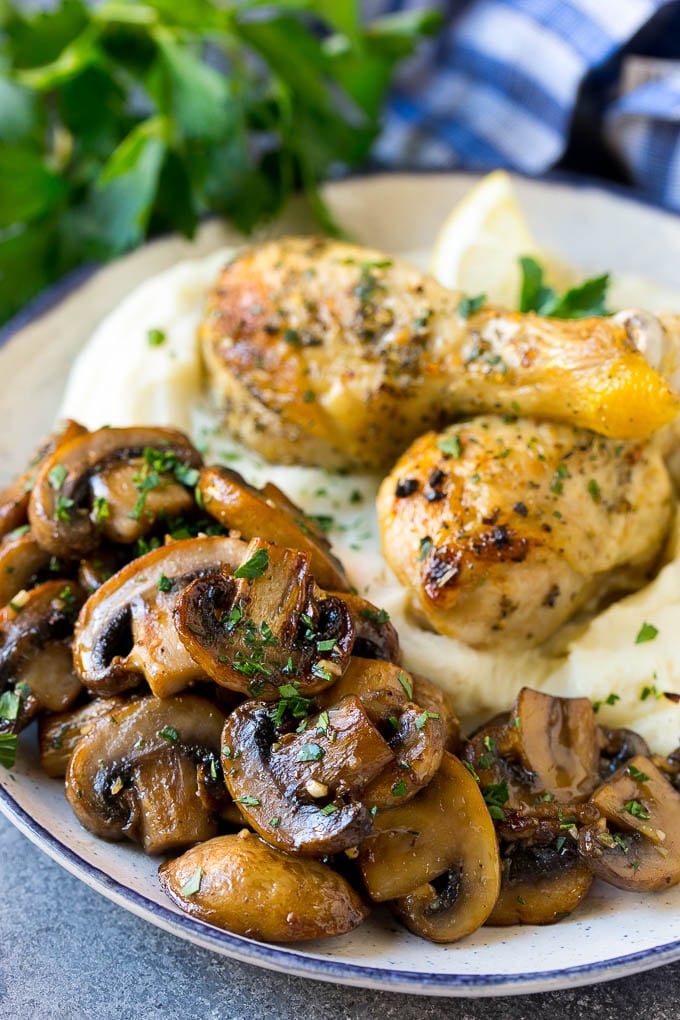 How to serve sauteed mushrooms
I typically serve sauteed mushrooms as a side dish, but there are so many different ways to use them!
Pizza: Add the mushrooms on top of a cheese pizza.
Crostini: Pile the mushrooms on top of slices of garlic bread.
Meat: Serve the mushrooms over a grilled steak or pork chop.
Pasta: Stir your mushrooms into a pasta or tortellini dish.
No matter how you serve your mushrooms, they're sure to be a huge hit! I make these sauteed mushrooms at least once a week and there are never any leftovers.
More great side dishes
Sauteed Mushrooms Video
Sauteed Mushrooms
These sauteed mushrooms are sliced button mushrooms cooked in butter, garlic and herbs until caramelized and tender. An easy side dish that takes just 10 minutes to make!
Ingredients
4

tablespoons

butter

1

pound

button mushrooms

cut into 1/2 inch thick slices

salt and pepper to taste

2

teaspoons

minced garlic

2

tablespoons

chopped parsley
Instructions
Melt the butter in a large pan over medium high heat.

Add the mushrooms. Season to taste with salt and pepper.

Cook, stirring occasionally, for 7 minutes or until most of the liquid has evaporated and mushrooms are caramelized.

Add the garlic and cook for 1 more minute, stirring constantly.

Sprinkle with parsley, then serve.
Nutrition
Calories:
127
kcal
|
Carbohydrates:
4
g
|
Protein:
3
g
|
Fat:
11
g
|
Saturated Fat:
7
g
|
Cholesterol:
30
mg
|
Sodium:
105
mg
|
Potassium:
360
mg
|
Fiber:
1
g
|
Sugar:
2
g
|
Vitamin A:
350
IU
|
Vitamin C:
2.9
mg
|
Calcium:
9
mg
|
Iron:
0.6
mg