These beef tips are steak pieces that are seared to golden brown perfection, then simmered in a savory mushroom gravy. A comfort food classic that's easy to make, and the perfect dinner option that the whole family will love.
When steak is on the menu, my whole family comes running to the table. Whether it's garlic butter steak bites, marinated steak or these delicious beef tips, you're sure to have a hit on your hands.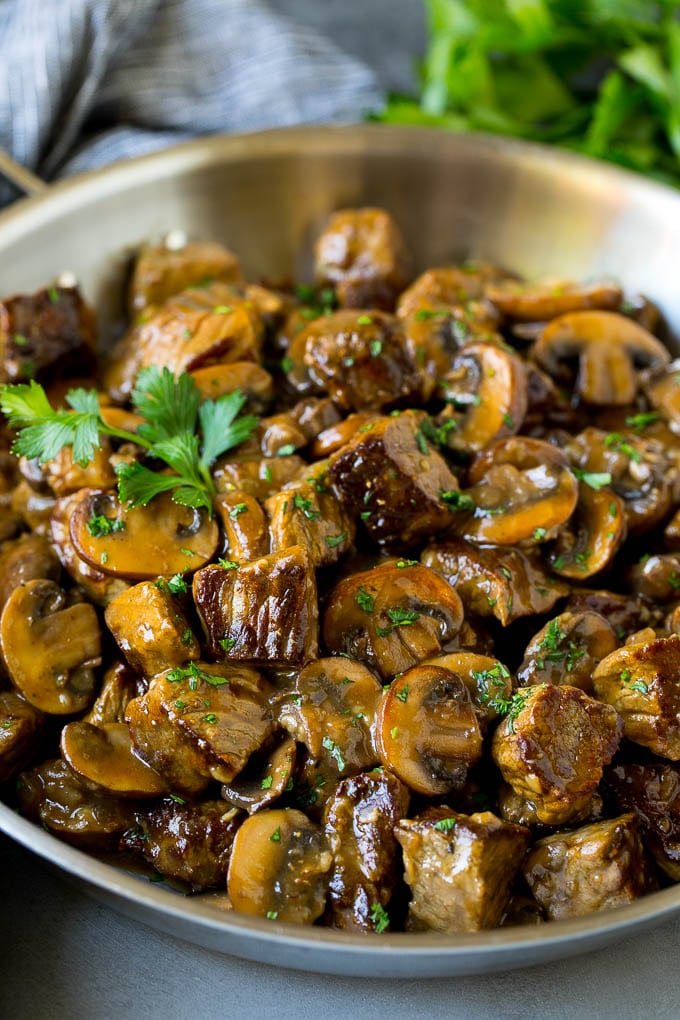 There's nothing better than beef tips and gravy, especially when it's served over a pile of mashed potatoes. This recipe is simple, yet totally satisfying, and is one of my go-to dinners during the cold weather months.
How do you make beef tips?
To make beef tips season some cubes of beef with salt and pepper and brown them in a pan. Set aside the beef and cook up chopped onions and sliced mushrooms in butter. Add some garlic to the pan to cook, along with some flour. Whisk in beef broth and simmer it until it thickens. Add a little soy and Worcestershire sauce for flavor. The sauce is now ready for the beef. Simmer the beef in the sauce until it is warmed through. Serve the beef tips and mushroom sauce garnished with a little parsley.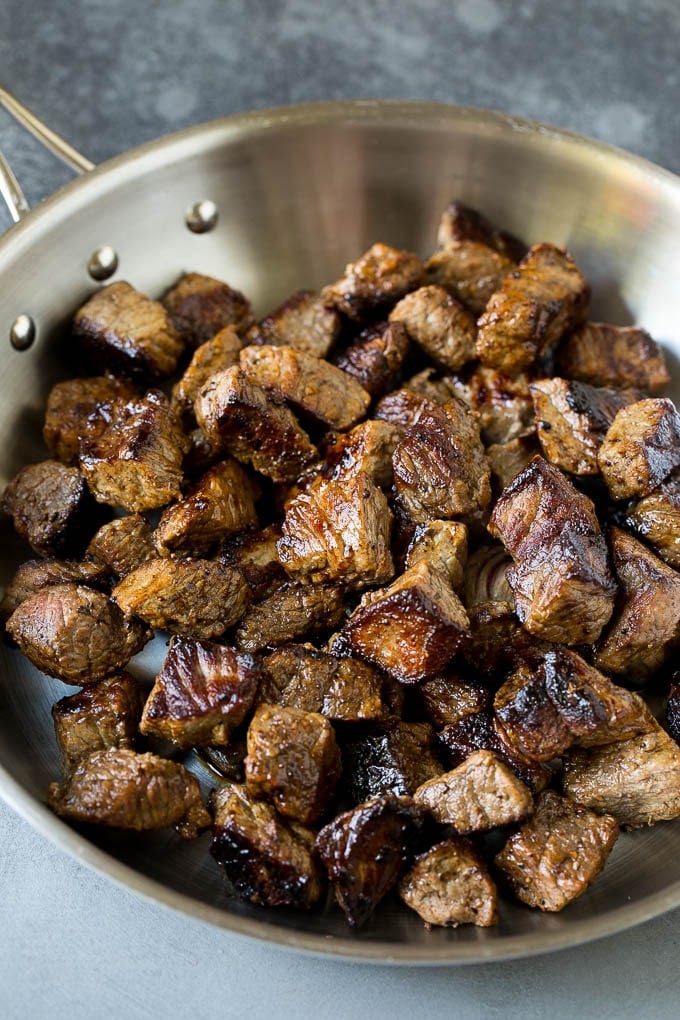 Tips for the perfect meal
I like to use cremini mushrooms for this dish, but button mushrooms will also work just time. You can save a few minutes of prep time by buying a container of pre-sliced mushrooms.
Cut your beef into similar sized cubes so that it cooks evenly. Be sure not to overcrowd the pan or the meat will steam instead of sear.
Make sure you use a high heat to brown the beef because it gives a nice caramelized color to the beef.
Cooked beef tips can be stored in the fridge for up to 3 days, or frozen for up to 2 months. Thaw the beef and mushroom mixture in the fridge, then reheat it on the stove top.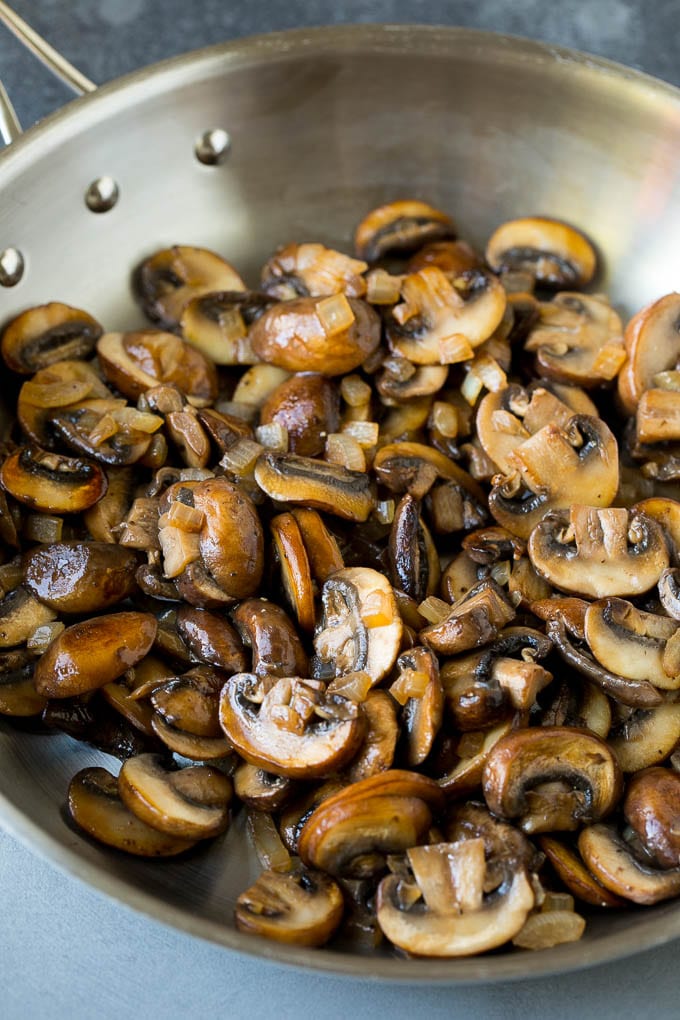 What kind of meat is used for beef tips?
Beef tips are typically tender pieces of meat cut from larger roasts such as sirloin or tenderloin. There are many different cuts of meat that can be labeled as beef tips, and in this case, you want a type of beef that is tender and will cook quickly. You'll want to avoid tougher cuts of meat such as chuck which are sometimes also sold under the beef tips label, since this term really just refers to bits of meat that are leftover from larger cuts. I recommend using sirloin beef in this recipe.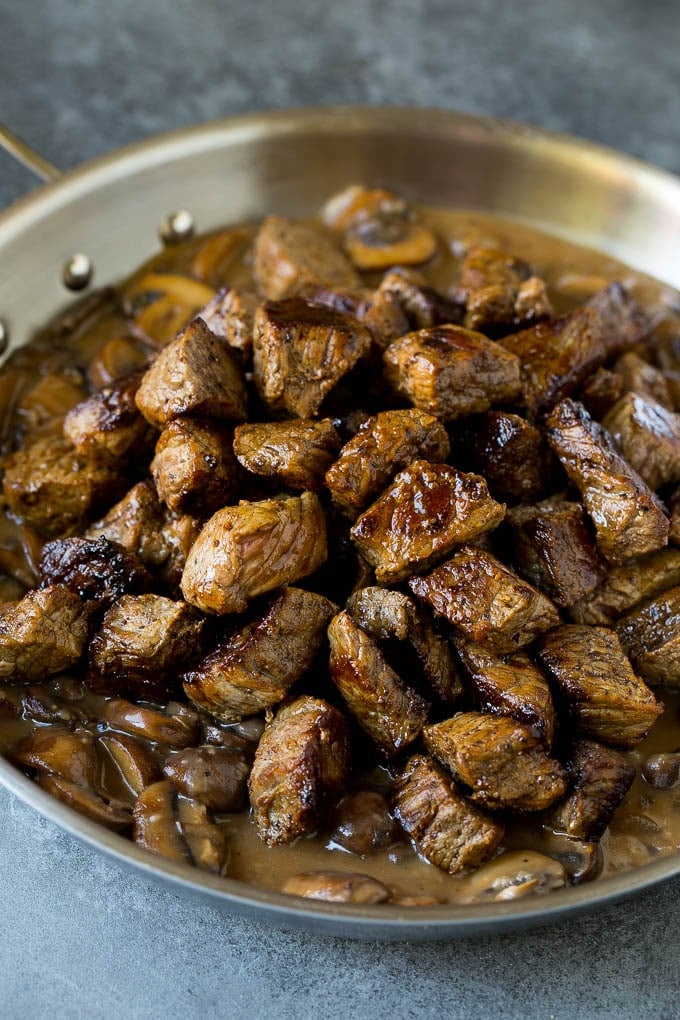 What is the difference between beef tips and stew meat?
Stew meat is usually bits of beef leftover from a butcher preparing other cuts of meat. Often stew meat consists of a lot of round or chuck meat. Stew meat can be flavorful, but it often takes a long time to cook before it gets tender. Stew meat is difficult to use for beef tips since it is made from different cuts of meat and the pieces of beef may take different amounts of time to cook and become tender. That's why stew meat is often used for stews that will cook a long time. The cut of beef does not matter as much low long the beef will simmer in a stew.
In contrast, sirloin is a cut of beef that can remain tender while it cooks up quickly. It is found between the short loin and the round. It is a flavorful cut of meat that can be cooked slowly or quickly. Sirloin is more expensive than stew meat but it is not as expensive as some other cuts of beef.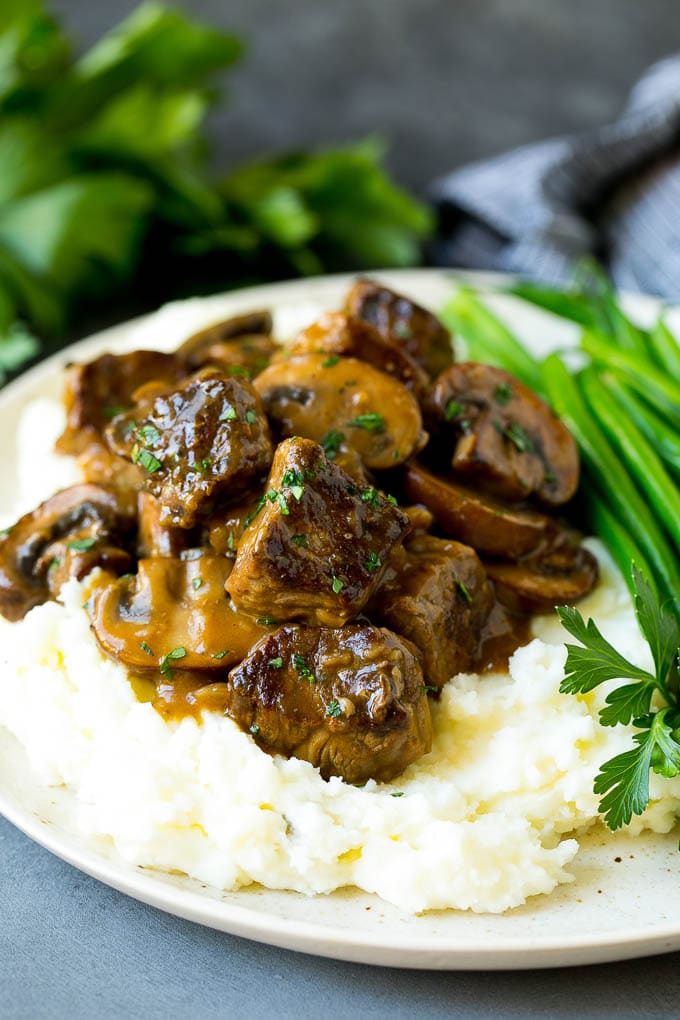 This beef tips recipe is a quick and easy way to make tender, flavorful beef with gravy. This recipe is easy enough for a weeknight dinner, but impressive enough to serve to family and friends. Nothing can beat the flavor of tender morsels of steak and perfectly cooked mushrooms in a savory gravy.
More dinner recipes you'll love
Beef Tips with Mushroom Gravy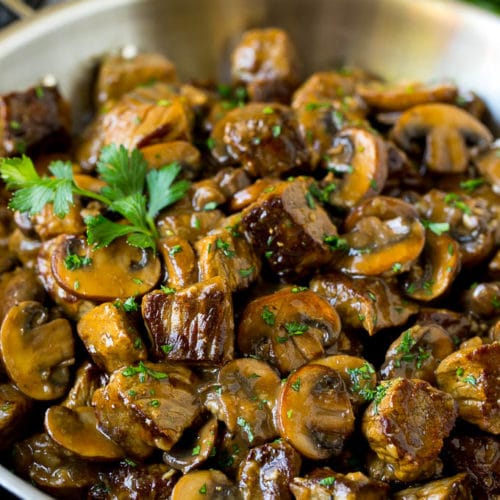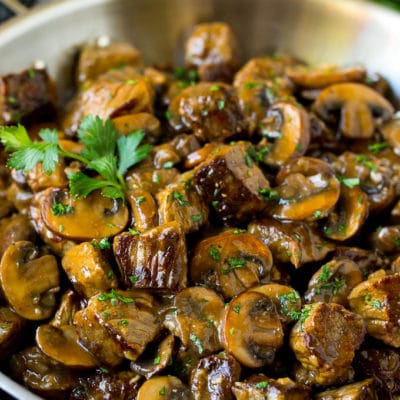 These beef tips are steak pieces that are seared to golden brown perfection, then simmered in a savory mushroom gravy. A comfort food classic that's easy to make, and the perfect dinner option that the whole family will love.
Ingredients
1

tablespoon

olive oil

1 1/4

pounds

sirloin steak

cut into 1 inch pieces

salt and pepper to taste

3

tablespoons

butter

8

ounces

sliced mushrooms

I used cremini

1/2

cup

onion

chopped

1

teaspoon

garlic

minced

3

tablespoons

flour

1 1/2

cups

beef broth

1

tablespoon

Worcestershire sauce

2

teaspoons

low sodium soy sauce

1

tablespoon

chopped parsley
Instructions
Heat the olive oil in a large pan over high heat. Season the steak with salt and pepper to taste.

Place the meat in the pan in a single layer. Cook for 3-4 minutes per side until browned.

Remove the steak from the pan; cover to keep warm.

Melt the butter in the pan. Add the mushrooms and onions; season with salt and pepper to taste.

Cook the mushrooms and onions for 5-6 minutes or until tender and browned. Add the garlic and cook for 30 seconds.

Add the flour to the pan. Cook for 1 minute, stirring constantly.

Slowly add the beef broth; whisk until smooth. Bring the sauce to a simmer and cook for 2-3 minutes until thickened. Stir in the Worcestershire sauce and soy sauce.

Add the steak back to the pan and toss to coat with the sauce. Cook for another 1-2 minutes or until warmed through. Sprinkle with parsley, then serve.
Nutrition
Calories:
343
kcal
|
Carbohydrates:
4
g
|
Protein:
32
g
|
Fat:
18
g
|
Saturated Fat:
9
g
|
Cholesterol:
115
mg
|
Sodium:
343
mg
|
Potassium:
713
mg
|
Fiber:
1
g
|
Sugar:
1
g
|
Vitamin A:
285
IU
|
Vitamin C:
1.4
mg
|
Calcium:
18
mg
|
Iron:
1.2
mg