This stromboli recipe is tender dough stuffed with tomato sauce, cheese and Italian meats, then baked to golden brown perfection. It's a quick and easy dinner that's ready in just 30 minutes!
My family devours anything that's pizza flavored, like pizza dip, pizza muffins and this amazingly delicious Italian stromboli. A stromboli is a super versatile meal option that can be filled with so many different ingredients!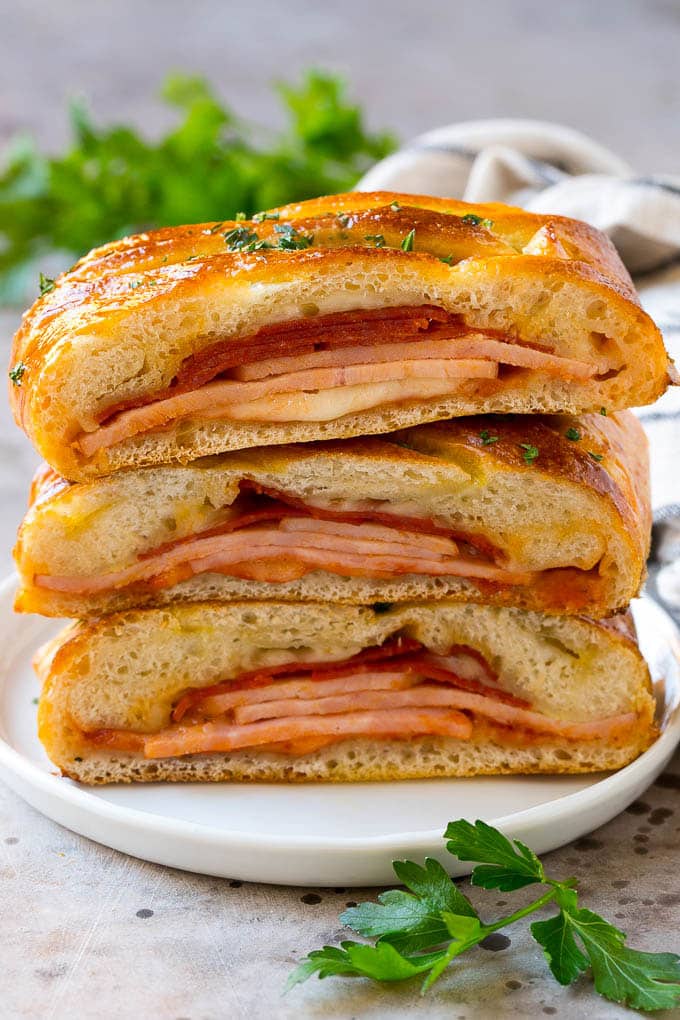 When I'm looking for a fast dinner for the family, I often turn to homemade pizza. My kids would eat pizza every day if I let them! In an effort to switch things up a bit, I took the pizza concept and rolled it up – into a stromboli! This easy stromboli recipe is pizza dough that's filled with meats and cheese, then rolled into a loaf and baked. It's a fun dinner that's a cinch to put together and is most definitely kid approved!
What is a stromboli?
A stromboli is like a cross between a sandwich and pizza. It's made with either bread dough or pizza dough that's folded around meats, cheeses or vegetables then baked. A stromboli is served by cutting it into slices and can easily feed a crowd.
How do you make stromboli?
This stromboli recipe starts with the dough. I recommend using store bought pizza dough to same time, you can choose your favorite brand. I prefer to use the kind that comes in a tube for this recipe because it's already in a rectangle shape when you unroll it.
There are two ways to make your stromboli loaf. You can simply roll it up and seal the ends, or you can fold strips of dough over the top to make a pretty braided type pattern. It's actually really easy to make the pattern, just use a pizza cutter to make strips of dough along the edges, wrap it, and bake!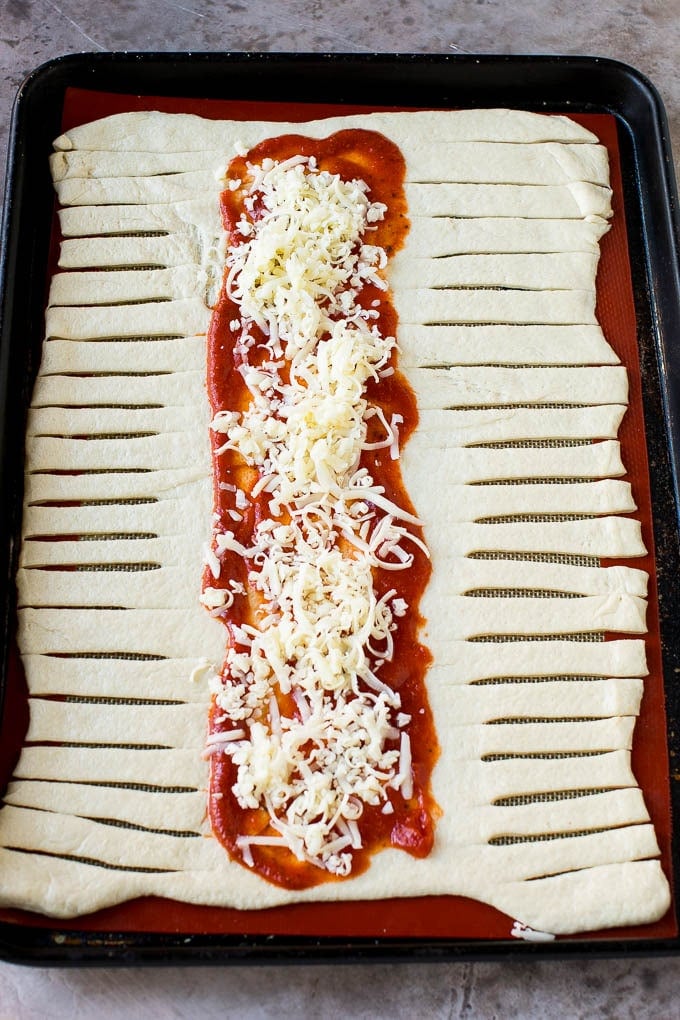 I fill my stromboli with marinara sauce, mozzarella cheese, ham and pepperoni, then wrap it all up! The top of the dough gets brushed with an egg wash to ensure a shiny brown crust. After the stromboli comes out of the oven, simply slice and serve!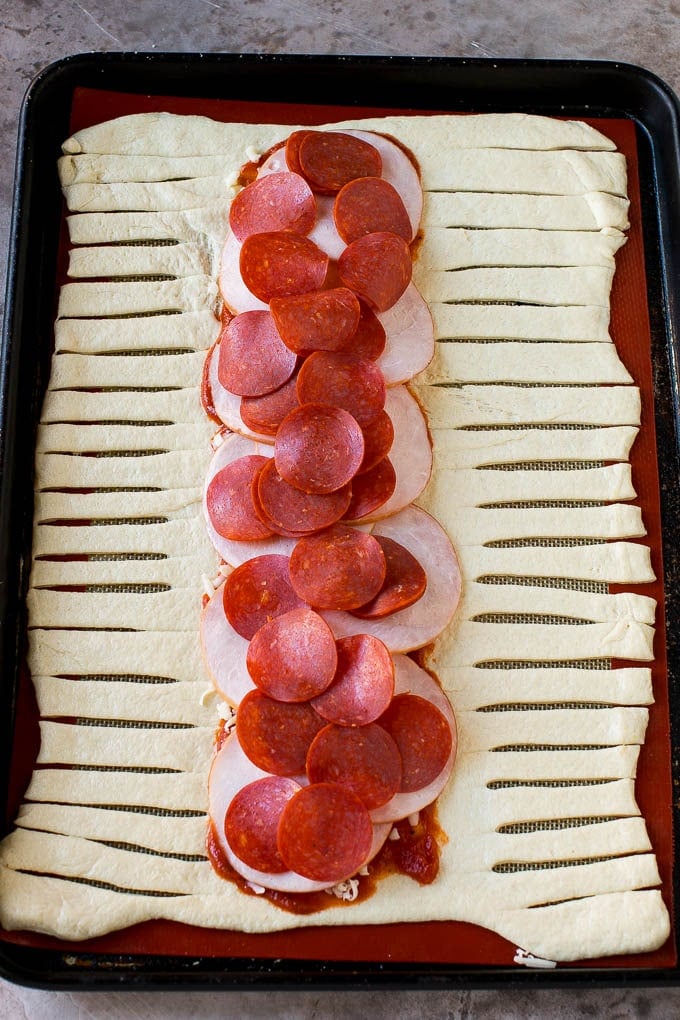 Tips for Stromboli
You can fill your stromboli with any toppings you like such as cooked sausage, mushrooms, bell peppers or olives. Make sure your veggies are pre-cooked before you put them in the dough.
You can assemble your stromboli up to 6 hours before you plan to bake it. Store it loosely covered in the fridge until it's time for dinner.
Stromboli is great for dinner, but it's also a fun party snack! Cut it into thin slices and serve it with a side of marinara sauce for dipping.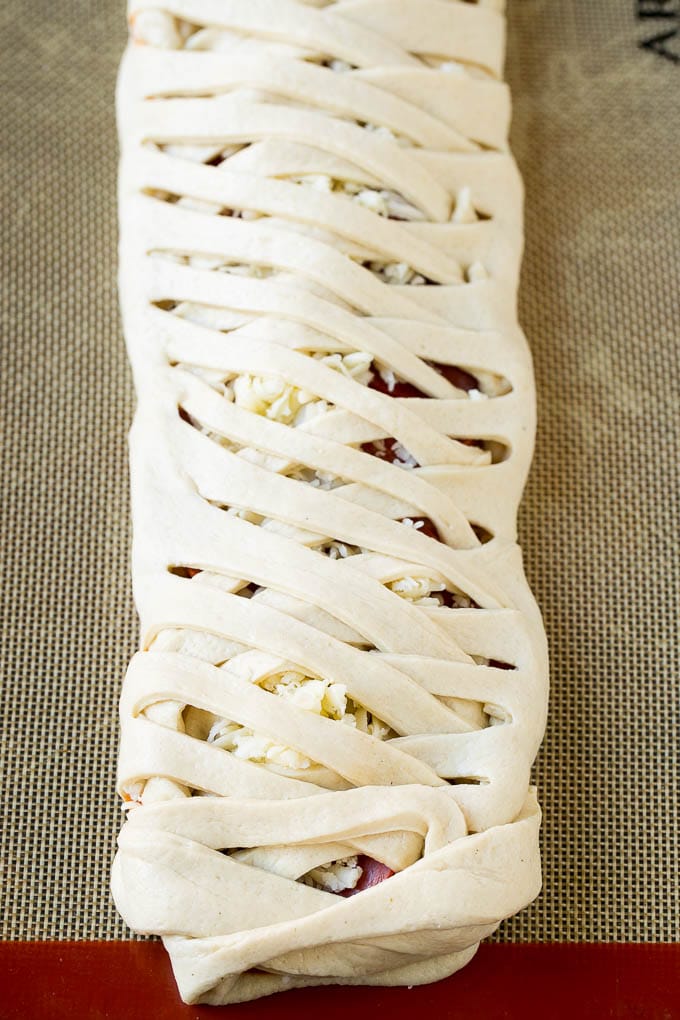 What is the difference between stromboli and calzone?
Both a stromboli and a calzone are made with pizza dough folded around meats, cheeses or vegetables, but a stromboli is log shaped and a calzone is often triangle or semicircle shaped.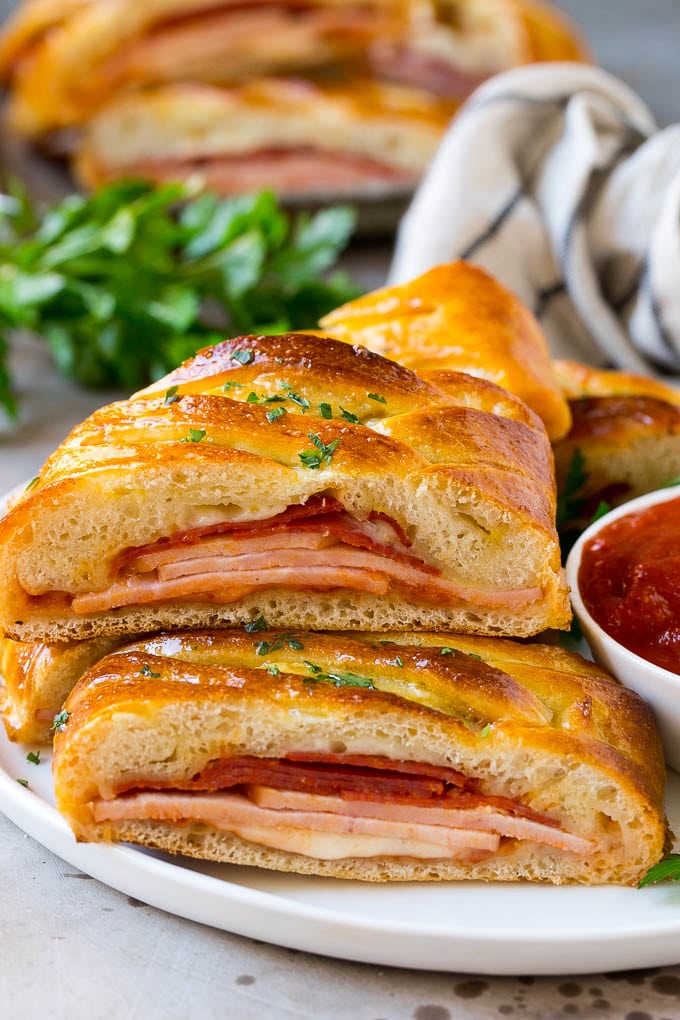 My whole family loved this meal – it's full of classic flavors served in a fun way. This stromboli recipe is most definitely going into our permanent dinner rotation!
More great Italian food recipes
Stromboli Video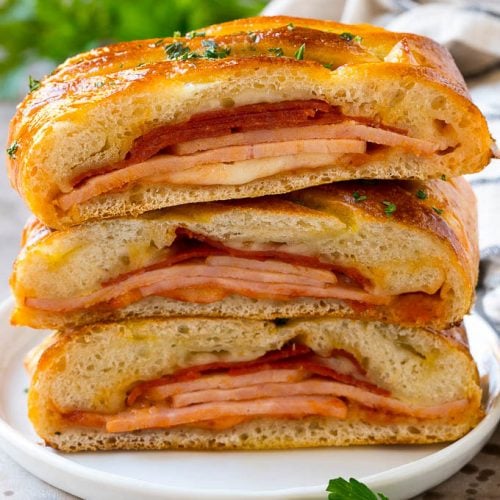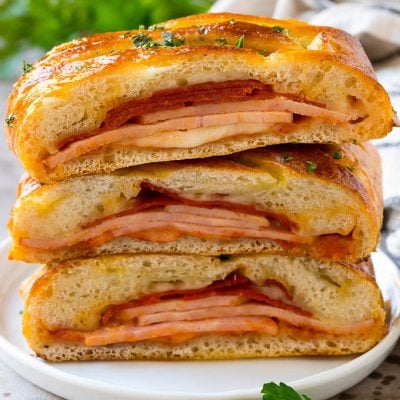 This stromboli recipe is tender dough stuffed with tomato sauce, cheese and Italian meats, then baked to golden brown perfection. It's a quick and easy dinner that's ready in just 30 minutes!

Ingredients
1

14-16 ounce

tube or ball of pizza dough

1 3/4

cups

shredded mozzarella

1/2

cup

marinara sauce

plus more for dipping

1 1/4

cup

pepperoni slices

6

ounces

sliced ham

or canadian bacon

1

egg

lightly beaten

optional garnish: chopped parsley
Instructions
Preheat the oven to 400 degrees. Line a sheet pan with parchment paper.

Roll the pizza dough into a rectangle that covers the area of the sheet pan, leaving a 1 inch border on all sides.

Place the marinara sauce, 1/2 of the cheese, ham and pepperoni down the middle of the dough. Add the remaining cheese on top of the meats.

Cut 1/2 inch strips on the sides of the dough with a pizza cutter, then alternatively criss cross one strip of dough from each side to make a pattern, folding the edges over on the top and bottom of the stromboli.

Brush the lightly beaten egg over the top and sides of the dough.

Bake for 15-20 minutes or until stromboli is golden brown and cheese is melted.

Top with chopped parsley if desired, cut into slices, and serve with marinara sauce for dipping.
Nutrition
Calories:
488
kcal
|
Carbohydrates:
33
g
|
Protein:
30
g
|
Fat:
16
g
|
Saturated Fat:
10
g
|
Cholesterol:
78
mg
|
Sodium:
604
mg
|
Potassium:
321
mg
|
Fiber:
1
g
|
Sugar:
5
g
|
Vitamin A:
350
IU
|
Vitamin C:
1.7
mg
|
Calcium:
185
mg
|
Iron:
3.3
mg
This is a sponsored post written by me on behalf of Smithfield. This post was originally published on September 12, 2016 and was updated on February 14, 2019 with new content.