This post is sponsored by the National Frozen & Refrigerated Foods Association. Thank you for supporting the brands that make Dinner at the Zoo possible!
This homemade calzone recipe is a mixture of sausage, pepperoni and bell peppers, all baked inside pizza dough with plenty of melted cheese. Calzones are the perfect food for a party, they're hand held, hearty and totally delicious.
Pizza is a commonly served food at gatherings, but I like to surprise my guests by offering calzones instead. You can fill your calzones with so many different toppings, and they're sure to garner rave reviews.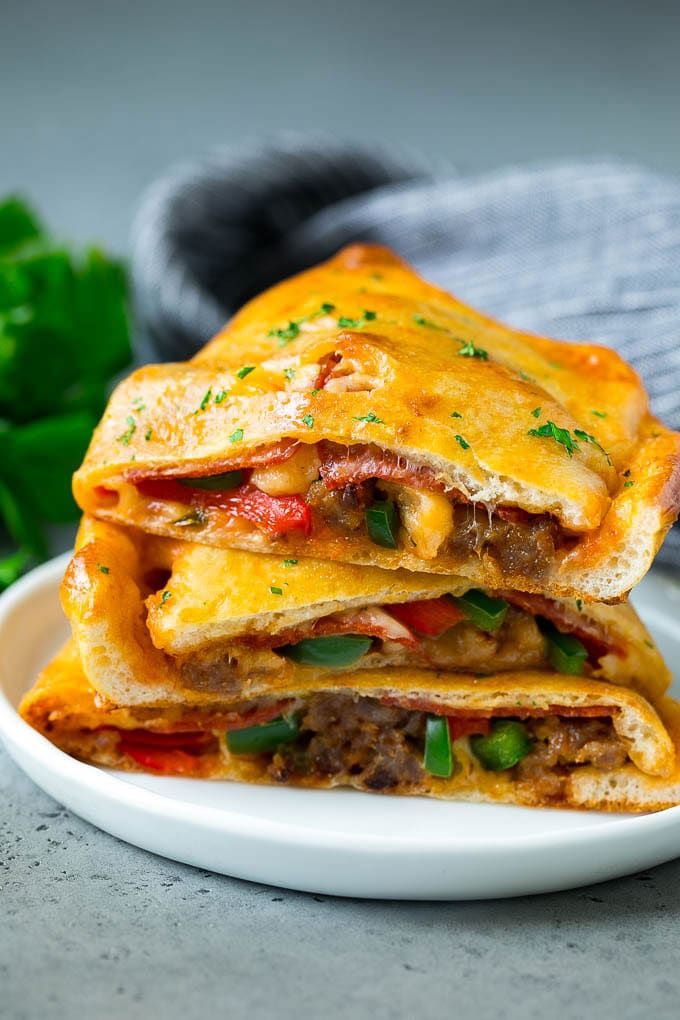 Spring is here, and as the weather warms up, I find myself planning for parties! We have a lot of family birthdays during the Spring months, and it's always nice to get together with friends and loved ones for a celebration. Good food is part of any great gathering, and my current go-to for feeding a crowd are these amazingly delicious calzones. This calzone recipe can easily be doubled or tripled for a large group and it's a nice change from the typical pizza that you find at many events.
What is a calzone?
A calzone is a type of Italian folded pizza that can be stuffed with any number of toppings. Calzones can be picked up and eaten like a sandwich, which makes them a mess-free option for entertaining. You can even set out pieces of pizza dough and toppings and let your guests assemble their own culinary creations.
How do you make calzones?
The first step in this recipe is to roll out your pizza dough. You can use homemade or store bought dough, whichever you prefer. I often use refrigerated pizza dough to save some time. The dough is formed into oval or rectangle shapes and the toppings are loaded on.
I like to fill my calzones with sausage, peppers, pepperoni and lots of cheese. I use Jimmy Dean frozen sausage because it's super convenient and full of flavor. I also use Sargento shredded cheese because it's fast and easy, which leaves me more time to enjoy my guests. Products in the dairy aisle such as shredded cheese are perfect for my lifestyle because they allow me to focus more on my friends and family, and less on spending hours in the kitchen.
I turn to the freezer and refrigerated dairy aisles when I'm entertaining because there are just so many great options. There are thousands of frozen items that are perfect for breakfast, lunch, dinner and entertaining. In addition, I feel good about feeding refrigerated dairy products to friends and family because they are wholesome and high in protein.
Tips for Homemade Calzones
You can make your calzones as big or as small as you like. I typically make about 3-4 calzones per pound of pizza dough, which makes for a hearty main course. If you're looking to serve them as an appetizer or snack, you can create 6-8 mini calzones instead.
I brush the top of my pizza pockets with egg so that they get that beautiful golden-brown sheen.
You can add other meats or veggies to your calzones, just make sure that they're cooked first.
Use a sharp knife to cut a few vents in the top of each pizza pocket so that the steam can escape.
Calzone variations
While I typically use the fillings listed in this recipe, I sometimes add other ingredients depending on what I have on hand.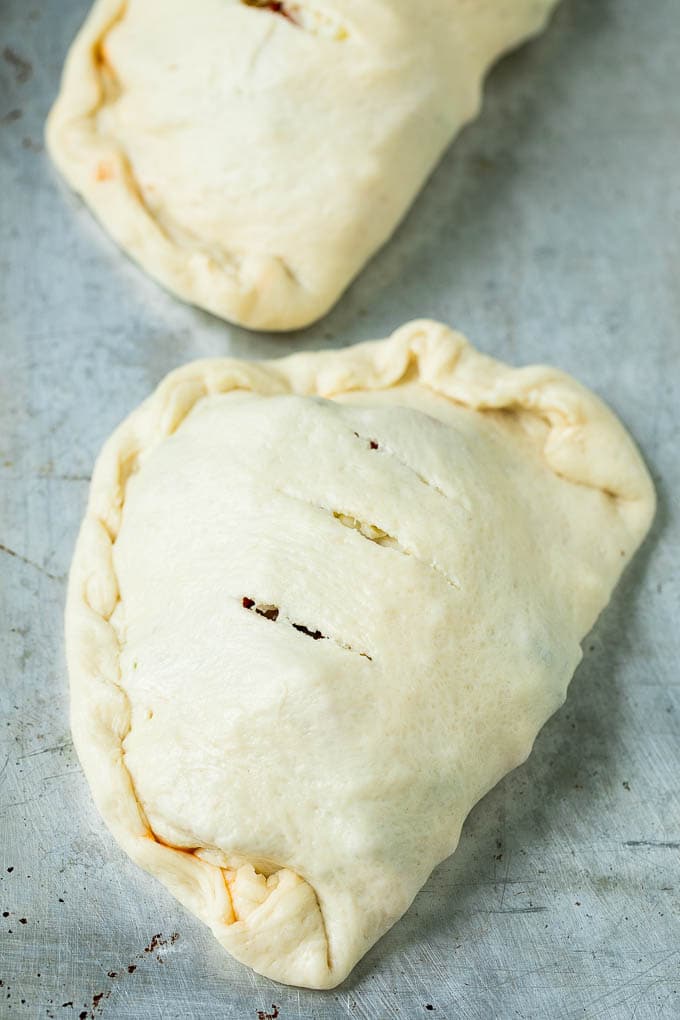 WHAT IS THE DIFFERENCE BETWEEN STROMBOLI AND CALZONE?
Both a stromboli and a calzone are made with pizza dough folded around meats, cheeses or vegetables, but a stromboli is log shaped and a calzone is often triangle or semicircle shaped.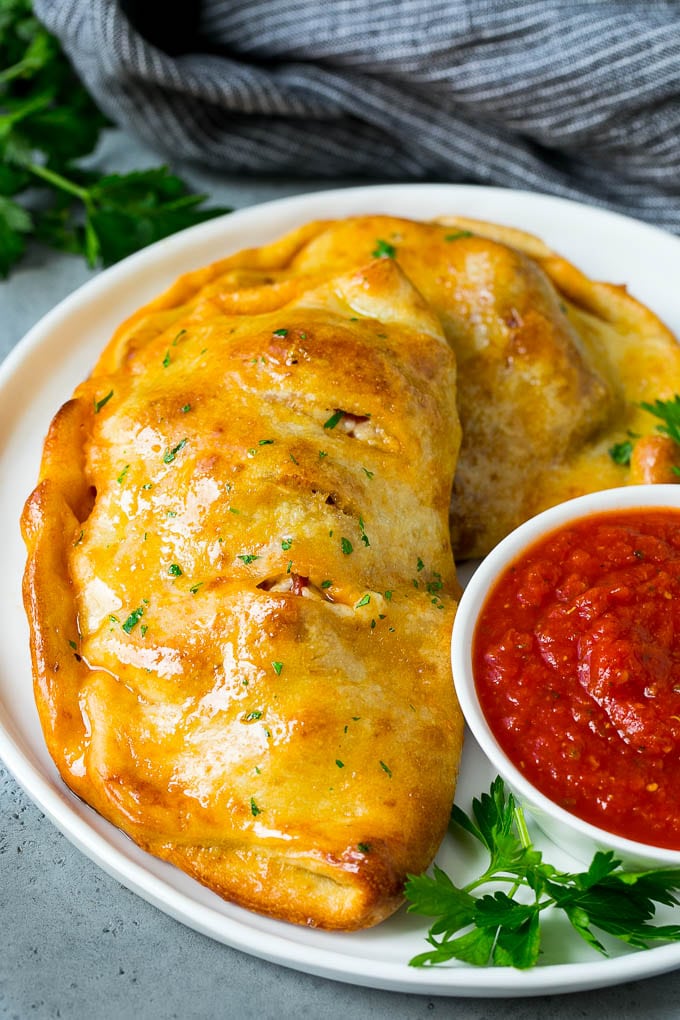 Looking for more fabulous recipes for entertaining? Be sure to check out the Easy Home Meals website by NFRA for more great recipe ideas. Easy Home Meals was created as a way to provide recipes, cooking pointers, product information and giveaways to home cooks. You can also follow Easy Home Meals on Pinterest, Facebook, Instagram, Twitter and YouTube for more culinary inspiration.
Calzone Recipe Video
Calzone Recipe
This homemade calzone recipe is a mixture of sausage, pepperoni and bell peppers, all baked inside pizza dough with plenty of melted cheese. Calzones are the perfect food for a party, they're hand held, hearty and totally delicious.
Instructions
Preheat the oven to 425 degrees F. Coat a sheet pan with cooking spray.

Divide the pizza dough into 3 or 4 pieces, depending on the size you want your calzones.

Roll the dough into 1/4 inch thick ovals or rectangles.

Place the sausage patties in a pan and cook according to package directions. Use a spatula to break up the cooked sausage into bite sized pieces.

Add the bell peppers to the pan and cook for 3-4 minutes or until softened.

Spread 2 teaspoons of pizza sauce onto one side of each piece of dough. Top with 1/4 cup cheese.

Divide the sausage and pepper mixture evenly on top of the sauce. Top with pepperoni and an additional 1/4 cup of cheese.

Fold the dough over and pinch to seal the edges. Use a sharp knife to cut 2-3 slits into the top of each calzone.

Brush each calzone with the beaten egg.

Place the calzones on the sheet pan. Bake for 15-17 minutes or until golden brown.

Top with parsley, then serve immediately with remaining pizza sauce for dipping.
Nutrition
Calories:
458
kcal
|
Carbohydrates:
50
g
|
Protein:
27
g
|
Fat:
18
g
|
Saturated Fat:
10
g
|
Cholesterol:
100
mg
|
Sodium:
762
mg
|
Potassium:
359
mg
|
Fiber:
3
g
|
Sugar:
11
g
|
Vitamin A:
33.3
%
|
Vitamin C:
50.1
%
|
Calcium:
30.4
%
|
Iron:
25.2
%