These roasted mushrooms are drizzled with a garlic and herb butter, then baked at high heat until tender. A super easy side dish that always gets rave reviews!
Roasted mushrooms make for a delicious appetizer, or serve them up as a side dish alongside bacon wrapped chicken and mashed potatoes for a memorable meal.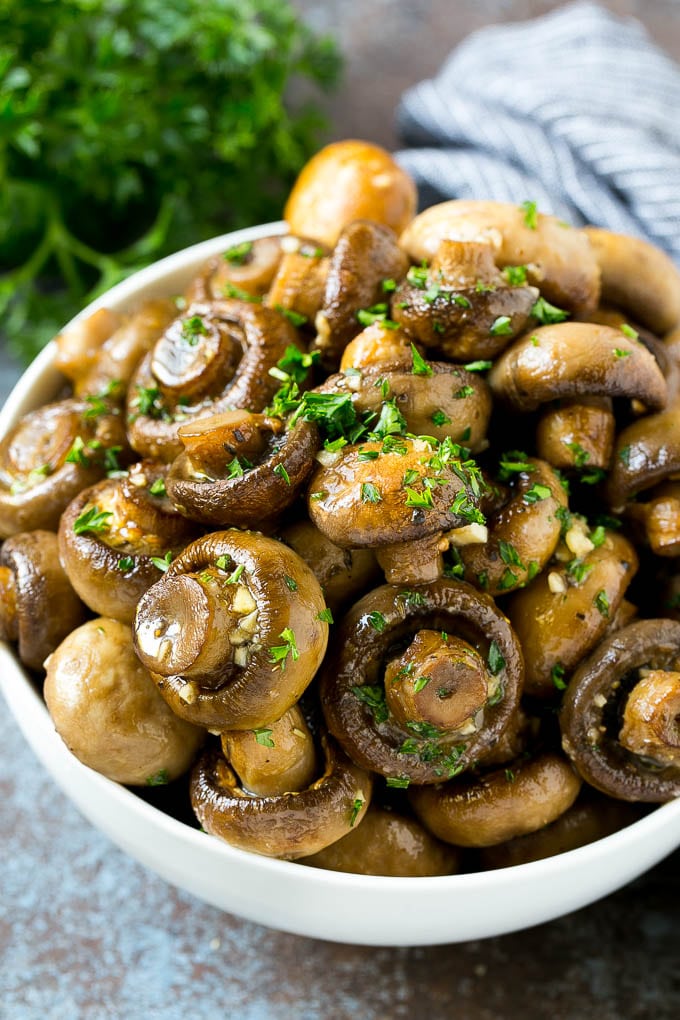 Whenever I go to a steakhouse, I order the garlic butter mushrooms, they're one of my all-time favorite side dishes. I make my own steakhouse style mushrooms at home with this super easy roasted mushrooms recipe. The recipe takes just 5 minutes to put together which is always a plus!
How do you make roasted mushrooms?
This recipe starts with whole mushrooms, you can choose whatever variety you like. I typically use button or cremini mushrooms, but you can also use a blend of wild mushrooms. The mushrooms are coated in a savory mixture of garlic, butter, olive oil and herbs, and then they go into the oven to roast.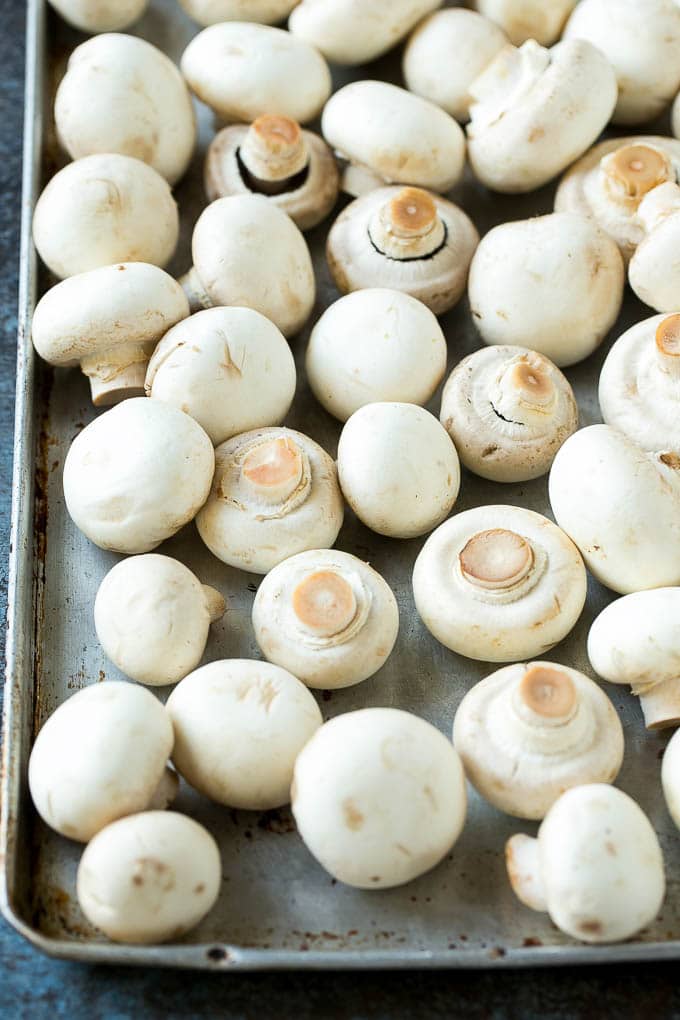 HOW DO YOU CLEAN MUSHROOMS?
The best way to clean mushrooms is to use a damp paper towel to gently rub each mushroom. You can also rinse your mushrooms in a colander, but be sure to rinse them briefly; do not soak them in water.
How long do you roast mushrooms in the oven?
I roast my mushrooms at 425 degrees F for about 20 minutes. That time assumes that you're using standard sized button mushrooms. If your mushrooms are on the smaller side, start checking them around the 15 minute mark. If your mushrooms are larger, they could take 25 minutes to become tender.
Tips for roasted mushrooms
You can slice or halve your mushrooms if you prefer for them to be in smaller pieces; simply reduce the baking time accordingly.
I use an Italian seasoning blend to flavor my mushrooms which is a mixture of garlic powder and dried basil, rosemary, oregano and parsley. If you don't have dried Italian seasoning on hand, you can substitute an equal amount of your favorite dried herb.
These mushrooms are best served immediately.
I typically serve roasted mushrooms as a stand alone side dish, but you can also put out a bowl of them with toothpicks for an easy appetizer.
Roasted mushroom variations
While these mushrooms are great as-is, you can add all different ingredients and flavorings to dress them up a bit.
Cheese: Add a sprinkle of parmesan or white cheddar cheese during the last 5 minutes of the roasting time.
Onions: Add sliced onion to the pan along with the raw mushrooms.
Balsamic: Add 1 tablespoon of balsamic vinegar to the butter mixture.
Thyme: Use fresh thyme leaves instead of chopped parsley.
Asparagus: Add 1/2 pound of asparagus stalks cut into 2 inch pieces.
Sun Dried Tomatoes: Stir in chopped oil-packed sun dried tomatoes right before serving.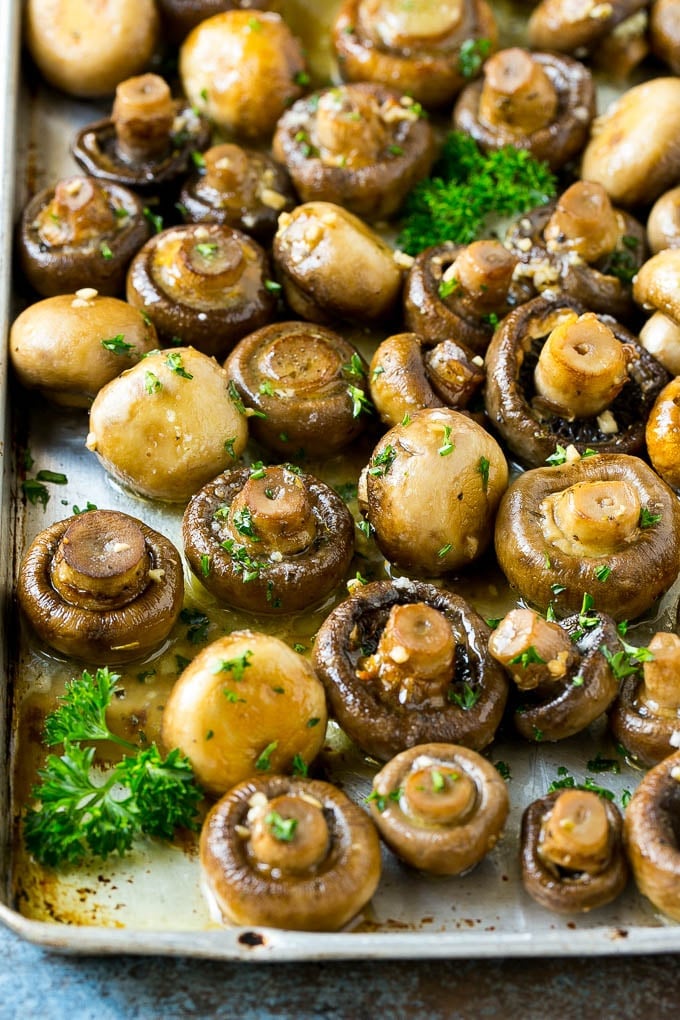 Are mushrooms good for you?
Mushrooms are full of nutrients including antioxidants, Vitamin B, Copper and Potassium. Mushrooms are low in calorie, low sodium and low in carbohydrates. In this particular recipe, the mushrooms are coated in butter which isn't the healthiest option. If you're looking to reduce the calories, you can cut the amount of butter in half.
I make these roasted mushrooms almost every week, and they're always a huge hit. Even my kids enjoy them!
More fabulous side dish ideas
Roasted Mushrooms in Garlic Butter
These roasted mushrooms are drizzled with a garlic and herb butter, then baked at high heat until tender. A super easy side dish that always gets rave reviews!
Ingredients
2

pounds

whole mushrooms

cleaned and stems trimmed

4

tablespoons

butter

melted

2

teaspoons

minced garlic

1

teaspoon

Italian seasoning

1

tablespoon

olive oil

salt and pepper to taste

cooking spray

2

tablespoons

chopped fresh herbs

I used parsley
Instructions
Preheat the oven to 425 degrees F. Coat a sheet pan with cooking spray.

Arrange the mushrooms in a single layer on the sheet pan.

In a small bowl, whisk together the butter, garlic, Italian seasoning, olive oil, salt and pepper.

Drizzle the butter mixture over the mushrooms. Toss to coat evenly.

Place the pan in the oven and cook for 15-20 minutes or until mushrooms are tender, stirring once halfway through the cook time.

Sprinkle with fresh herbs, then serve immediately.
Nutrition
Calories:
123
kcal
|
Carbohydrates:
5
g
|
Protein:
4
g
|
Fat:
10
g
|
Saturated Fat:
5
g
|
Cholesterol:
20
mg
|
Sodium:
74
mg
|
Potassium:
480
mg
|
Fiber:
1
g
|
Sugar:
3
g
|
Vitamin A:
235
IU
|
Vitamin C:
3.5
mg
|
Calcium:
14
mg
|
Iron:
0.9
mg