These homemade french fries are potatoes that are cut into sticks and deep fried until golden brown, then sprinkled with seasonings. Homemade fries are WAY better than anything you'd get at a restaurant, and are fun and easy to make.
You can never go wrong with potatoes as a side dish, whether it's baked potato wedges, garlic mashed potatoes or these classic french fries. Pair your fries with a burger, or serve them with steak, and watch the rave reviews come in!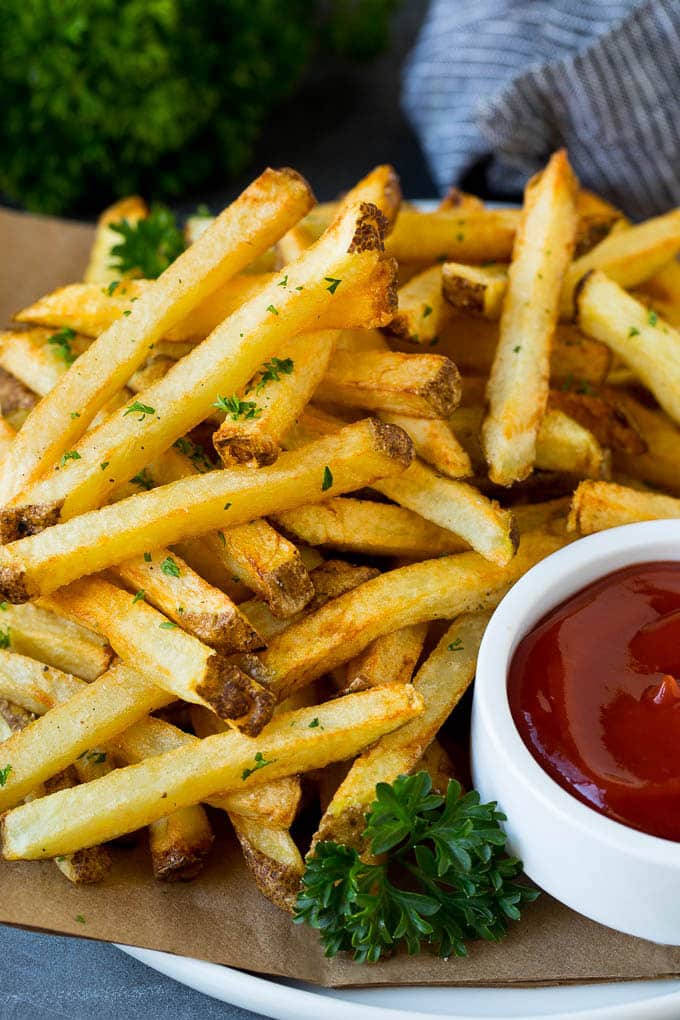 There's nothing better than homemade french fries – they're light, crispy, and full of flavor. Many restaurants use frozen fries, and I think my version is so much better because there's a freshness factor that the frozen fries just can't touch!
How do you make homemade french fries?
This recipe starts with Russet potatoes, which are cut into strips, then soaked in water. The water helps to remove any excess starch to make the fries crispy. The potatoes go into a pot of oil and are fried two times, first at a lower temperature, then at a higher temperature. Add a sprinkle of salt and pepper, then serve and enjoy.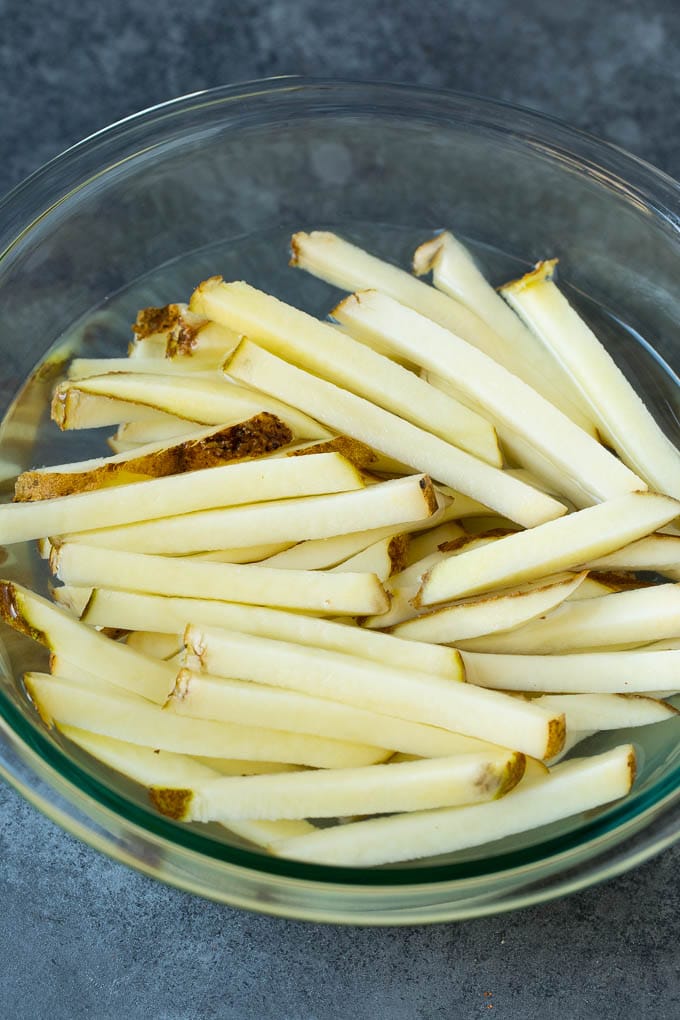 Tips for the perfect homemade french fries
This recipe works best with Russet potatoes. Other types of potatoes will not give you that classic french fry taste and texture.
You can peel your potatoes, or leave them unpeeled. I tend to leave mine unpeeled for a little extra color and texture.
It's imperative that you use a frying thermometer to make sure that your oil is at the proper temperature.
Make sure to cut your fries into similar sized pieces so that they cook at the same rate.
Be sure to thoroughly dry your potatoes after they come out of the water. Any water left on the potatoes can react with the hot oil and cause it to spatter.
French fries are best served immediately as they can soften a bit as they cool. If you need to reheat your fries, you can crisp them up in a 400 degrees F oven.
How to cut french fries
The absolute easiest way to cut french fries is to use a designated french fry cutter. These come in all different sizes and prices, but you can get a small fry cutting blade for not much money. The other option is to cut each potato horizontally into even slices, then cut horizontally down those slices to make potato matchsticks. You can cut your potatoes into thick or thin fries, whatever you like best. Just be aware that thicker fries may take longer to cook.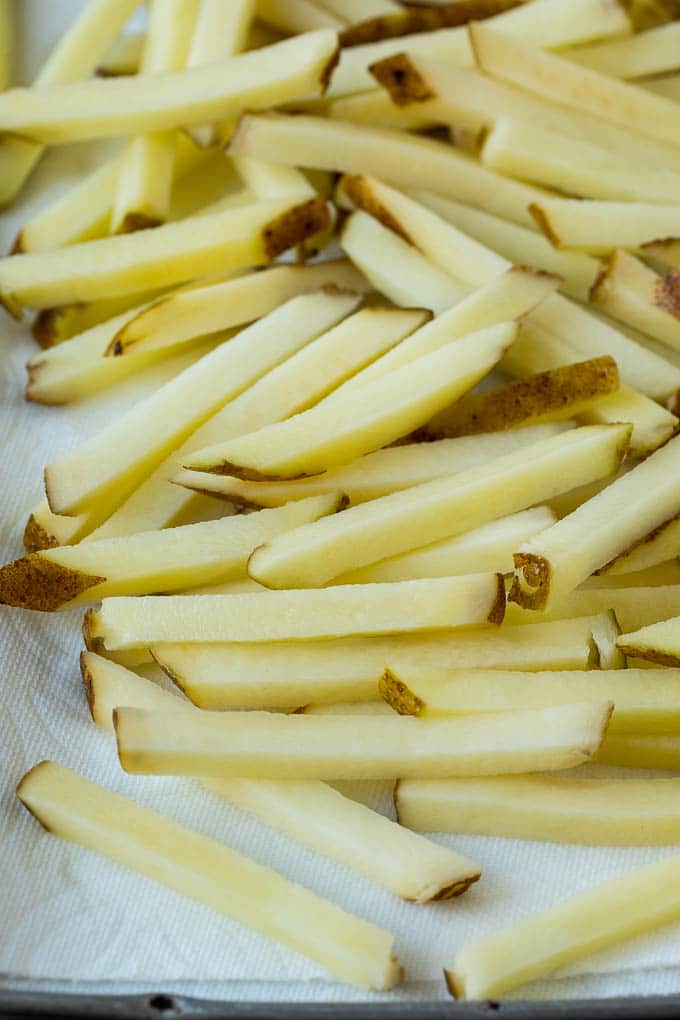 What is the best oil for french fries?
There are a variety of oil choices that can be used for french fries. You want to look for an oil with a neutral flavor and a high smoke point. Some great options include vegetable oil, canola oil, peanut oil or safflower oil. I typically use either vegetable oil or peanut oil.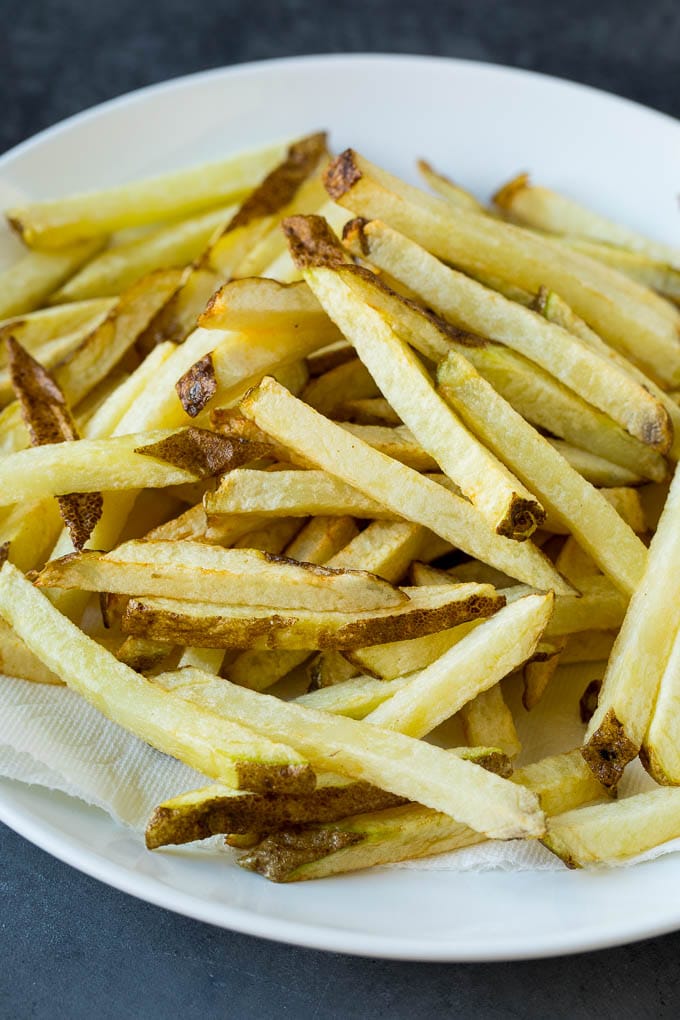 Flavor variations
You can add all different types of seasonings to your fries to customize this recipe to your tastes.
Garlic Butter: Melt 2 tablespoons of butter with 1/2 teaspoon fresh minced garlic, salt, pepper and 2 teaspoons chopped parsley.
Mexican Fries: Mix together one teaspoon each of chili powder, paprika, salt and cumin and a half a teaspoon each of garlic powder, onion powder and oregano. If you don't want to make your own seasoning, you can use a store bought taco seasoning.
Cajun Fries: You can season the fries with a Cajun spice blend, or make your own by combining one teaspoon each of garlic powder, paprika and salt and a half teaspoon each of black pepper, cayenne pepper, onion powder, dried oregano and dried thyme.
Jerk Fries: For a Caribbean flavor, mix together 1 teaspoon each of dried thyme, salt and pepper with 1/2 teaspoon each of sugar, allspice, paprika and cayenne pepper and a 1/8 teaspoon each of cumin, cinnamon and garlic powder.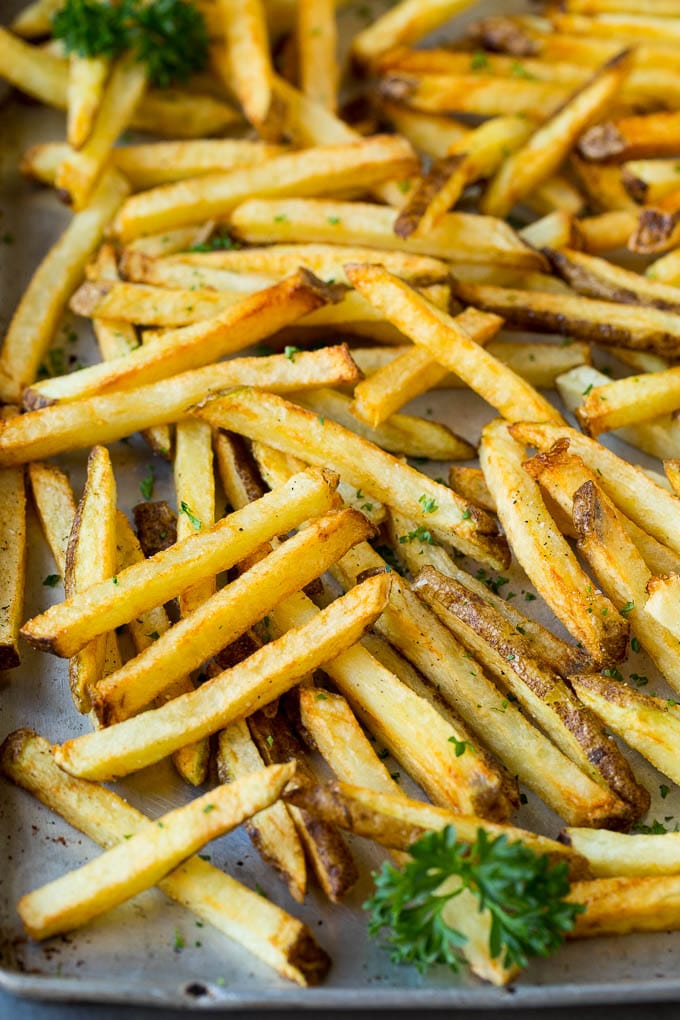 Baked french fries
If you don't want to fry your potatoes, you can also bake them in the oven. Preheat your oven to 425 degrees F. Line a sheet pan with foil and coat the sheet pan with cooking spray. Soak the fries as directed in the recipe below, then pat dry. Drizzle 1/4 cup of vegetable oil over the fries and sprinkle with 2 teaspoons of salt and 1/2 teaspoon pepper. Toss to coat the potatoes in the oil and seasonings. Bake for 25-30 minutes, stirring occasionally, until fries are golden brown.
Once you try these homemade french fries, you'll find yourself making them regularly! They're just that good, and are always a big hit.
MORE FABULOUS SIDE DISHES
Homemade French Fries Video
Homemade French Fries
These homemade french fries are potatoes that are cut into sticks and deep fried until golden brown, then sprinkled with seasonings. Homemade fries are WAY better than anything you'd get at a restaurant, and are fun and easy to make.
Ingredients
2 1/2

pounds

Russet potatoes

oil for frying

I use vegetable or peanut oil

salt and pepper to taste

1

tablespoon

chopped parsley

optional
Instructions
Cut the potatoes into matchsticks, either with a knife or with a french fry cutter. The potato pieces should all be similar in size.

Place the potatoes in a bowl of cold water. Soak the potatoes for at least 30 minutes.

Drain the water from the potatoes. Place the potatoes on a layer of paper towels and pat thoroughly with additional towels until dry.

Pour 3 inches of oil into a large, deep pot. Heat the oil to 300 degrees F.

Place about 1/3 of the potatoes in the pot, and cook until tender. This takes about 4-5 minutes. Repeat the process with the remaining potatoes.

Increase the heat of the oil to 400 degrees F. Place 1/3 of the potatoes back in the pot and cook for an additional 1-3 minutes or until golden brown. Repeat the process with the remaining potatoes. Place the cooked potatoes on a sheet pan lined with paper towels.

Sprinkle salt and pepper to taste over the fries. Add parsley if desired, then serve immediately.
Nutrition
Calories:
224
kcal
|
Carbohydrates:
51
g
|
Protein:
6
g
|
Fat:
14
g
|
Saturated Fat:
6
g
|
Sodium:
14
mg
|
Potassium:
1182
mg
|
Fiber:
4
g
|
Sugar:
2
g
|
Vitamin C:
16
mg
|
Calcium:
37
mg
|
Iron:
2
mg