These baked french fries are potato strips coated in oil and seasonings, then oven baked until golden brown and crispy. A super easy side dish that's always a hit with both kids and adults alike.
When I'm looking for a dish to round out a meal, I turn to classics such as baked beans, mac and cheese, and these homemade fries. They're perfectly crisp without the hassle of deep frying.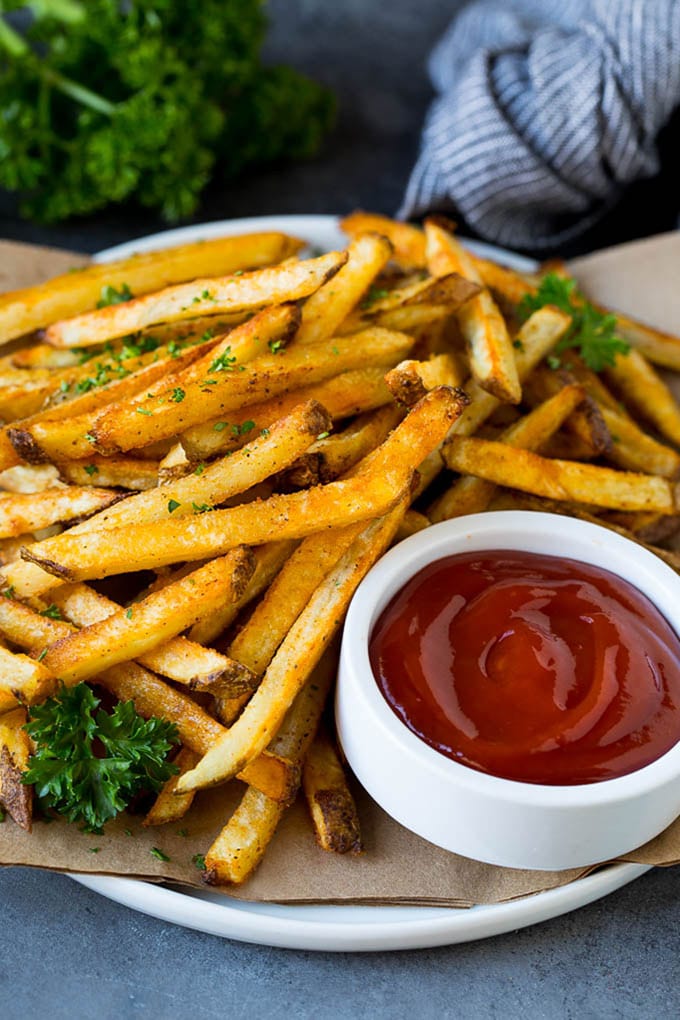 I don't know about you, but I can never resist a pile of piping hot french fries. These baked fries are a little healthier than their fried counterpart, and they also happen to be quite simple to make. These fries pair perfectly with homemade corn dogs or my delicious falafel recipe.
If you want other fry options, check out my classic homemade french fries, air fryer french fries and my crispy green bean fries!
How do you make baked french fries?
The first step in the process is to soak your cut potatoes in cold water. Soaking the potatoes allows them to release excess starch, which will make the fries crisp up better. After the potatoes have soaked, dry them well. Toss the potatoes in vegetable oil and seasonings, then place them on a sheet pan. Bake the fries until they are golden brown and crisp. Serve immediately with a dipping sauce of your choice.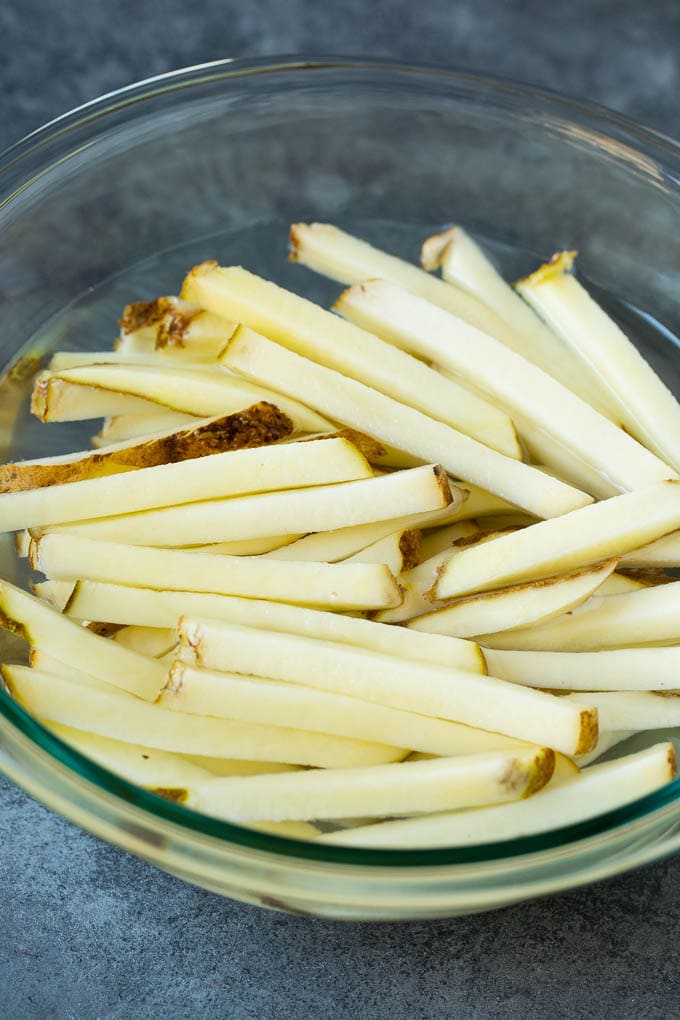 TIPS FOR THE PERFECT BAKED FRENCH FRIES
This recipe works best with Russet potatoes. Other types of potatoes will not give you that classic french fry taste and texture.
You can peel your potatoes, or leave them unpeeled. I tend to leave mine unpeeled for a little extra color and texture.
Make sure to cut your fries into similar sized pieces so that they cook at the same rate.
It's important to thoroughly dry your potatoes after they come out of the water. Any water left on the potatoes will cause them to steam in the oven, which can result in softer fries.
It's important to keep the fries in a single layer, if you pile them on top of each other they'll steam, and they won't have that crispy brown exterior that we're going for here.
Serve your baked french fries with ketchup, ranch, or any other dipping sauce you like.
HOW TO CUT FRENCH FRIES
The absolute easiest way to cut french fries is to use a french fry cutter kitchen tool. These come in all different sizes and prices, but you can get a small fry cutting blade for not much money. The other option is to cut each potato horizontally into even slices, then cut horizontally down those slices to make potato matchsticks. You can cut your potatoes into thick or thin fries, whatever you like best. Just be aware that thicker fries may need to bake for more time.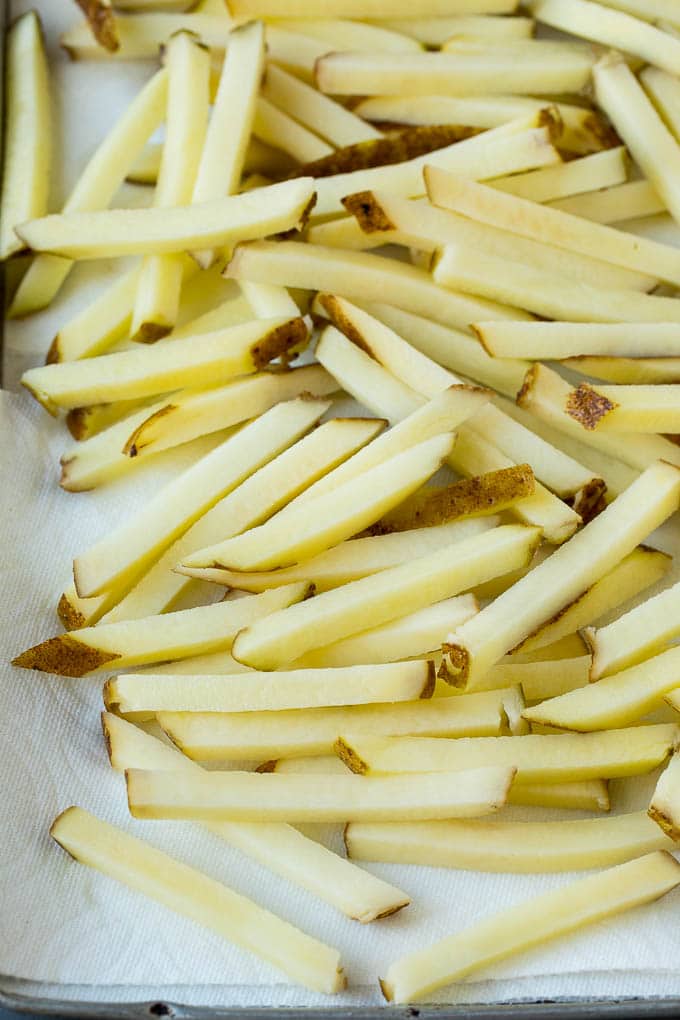 WHAT IS THE BEST OIL FOR BAKED FRENCH FRIES?
There are a variety of oil choices that can be used for baked french fries. You want to look for an oil with a neutral flavor and a high smoke point so that it doesn't burn in the oven. Some great options include vegetable oil, canola oil, peanut oil or safflower oil. I typically use either vegetable oil or peanut oil. I've also used olive oil with good results, although it does impart a stronger flavor.
FRENCH FRY FLAVOR VARIATIONS
This is a recipe for classic fries, but you can absolutely add other seasonings to create your own flavor combinations.
Garlic Fries: Cook 1 tablespoon of fresh minced garlic in 2 tablespoons of melted butter. Stir in 1 tablespoon chopped parsley, salt, and pepper to taste. Drizzle the garlic butter mixture over the fries, then toss to coat.
Mexican Fries: Toss the fries in 2 tablespoons of taco seasoning before they go into the oven.
Cajun Fries: You can season the fries with homemade Cajun seasoning or buy a seasoning blend.
Cheese Fries: Bake the fries according to the recipe, then add 1 1/2 cups of shredded cheese over the fries. Return the potatoes to the oven and bake for an additional 5 minutes or until the cheese is melted.
Sauces: Try some dipping sauces for these fries like my classic burger joint fry sauce, tangy homemade BBQ sauce or cool ranch dip.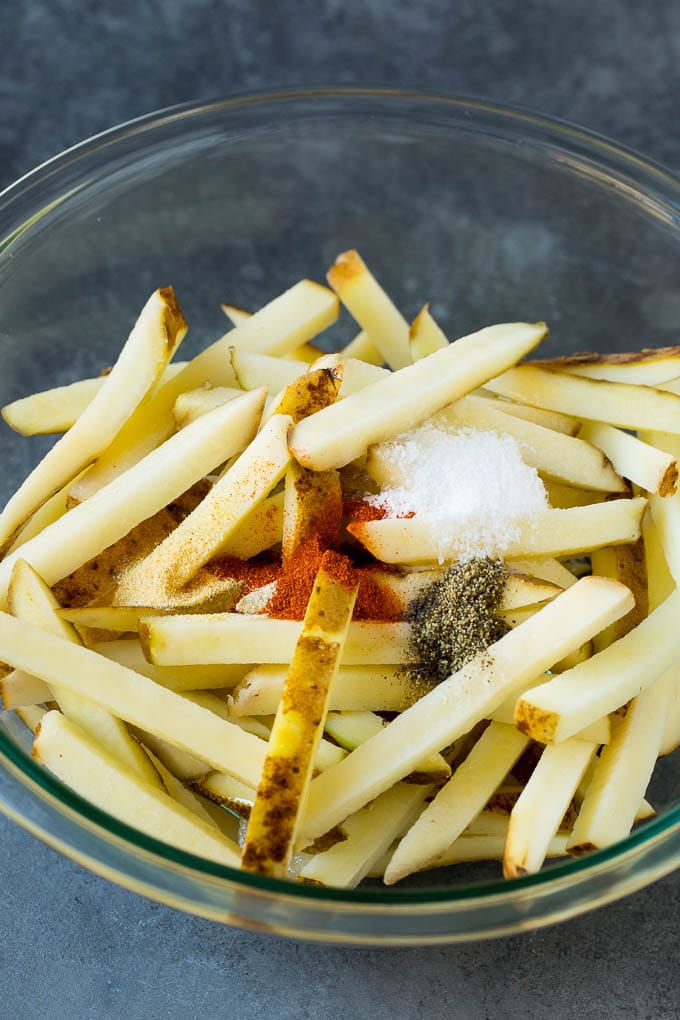 How do you reheat baked french fries?
I find that these fries are best when fresh out of the oven, but you can reheat them if needed. Place the fries in a single layer in the oven, and bake at 375 degrees F until crispy and warmed through. You can also reheat your fries in the toaster oven, or in a pan on the stove top.
This is one of those recipes that is great to have on hand because baked fries go well with so many different main courses including sandwiches, chicken, steak and seafood!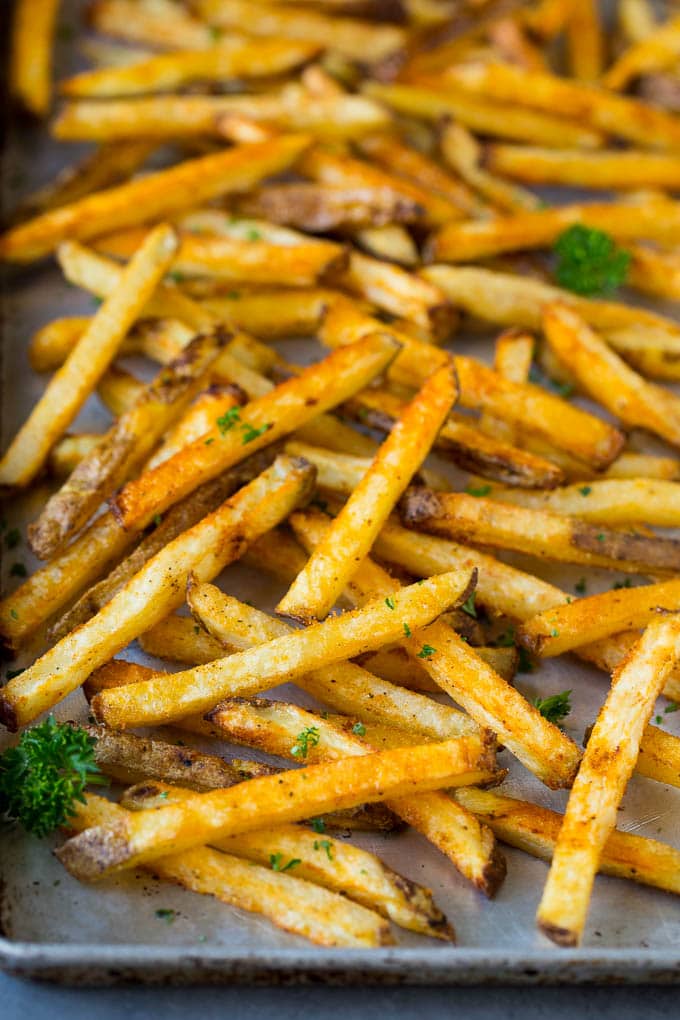 More delicious side dishes
Baked French Fries Video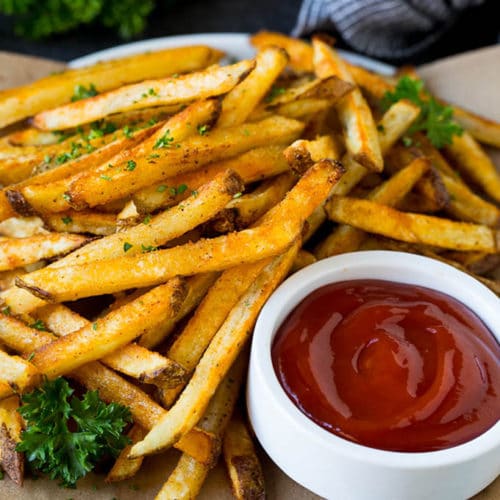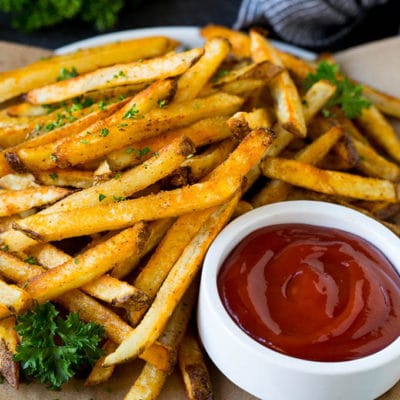 These baked french fries are potato strips coated in oil and seasonings, then oven baked until golden brown and crispy. A super easy side dish that's always a hit with both kids and adults alike.
Ingredients
4

medium

Russet potatoes

scrubbed and cut into 3/8 inch wide sticks

1/4

cup

oil

such as vegetable oil or peanut oil

1/2

teaspoon

onion powder

1/2

teaspoon

garlic powder

1/2

teaspoon

smoked paprika

2

teaspoons

salt

1/2

teaspoon

pepper

1

tablespoon

chopped fresh parsley

cooking spray
Instructions
Place the potato sticks in a bowl of cold water. Let the potatoes soak for 30 minutes, then drain and pat dry.

Preheat the oven to 425 degrees F. Line a sheet pan with foil and coat the foil with cooking spray.

Place the potatoes in a large bowl along with the oil, onion powder, garlic powder, smoked paprika, salt and pepper.

Stir well until the potatoes are completely coated in oil and spices.

Spread the potatoes in a single layer on the prepared baking sheet. Bake for 30-35 minutes or until golden brown. Sprinkle with parsley and serve.
Nutrition
Calories:
261
kcal
|
Carbohydrates:
31
g
|
Protein:
6
g
|
Fat:
12
g
|
Saturated Fat:
2
g
|
Cholesterol:
5
mg
|
Sodium:
741
mg
|
Potassium:
728
mg
|
Fiber:
2
g
|
Sugar:
1
g
|
Vitamin A:
255
IU
|
Vitamin C:
9.7
mg
|
Calcium:
96
mg
|
Iron:
1.7
mg