The ultimate Cuban sandwich recipe piled high with ham, cheese, roasted pork and pickles. These sandwiches are perfect for a hearty meal, and they happen to be super easy to make!
I love to recreate my favorite restaurant style sandwich recipes, including the Monte Cristo, bahn mi, and these crispy and cheesy Cuban sandwiches.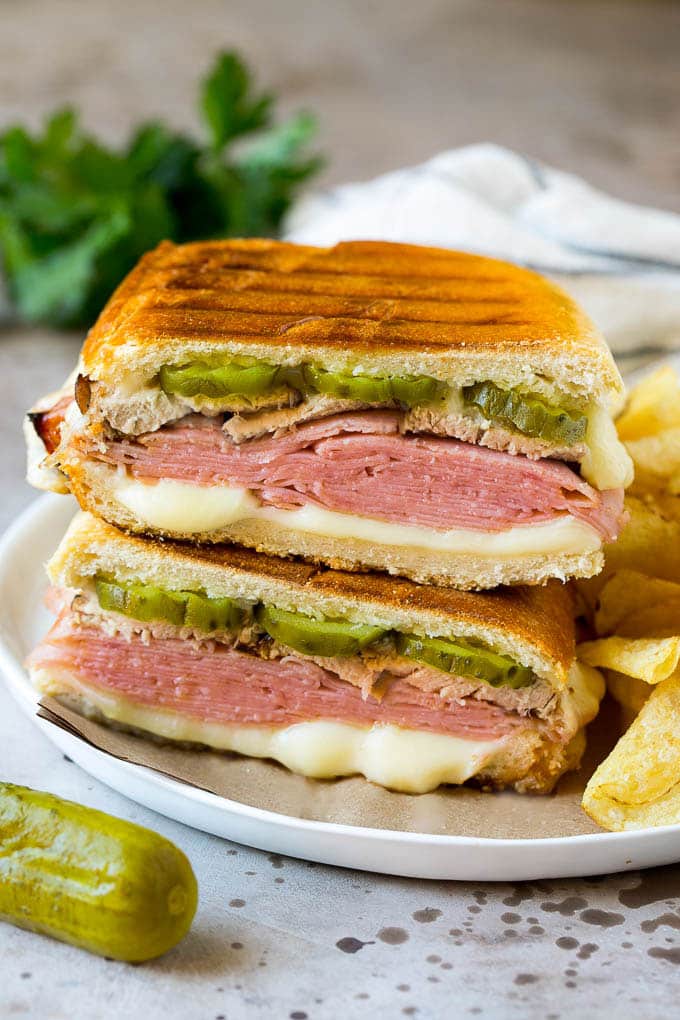 I love Cuban sandwiches, when I see them on the menu at a restaurant I can never resist ordering one. That combination of meats and cheese just can't be beat! I decided it was time to learn how to make these amazing sandwiches at home, and I've been so pleased with the end result!
How to make a Cuban sandwich
This recipe starts with a pork tenderloin, which is marinated in a blend of olive oil, citrus juices, herbs and spices. The pork is grilled to perfection, then thinly sliced. To build your sandwich, you'll want to put layers of Swiss cheese, ham, pork tenderloin, pickles and mustard on a split loaf of Cuban bread. These sandwiches are grilled and pressed, which gives them a super crispy exterior and gooey melted interior.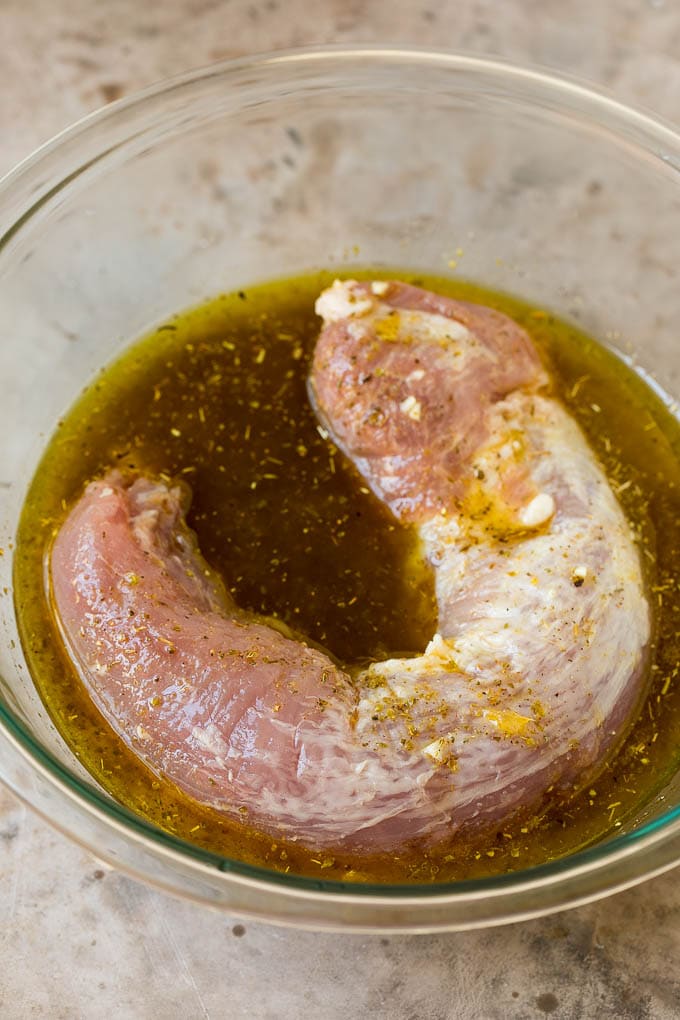 Tips for the best Cuban sandwich
Cook your pork to 145 degreees F so that it stays tender and juicy. You can use a meat thermometer to keep an eye on the temperature of the meat as it cooks.
Cuban sandwiches are often made with braised pork shoulder. I prefer to use tenderloin because it cooks much quicker.
Choose a high quality deli sliced ham for the best results. I use an applewood smoked ham from my grocery store's deli counter.
You can use pickles sliced lengthwise or pickle chips, whichever you have on hand. You can also substitute bread and butter pickles instead of dill pickles if you prefer.
There are a couple of different methods for cooking this sandwich. You can use a panini press, indoor grill pan, or skillet. Just be sure to have a heavy pan on hand to press your sandwich flat. I use a cast iron pan.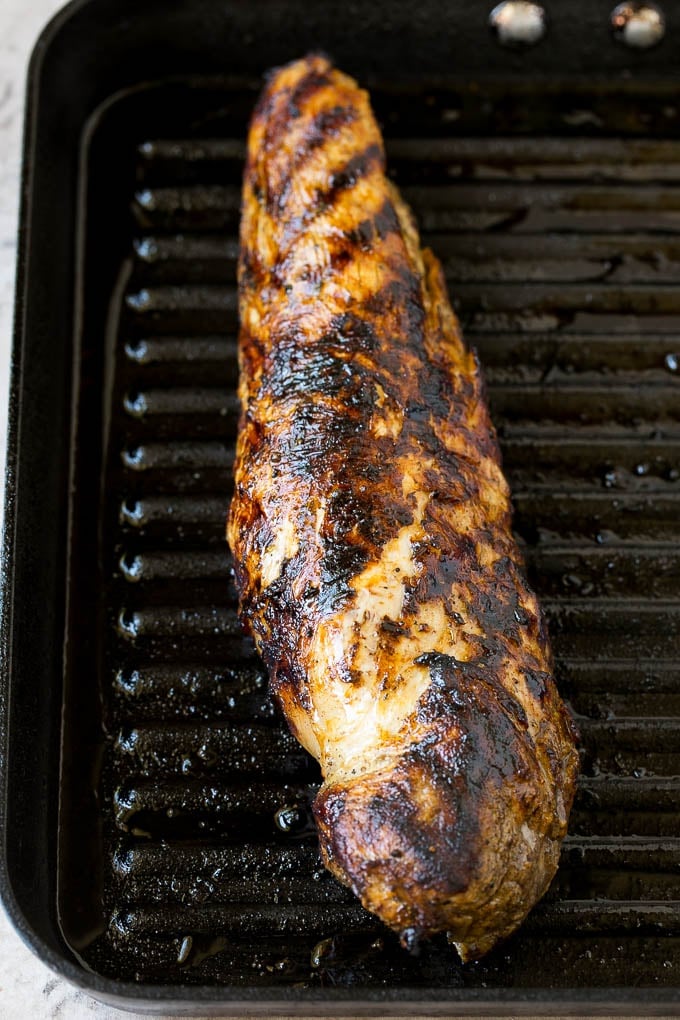 What kind of bread do you use for a Cuban sandwich?
A traditional Cuban sandwich is made with Cuban bread, which is a long, crusty white bread that often contains a small amount of fat such as lard. It can be difficult to find Cuban bread in some areas, so I've found that a long French of Italian loaf of bread from the supermarket bakery makes a great substitute.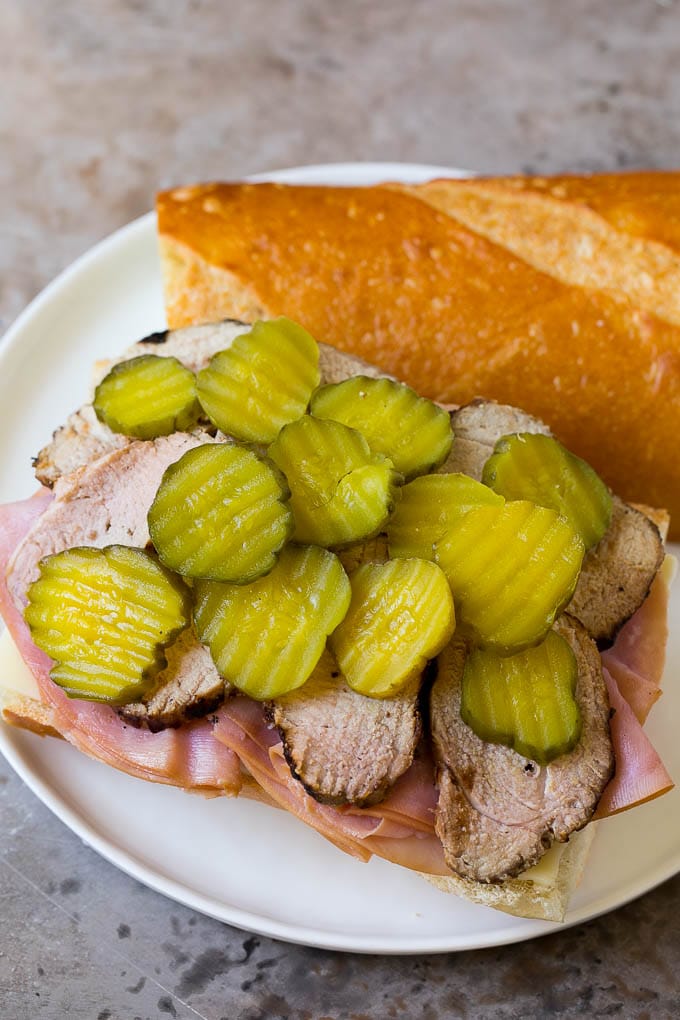 What goes with a Cuban sandwich?
There are so many different side dishes to pair with a Cuban sandwich! Some of my favorites include potato chips, french fries or a light salad such as a cucumber or tomato salad.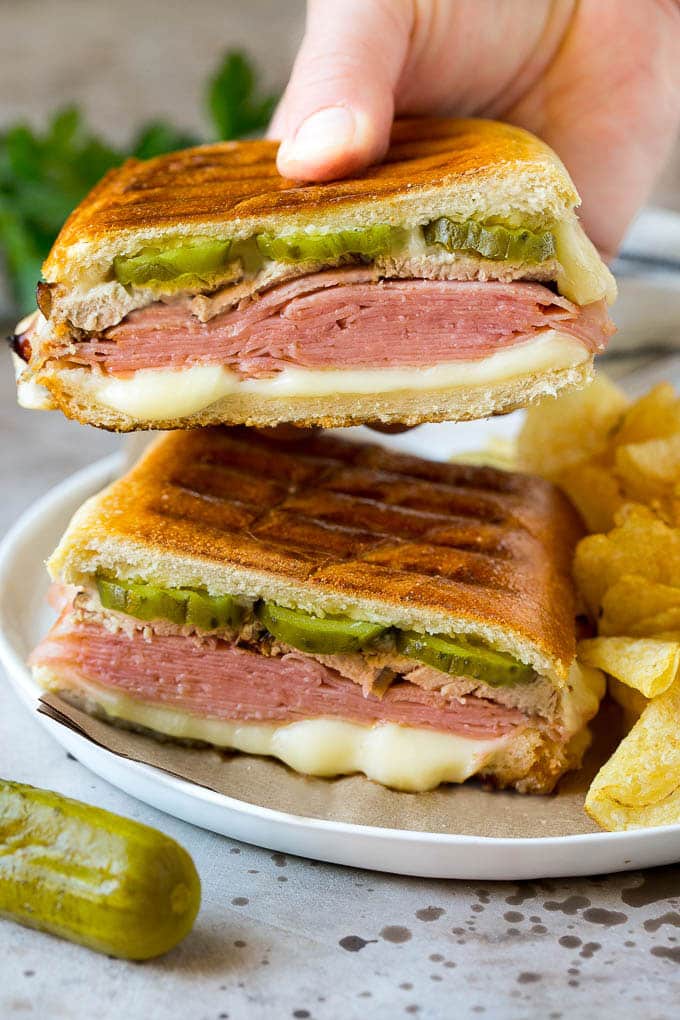 There's a reason this sandwich is so popular – it's totally delicious! In fact, this may be my favorite sandwich of all time.
More recipes you'll love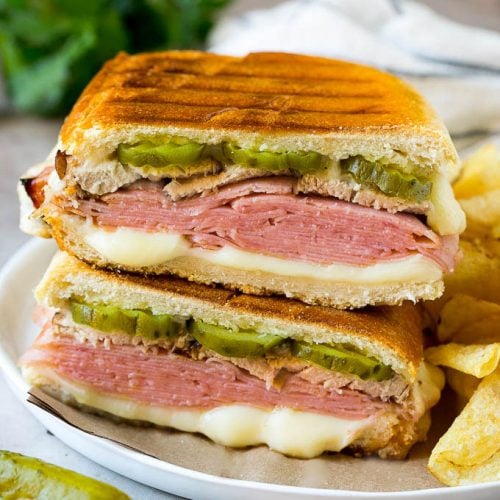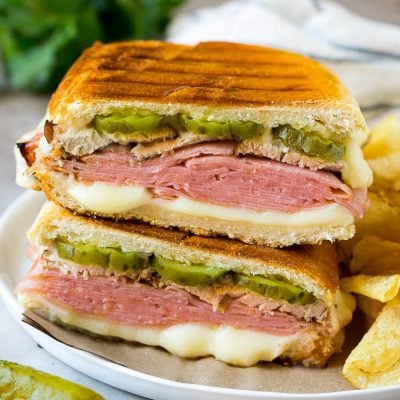 The ultimate Cuban sandwich recipe piled high with ham, cheese, roasted pork and pickles. These sandwiches are perfect for a hearty meal, and they happen to be super easy to make!
Ingredients
1

pound

pork tenderloin

1/4

cup

olive oil

1/4

cup

orange juice

2

tablespoons

lime juice

1

teaspoon

minced garlic

1/2

teaspoon

dried oregano

1/4

teaspoon

ground cumin

salt and pepper to taste

thinly sliced lengthwise

16

ounces

Cuban bread loaf

can also use French or Italian Bread

1

pound

Swiss cheese

sliced

1

pound

smoked ham

thinly sliced

1

cup

pickle chips

1/4

cup

mustard

1

tablespoon

butter
Instructions
Place the olive oil, orange juice, lime juice, garlic, oregano, cumin, salt and pepper in a bowl. Whisk to combine.

Place the pork in the bowl and spoon the marinade over the top. Cover the bowl and refrigerate for at least 1 hour or up to 6 hours.

Preheat a grill or skillet to medium high heat. Add the pork and cook for 7-9 minutes per side or until a meat thermometer registers 145 degrees F.

Let the pork rest for 5 minutes, then thinly slice the meat.

Cut the loaf of bread in half lengthwise. Cut the bread crosswise into 4 equal sized pieces.

Place half of the cheese slices on the bottom pieces of bread. Top with layers of ham, pork and pickles.

Add the rest of the cheese on top of the pickles. Spread the mustard over the top pieces of bread, then place the tops on each sandwich.

Melt the butter in a pan. Place one sandwich in the pan. Use a heavier pan, such as a cast iron skillet to press down on the sandwich. Cook for 3-4 minutes per side or until bread is golden brown and cheese is melted. Repeat the process with the remaining sandwiches.

You can also cook your sandwiches in a panini press according to manufacturer instructions.

Cut the sandwiches in half, then serve.
Nutrition
Calories:
649
kcal
|
Carbohydrates:
11
g
|
Protein:
74
g
|
Fat:
27
g
|
Saturated Fat:
27
g
|
Cholesterol:
240
mg
|
Sodium:
769
mg
|
Potassium:
922
mg
|
Fiber:
1
g
|
Sugar:
4
g
|
Vitamin A:
1125
IU
|
Vitamin C:
10.7
mg
|
Calcium:
939
mg
|
Iron:
3.3
mg
This post was originally published on September 22, 2015 and was updated on July 25, 2019 with new content.