A collection of Christmas cookie recipes including no bake cookies, chocolate cookies, Christmas cookies, snowman cookies and other sweet treats. These cookie recipes are perfect for cookie exchanges, gift giving and parties.
There's nothing more satisfying than a warm cookie and some hot chocolate or coffee on a cold day. The holidays are full of magic and in my own personal opinion, a good cookie only adds to that magic. I suppose just about any cookie could be made into a holiday cookie, however, there are some cookies that just scream Christmas for me.
I've listed some of my favorite cookies, along with some other holiday cookies that I would love to make this year. I'm sure you're just like me and have those holiday cookie recipes you never miss making every year. However, I enjoy finding a new recipe or two to try every year as a tradition of sorts.
Cookies are really fun to get creative with. Whatever recipe you choose, there's always room to add your own touch and customize them how you decide you want to. It's even fun to get the kids involved!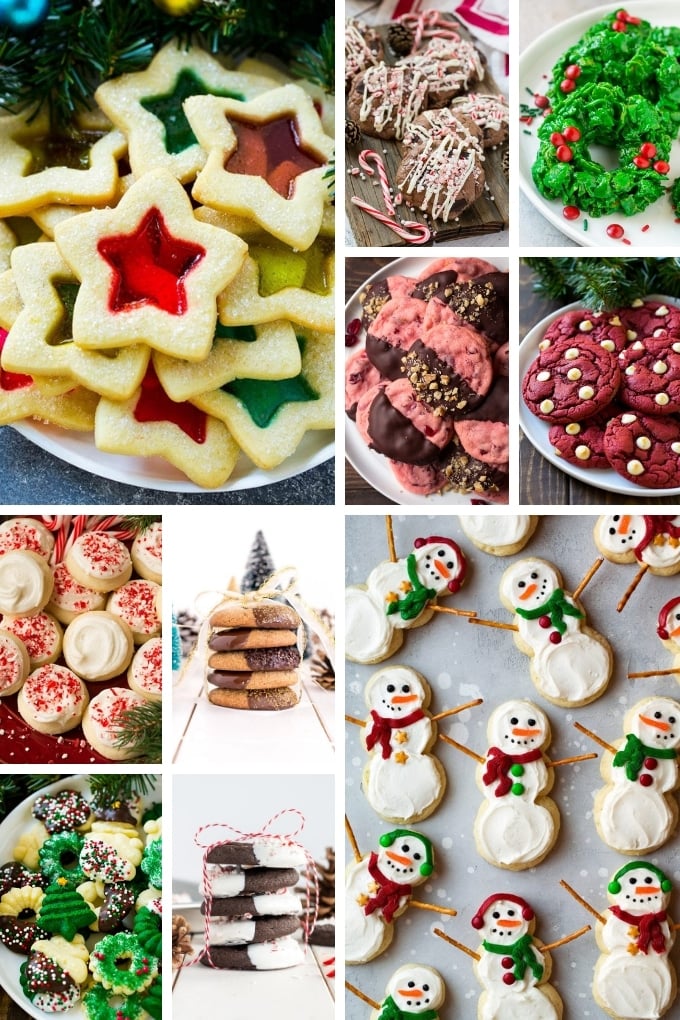 Can you freeze Christmas Cookies?
Many types of holiday cookies can be made in advance then frozen for future use. If your cookie recipe calls for frosting, I find it's best to freeze the cookies plain, then frost them after they've thawed. Store your cookies in a single layer in resealable freezer bags for up to 2 months.
Maple Glazed Sugar Cookies
How to package Christmas cookies for gift giving
There's nothing better than a homemade holiday gift, and I love to give cookies to friends and family. You can get creative with the packaging to make your cookie gift extra special.
Holiday Tins: I buy festive tins at my local dollar store, then line them with parchment paper.
Christmas Plate: I choose a festive porcelain Christmas themed plate at the housewares store, then arrange my cookies on the plate.
Cellophane Bags: Pack your cookies into little clear bags, then tie them shut with a festive bow.
Mason Jars: Stack your cookies in a glass jar, seal the jar, then tie a ribbon around it.
This post was originally published on November 7, 2016 and was updated on December 10, 2018 with new content.