These Nutella cookies are chocolate cookies filled with a gooey Nutella center, then topped with a drizzle of both dark and white chocolate. An easy and impressive cookie recipe that will have everyone coming back for seconds!
Nutella is quite delicious on its own, but when you stuff it into chocolate cookies, you end up with an amazingly delicious treat that will please all of the chocolate lovers in your life. I love to give these cookies as gifts for the holidays along with M&M cookies, peppermint patties and crock pot candy.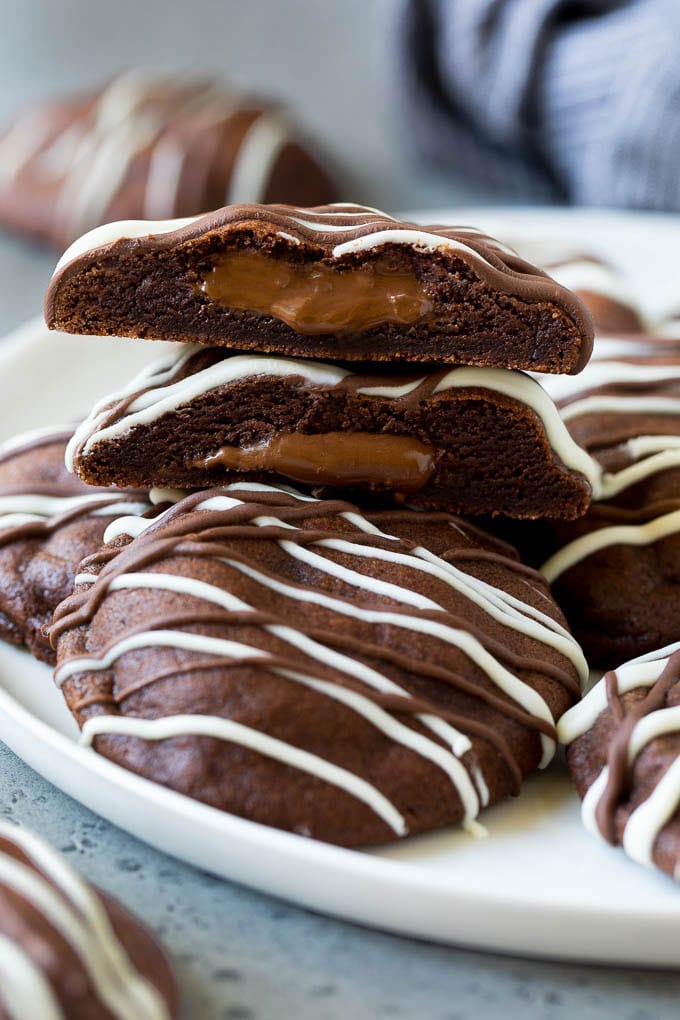 Nutella is one of the greatest foods ever created, am I right? Whether it's on toast, with fruit, in Nutella berry crepes or simply eaten out of a spoon, I can't get enough of the stuff. These Nutella stuffed cookies have shot to the top of my favorite desserts list because they're just that good.
How do you make Nutella cookies?
The dough for these cookies is a traditional blend of butter, sugar, flour and eggs. The dough is also flavored with cocoa powder and Nutella for an extra boost of chocolate flavor. The cookie dough is formed into balls, then chilled. The next step is to add your Nutella filling to your cookies! The Nutella filling is simply scoops of Nutella that have been frozen. The cookie dough gets folded around the balls of Nutella and then the cookies are ready to bake.
When the cookies come out of the oven, you'll end up with chewy chocolate treats with a hidden surprise center. You can either serve the cookies as-is, or drizzle them with some extra chocolate like I've done here. You can drizzle your cookies in white, milk, or dark chocolate, or a combination of the three. Another option is to dip half of each cookie into chocolate if you're a die hard chocolate fan.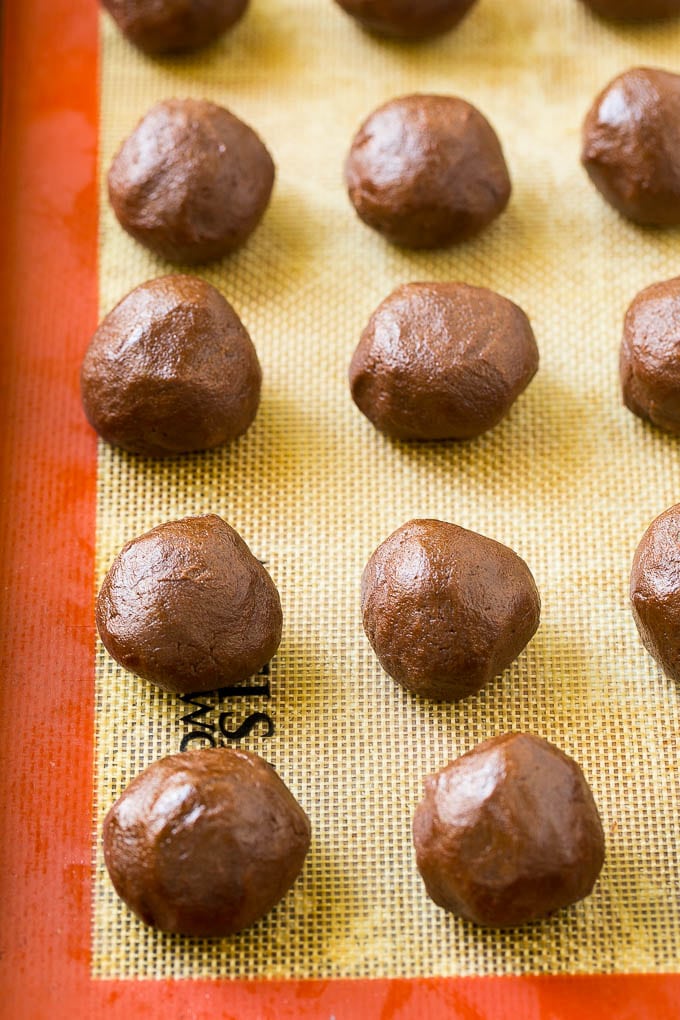 Tips for Nutella cookies
These cookies can be made up to 3 days in advance; store them in an airtight container at room temperature until you're ready to enjoy them.
The cookie dough can be frozen for up to 2 months if you're looking to plan ahead. Simply thaw the dough and proceed with adding the frozen Nutella balls.
The Nutella will thaw fairly quickly if it's a warm day, so be sure to work quickly to keep the mess to a minimum. You can always pop your Nutella balls back into the freezer for a few minutes to firm them back in in between forming your cookies.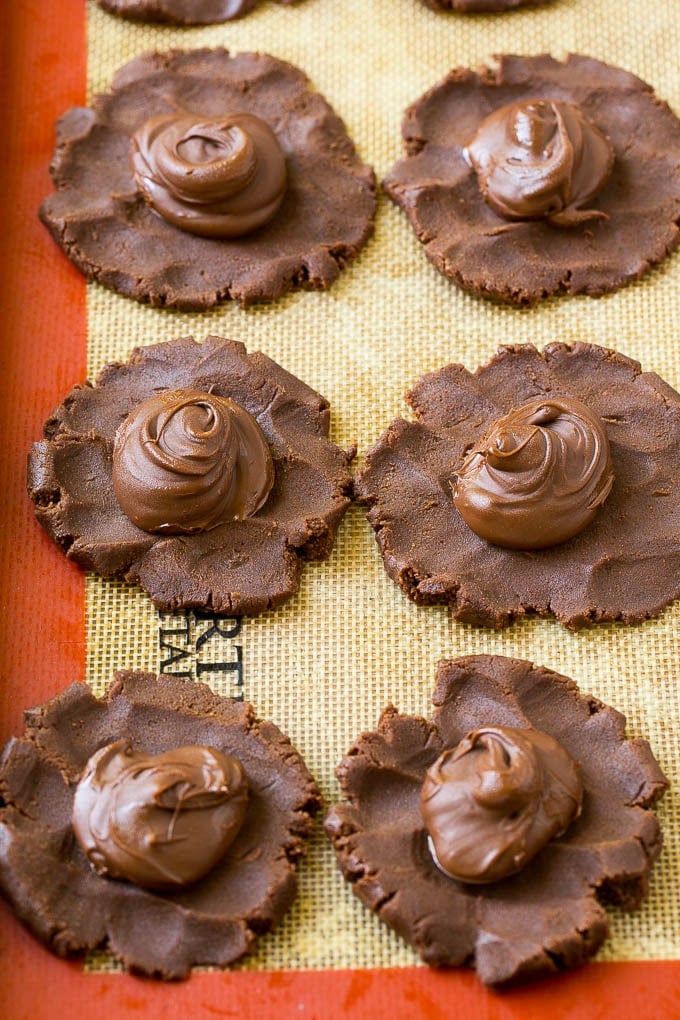 Can you freeze cookies?
These cookies are a perfect candidate for the freezer. Simple store the cookies in an airtight container or freezer bag for up to 2 months. If you're doing the chocolate drizzle, I recommend freezing the cookies plain, then adding the chocolate to the thawed cookies. Thaw the cookies at room temperature.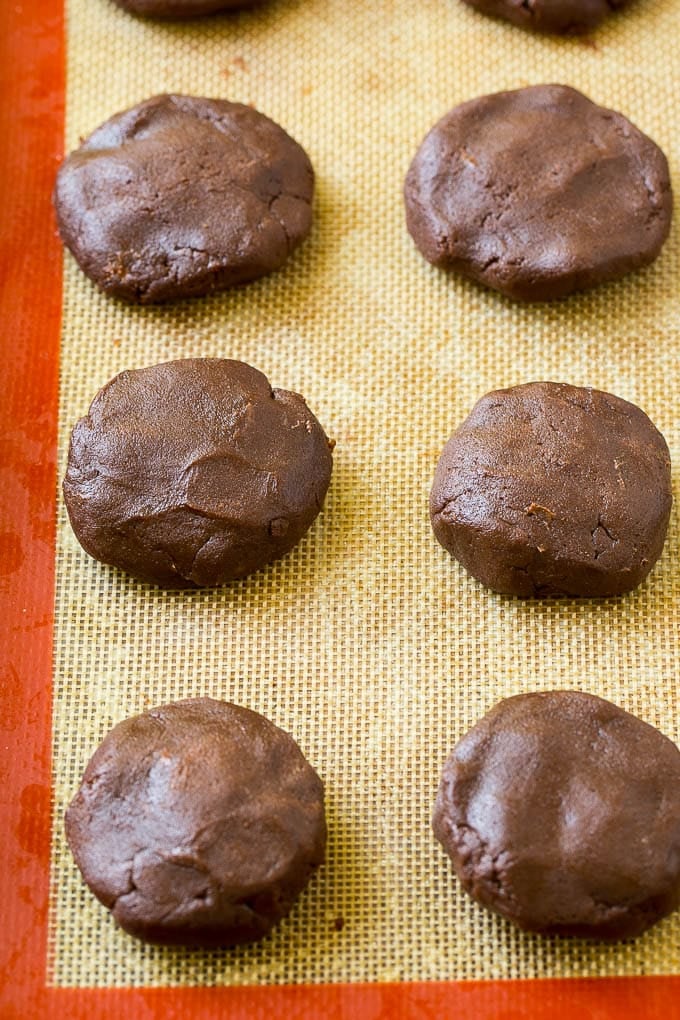 Cookie variations
While I think these cookies are perfect as-is, there are different ways to customize the flavors to your tastes.
Don't want to bother with drizzling your cookies in chocolate? You can decorate the tops of the cookies with coarse sugar or chocolate sprinkles before they bake for a different look. During the holidays you can even roll the cookies in colored sprinkles for a fun and festive look.
You can stir together 1/2 cup of Nutella and 1/2 cup of peanut butter for the filling if you're a peanut butter lover.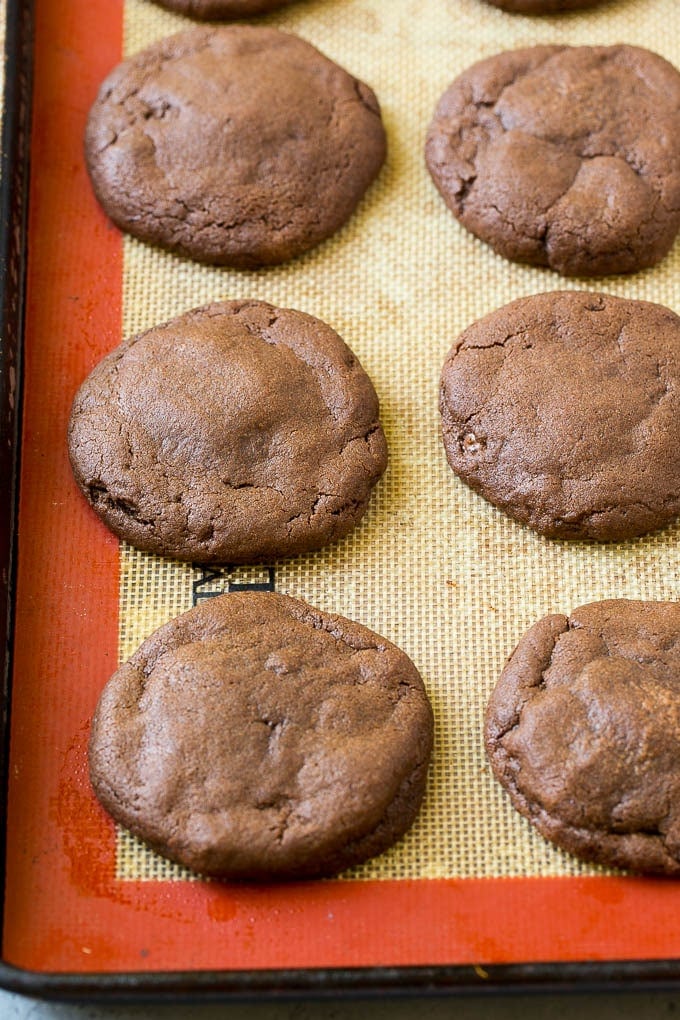 I'm warning you now, these Nutella cookies are addictive – you won't be able to eat just one! I serve these cookies at parties and everyone is delighted to bite into one and find all that gooey chocolate goodness inside.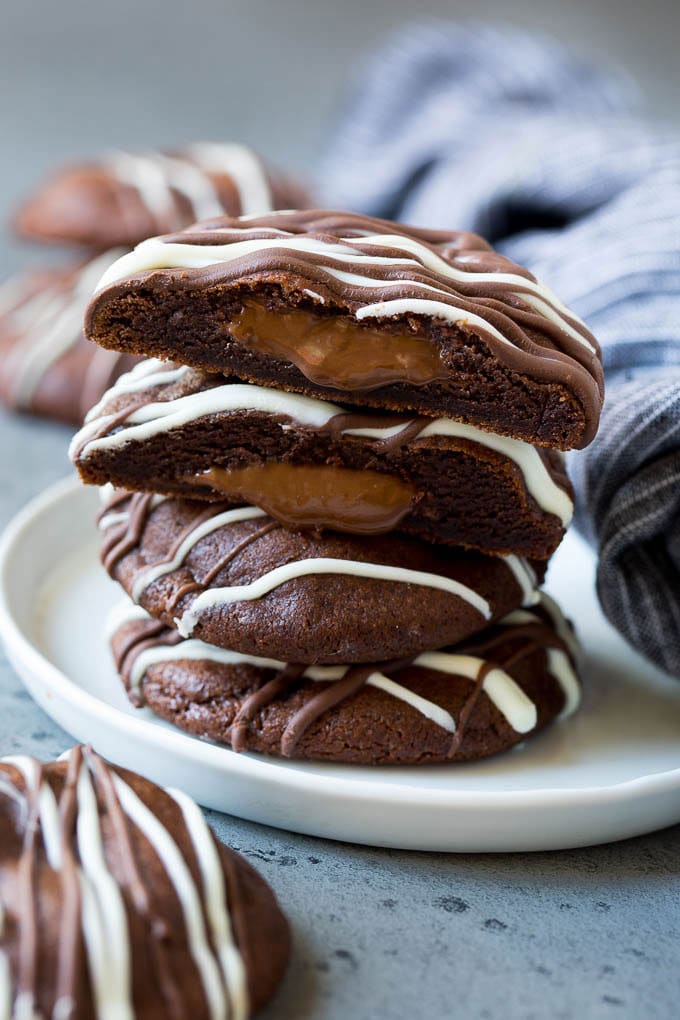 These cookies are perfect for the holidays, as an after school snack, or for one of those days when you have a major chocolate craving!
More chocolate desserts
Nutella Cookies Video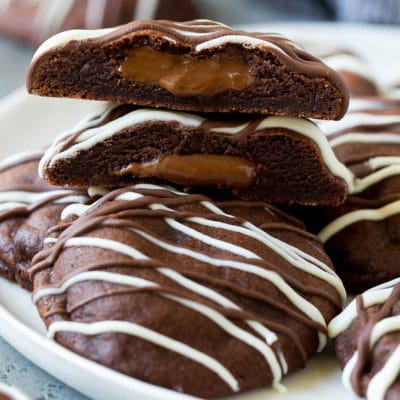 These Nutella cookies are chocolate cookies filled with a gooey Nutella center, then topped with a drizzle of both dark and white chocolate. An easy and impressive cookie recipe that will have everyone coming back for seconds!
Ingredients
1 1/4

cups

Nutella

divided use

1/2

cup

butter

softened

1/2

cup

granulated sugar

1/2

cup

brown sugar

1/2

teaspoon

vanilla extract

1

egg

1

egg yolk

1 1/2

cups

all purpose flour

1/2

cup

cocoa powder

1/2

teaspoon

baking soda

3/4

cup

white chocolate

chips or candy melts

3/4

cup

semisweet chocolate

chips or candy melts
Instructions
Use 1 cup of the Nutella to make 2 teaspon sized dollops on a parchment lined sheet pan.

Freeze the Nutella dollops until firm.

Preheat the oven to 350 degrees F. Line 2 sheet pans with parchment or a nonstick silicon baking mat.

Place the butter, granulated sugar and brown sugar in the bowl of a mixer. Beat until fluffy, about 2-3 minutes.

Add the remaining 1/4 cup of Nutella and vanilla extract to the bowl. Beat until combined.

Add the egg and egg yolk to the bowl and mix until combined.

Add the flour, cocoa powder and baking soda to the bowl. Mix on low speed until just combined.

Scoop out 1 1/2 tablespoons of dough and form into a ball. Place on prepared baking sheets. Repeat with remaining dough.

Cover the pan with plastic wrap and freeze for 10-15 minutes or until balls of dough are firm.

Flatten each ball of dough with your hands and place a dollop of frozen Nutella on top.

Fold the dough around the Nutella and roll until smooth. Flatten each ball into a disc shape.

Place each cookie 2 inches apart on the baking sheets.

Freeze the cookies for 10-15 minutes or until firm.

Bake each sheet pan or cookies for 10 minutes. Let cool for 10 minutes then transfer to a cooling rack.

Place the dark and white chocolate into two bowls. Microwave each bowl in 30 second increments until chocolate is melted. Stir until smooth.

Use a spoon, piping bag or plastic resealable bag with the tip snipped off to drizzle both chocolates over the cookies.

Let cool until chocolate is hardened, then serve. Cookies can be stored in an airtight container for up to 3 days.
Nutrition
Calories:
243
kcal
|
Carbohydrates:
30
g
|
Protein:
2
g
|
Fat:
12
g
|
Saturated Fat:
9
g
|
Cholesterol:
26
mg
|
Sodium:
72
mg
|
Potassium:
150
mg
|
Fiber:
2
g
|
Sugar:
21
g
|
Vitamin A:
140
IU
|
Calcium:
39
mg
|
Iron:
1.7
mg
This post was originally published on December 11, 2018 and was updated on October 10, 2019 with new content.