These thumbprint cookies are soft vanilla cookies filled with fruit jam and baked until golden brown. An easy and classic cookie that's perfect for parties, after school snacks and special occasions.
When the holidays roll around, I find myself in the kitchen whipping up plenty of festive treats including Italian cookies, Oreo stuffed cookies, eggnog cookies, Nutella cookies and these beautiful little thumbprint cookies.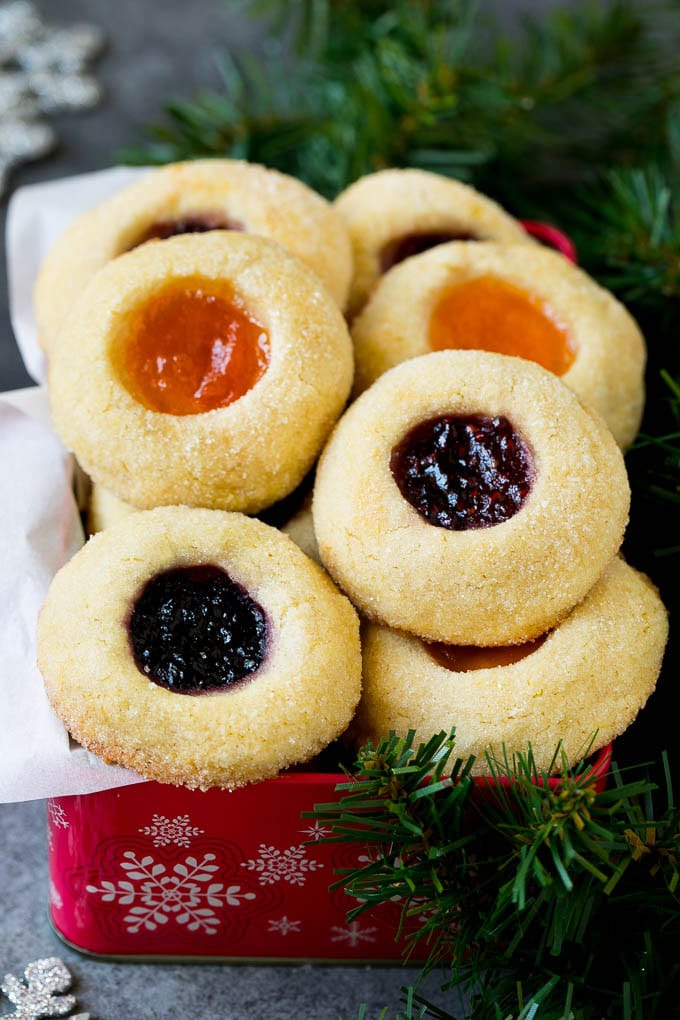 Thumbprint cookies are a classic for good reason – they're simple yet look so impressive, and they couldn't be any easier to make! You can customize your cookies by adding any number of fillings and coatings for a sweet treat that's delicious any time of the year.
How do you make thumbprint cookies?
Thumbprint cookies are all about the perfect dough that bakes up crisp on the outside, yet soft on the inside. Make this dough by beating sugar, brown sugar and butter together. Mix in an egg, some vanilla, flour and baking soda and the dough is ready to go. Chill the dough in the fridge and roll it into balls. After a quick dip in sugar, go ahead and press wells in the cookies for the jam. Fill the cookies with a little jam, you can use any flavor of your choice. After a quick stay in the oven, you will have warm, sugary cookies with wonderful jam in the middle.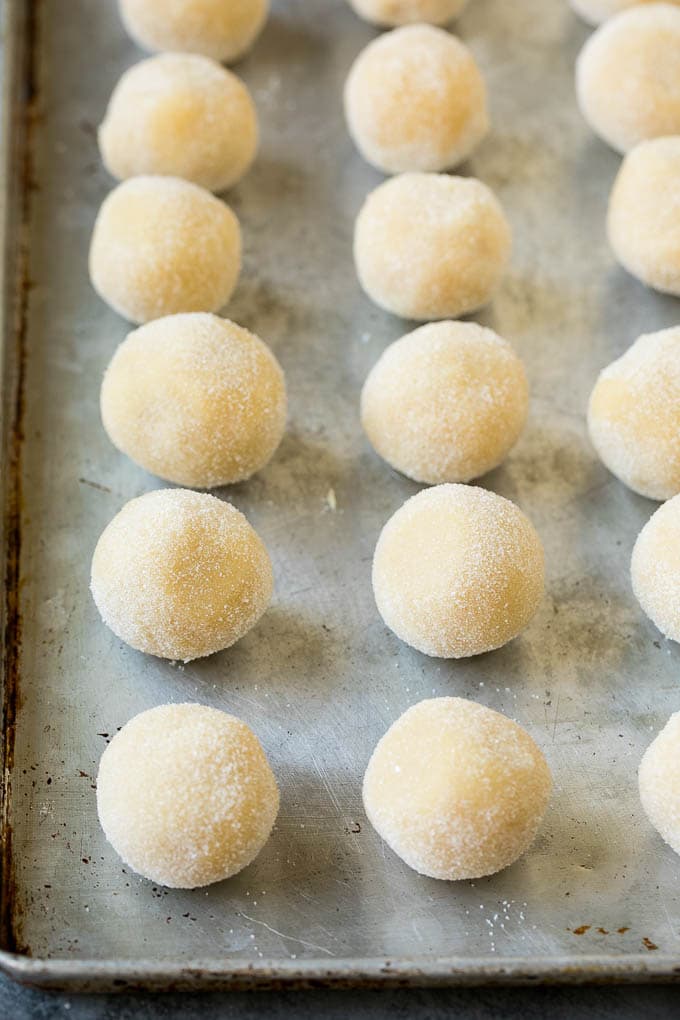 Tips for perfect cookies
Keep the dough cold when you roll it into balls. If the dough warms up, it can get sticky and the balls can become rough instead of smooth. You can place sticky dough in the fridge or freezer to chill if needed.
If you have trouble shaping the dough into balls, try putting a little cooking spray on you hands.
After you put the jam in the cookies, place the sheet pan of cookies in the freezer for about 10 minutes before baking. Chilling the dough prevents the dough from spreading too much as it bakes.
Some dark jams and jellies can "stain" the dough of the cookies. If you are worried about staining, avoid using blackberry or grape jams or jellies.
Make sure you don't overfill the cookies or the jam may bubble over and run down the sides of the cookies.
If your balls of dough crack as you make the indentations in the middle, your dough may be overly cold and stiff. You can simply patch any cracks with your fingers.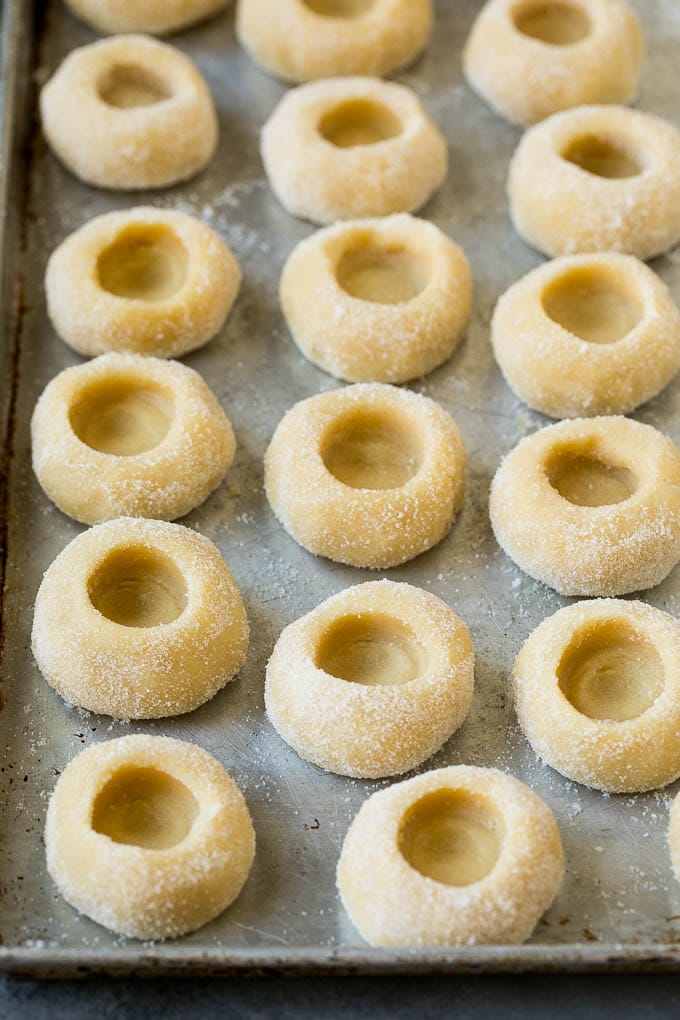 Thumbprint cookie variations
Thumbprint cookies are delicious holiday favorites that are delicious enough to make year round. You can modify them to include your favorite flavors.
Coatings: Try rolling your balls of cookie dough in coatings such as sprinkles, coconut, finely minced nuts or cinnamon sugar.
Fillings: The filling possibilities are endless and include ingredients such as Nutella, lemon curd, chocolate ganache, marshmallow cream or caramel sauce.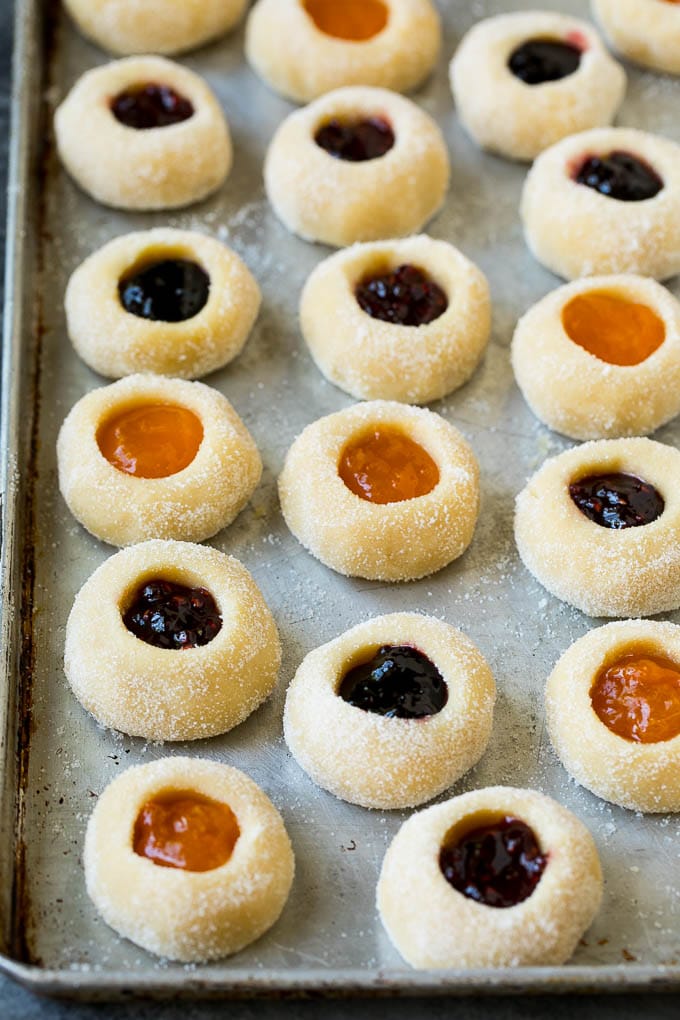 Can you freeze thumbprint cookies?
You can freeze baked thumbprint cookies. Just place them in an airtight container in a single layer. If you want to stack cookies, put a piece of waxed paper, plastic wrap or parchment paper between the layers. The frozen cookies stay fresh for about a month. When you are ready to eat the cookies remove them from the container and let them thaw on the counter.
These delicious cookies are so fun to make because you can fill them with all different kinds of flavors. This is a holiday classic that never goes out of style!
More fabulous cookie recipes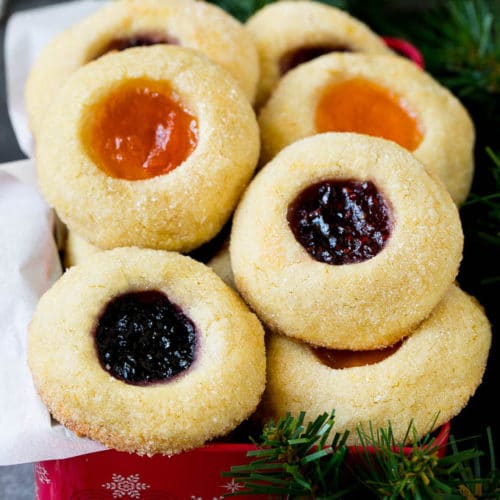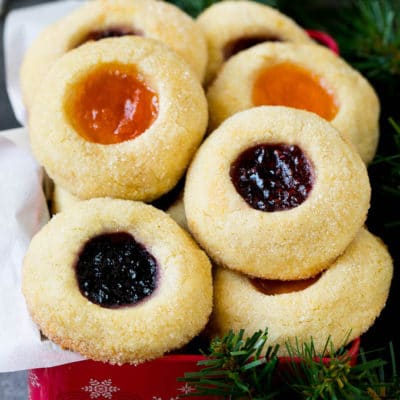 These thumbprint cookies are soft vanilla cookies filled with fruit jam and baked until golden brown. An easy and classic cookie that's perfect for parties, after school snacks and special occasions.
Ingredients
1

cup

unsalted butter

softened

1/2

cup

granulated sugar

plus more for rolling the cookies

1/4

cup

light brown sugar

packed

1

egg

1 1/2

teaspoons

vanilla extract

2 1/2

cups

all purpose flour

1/4

teaspoon

baking soda

1/4

teaspoon

salt

1/2

cup

jam
Instructions
Place the butter, granulated sugar and brown sugar in the bowl of a mixer. Beat until light and fluffy, about 2-3 minutes.

Add the egg and vanilla extract, then beat for 1-2 minutes or until well combined.

Add the flour, baking soda and salt to the bowl. Beat until just blended.

Place the dough on a large sheet of plastic wrap and form it into a disk. Cover the dough completely with the plastic wrap, then refrigerate for at least one hour, or up to 3 days.

Remove the cookie dough from the refrigerator about 10 minutes before you plan to use it.

Preheat the oven to 375 degrees F.

Roll the dough into 1 inch balls, then coat each ball in granulated sugar.

Place the balls of dough 3 inches apart on 2 sheets pan lined with parchment paper or silicon baking mats.

Use your thumb, the back of a teaspoon, or the round end of a pestle to make an indentation in each cookie. Be gentle as you make each indentation so that the cookies don't crack.

Fill each cookie with 1/2 teaspoon of jam.

Place the trays of cookies in the freezer. Chill for 10-15 minutes or until cookies are firm.

Bake for 10-11 minutes or until light golden brown around the edges. Let sit for 5 minutes, then transfer to a rack and cool completely.
Nutrition
Calories:
163
kcal
|
Carbohydrates:
21
g
|
Protein:
2
g
|
Fat:
8
g
|
Saturated Fat:
5
g
|
Cholesterol:
27
mg
|
Sodium:
43
mg
|
Potassium:
27
mg
|
Fiber:
1
g
|
Sugar:
10
g
|
Vitamin A:
246
IU
|
Vitamin C:
1
mg
|
Calcium:
9
mg
|
Iron:
1
mg