This delicata squash recipe is roasted with brown sugar, maple syrup and cinnamon for a sweet and savory side that's perfect for fall and winter meals.
This post may contain affiliate links. Please see my full disclosure policy for details.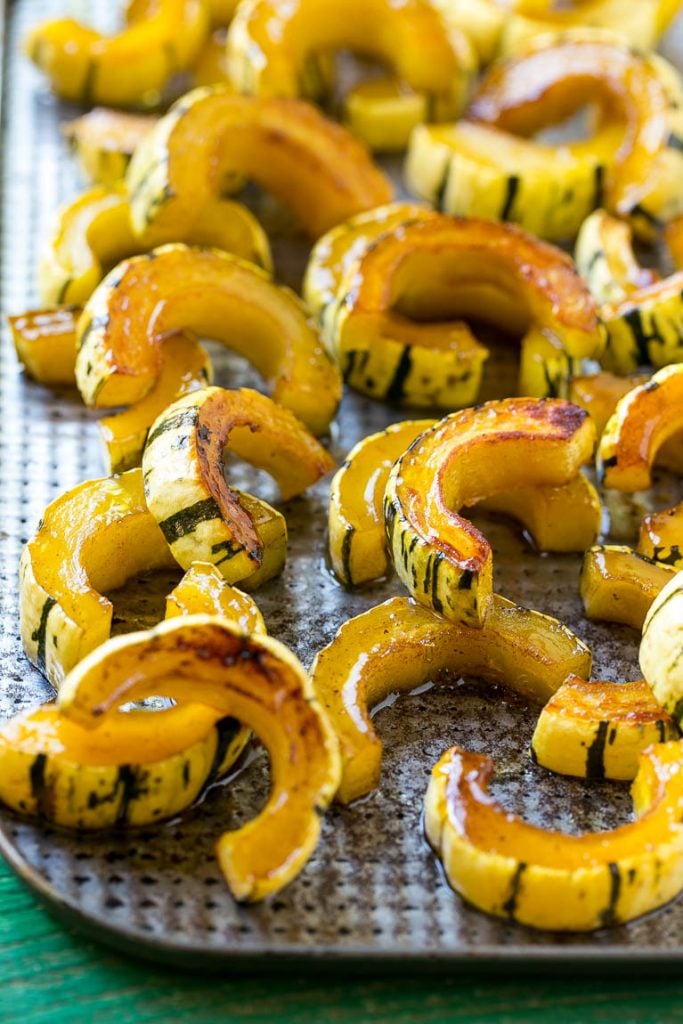 As the berries and melons start to fade away at the grocery store, in their place squash are popping up – squash of all shapes and colors and sizes! This delicata squash recipe is one of my favorite ways to do squash, with a hint of sweetness from the brown sugar, and plenty of caramelization from a trip through a hot oven. So at this point, you might be wondering, what exactly is delicata squash?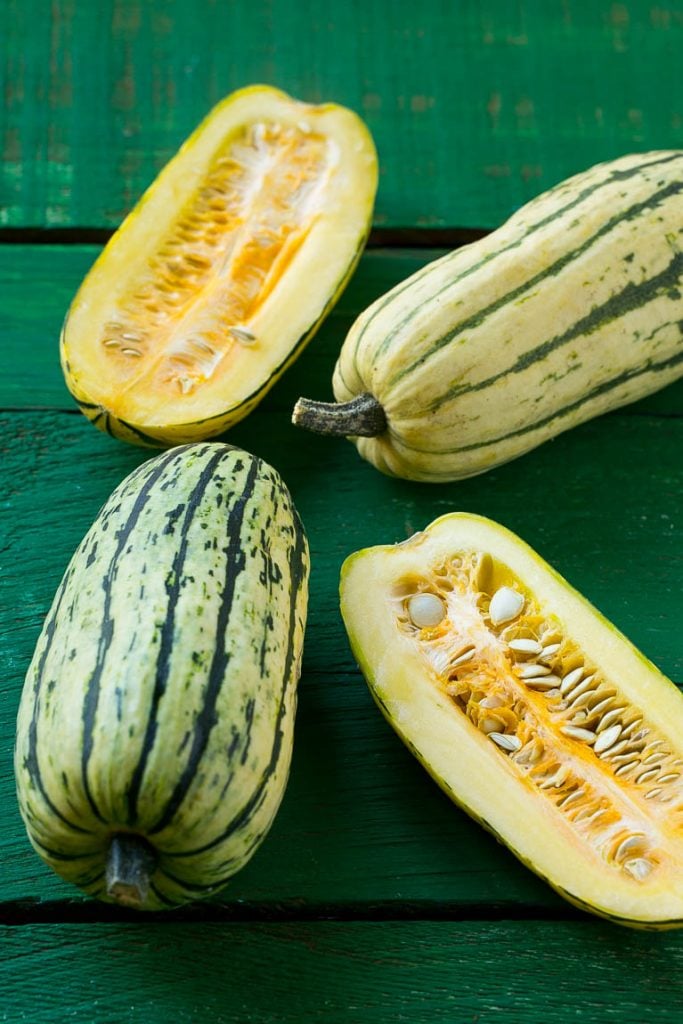 Delicata squash taste a lot like butternut squash, but they're much easier to prep. Delicata squash are on the small side, usually they weigh about a pound each, and their skins are edible which means no peeling required! Simply scoop out the seeds, slice and bake. I like to toss my delicata squash in a mixture of olive oil, brown sugar and maple syrup, with a sprinkle of cinnamon for good measure. I roast my squash until it's perfectly tender and that's all there is to it, it's really that simple!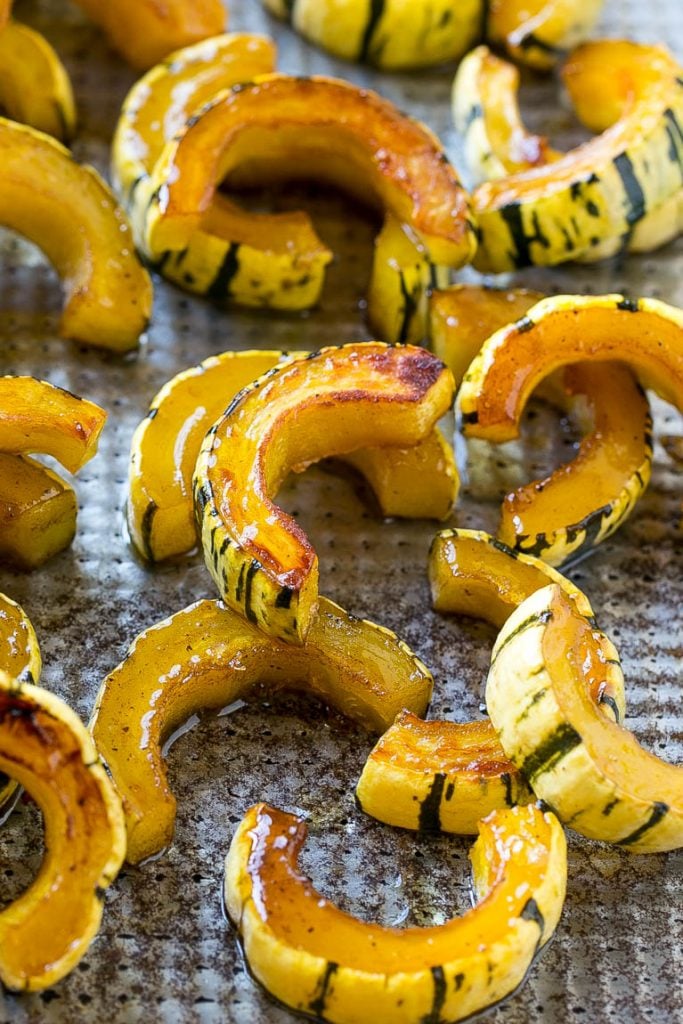 I have to say, I had some major skeptics on my hands when I served this delicata squash recipe to the kids. After some coaxing, they tried it and were pleasantly surprised! They loved the sweetness and hint of cinnamon, so this recipe is definitely going into the permanent rotation. Anything to get the kids to eat their veggies right?!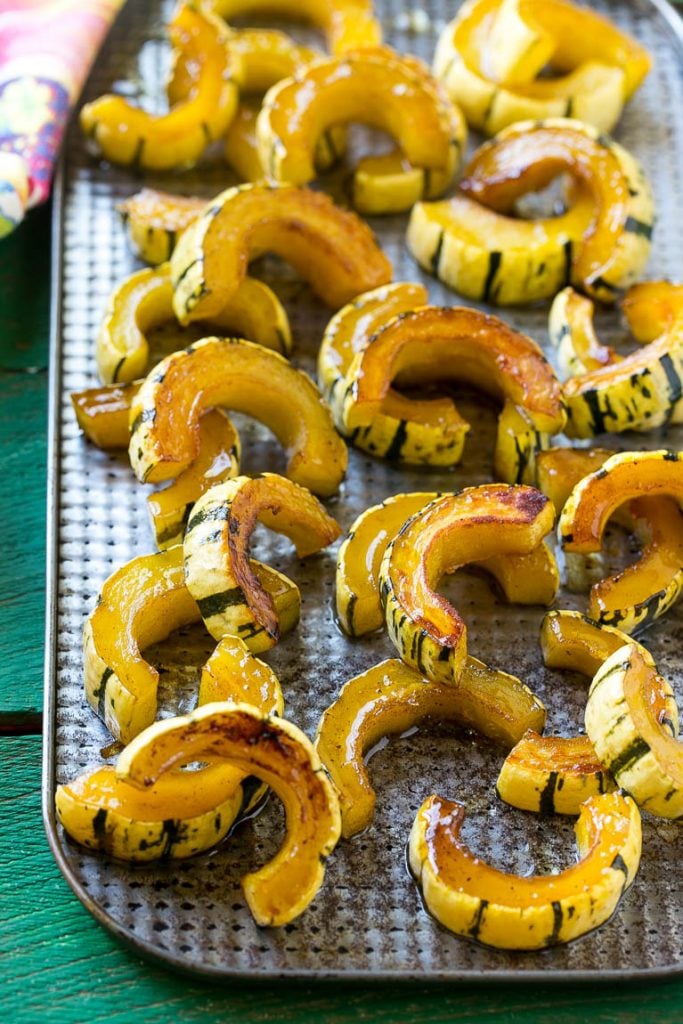 The next time you're at the store, skip the butternut and try this delicata squash recipe instead. Then report back and tell me how the family liked it!
Still hungry? Follow Dinner at the Zoo on Facebook, Twitter, Instagram and Pinterest for more great recipe ideas!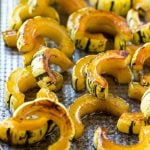 Brown Sugar Delicata Squash Recipe
This delicata squash recipe is roasted with brown sugar, maple syrup and cinnamon - the very best way to do winter squash!
Ingredients
2-3

lbs

delicata squash

(about 2 average sized squash)

2

tablespoons

olive oil

2

tablespoons

maple syrup

2

tablespoons

brown sugar

salt and pepper to taste

1/4

teaspoon

ground cinnamon

or more to taste

cooking spray
Instructions
Preheat the oven to 400 degrees. Halve the delicata squash lengthwise and remove the seeds. Cut the halves into 3/4 inch thick slices.

Line a sheet pan with foil and coat with cooking spray.

In a small bowl mix together the olive oil, maple syrup, brown sugar, cinnamon and salt and pepper to taste.

Pour the olive oil mixture over the squash and toss to coat.

Bake for 20-30 minutes or until squash is tender and starting to brown. Serve immediately.
Nutrition Facts
Brown Sugar Delicata Squash Recipe
Amount Per Serving
Calories 207
Calories from Fat 108
% Daily Value*
Total Fat 12g 18%
Cholesterol 0mg 0%
Sodium 205mg 9%
Total Carbohydrates 25g 8%
Protein 3g 6%
* Percent Daily Values are based on a 2000 calorie diet.
Things You'll Need (or Want!)
Heavy Duty Sheet Pan I use my heavy duty sheet pans almost every day for everything from baking cookies to roasting vegetables.
Coarse Finishing Salt I often use a coarse finishing salt to add a pop of seasoning, especially when it comes to roasted vegetables. This Maldon salt is from England and consists of large but delicate salt flakes that take an average dish  and elevate it to something extraordinary.