This shrimp linguine is fresh seafood sauteed in garlic butter, then tossed with pasta in a creamy parmesan sauce. A quick and easy dinner option that's quick to make, yet elegant enough for a special occasion.
I have a house full of shrimp lovers, and they always request seafood dishes including shrimp etouffee, popcorn shrimp, and this simple but satisfying shrimp linguine pasta dish. If you love seafood and pasta, you'll also want to try my famous crab mac and cheese!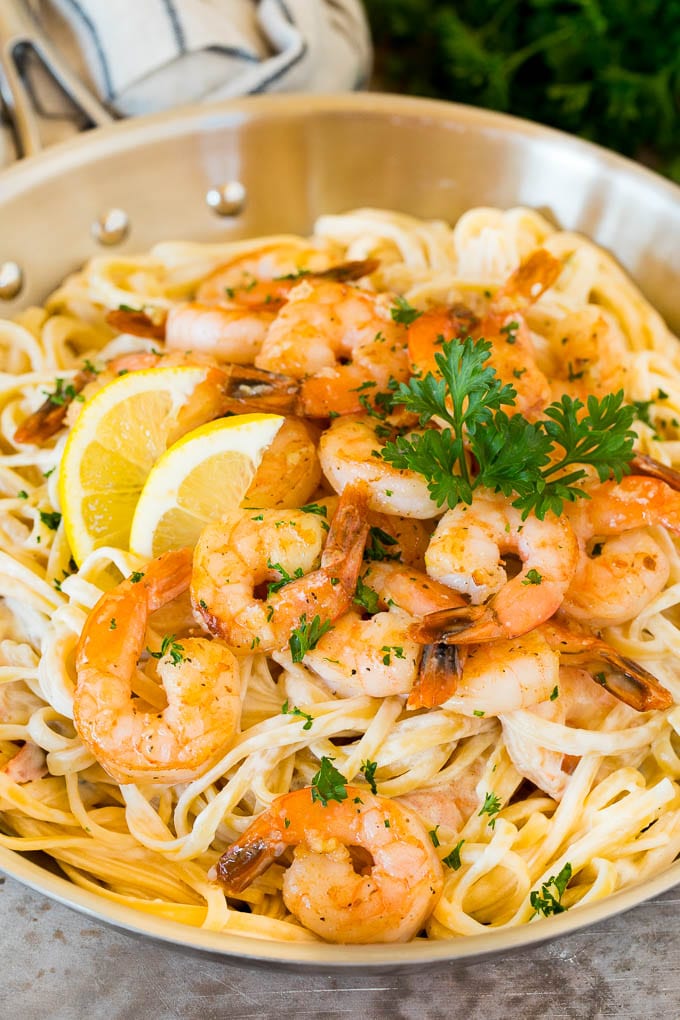 My local Italian restaurant makes the best shrimp linguine, and I decided it was time to recreate the dish at home. My version features seared shrimp and tender pasta in a flavorful cream sauce, and it always gets rave reviews. Looking for more great pasta dishes? Be sure to check out my fabulous chicken broccoli Alfredo!
How do you make shrimp linguine?
Boil your pasta, and while the linguine is cooking, simmer the ingredients for your sauce. Place the shrimp in hot pan and cook until they're ready to eat. Toss your shrimp and pasta together with the creamy sauce. Add a sprinkle of parsley and a few lemon slices for garnish, then serve and enjoy.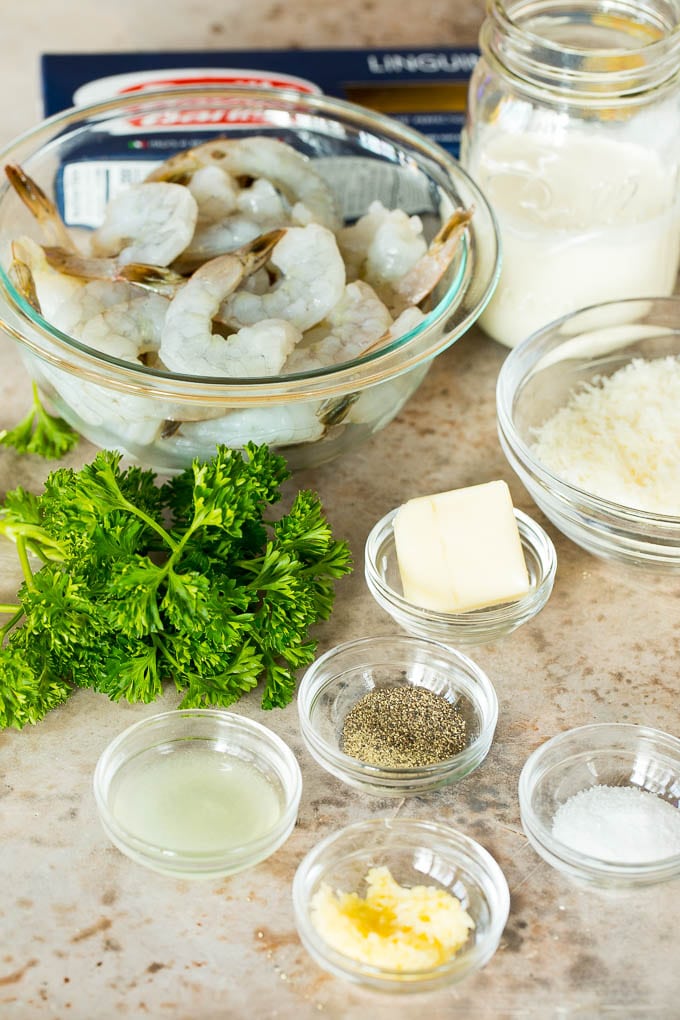 How to peel and devein shrimp
If your shrimp with the shells on, you'll want to remove the shells for this recipe. You can remove the entire shell, or leave the tails on for a more elegant presentation. Remove the shells by peeling them off with your fingers starting on the side with the legs. If you don't see a cut down the back of your shrimp, you may also need to devein them. Use a small knife to cut a slit along the back of the shrimp on the opposite side from the legs. Next, use the knife to remove the vein which looks like a dark tube running down the shrimp.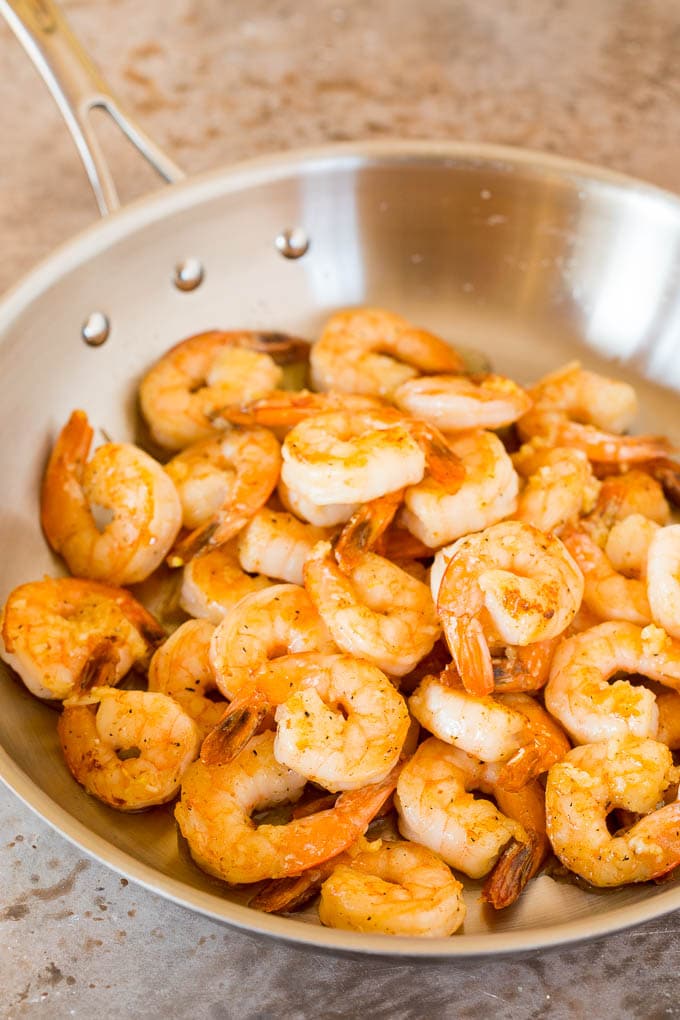 HOW DO YOU KNOW IF SHRIMP IS COOKED?
Shrimp are ready to eat when they turn bright pink and the flesh is opaque. Small shrimp will cook in as little as 2 minutes, medium shrimp take about 4 minutes and large shrimp will cook in 5-6 minutes. This recipe calls for raw shrimp, which are a gray color. If your shrimp are already pink, you may have purchased pre-cooked shrimp. If this is the case, you'll want to just warm them briefly so that they don't get tough.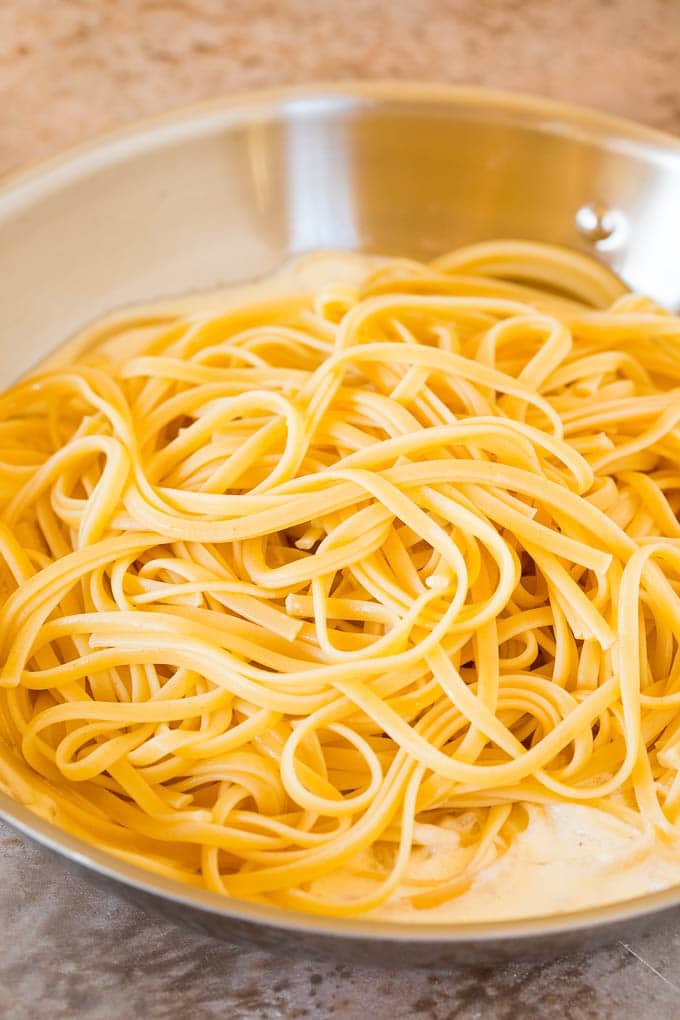 Tips for the perfect pasta
This shrimp linguine is best when served immediately. Leftovers will stay fresh in the refrigerator for up to 2 days.
I typically use a medium size shrimp for this recipe, either 41/50 or 36/40 count. You can use fresh shrimp, or frozen shrimp that have been thawed. Be sure to pat thawed shrimp dry before use.
I recommend using freshly grated parmesan cheese if possible, as it has better flavor and tends to melt better in the sauce.
Serve your pasta with garlic bread and a green salad for a complete meal.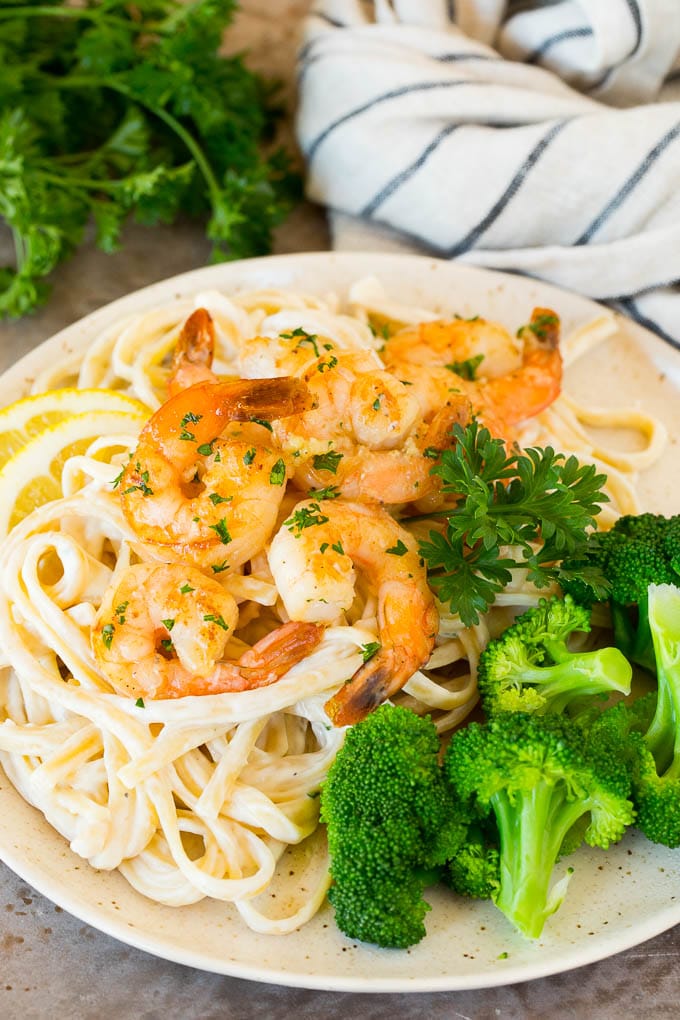 Shrimp linguine flavor variations
This dish is great as written, but you can add other ingredients to make your own creation.
Protein: Use a blend of seafood such as scallops, fish and clams. You can also use grilled chicken instead of shrimp.
Pasta: Swap out the linguine with fettuccine, spaghetti, penne or farfalle pasta.
Vegetables: Stir in some sauteed mushrooms or bell peppers, add some fresh cherry tomatoes at the end, or mix in some greens such as spinach or kale.
Flavorings: Add extra flavor with a handful of capers, chopped olives, sun dried tomatoes or pine nuts.
Shrimp linguine is on my regular recipe rotation because it's quick to prepare and always a big hit!
More recipes you'll enjoy
Shrimp Linguine Video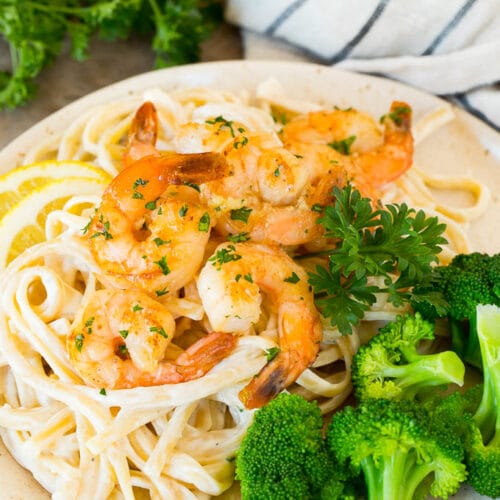 This shrimp linguine is fresh seafood sauteed in garlic butter, then tossed with pasta in a creamy parmesan sauce. A quick and easy dinner option that's quick to make, yet elegant enough for a special occasion.
Ingredients
10

ounces

linguine pasta

5

tablespoons

butter

divided use

1

cup

heavy cream

3/4

cup

freshly grated parmesan cheese

2

teaspoons

lemon juice

salt and pepper to taste

1

pound

medium shrimp

peeled and deveined, tails removed if desired

2

teaspoons

minced garlic

2

tablespoons

chopped parsley

parsley sprigs and lemon slices for garnish
Instructions
Cook the pasta in salted boiling water according to package directions.

Heat 1 tablespoon of butter in a large pan over medium high heat.

Add the shrimp to the pan and season with salt and pepper.

Cook the shrimp for 3-4 minutes, stirring occasionally, until shrimp are pink and opaque.

Add the garlic to the pan and cook for an additional 30 seconds.

Remove the shrimp from the pan and cover to keep warm. Wipe out the pan with a paper towel.

Melt 4 tablespoons of butter in the pan over medium heat.

Add the heavy cream and simmer for 4-5 minutes or until just thickened – do not let it boil.

Whisk in the parmesan cheese, stirring continuously, until the cheese has melted.

Remove the sauce from the heat, then stir in the lemon juice.

Season the sauce with salt and pepper to taste.

Drain the pasta and place it in the pan with the sauce. Add half the shrimp and toss everything together to combine.

Arrange the other half of the shrimp on top of the pasta. Sprinkle with parsley. Garnish with parsley sprigs and lemon slices if desired, then serve.
Nutrition
Calories:
589
kcal
|
Carbohydrates:
42
g
|
Protein:
28
g
|
Fat:
27
g
|
Saturated Fat:
16
g
|
Cholesterol:
477
mg
|
Sodium:
643
mg
|
Potassium:
325
mg
|
Fiber:
2
g
|
Sugar:
1
g
|
Vitamin A:
1505
IU
|
Vitamin C:
5
mg
|
Calcium:
454
mg
|
Iron:
3.9
mg