The most amazing fruit salad recipes including summer fruit salads, creamy fruit salads and grilled fruit salads. There's a fruit salad for every season and occasion, and these colorful and healthful fruit dishes are sure to please any crowd.
If you love fruit, you'll love this assortment of fruit salads, that use almost every fruit imaginable with fun additions and dressings thrown into the mix!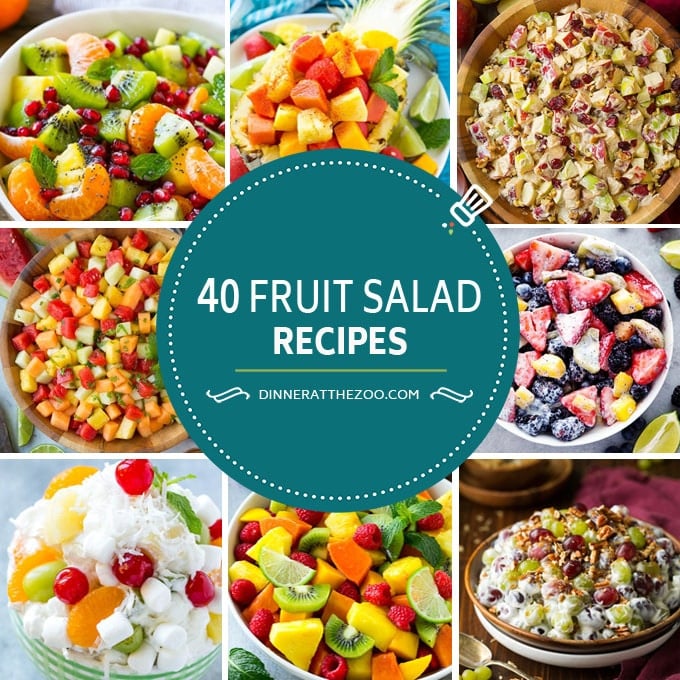 Fruit salad recipes are a great thing. You can make them for all seasons and any type of fruit you want. They are so versatile which makes them an easy go-to option for potlucks and cookouts.
My kids love fruit. So, naturally, we keep it on hand a lot. We make a lot of fruit salad recipes throughout the year. Each season we change the recipes up to the produce that is currently available. This helps ensure the produce is at its prime.
If you're looking for some new fruit salad ideas, I urge you to give these 40 recipes a try. You really can not go wrong with a good fruit salad. Not only are they refreshing on hot days but they are a healthy snack alternative for kids as well.
40 Fabulous Fruit Salad Recipes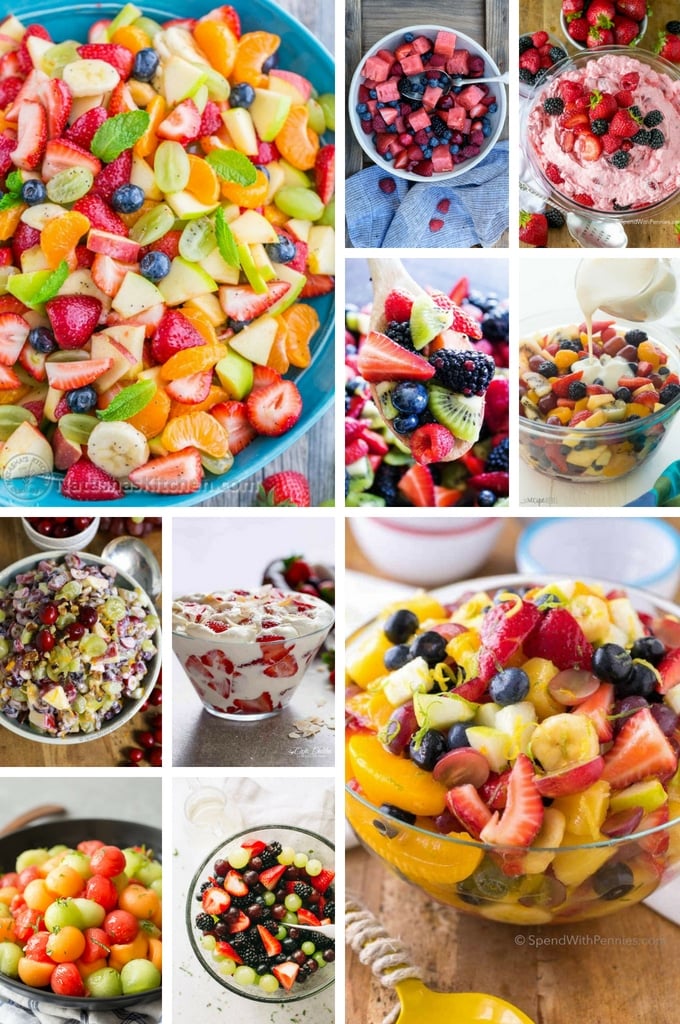 Kids and adults both adore this easy and colorful rainbow fruit salad tossed in an easy honey lime dressing. You can really use any type of fruit that you like here, so long as you stick to the rainbow color scheme. Don't want to use grapes? Try another green fruit like kiwi or honeydew melon instead. Strawberries aren't available? Try watermelon or raspberries, the possibilities are endless! I like to add a touch of fresh mint to my rainbow fruit salad, but that's an optional step. I bring this salad to every summer gathering and it's always a huge hit.
Rainbow Fruit Salad
Serves 6
1 cup strawberries, hulled and halved
1 cup mandarin orange segments
1 cup pineapple chunks
1 cup green grapes
1 cup blueberries
1 cup raspberries
3 tablespoons lime juice
4 tablespoons honey
fresh mint for garnish
Place all the fruit in a large bowl. In a small bowl, whisk together the honey and lime juice. Pour the lime juice mixture over the fruit and toss to coat. Serve, with fresh mint as a garnish if desired.