This popcorn shrimp recipe is tender bites of shrimp coated in seasonings and deep fried to golden brown perfection. An easy appetizer option that's sure to be a hit with family and friends.
Whenever I'm hosting a party, I offer a variety of hearty snacks including cheesy corn dip, baked chicken wings, and these irresistible popcorn shrimp.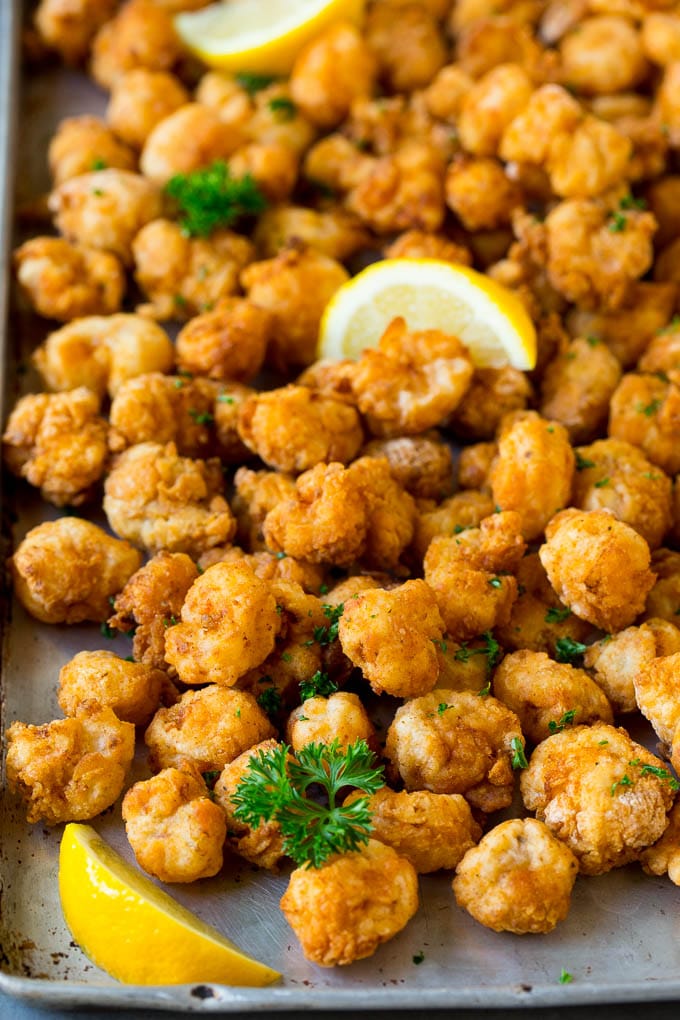 Popcorn shrimp is one of my all time favorite appetizers to order at restaurants, I just can't resist those crispy little snacks! It's actually quite simple to make your own fried shrimp at home. I have to say, I think my version is even better than what you would get at a restaurant.
Why is it called popcorn shrimp?
This dish is referred to as popcorn shrimp because it's bite sized pieces of battered shrimp. These shrimp are often eaten by the handful, similar to the way you'd eat popcorn.
How do you make popcorn shrimp?
Mix together flour and seasonings to create the coating for the shrimp. Toss the shrimp with a small amount of the seasoned flour, then dip each shrimp into an egg and milk mixture. Coat each shrimp with another layer of flour, then place them in a pot of hot oil to cook. Drain, then serve immediately with your choice of sauce on the side.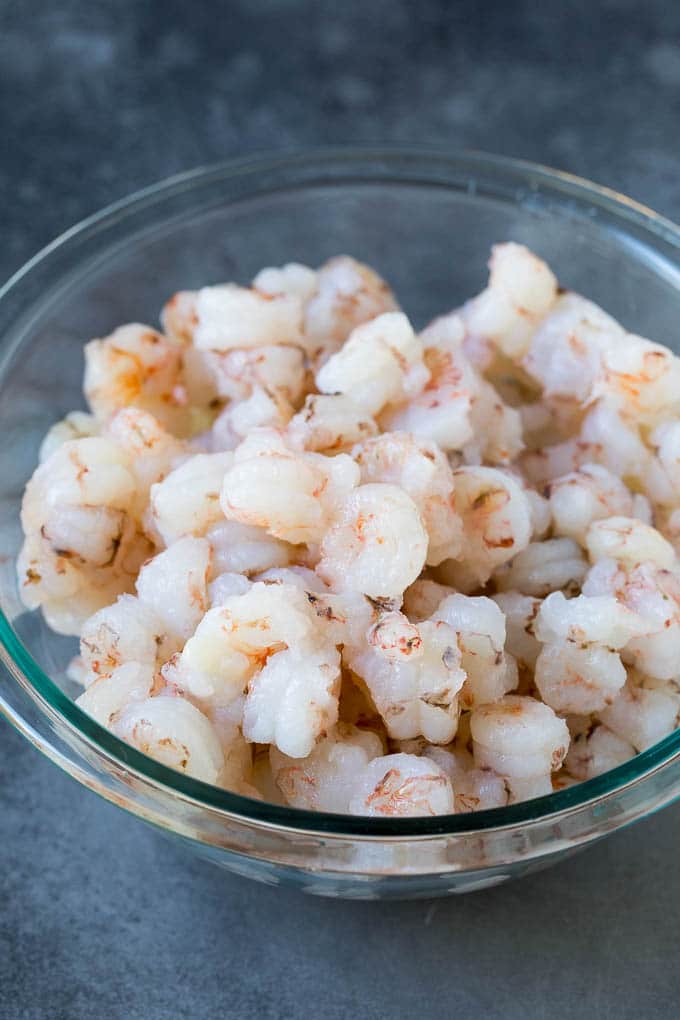 What kind of shrimp is best for popcorn shrimp?
You should make this dish with very small shrimp. You can use rock shrimp, or select a shrimp in the 61/70 count, 51/60 count or 41/50 count size. Just be aware that the cook times may vary a bit depending on the size shrimp you select. Watch your shrimp carefully as they cook, then remove them from the oil as soon as they've turned golden brown.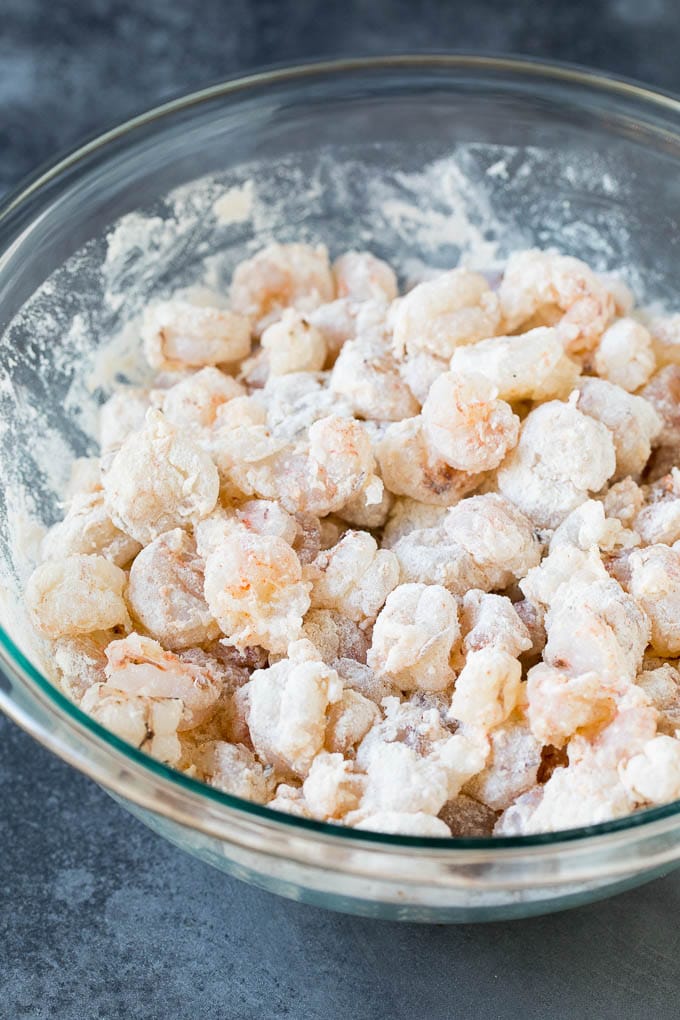 HOW TO PEEL AND DEVEIN SHRIMP
To peel shrimp, simply use your thumb to press into the underside of the shrimp where the legs are. Peel each side of the shell back going from front to tail. You can devein a shrimp by making a cut along the top of the raw shrimp with a sharp paring knife. The cut should go from the front of the shrimp to the tail. Cut about 1/8 inch into the shrimp. Inside the cut you will see a dark vein. Remove the vein with the tip of your knife.
Tips for the perfect shrimp
Be sure to use a frying thermometer to keep your oil at the appropriate temperature. If the oil is too hot, the shrimp can burn. If the oil is too cold, the shrimp can absorb excess oil and become greasy.
Fried shrimp is best when you serve it immediately. You can reheat popcorn shrimp in the oven, however there's a chance that the shrimp will become rubbery from the extended baking time.
I like to serve my fried shrimp with cocktail sauce. Other great options include marinara sauce or lemon aioli.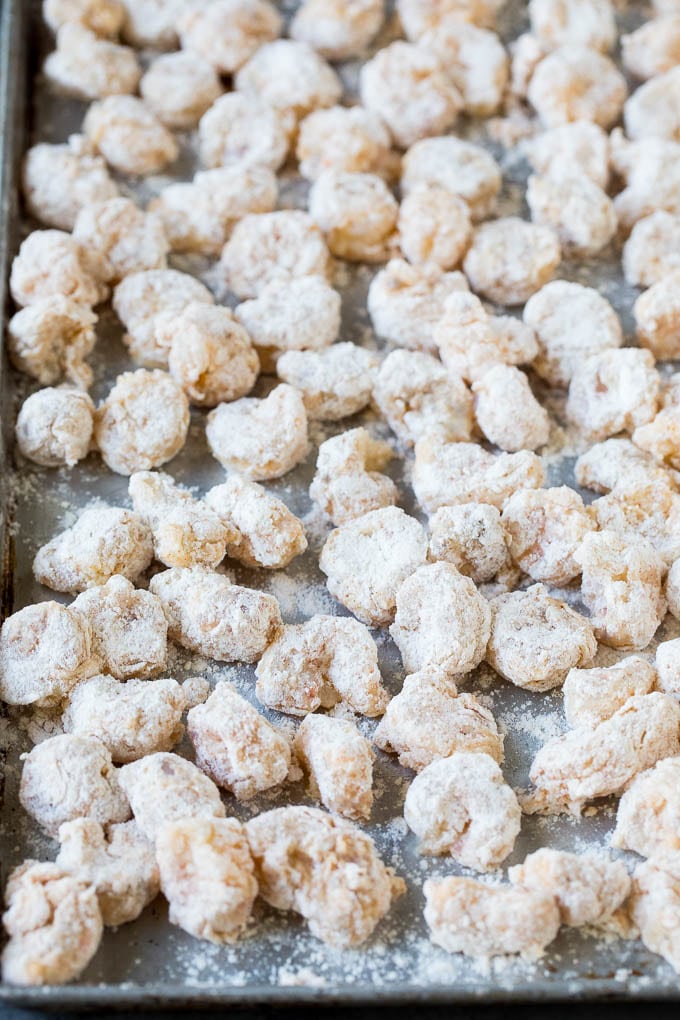 Flavor Variations
Mexican: Add 2 teaspoons chili powder and 1/4 teaspoon cumin to the flour mixture.
Italian: Omit the paprika. Add 1/4 teaspoon onion powder and 2 teaspoons Italian seasoning to the flour. Sprinkle the cooked shrimp with grated parmesan cheese.
Cajun: Add 2 teaspoons of Cajun seasoning to the flour. Serve with remoulade for dipping.
Asian: Omit the paprika. Add 1/4 teaspoon ground ginger and 1/2 teaspoon five spice powder to the flour. Top the cooked shrimp with sesame seeds and sliced green onions.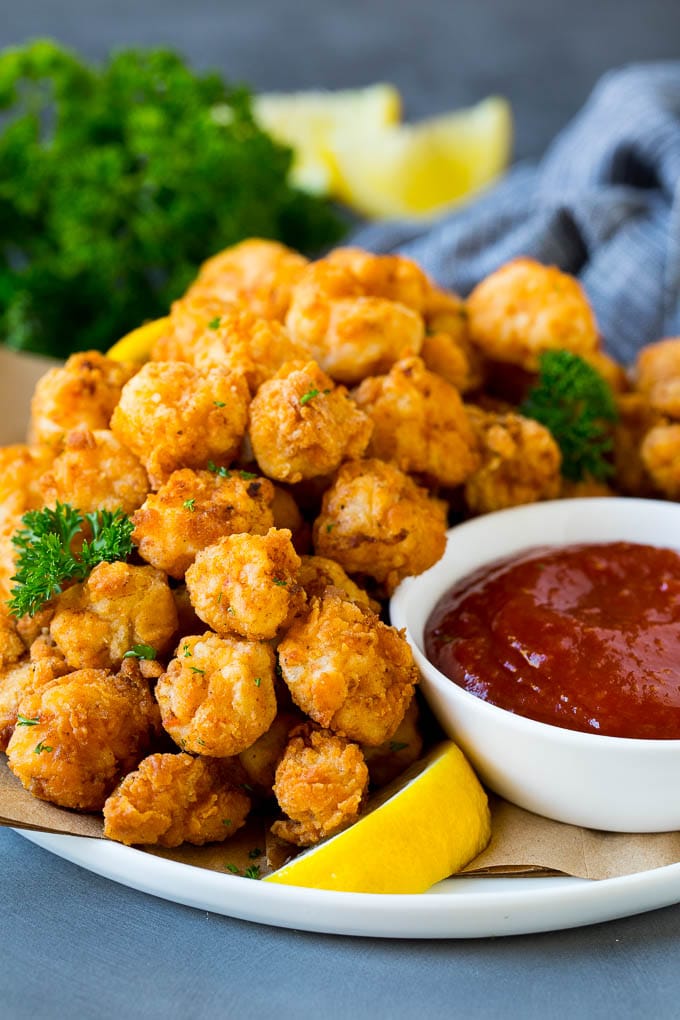 These shrimp are the ultimate party snack and are always the first item to disappear at parties. Everyone will be begging you for the recipe!
More fabulous appetizer options
Popcorn Shrimp Video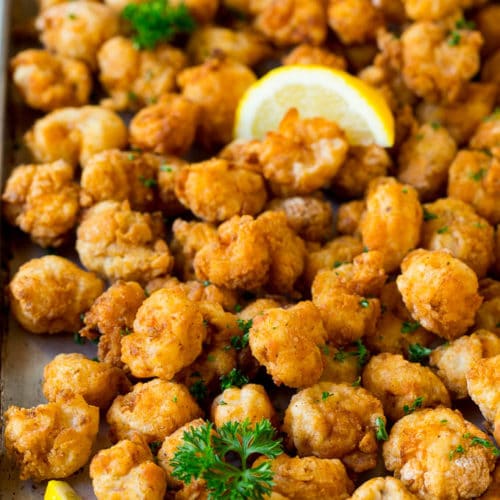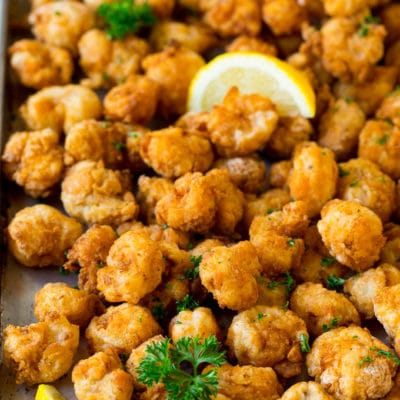 This popcorn shrimp recipe is tender bites of shrimp coated in seasonings and deep fried to golden brown perfection. An easy appetizer option that's sure to be a hit with family and friends.
Ingredients
1

pound

small shrimp

peeled and deveined

1 1/4

cups

all purpose flour

2

teaspoons

salt

plus more for serving

1/2

teaspoon

paprika

smoked or regular

1/4

teaspoon

pepper

1/4

teaspoon

garlic powder

1

egg

1/4

cup

milk

vegetable oil for frying

2

teaspoons

chopped fresh parsley
Instructions
In a medium bowl, mix together the flour, salt, paprika, pepper and garlic power.

Pat the shrimp dry and place them in a large bowl. Add 1/4 cup of the flour mixture and toss to combine until the shrimp are all coated.

Heat 3-4 inches of oil in a large deep pot to 375 degrees F.

In a small bowl, whisk together the egg and milk.

Dip each shrimp into the milk mixture, then dredge in the remaining seasoned flour.

Place 8-10 pieces of shrimp in the oil. Cook for 2-3 minutes or until golden brown.

Remove the shrimp from the oil and drain on paper towels. Repeat the process with the remaining shrimp.

Sprinkle with chopped parsley and serve immediately.
Nutrition
Calories:
314
kcal
|
Carbohydrates:
43
g
|
Protein:
25
g
|
Fat:
14
g
|
Saturated Fat:
2
g
|
Cholesterol:
271
mg
|
Sodium:
677
mg
|
Potassium:
410
mg
|
Fiber:
1
g
|
Sugar:
3
g
|
Vitamin A:
260
IU
|
Vitamin C:
5
mg
|
Calcium:
112
mg
|
Iron:
3
mg