These grilled chicken tenders are marinated in lemon, garlic, herbs and olive oil, then grilled to golden brown perfection. The ultimate easy main course for summer time!
Chicken tenders are inexpensive, quick cooking and are perfect to toss on the grill. Add an easy marinade to the mix and you've got tender and flavorful chicken that's great as-is, or served on a salad or in a pasta dish.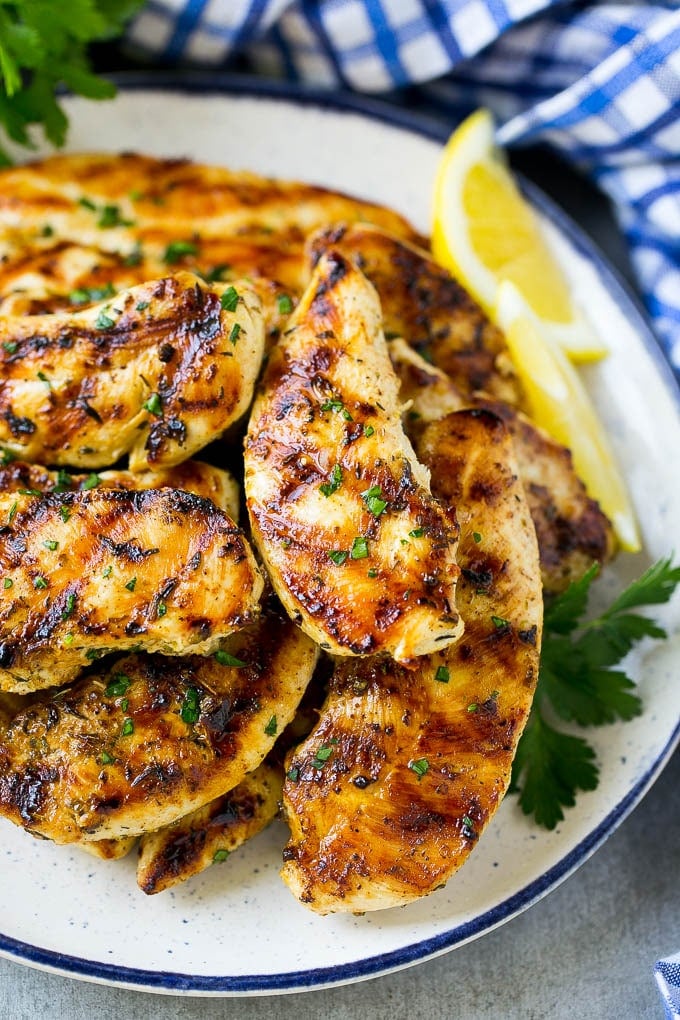 We eat a LOT of chicken tenders in this house. I prefer them to chicken breasts simply because they cook so much quicker. Chicken tenders are also great for soaking up a flavorful marinade. In the summer months, I make grilled chicken tenders every week, we just can't get enough of them!
How do you grill chicken tenders?
To grill chicken tenders, you'll first want to soak them in a marinade for at least 20 minutes, or up to 8 hours. After the chicken comes out of the marinade, it's grilled over medium high heat for about 3-4 minutes per side.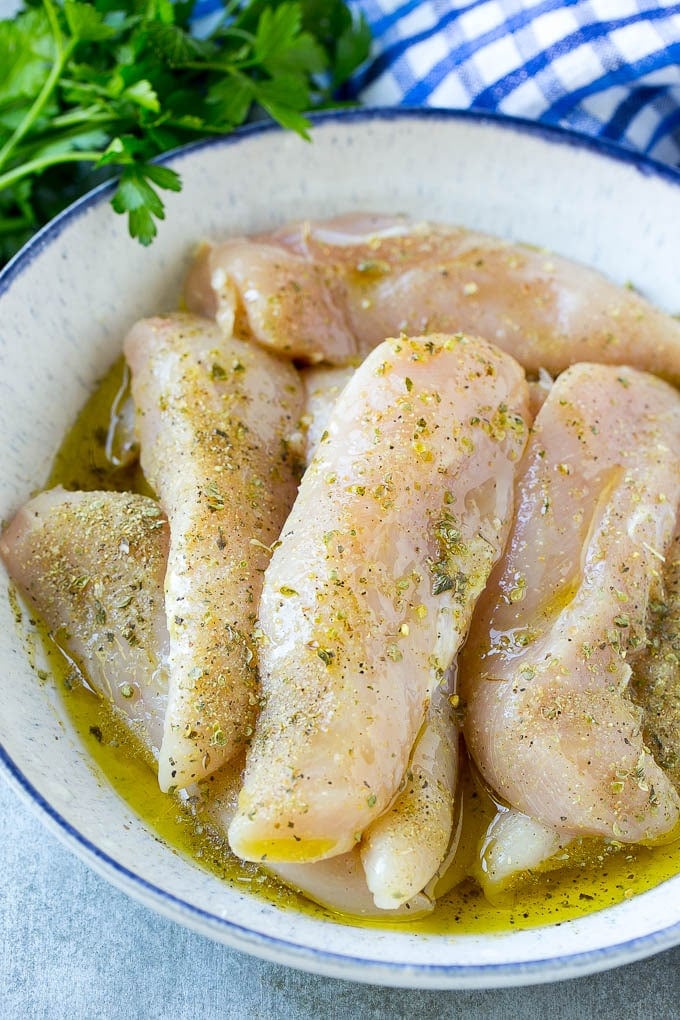 Can you marinate chicken overnight?
Yes, you can marinate chicken overnight, in the refrigerated in a sealed container or heavy duty freezer bag. If your chicken marinade contains acid such as lemon juice, you'll want to be careful not to over-marinate your chicken, as the acid can change the texture of the meat if it's left to soak for too long.
How long does it take to cook chicken tenders?
It takes anywhere from 8-10 minutes total to cook chicken tenders on the grill. Be sure to flip your meat halfway through the grilling process to ensure even cooking.
While I typically make these grilled chicken tenders on a charcoal grill, I've been known to use a grill pan on the stove during cold weather months. You get a similar result without having to light a fire.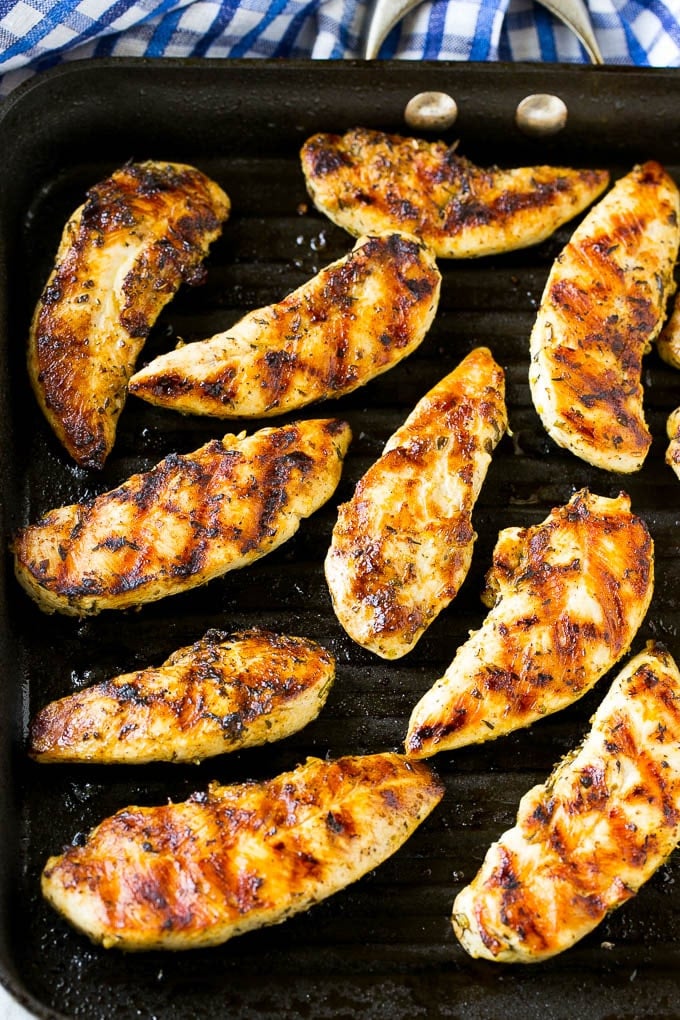 I typically serve these chicken tenders as-is, with a green vegetable on the side and some type of starch like rice or pasta. That being said, I often double this recipe so that I'll have plenty of leftover chicken to use later in the week in other dishes like tacos and salads.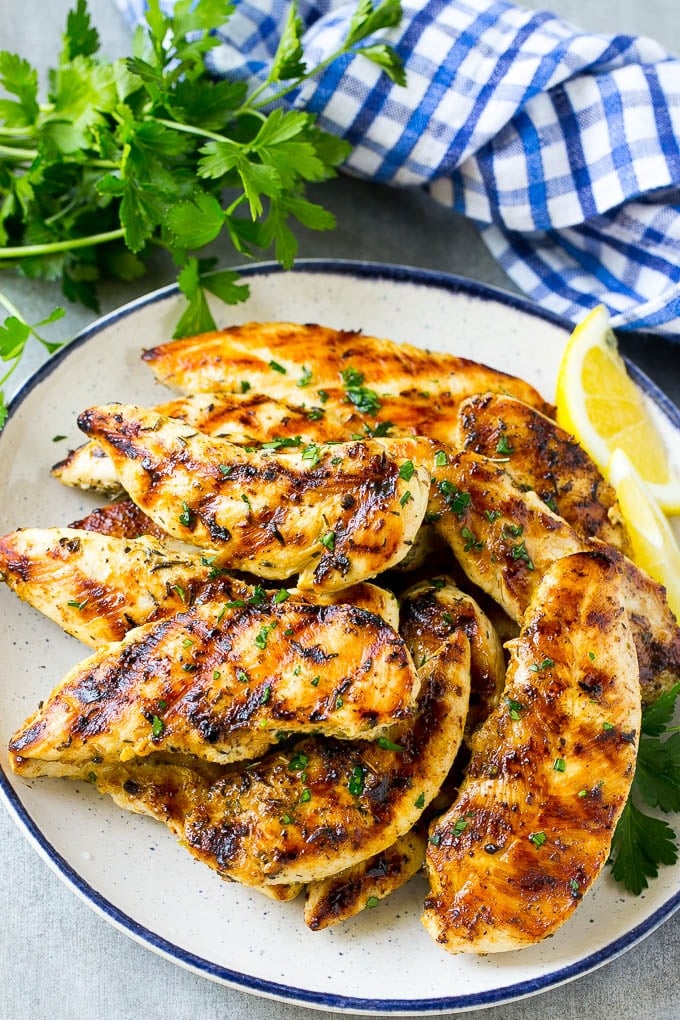 I typically finish my grilled chicken tenders with a squeeze of lemon juice and a sprinkling of parsley. If you don't have parsley on hand, other great herb options are fresh dill, chives, thyme, green onions or mint.
I often serve these tenders with a dipping sauce, which makes them more kid friendly. My kids enjoy dipping their grilled chicken tenders into ketchup, hummus and barbecue sauce.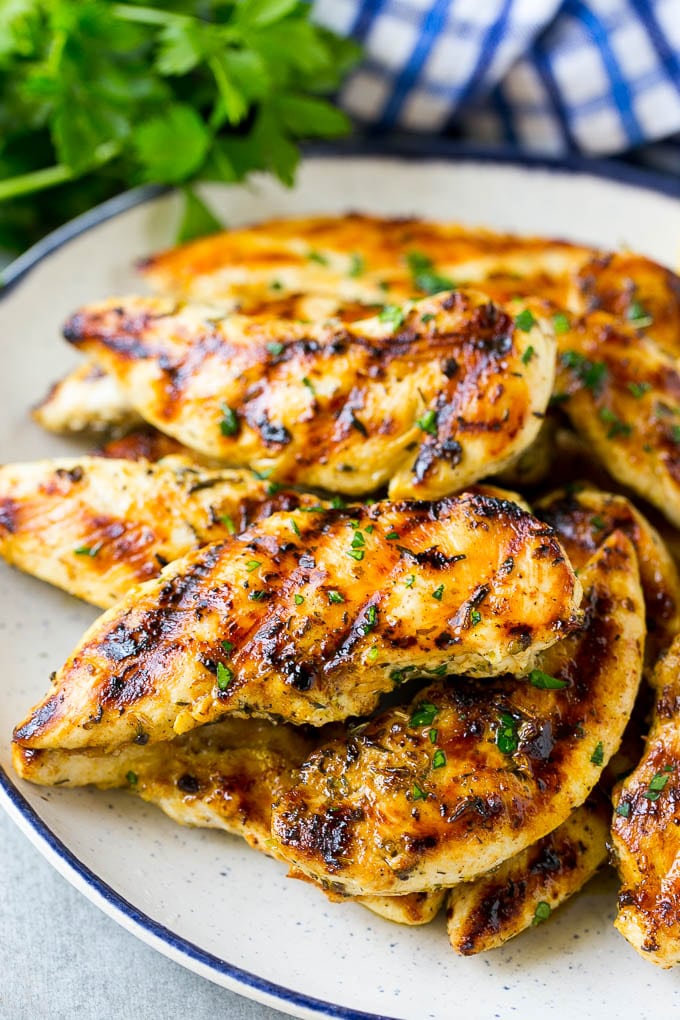 This recipe is a summer staple in my house, and it's sure to become a favorite in your family too!
More grilling recipes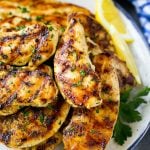 Grilled Chicken Tenders
These grilled chicken tenders are marinated in lemon, garlic, herbs and olive oil, then grilled to golden brown perfection. The ultimate easy main course for summer time!
Ingredients
1

pound

chicken breast tenders

1/4

cup

olive oil

2

tablespoons

lemon juice

2

teaspoons

Italian seasoning

1

clove

garlic

minced

3/4

teaspoon

salt

1/4

teaspoon

pepper

1

tablespoon

chopped parsley

lemon wedges for serving
Instructions
Place the chicken in a large bowl or resealable freezer bag. Add the olive oil, lemon juice, Italian seasoning, garlic, salt and pepper.

Stir to coat chicken evenly. Marinate for at least 20 minutes or up to 8 hours.

Preheat a grill or grill pan to medium high heat.

Place the chicken in a single layer on the grill.

Cook for 3-4 minutes on each side or until cooked through.

Remove chicken from the grill. Sprinkle with parsley and serve with lemon wedges if desired.
Nutrition Facts
Grilled Chicken Tenders
Amount Per Serving
Calories 196
Calories from Fat 90
% Daily Value*
Total Fat 10g 15%
Cholesterol 72mg 24%
Sodium 568mg 24%
Potassium 432mg 12%
Total Carbohydrates 1g 0%
Protein 24g 48%
* Percent Daily Values are based on a 2000 calorie diet.