This blackened salmon is fresh salmon fillets coated in butter and a homemade seasoning blend, then seared to create a dark crust. The most delicious and flavorful salmon that takes minutes to prepare and always gets rave reviews.
When I'm looking for a simple yet satisfying ways to prepare salmon, I turn to family favorites such as broiled salmon, marinated salmon and this versatile blackened salmon.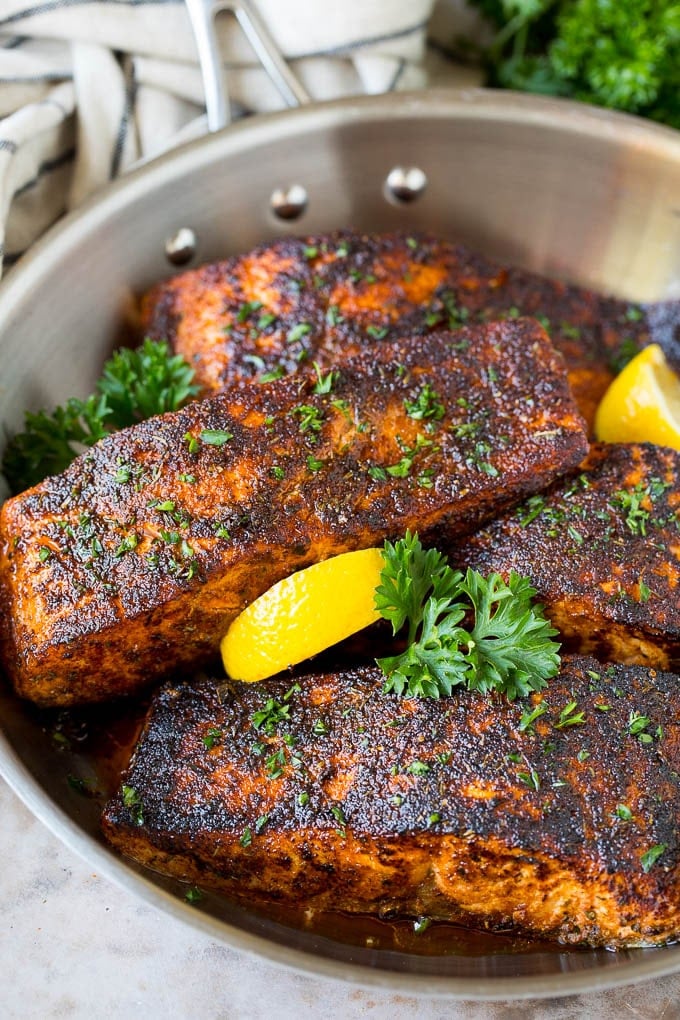 I'm a huge seafood fan, whether it's steamed mussels, French bouillabaisse or seared salmon. I serve salmon every week – it's healthy, flavorful and easy to prepare. This blackened salmon adds bold and savory flavors to the dinner table, with minimal effort!
What is blackened salmon?
This dish is called blackened because it's seared in a cast iron pan to create a dark golden brown, or "black" crust on the fish. Blackened food is often served in Cajun cuisine, and can be made with a variety of different types of protein including fish, chicken, pork and shrimp.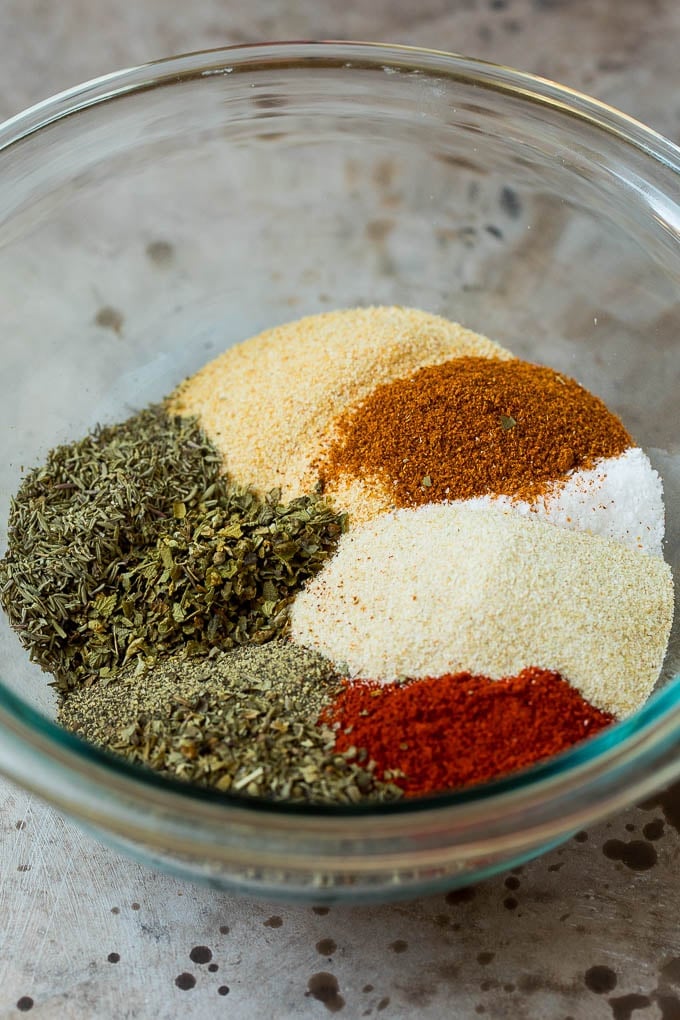 How do you make blackened salmon?
Start by making your blackening seasoning. Coat salmon fillets with melted butter, then sprinkle the seasoning all over the top of the fish. Sear the fish with the flesh side down (skin side up), until a dark crust forms. Flip the salmon over, then cook until the fish is ready. Add a sprinkle of parsley, then garnish with lemon and serve.
How to make blackened seasoning
Blackened seasoning is a combination of various herbs and spices and it typically includes sweet paprika, garlic powder, smoked paprika, brown sugar, onion powder, salt, black pepper, basil, oregano, thyme and cayenne pepper. Stir together all the herbs and spices, then transfer the seasoning mix to a resealable container or jar. Store the blackened seasoning in a cool, dry place until you're ready to use it.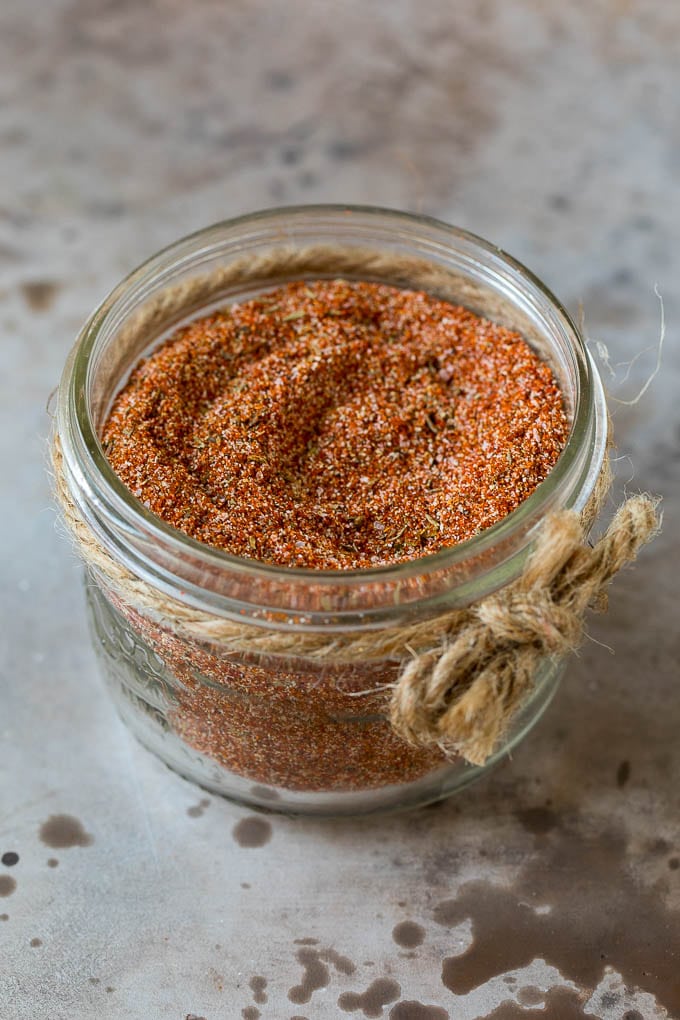 Tips for the perfect salmon
Be sure to choose salmon fillets that are similar in size and thickness so that they cook at the same rate.
The traditional way to sear the salmon for this dish is to use a cast iron skillet. If you don't have a cast iron skillet, try using a different heavy pan such as enamelware.
Watch your salmon very carefully as it sears. You want the spices to get dark brown, but not get so dark that they burn.
Serve your salmon with dirty rice and a green veggie on the side for a hearty main course option. If you're watching your carbs, serve the salmon over a salad. This blackened fish is also great when added to a pasta with Alfredo sauce.
This recipe is fairly mild when it comes to the heat level. If you prefer spicier salmon, feel free to increase the amount of cayenne pepper to taste.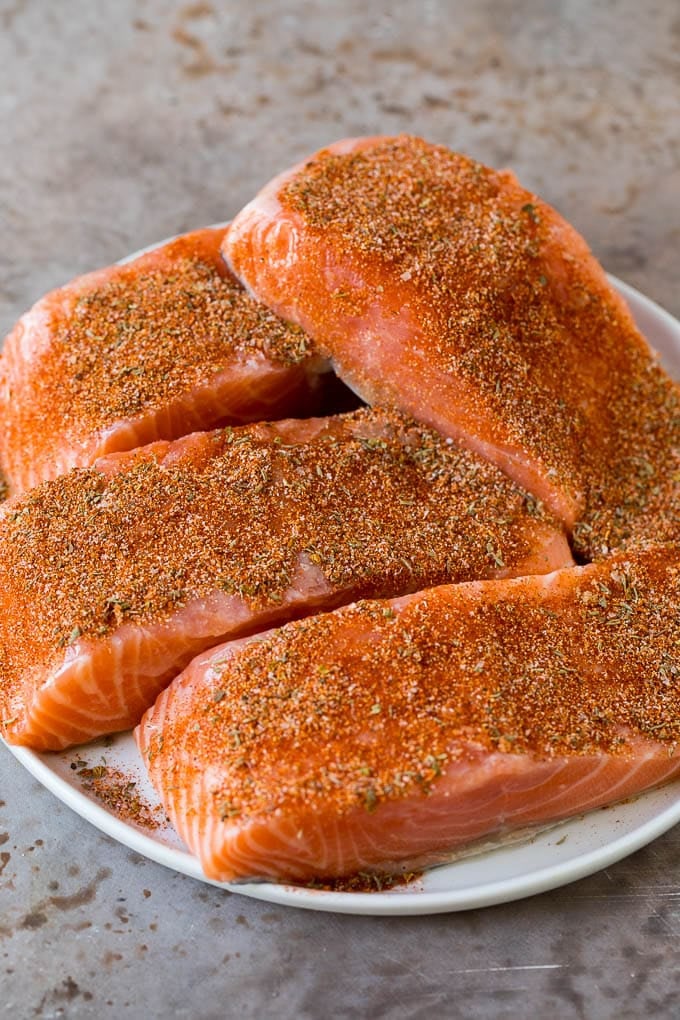 HOW DO YOU KNOW WHEN SALMON IS DONE?
The easiest way to tell when your salmon is done is to use a fork to try and cut into it. If the salmon easily flakes, it's likely ready to eat. You can also observe the color of the salmon when you flake it. Cooked salmon will be a lighter pink and opaque. Undercooked salmon is darker in color and looks more translucent.
Is blackened salmon good for you?
Salmon is a great addition to any healthy diet. This fish is high in protein and full of nutrients including antioxidants and omega-3 fatty acids. Blackened salmon does not use excessive amounts of oil or other high calorie ingredients such as cream or cheese, which makes it a good choice when you're watching your calories.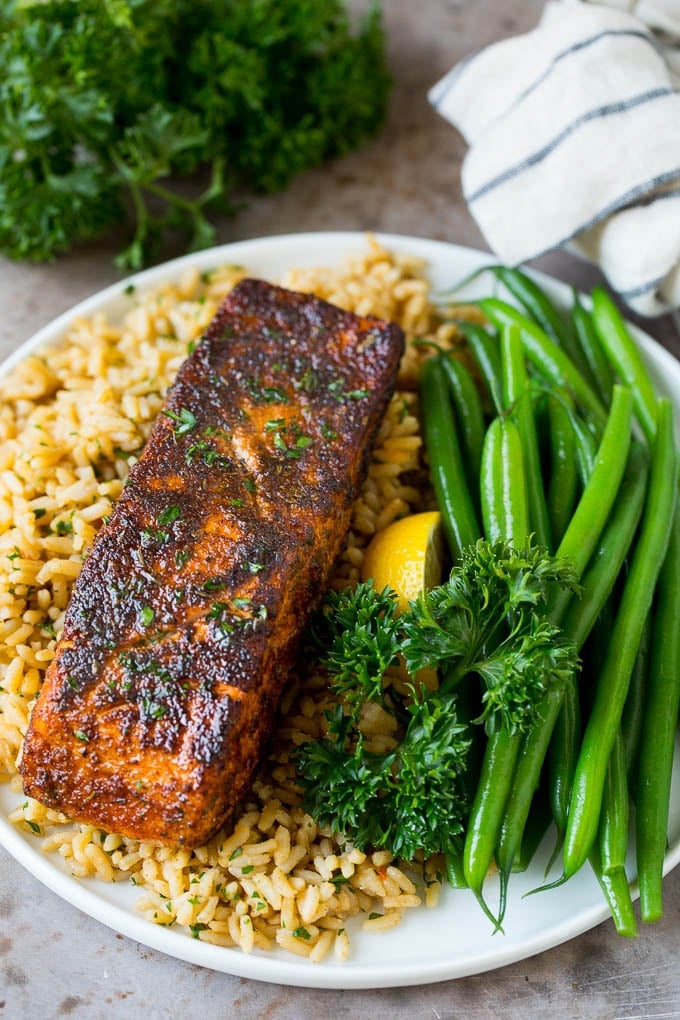 Give this blackened salmon a try, you'll be glad you did! The combination of tender fish with savory spices just can't be beat.
More salmon recipes to try
Blackened Salmon Video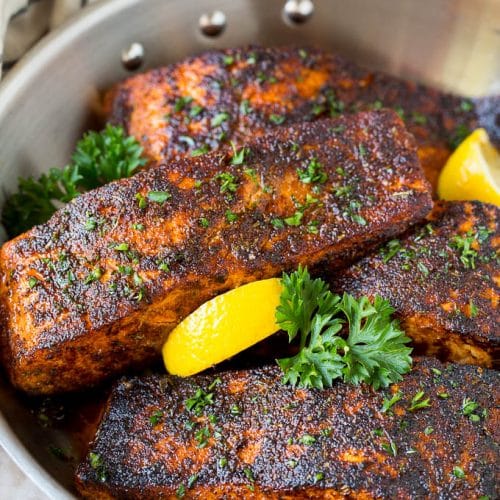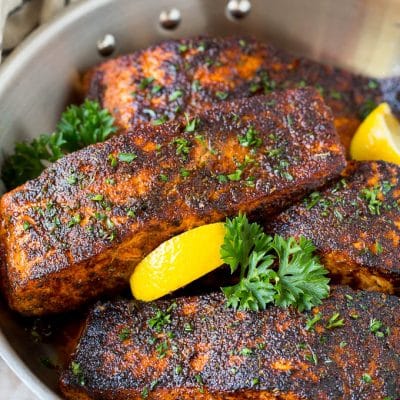 This blackened salmon is fresh salmon fillets coated in butter and a homemade seasoning blend, then seared to create a dark crust. The most delicious and flavorful salmon that takes minutes to prepare and always gets rave reviews.
Ingredients
1

tablespoon

smoked paprika

2

teaspoons

sweet paprika

1 1/2

teaspoons

kosher salt

1

teaspoon

garlic powder

3/4

teaspoons

onion powder

1

teaspoon

brown sugar

1/2

teaspoon

black pepper

1/2

teaspoon

dried thyme

1/4

teaspoon

dried oregano

1/4

teaspoon

dried basil

1/4

teaspoon

cayenne pepper

or more to taste

1

tablespoon

vegetable oil

4

salmon fillets

about 1 1/4 lbs

2

tablespoons

butter

melted

1

tablespoon

parsley

chopped

parsley sprigs and lemon wedges for garnish
Instructions
Place the smoked paprika, sweet paprika, salt, garlic powder, onion powder, brown sugar, black pepper, thyme, oregano, basil and cayenne pepper in a small bowl. Stir until thoroughly combined.

Brush the melted butter all over the top of the salmon fillets. Sprinkle the seasoning mix over the top of the salmon, using your hands to press the spices into the fish.

Heat a cast iron skillet over high heat. Brush the skillet with vegetable oil. Place the salmon in the skillet and cook skin side up for 3-4 minutes or until a dark brown crust forms.

Carefully flip the salmon. Reduce the heat to medium high and cook for an additional 7-8 minutes or until the fish flakes easily with a fork and is opaque.

Sprinkle with parsley, then serve garnished with lemon wedges and parsley sprigs.
Nutrition
Calories:
364
kcal
|
Carbohydrates:
4
g
|
Protein:
34
g
|
Fat:
23
g
|
Saturated Fat:
10
g
|
Cholesterol:
116
mg
|
Sodium:
1025
mg
|
Potassium:
905
mg
|
Fiber:
1
g
|
Sugar:
1
g
|
Vitamin A:
1821
IU
|
Vitamin C:
1
mg
|
Calcium:
27
mg
|
Iron:
2
mg