This Low Country Boil is a blend of shrimp, crab, sausage, corn and potatoes, all cooked together to create a hearty dinner. A complete meal in one pot that's perfect for a feeding a large group of people!
You can never go wrong with fresh seafood, whether it's grilled swordfish, steamed lobster or this fun and festive Low Country Boil recipe.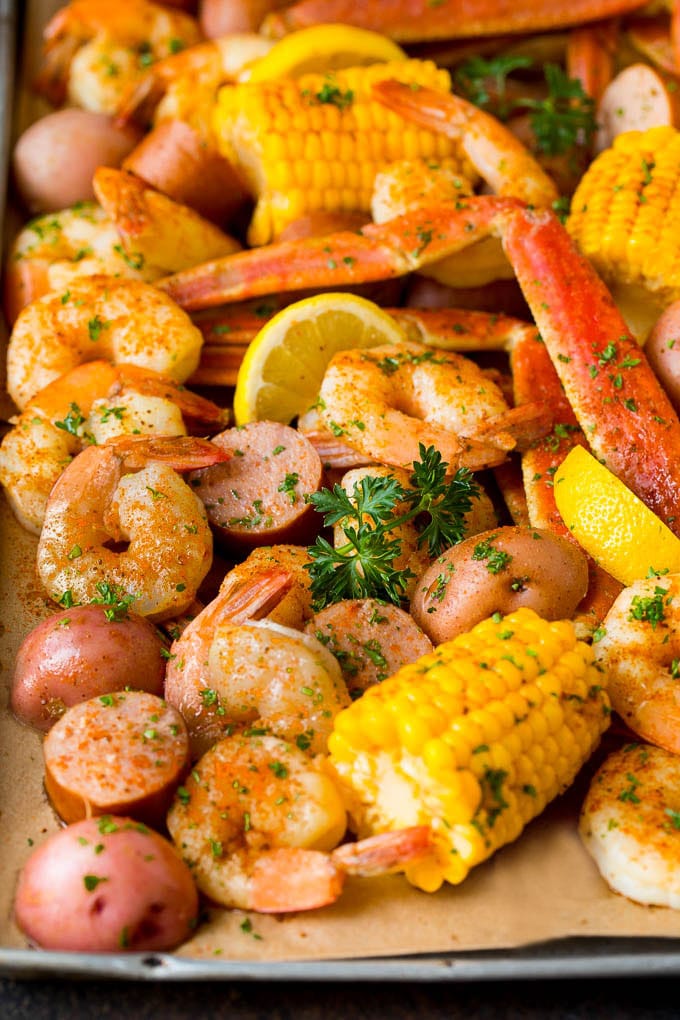 If you've never had a Low Country Boil, you're missing out! This savory blend of seafood, vegetables and sausage is a unique and unexpected dish that always gets rave reviews from family and friends.
What is a low country boil?
A Low Country boil is a dish that originates from the Low Country area of Georgia and South Carolina. It is also sometimes known as Frogmore Stew. This dish consists of seafood, typically shrimp, crab or both, along with potatoes, sausage and corn. All the ingredients are cooked together in one giant pot. Some people even have Low Country Boil parties where they prepare large quantities of this classic meal to feed to a big group of people.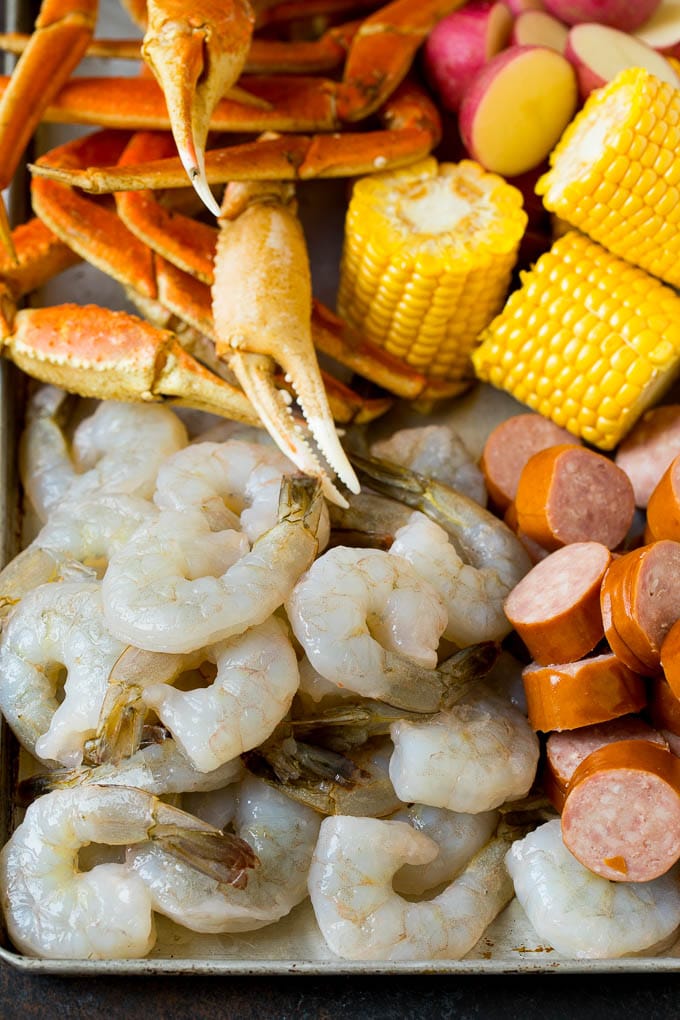 How do you make low country boil?
This recipe contains shrimp, crab, baby red potatoes, corn on the cob and smoked sausage. All of the ingredients are boiled in a seasoned broth, then tossed in a little butter. Add a sprinkling of parsley and some lemon wedges, then dinner is served.
How long to boil shrimp
Shrimp cook very quickly, and it takes about 2-3 minutes for shrimp to be done. You can tell when your shrimp are ready to eat because they'll be bright pink and opaque. Be careful not to overcook your shrimp as they can become tough.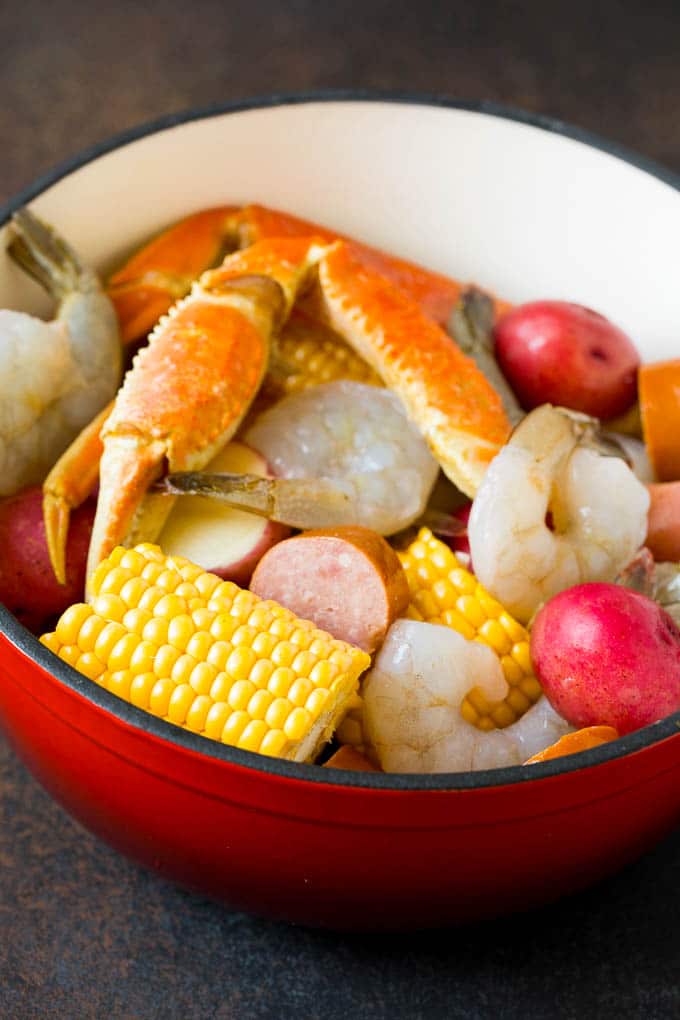 How long to boil crab
The majority of the crab that you buy at the store is pre-cooked, so in this case, all you're really doing is heating the crab. Typically, crab legs take about 5-7 minutes to heat through. Legs tend to cook quicker than the body pieces of the crab. If you choose to cook the crab bodies along with the legs, you'll want to add another 3-4 minutes to the cook time.
Tips for the perfect dish
This recipe contains both shrimp and crab, but you can use just one variety of seafood if you prefer.
I recommend buying the largest shrimp you can find for this recipe. I use 16-20 count jumbo shrimp. You can use any type of crab such as dungeness, blue crab or snow crab. If your seafood is frozen, be sure to thaw it first.
You can boil your shrimp with or without the shells. I typically remove the main part of the shell and just leave the tails on as it's easier to eat this way.
Fresh corn on the cob tastes best in this recipe – you can use white, yellow or bi-color corn. In a pinch, frozen corn on the cob will also work.
I often use small red potatoes in this dish, but Yukon gold potatoes are also a great choice.
Choose your favorite type of smoked sausage to go in your boil. I typically use kielbasa.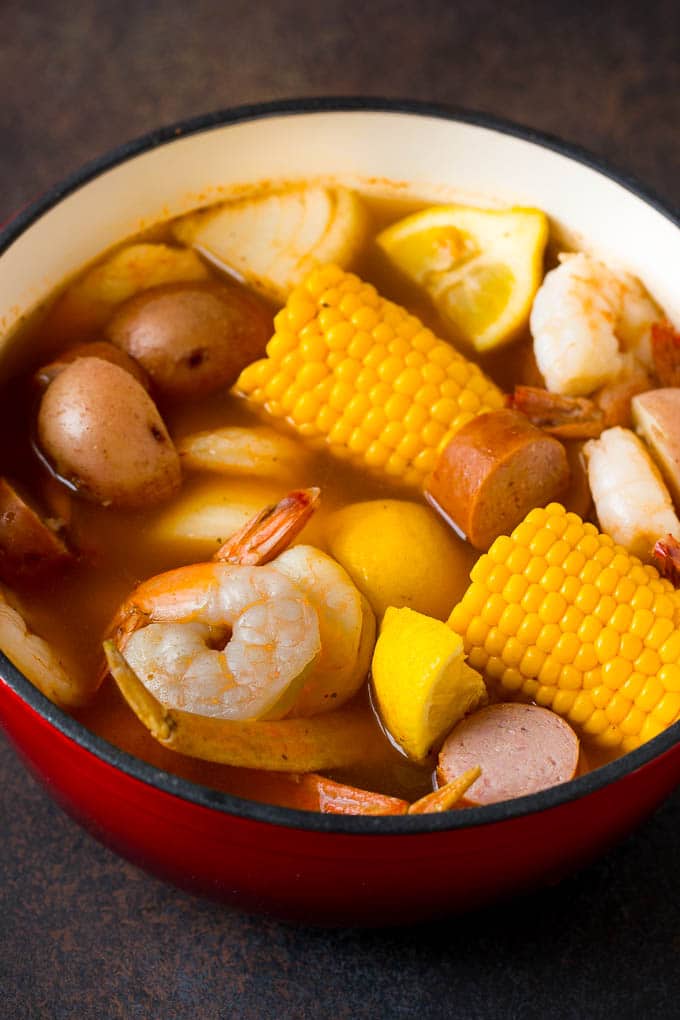 What goes with a low country boil?
A Low Country Boil can be served as a stand alone main course, but some people prefer to add more side dishes to round out the meal. Some great options include a tossed green salad, sliced french or sourdough bread, coleslaw or a creamy potato salad. I typically keep things simple with a loaf of garlic bread and sometimes a green veggie such as asparagus, broccoli or zucchini.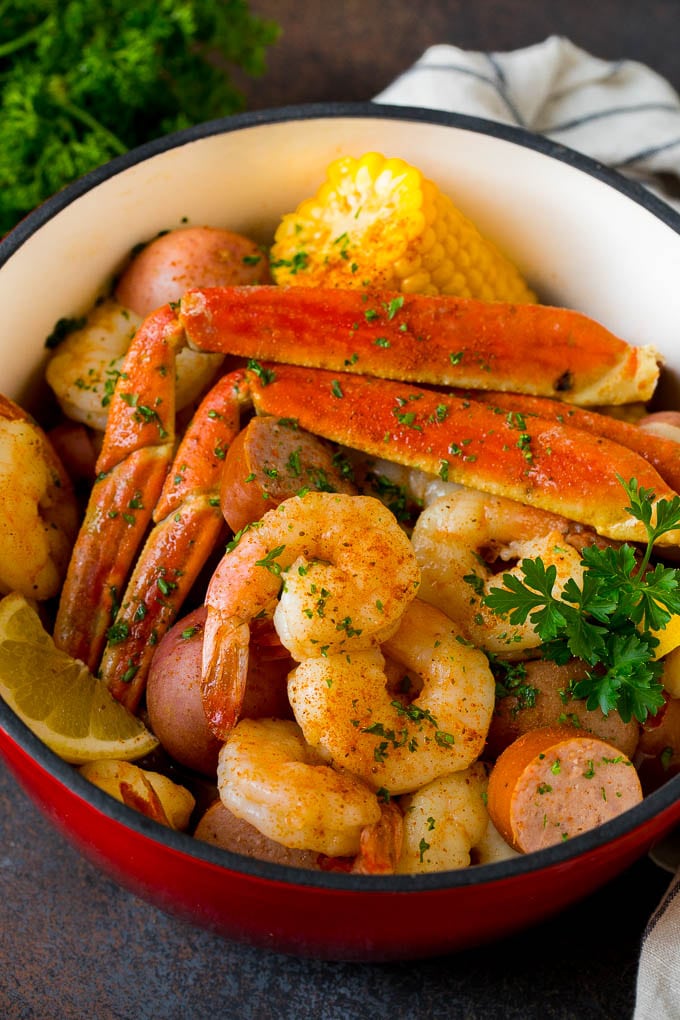 You just can't go wrong with a Low Country Boil, especially for a celebration. The tender shrimp and crab meat pair so well with the creamy potatoes, smoky sausage and sweet corn. Everyone will be sure to come back for seconds!
More seafood recipes you'll enjoy
Low Country Boil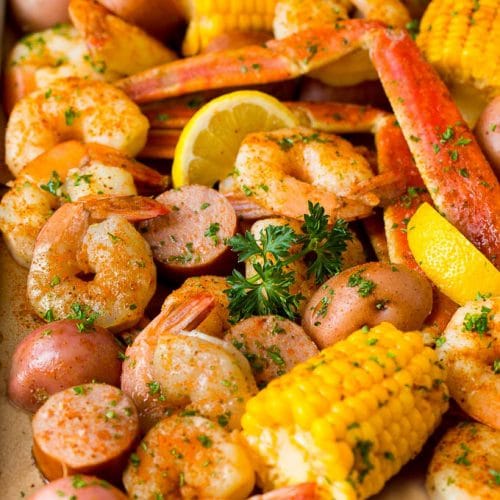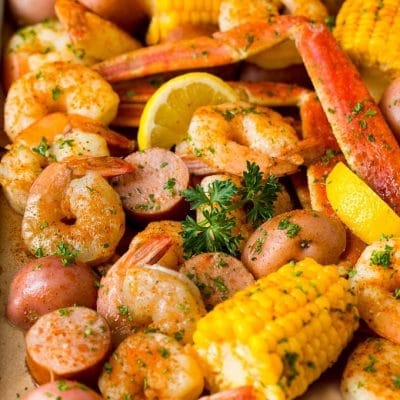 This Low Country Boil is a blend of shrimp, crab, sausage, corn and potatoes, all cooked together to create a hearty dinner. A complete meal in one pot that's perfect for a feeding a large group of people!
Ingredients
3

lemons

divided use

1/2

cup

Old Bay seasoning

plus more for garnish

6

cloves

garlic

smashed

1

onion

peeled and cut into 6 pieces

1

pound

baby red potatoes

halved

4

ears

corn on the cob

cut into 3-4 inch pieces

2

pounds

shrimp

peeled and deveined (leave tails on)

2

pounds

crab

legs and/or bodies

1

pound

smoked sausage

such as kielbasa, cut into 1 inch pieces

4

tablespoons

butter

2

tablespoons

chopped parsley
Instructions
Cut 2 of the lemons into quarters. Cut the remaining lemon into wedges and reserve the wedges for later use.

Fill a large pot with 12-14 cups of water. Place the 2 quartered lemons in the water along with the Old Bay seasoning, garlic and onion. Bring to a boil.

Add the potatoes to the pot and cook for 10-12 minutes or until just tender.

Add the crab, corn and sausage and cook for another 3-4 minutes.

Add the shrimp to the pot and cook for 2-3 minutes or until pink and opaque.

Drain the shrimp mixture from the pot, reserving 1 cup of the broth.

Melt the butter and whisk it into the reserved broth. Pour the broth over the shrimp and crab mixture.

Garnish with chopped parsley and lemon wedges. Sprinkle with additional Old Bay seasoning to taste, then serve immediately.
Nutrition
Calories:
479
kcal
|
Carbohydrates:
36
g
|
Protein:
45
g
|
Fat:
19
g
|
Saturated Fat:
11
g
|
Cholesterol:
450
mg
|
Sodium:
1892
mg
|
Potassium:
923
mg
|
Fiber:
5
g
|
Sugar:
7
g
|
Vitamin A:
450
IU
|
Vitamin C:
48.4
mg
|
Calcium:
316
mg
|
Iron:
7.3
mg