Having ham for the holidays? Here are 40 satisfying leftover ham recipes to make that extra ham anything but boring! These ham recipes include options for breakfast, lunch and dinner such as hearty soups, fresh salads and easy casseroles.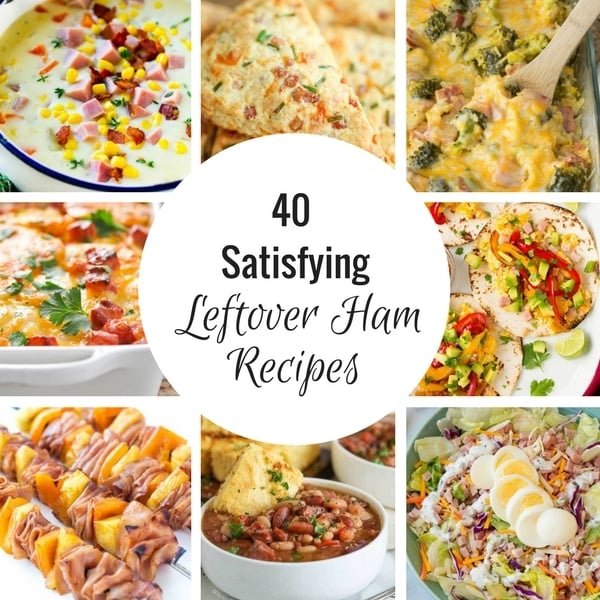 Serving ham for holidays has been a tradition for many years. How many times do you actually eat up all the ham though? Let me help you out with these leftover ham recipes.
During Easter, Thanksgiving and Christmas, ham sales are through the roof. Even the smallest of hams are often too big for your family to consume in one meal. Stock up on resealable plastic bags and freeze your leftovers. You can consult these leftover ham recipes and create new and exciting dishes out of your leftovers. I've got everything from fresh and colorful salads to breakfast delights and hearty casseroles.
Maybe you are a turkey serving family instead. I have you covered there as well, try out these Leftover Turkey Recipes to mix up your meal planning. I kind of want to go out and buy a ham right now so that I can sample each and every one of these amazing recipes!
40 Satisfying Leftover Ham Recipes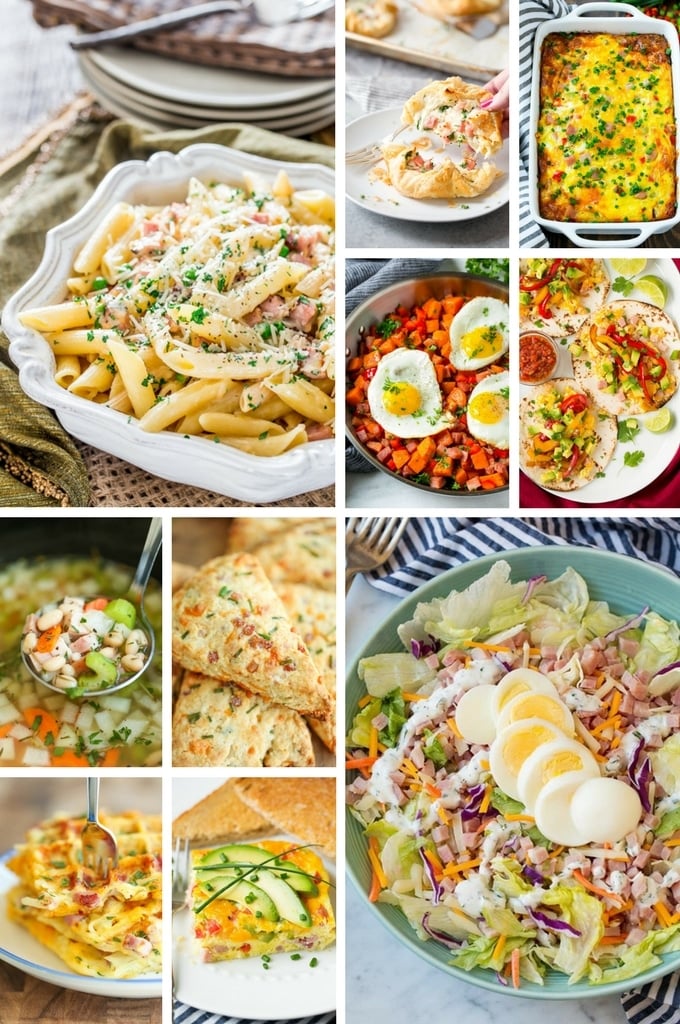 How long does cooked ham last?
You can keep cooked ham in the refrigerator for 3-4 days, or freeze it for up to 3 months. I like to package my ham for the freezer in smaller sized bags so that I can just thaw a little at a time as needed to make these recipes.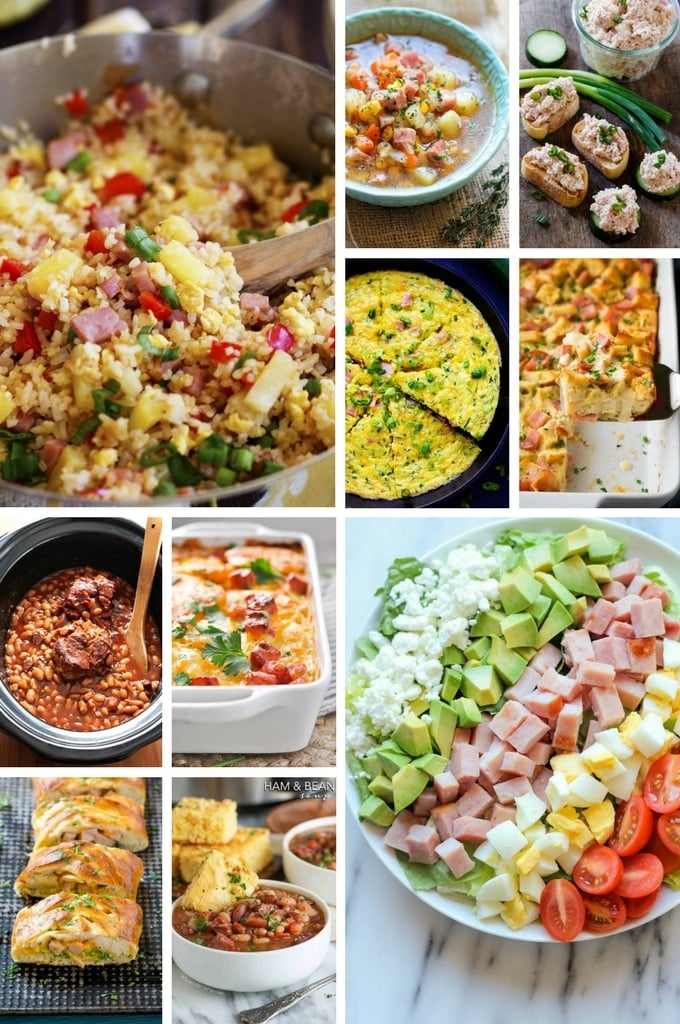 How do you store cooked ham?
The best way to store your cooked ham is to slice it off the bone, then store the slices in an airtight container in the refrigerator. If you're planning to freeze your ham, I like to dice it into chunks, then package it in freezer store bags.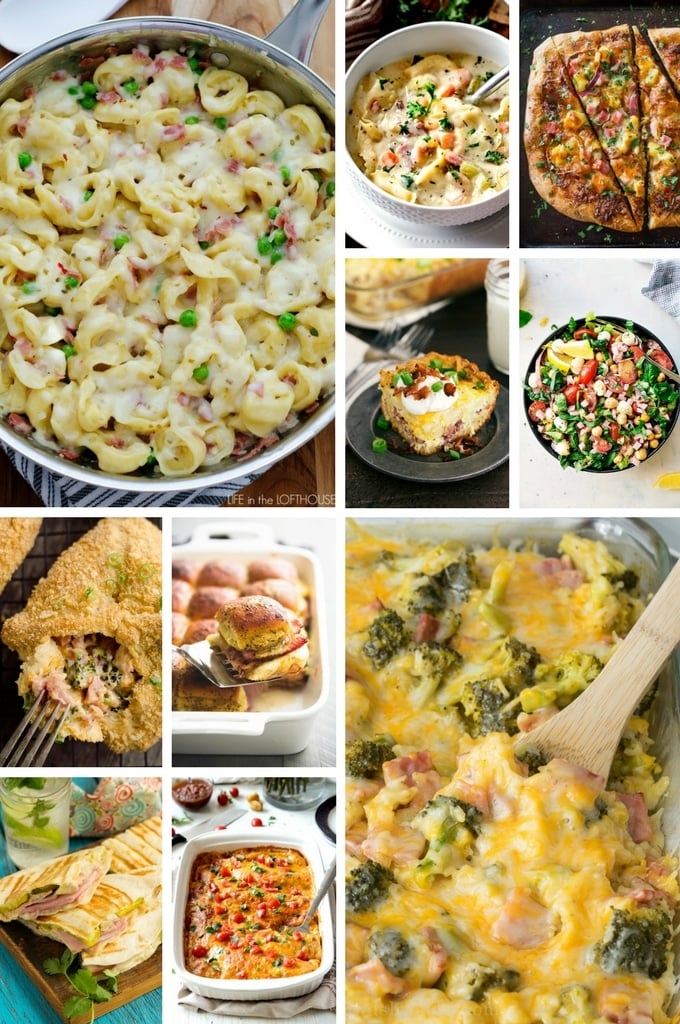 How to reheat leftover ham
You can reheat your leftover ham by placing it in a baking dish covered with foil and baking it at 275 degrees until warmed through. If you're reheating a whole ham, you can plan on heating it for 10 minutes per pound. For sliced ham, plan on 5-7 minutes per pound of ham.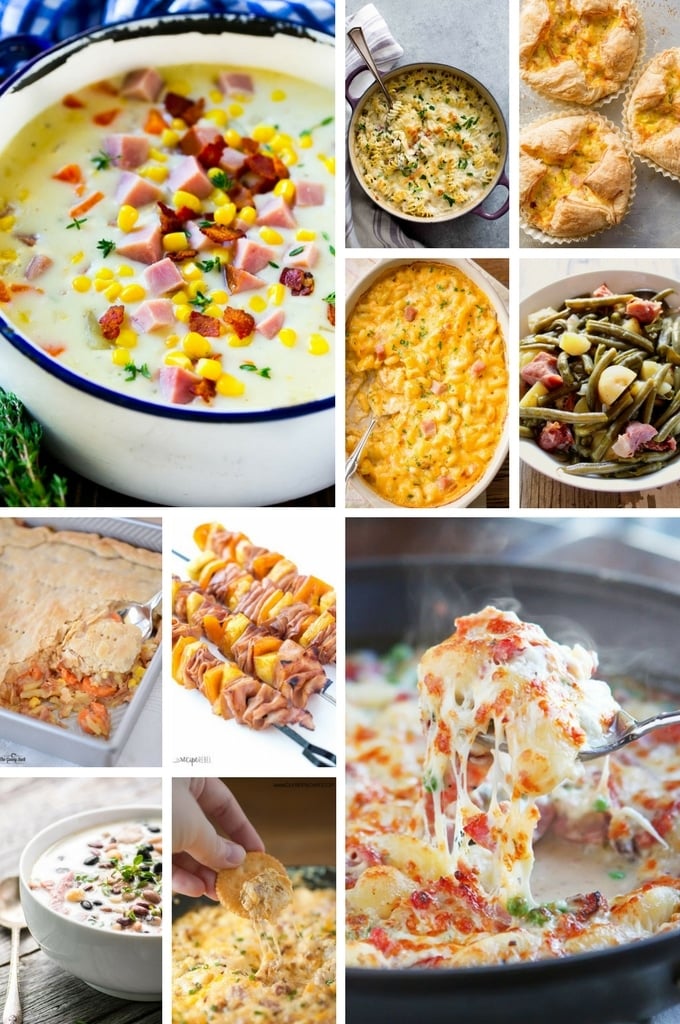 Ham and Corn Chowder (see recipe below!)
Leftover Ham and Corn Chowder
My favorite way to use up leftover ham is in a rich and hearty soup. This creamy ham and corn chowder is full of savory flavors and is the perfect way to warm up on a cold night. My kids adore this soup, I think they might even like their ham best in soup form. This chowder is loaded with ham, bacon, veggies and potatoes in a creamy base.
Tips for leftover ham and corn chowder
You can substitute half and half or low fat milk for the cream if you'd like. The end result will be slightly less creamy, but still totally delicious.
If you have a ham bone, you can also add it to the pot for extra flavor. If you add the ham bone, be sure to use low sodium chicken broth to compensate for the extra salt.
This recipe calls for frozen corn, but if you have fresh corn, feel free to use that instead.
This soup can be stored in the refrigerator for up to 3 days, but I don't recommend freezing it because of the dairy content.
With all these great ham recipes, you'll find yourself looking forward to your leftovers just as much as the main holiday meal!
Ham and Corn Chowder
Serves 6
2 tablespoons butter
1 onion, chopped
1/2 cup carrots, peeled, halved and sliced
3 tablespoons flour
2 1/2 cups ham, diced
3 1/2 cups chicken broth
1 1/2 cups frozen corn
2 teaspoons fresh thyme leaves
2 small russet potatoes, peeled and cut into small cubes
1 cup heavy cream
4 slices bacon, cooked and crumbled
salt and pepper to taste
Heat the butter in a large pot over medium high heat. Add the onions and carrot and cook for 4-5 minutes or until just softened. Whisk in the flour, stirring constantly. Cook for one minute. Slowly add the chicken broth, whisking constantly. Bring to a simmer. Add the ham, corn, thyme and potatoes.
Simmer for 25 minutes or until potatoes are tender, stirring occasionally. Add the heavy cream and bacon. Cook for 5 more minutes, then serve.