This Mexican style carne guisada is beef that is stewed with tomatoes, peppers and spices until it becomes tender and flavorful. Serve your stewed beef as-is, or use it to make burritos, enchiladas, or many other different specialty dishes!
In my house, we enjoy Mexican food at least once a week. Some of our favorites include marinated carne asada, chile verde, and this savory carne guisada.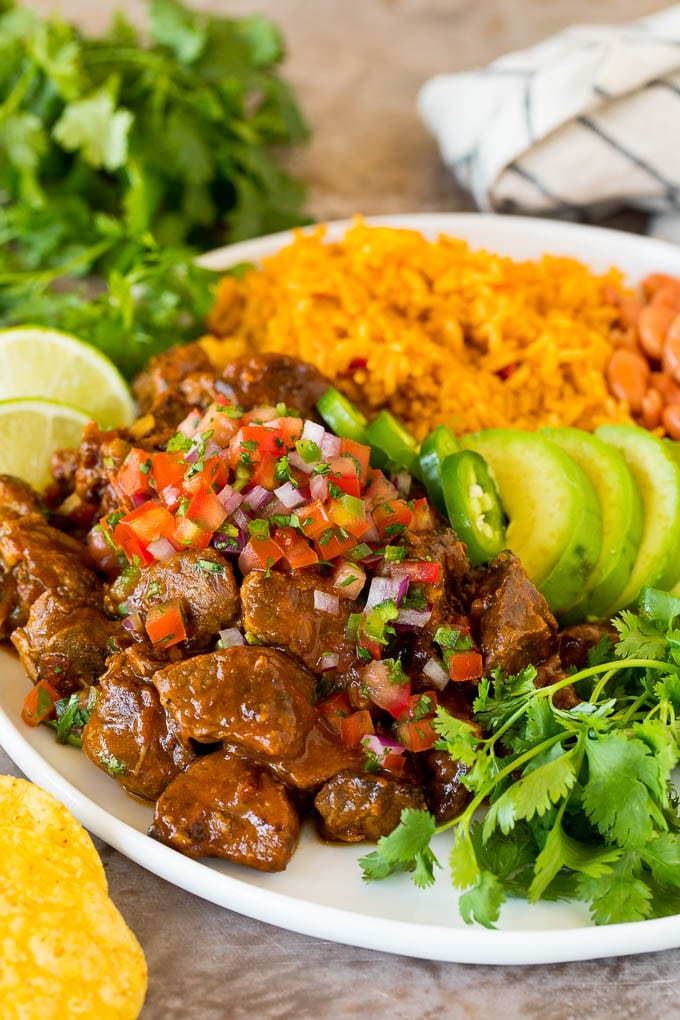 My local Mexican restaurant makes the absolute best carne guisada, and I decided it was time to learn to make this classic dish at home. It turns out that this tender beef is actually quite simple to make, with ingredients that you probably already have on hand.
What is carne guisada?
Carne guisada is a type of stewed beef that is cooked with tomatoes, peppers and onions. Mexican style carne guisada consists of beef in a thick gravy and is often served as a main course with a side of tortillas, or as a filling for tacos and other dishes. There is another version of carne guisada that is popular in other Latin American countries that consists of beef stewed with potatoes and beer. This version here leans toward the Mexican interpretation.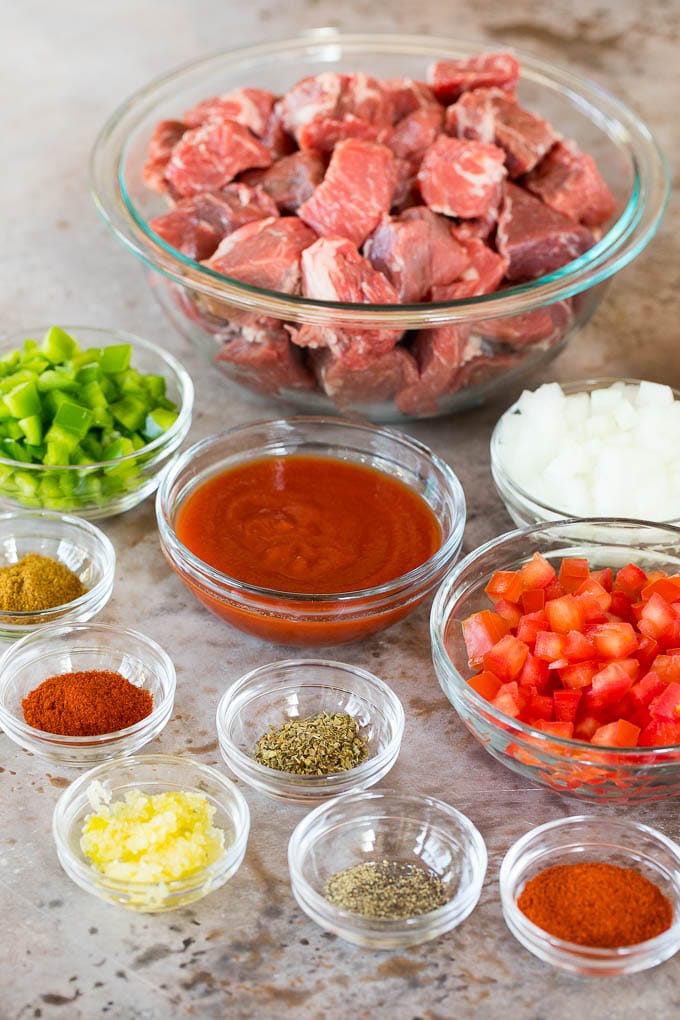 How do you make carne guisada?
Start by searing the beef until it's golden brown. Add peppers and onions to the pot, then cook until the veggies are soft. Stir in some flour to help thicken the sauce. Next, add in fresh diced tomatoes along with tomato sauce, beef broth and an assortment of seasonings. Cover the pot, and let the meat simmer on the stove until it's very tender. Add some cilantro, then serve and enjoy.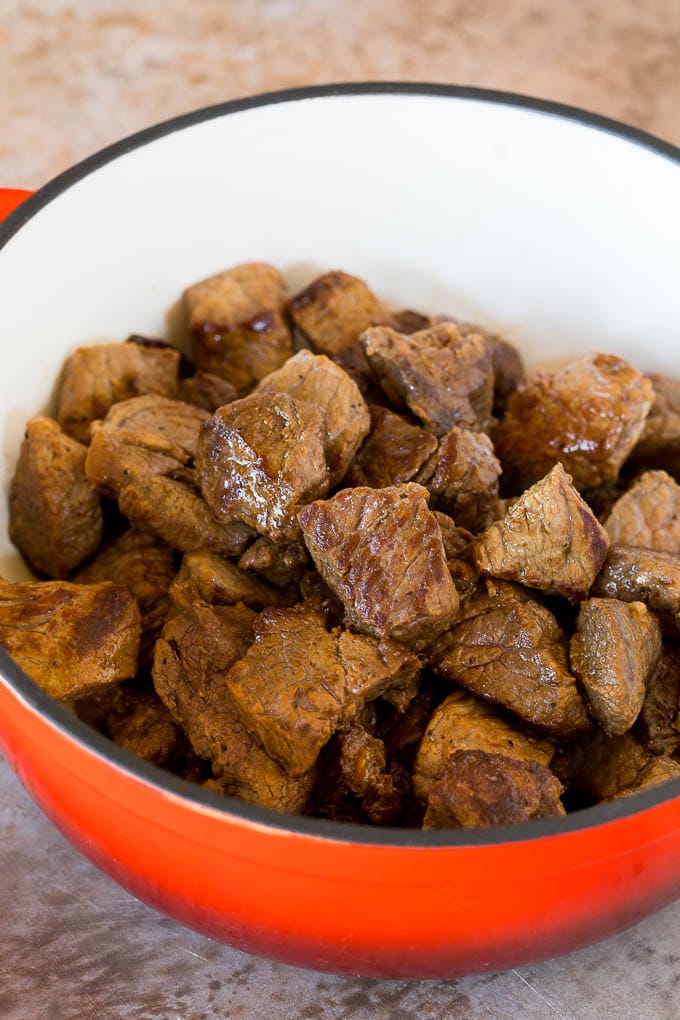 Tips for the perfect dish
Choose a well marbled cut of beef for this recipe such as beef stew meat or chuck roast.
You can make carne guisada up to two days before you plan to serve it. The meat will become even more flavorful as it sits in the sauce. Reheat the beef in a pan on the stove over low heat until warmed through.
This dish is a great candidate for the freezer. Place the cooked meat into airtight containers or freezer bags, and store in the freezer for up to 2 months. Thaw in the refrigerator over night, then reheat on the stove.
I like to serve my meat with pinto beans and rice, as well as homemade pico de gallo to add a fresh flavor and some color.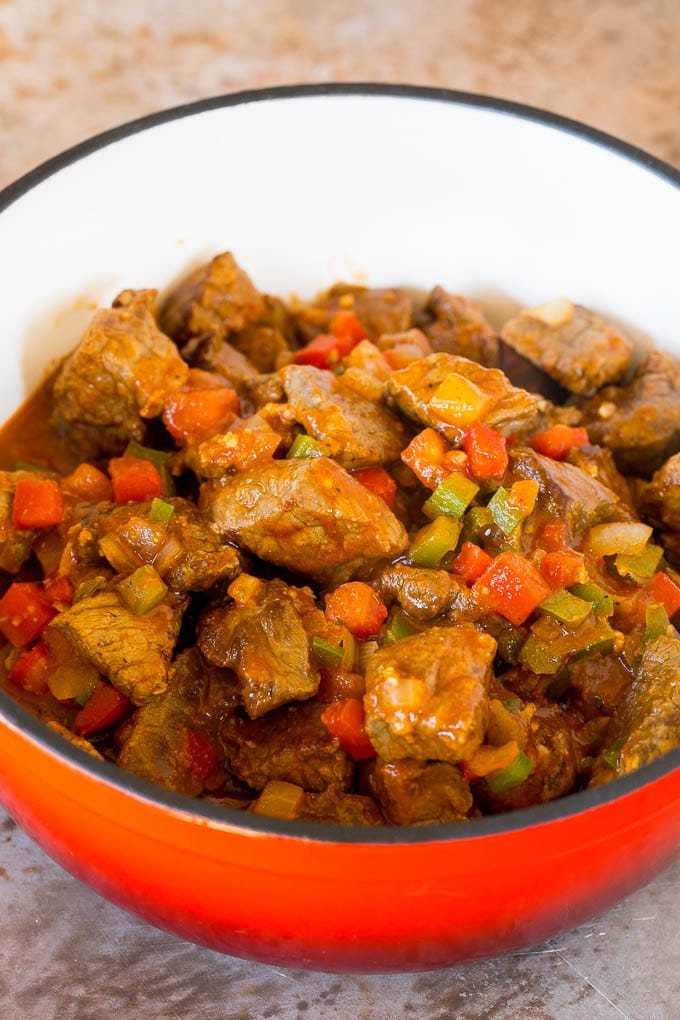 What is the difference between carne guisada and carne asada?
Carne guisada is a stewed beef dish, whereas carne asada is a grilled beef dish. Carne asada is made with steak, while guisada is more likely to be made with a less tender cut of beef. Both dishes are staples in Mexican cuisine!
Flavor Variations
While I find this meat to be delicious as-is, you can experiment with different ingredients to make the flavors your own.
Meat: Some varieties of this dish call for sirloin, which is a leaner cut of meat that does not need to be cooked as long. You can use sirloin, just be careful to make sure it doesn't overcook! This dish also works with pork shoulder, although that is not a traditional choice for guisada.
Spice: If you prefer your food on the hot and spicy side, feel free to add 1-2 canned chipotle peppers or 1/2 teaspoon (or more!) of crushed red pepper flakes.
Toppings: Top your stewed beef with cotija cheese, sliced green onions, diced tomatoes, fresh avocado or a drizzle of crema.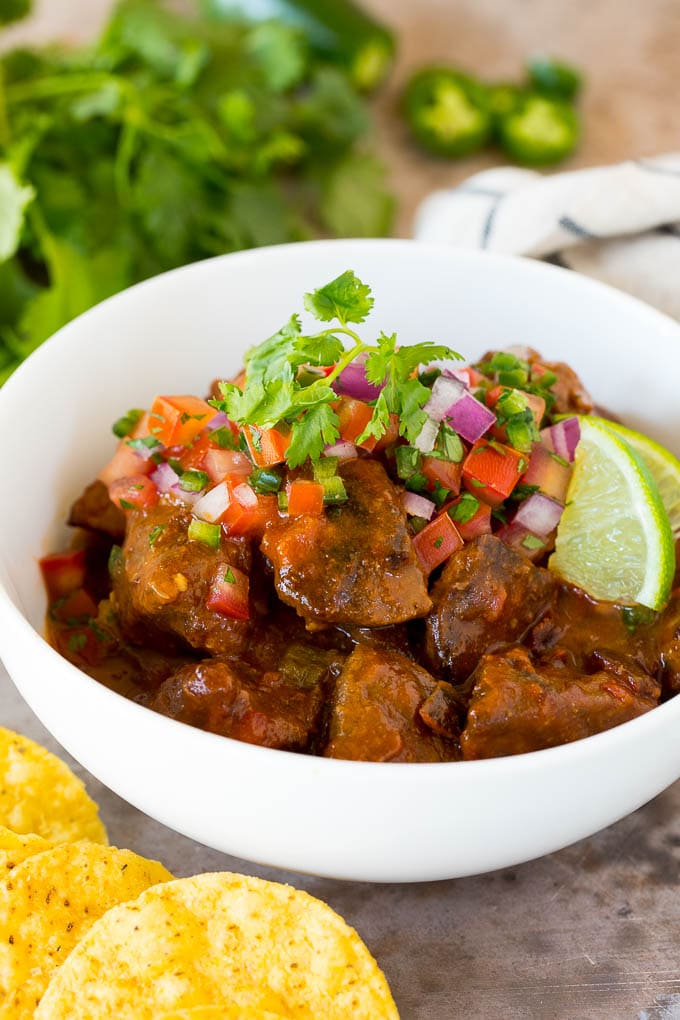 You simply can't go wrong with this dish; it's an easy way to bring authentic restaurant style flavors into the comfort of your own home!
More Mexican style recipes to try
Carne Guisada Video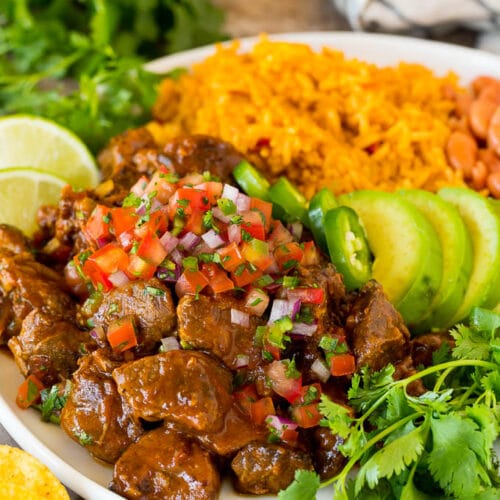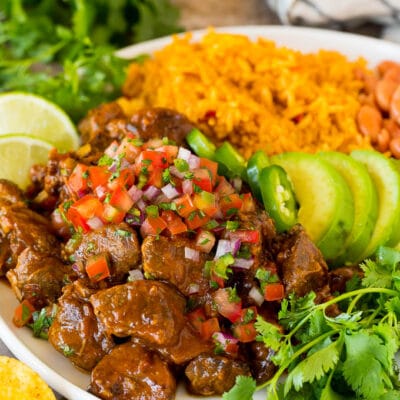 This Mexican style carne guisada is beef that is stewed with tomatoes, peppers and spices until it becomes tender and flavorful. Serve your stewed beef as-is, or use it to make burritos, enchiladas, or many other different specialty dishes!
Ingredients
1

tablespoon

vegetable oil

3

pounds

beef stew meat

or chuck roast cut into 1 inch pieces

2

teaspoons

kosher salt

1/2

teaspoon

black pepper

1/2

cup

onion

diced

1/2

cup

green bell pepper

diced

2

teaspoons

garlic

minced

2

tablespoons

all purpose flour

1

cup

fresh tomatoes

seeded and diced

1/2

cup

tomato sauce

1 1/2

teaspoons

ground cumin

1/2

teaspoon

dried oregano

2

teaspoons

chili powder

1

teaspoon

paprika

1 1/2

cups

beef broth

plus more if needed

2

tablespoons

cilantro

chopped
Instructions
Heat the oil in a large pot over medium heat.

Place the beef in a single layer in the pot. Season the beef with the salt and pepper.

Cook for 3-4 minutes per side or until golden brown. You may need to work in batches.

Return all the meat to the pot. Add the onion and bell pepper and cook for 4-5 minutes or until vegetables are softened.

Add the garlic and cook for 30 seconds.

Stir in the flour and cook for 1 minute.

Add the tomatoes, tomato sauce, cumin, oregano, chili powder, paprika and beef broth.

Stir to combine, then turn up the heat to medium-high until the mixture comes to a simmer.

Cover the pot. Reduce the heat to low, and simmer for 2 hours, stirring occasionally, or until beef is tender. If you feel like the mixture is getting too dry you can add more beef broth, 1/4 cup at a time.

Uncover the pot. Sprinkle with cilantro, then serve.
Nutrition
Calories:
370
kcal
|
Carbohydrates:
6
g
|
Protein:
52
g
|
Fat:
14
g
|
Saturated Fat:
6
g
|
Cholesterol:
141
mg
|
Sodium:
846
mg
|
Potassium:
954
mg
|
Fiber:
1
g
|
Sugar:
2
g
|
Vitamin A:
513
IU
|
Vitamin C:
13
mg
|
Calcium:
65
mg
|
Iron:
6
mg