These pinto beans and rice are the perfect sides for your Mexican meal. The mexican rice has a secret ingredient that makes it taste like it came from a restaurant, and the pinto beans are ready in just 10 minutes.
We eat Mexican food at least once a week, and these delicious beans and rice are on the menu every time!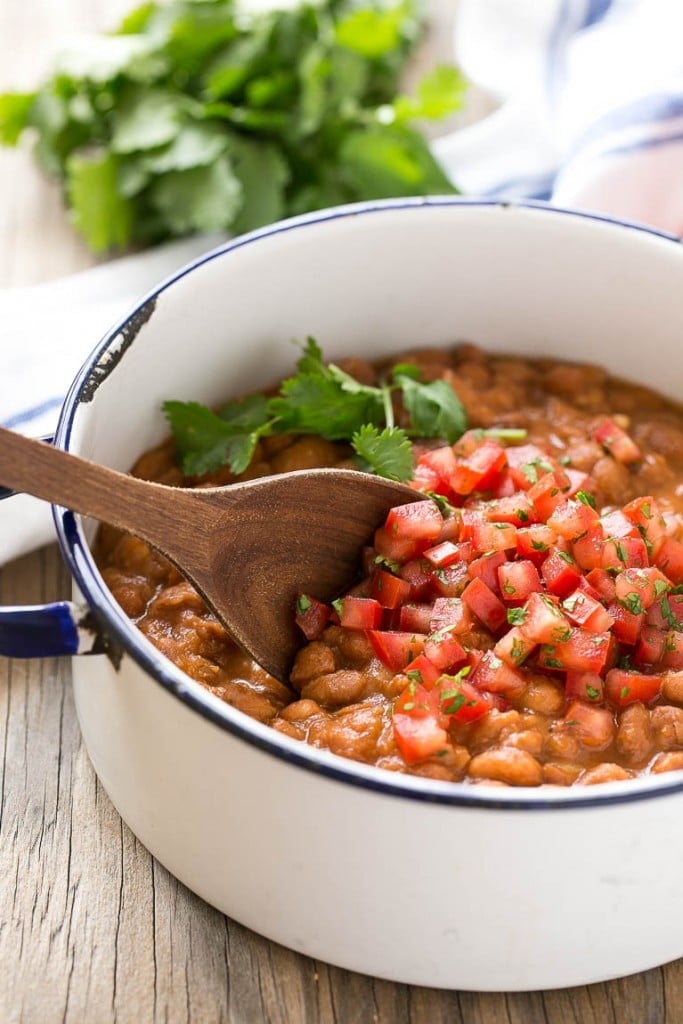 MY LATEST VIDEOS
Who loves Mexican food? I sure do. We have a Mexican restaurant in town that we've been going to for more than 10 years. The girls love it there too, but have you ever tried to eat out with three kids under the age of 4? If you have you can understand why we don't do it that often, it's not exactly a relaxing experience. Savor my food? More like scarf it down while the baby (who refused her high chair) sits on my lap and scoops up my food with her hands, getting some into her mouth and some all over my clothes. Because who needs clean clothes, and who needs a kids meal when mom's food looks so enticing? It's a good thing she's cute! So typically I make stay home and make my own mexican food like these pinto beans and rice!
My daughter Alice is in love with this restaurant's pinto beans. They call them cantina beans, and she likes them so much that she would be happy to just have beans and nothing else. I decided to try and replicate them at home. Now, I know that you're supposed to use dried beans, and that they are superior in most ways to canned. I tried it with dried beans and I just couldn't get it right, the beans turned to mush before the sauce thickened up. I use canned beans for this recipe; it works perfectly every time and it only takes about 10 minutes to make the recipe start to finish. Who can argue with that?
These easy Mexican pinto beans are seasoned with chili powder and simmered in a little chicken stock and tomato sauce. That's it, super easy but they taste like they've been cooking for hours. I top these beans with fresh pico de gallo like they do at our restaurant but that's totally optional.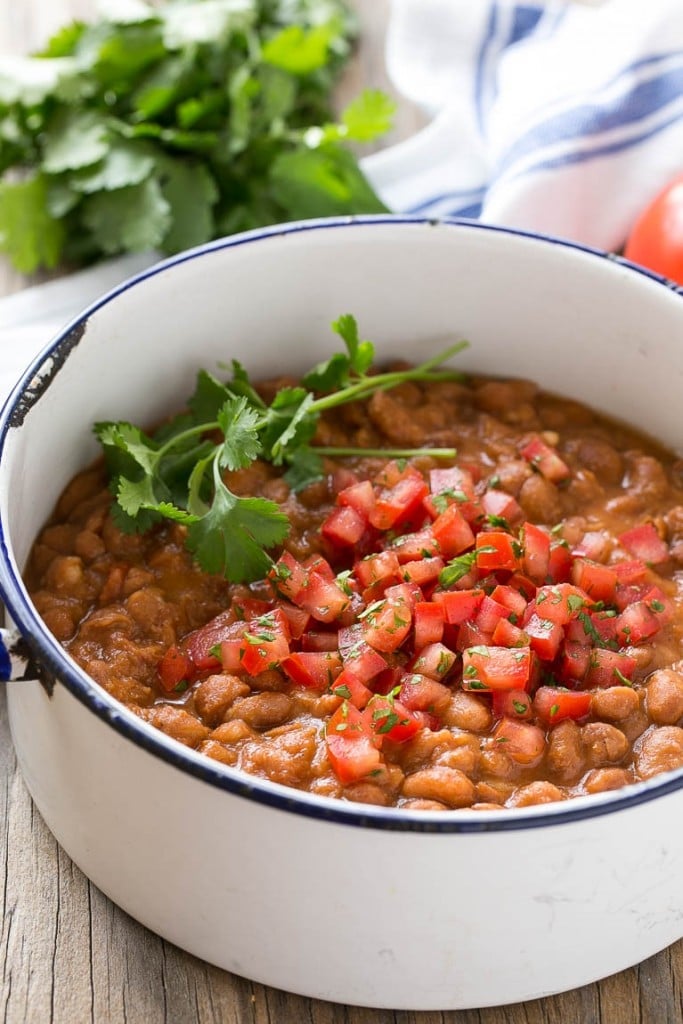 I have been experimenting with mexican rice recipes for years. I could never find a recipe that was quite right until one of my fellow twin moms posted her favorite recipe on her blog. I made a few tweaks to suit our taste, and here it is: what I consider to be the best mexican rice recipe. The secret ingredient? Bell pepper slices! They infuse the rice with flavor as it cooks and then the peppers get discarded at the end. Or you can eat them for a snack, that's what my husband prefers to do. My daughter Cora was patiently waiting for me to finish taking these pictures in hopes of snagging a taste.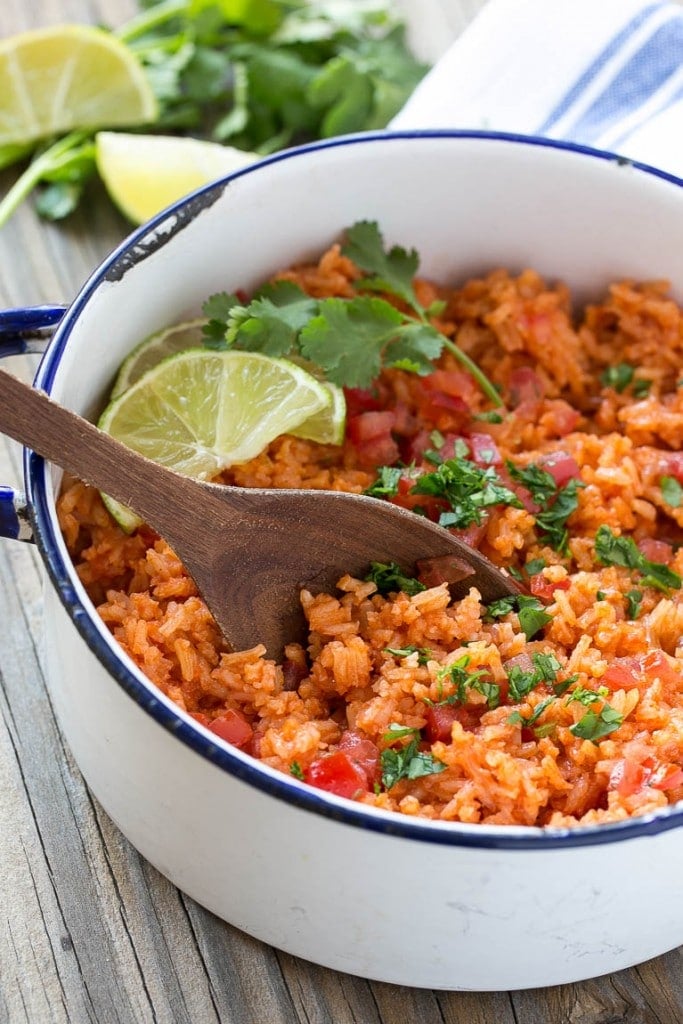 My local mom's group has a program called Helping Hands where we provide meals to other mothers who have just had babies. I love to bring them a taco kit for dinner – these rice and beans, some type of meat, taco shells and tortillas, shredded cheese, olives, salsa, lettuce and sour cream. It's perfect because it reheats well and everyone gets to create their own tacos so you don't have to worry about other people's picky eaters. So now that we've got our easy pinto beans and rice, stay tuned for the next component of my perfect mexican meal: Mexican carnitas.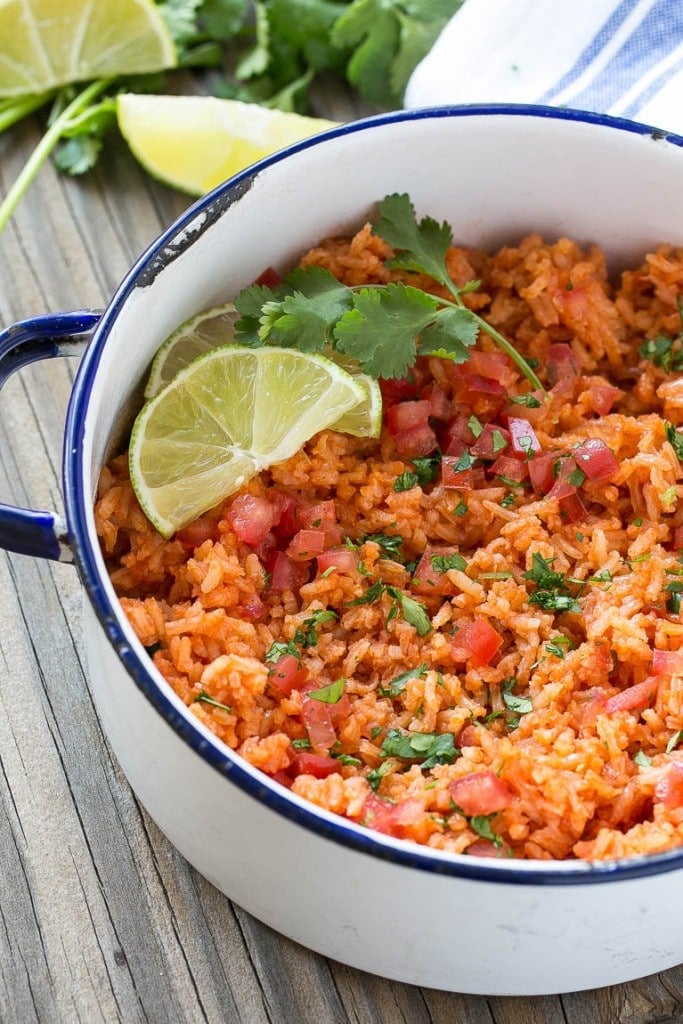 Still hungry? Follow Dinner at the Zoo on Facebook, Twitter, Instagram and Pinterest for more great recipe ideas!
More Mexican food recipes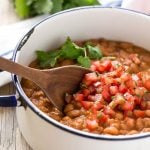 Pinto Beans and Rice
These pinto beans and rice are the perfect sides for your Mexican meal. The mexican rice has a secret ingredient that makes it taste like it came from a restaurant, and the pinto beans are ready in just 10 minutes.
Ingredients
For the Rice:
1

cup

long grain white rice

1

tablespoon

olive oil

8

oz

can of tomato sauce

1

red bell pepper

cored, seeded and quartered

1 1/2

cups

chicken stock or vegetable broth

3/4

teaspoon

kosher salt

1

teaspoon

garlic powder

1/4

teaspoon

chili powder

1/4

teaspoon

cumin

1/2

cup

diced tomatoes and 2 tablespoons chopped cilantro for garnish

optional
For the Beans:
15

ounce can

pinto beans

drained and rinsed

1/2

cup

chicken stock or vegetable broth

1

tablespoon

tomato paste

3/4

teaspoon

salt

3/4

teaspoon

chili powder

1/2

cup

pico de gallo for garnish

optional
Instructions
For the Rice:

Heat the olive oil in a 2 quart pot over medium heat. Add the rice and stir until the rice is coated in the oil. Cook for about 5 minutes or until the rice is toasted and lightly browned.

Add all of the remaining ingredients. I recommend doing this off the heat to avoid splattering.

Return the pot to the burner, bring the contents to a boil.

Cover the pot and turn the heat to low; cook for 17 minutes.

Take the pot off the heat and let it stand, covered for 5 minutes. Remove and discard bell peppers. Stir well. Garnish with tomatoes and green onions if desired.

For the Beans:

Put all of the ingredients in a pan over medium-high heat, bring to a simmer. Cook for 7-10 minutes until sauce has thickened. Taste and add more salt or chili powder if needed. You can also add a bit more chicken stock if the sauce gets too thick for your liking. Garnish with pico de gallo if desired.
Recipe Notes
Make Ahead: This rice is actually great reheated so it can be made a day in advance. It has enough moisture from the tomato sauce and chicken stock that it doesn't dry out in the fridge.
Little Helpers: Let your kids measure the spices and help take apart the bell pepper.
Nutrition Facts
Pinto Beans and Rice
Amount Per Serving
Calories 188
Calories from Fat 27
% Daily Value*
Total Fat 3g 5%
Cholesterol 2mg 1%
Sodium 950mg 40%
Potassium 378mg 11%
Total Carbohydrates 33g 11%
Protein 5g 10%
* Percent Daily Values are based on a 2000 calorie diet.