These steak fajitas contain tender marinated beef with plenty of colorful peppers and onions, all grilled to flavorful perfection. A restaurant style meal that can easily be made at home!
I make Mexican food at least once a week, my family really enjoys chicken taquitos, shrimp tacos, and of course, fajitas. I serve these steak fajitas with a variety of toppings so that everyone can make their own creations.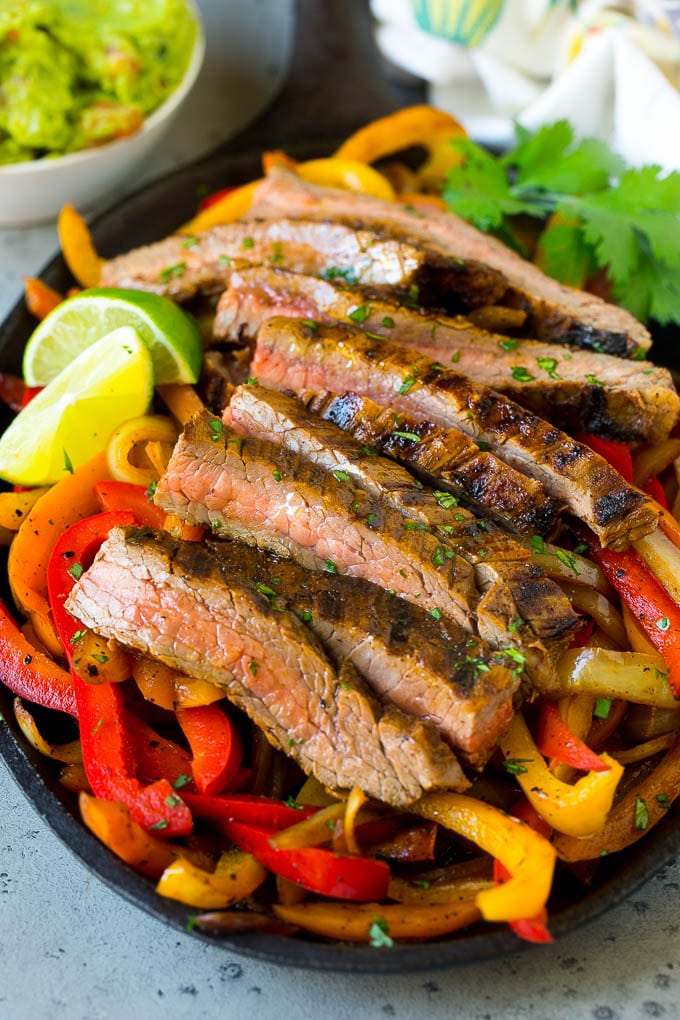 When I eat at a Mexican restaurant, I almost always order fajitas. You just can't go wrong with a sizzling platter of meat and veggies! These steak fajitas are tender, juicy and filled with zesty flavors. You won't believe how easy they are to make too!
How do you make steak fajitas?
The first step is to prepare your marinade, which is a mixture of lime juice, olive oil, garlic and spices. The meat and vegetables need to marinate for at least one hour, although if you have more time than that the meat will be even more flavorful. I like to cook my steak on the grill or indoors on a grill pan. Once the steak is mostly cooked through, I add my peppers and onions to the pan. Slice the steak, serve it over the veggies, and you'll be ready to eat.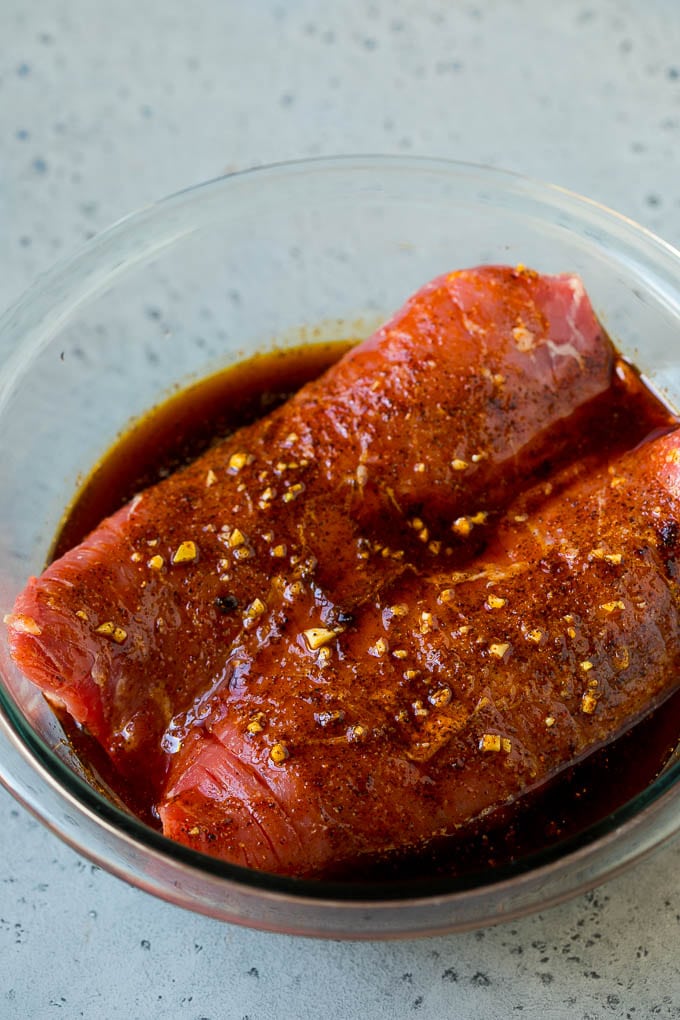 What cut of beef is best for fajitas?
This recipe calls for flank steak, which is a leaner cut of meat that cooks up tender and juicy. Be sure to slice your meat against the grain for the best results. Other great beef options include skirt steak, sirloin steak, or New York strip steak.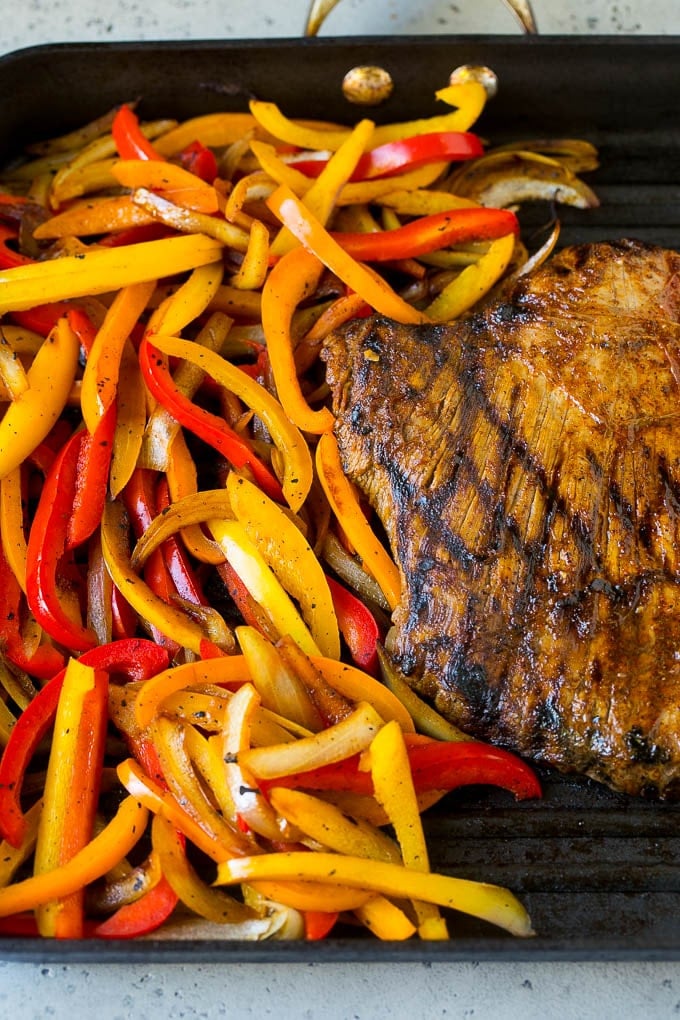 Tips for steak fajitas
While I typically grill my fajitas, you can also cook your meat and veggies in a skillet or even on a sheet pan under the broiler.
If you're using an outdoor grill, you can use a grilling basket to keep your vegetables contained, or simple grill larger thick slices of bell peppers and onions, then chop them up after they've been cooked.
I like to use an assortment of bell peppers, it makes for a more festive presentation. You can use all of one color pepper if you prefer, or even try other varieties of pepper such as fresh poblano or Anaheim chiles.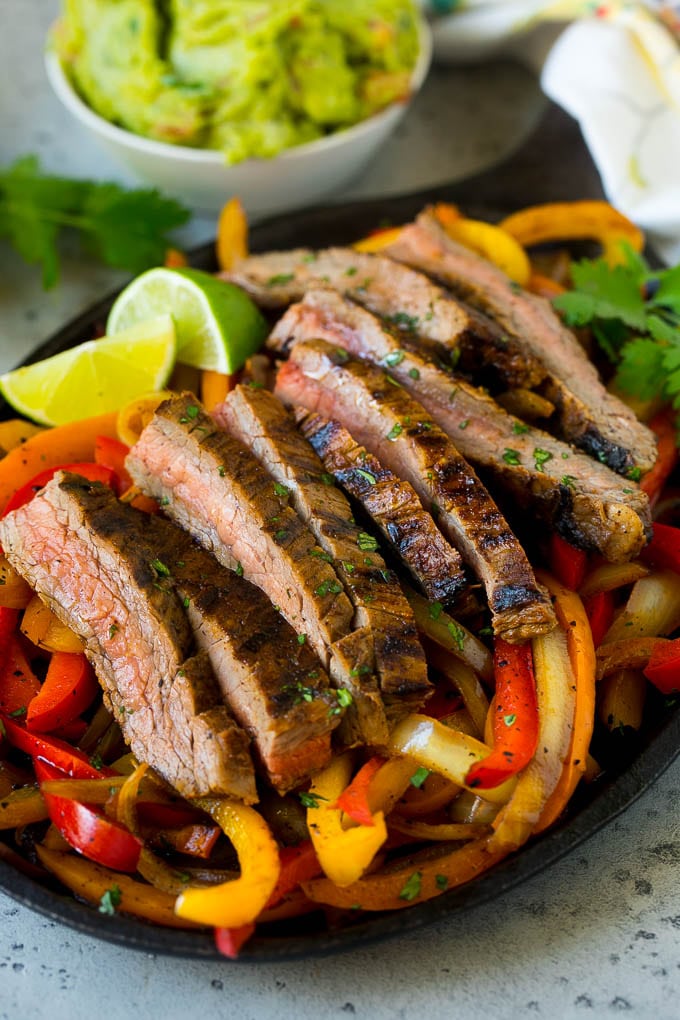 Steak temperatures
The best way to gauge when your steak is done is to use a digital thermometer. You can insert your thermometer into the thickest part of your meat to determine whether the steak is at your preferred level of doneness. I personally like to cook my steak fajitas to medium, I don't recommend cooking your meat over 150 degrees F as it will be more likely to be tough or dry.
Keep in mind that steak needs to rest for at least 5 minutes before you slice it, so it's best to take the meat off the heat a few degrees before you reach your desired temperature, as the meat will continue to cook as it rests.
Rare: 130 degrees F
Medium Rare: 135 degrees F
Medium: 145 degrees F
Medium Well: 150 degrees F
Well Done: 160 degrees F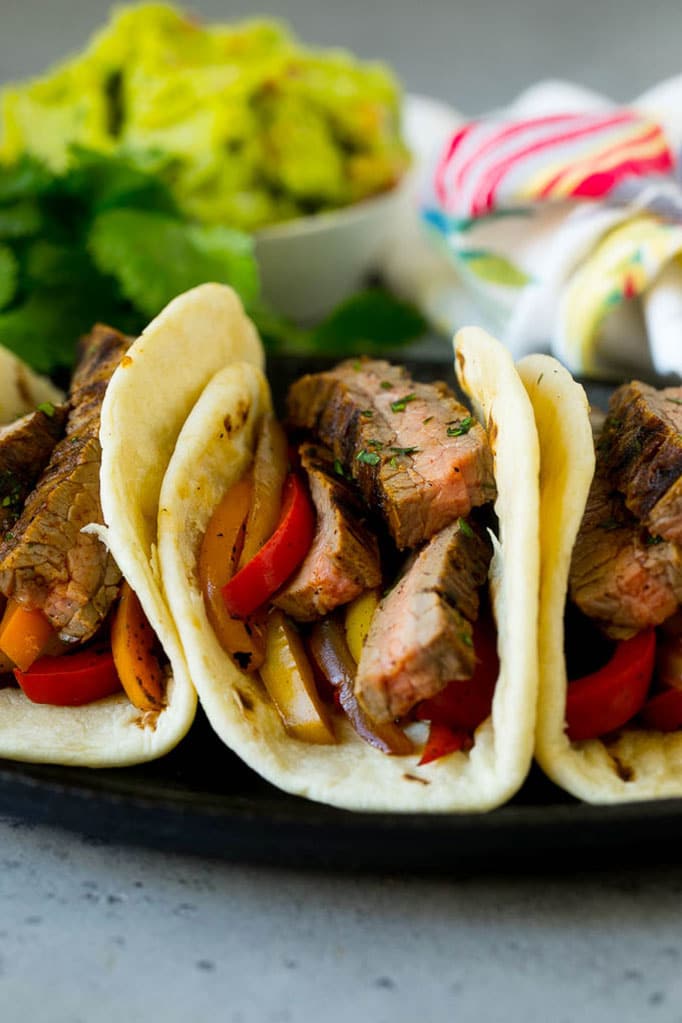 I serve my beef fajitas with a variety of toppings, some of my favorites include guacamole, sour cream, beans and rice, pico de gallo, lettuce and shredded cheese. My kids mix and match their favorite toppings and it makes for a meal that pleases every palate!
More Mexican food favorites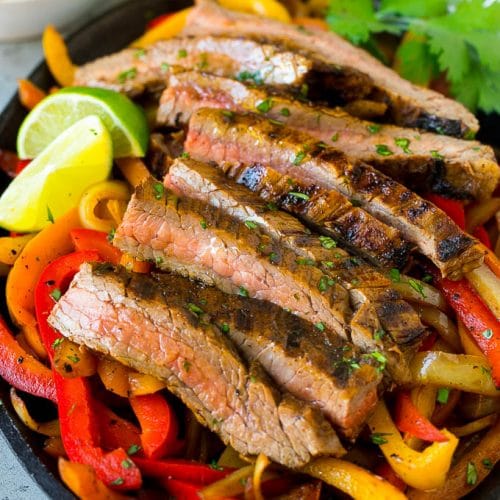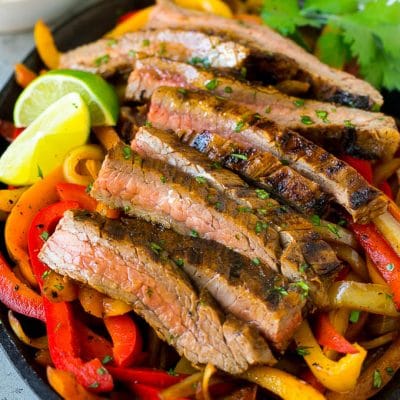 These steak fajitas contain tender marinated beef with plenty of colorful peppers and onions, all grilled to flavorful perfection. A restaurant style meal that can easily be made at home!
Ingredients
1 1/2

pounds

flank steak

1/4

cup

olive oil

1/3

cup

lime juice

1

teaspoon

sugar

1 1/4

teaspoons

salt

1/4

teaspoon

ground cumin

2

cloves

garlic

minced

1/4

cup

water

1 1/2

teaspoons

smoked paprika

1

teaspoon

onion powder

1 1/2

tablespoons

chili powder

1

yellow onion

thinly sliced

3

bell peppers

thinly sliced, can use red, orange, yellow or a combination of colors

2

tablespoons

chopped cilantro

tortillas, guacamole, sour cream, cheese, salsa etc for serving
Instructions
Place the olive oil, lime juice, sugar, salt, cumin, garlic, water, smoked paprika, onion powder and chili powder in a gallon sized resealable bag or large bowl.

Whisk until thoroughly combined.

Add the steak, onions and peppers to the marinade. Chill for at least 1 hour, or up to 6 hours.

Preheat an outdoor grill, grill pan, or skillet to medium high heat.

Add the steak and cook for 5-6 minutes per side for medium doneness. Remove from grill and let sit for 5 minutes.

Place the peppers and onions in the pan and cook for 4-5 minutes or until tender. Season with salt to taste.

Slice the steak thinly across the grain. Arrange the steak over the peppers and onions. Sprinkle with cilantro, then serve.
Nutrition
Calories:
276
kcal
|
Carbohydrates:
8
g
|
Protein:
25
g
|
Fat:
15
g
|
Saturated Fat:
3
g
|
Cholesterol:
68
mg
|
Sodium:
582
mg
|
Potassium:
605
mg
|
Fiber:
2
g
|
Sugar:
4
g
|
Vitamin A:
2700
IU
|
Vitamin C:
81.7
mg
|
Calcium:
43
mg
|
Iron:
2.6
mg