This acai bowl recipe is a smoothie made with fruit, acai berry puree and yogurt that's served in a bowl and finished with a fun and colorful variety of toppings.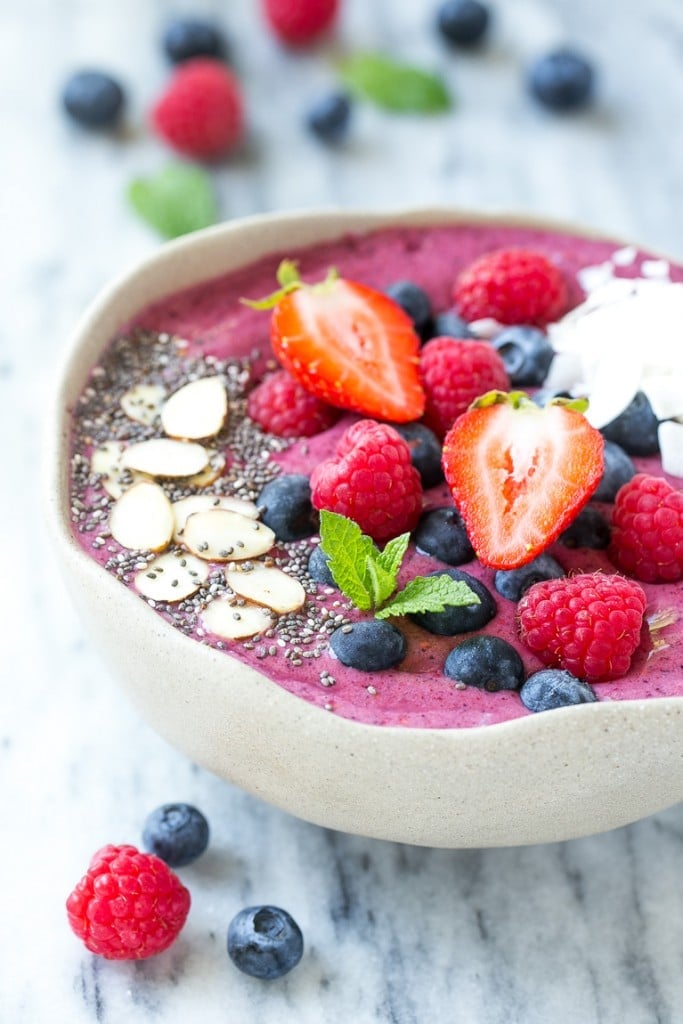 We are a family of smoothie lovers, and I decided to shake things up a bit by trying something a little different in the smoothie department. This acai bowl recipe combines a variety of nutritious foods to create a unique and colorful snack or breakfast that my kids can't get enough of! The adults love these acai bowls too, how could anyone resist something so colorful?!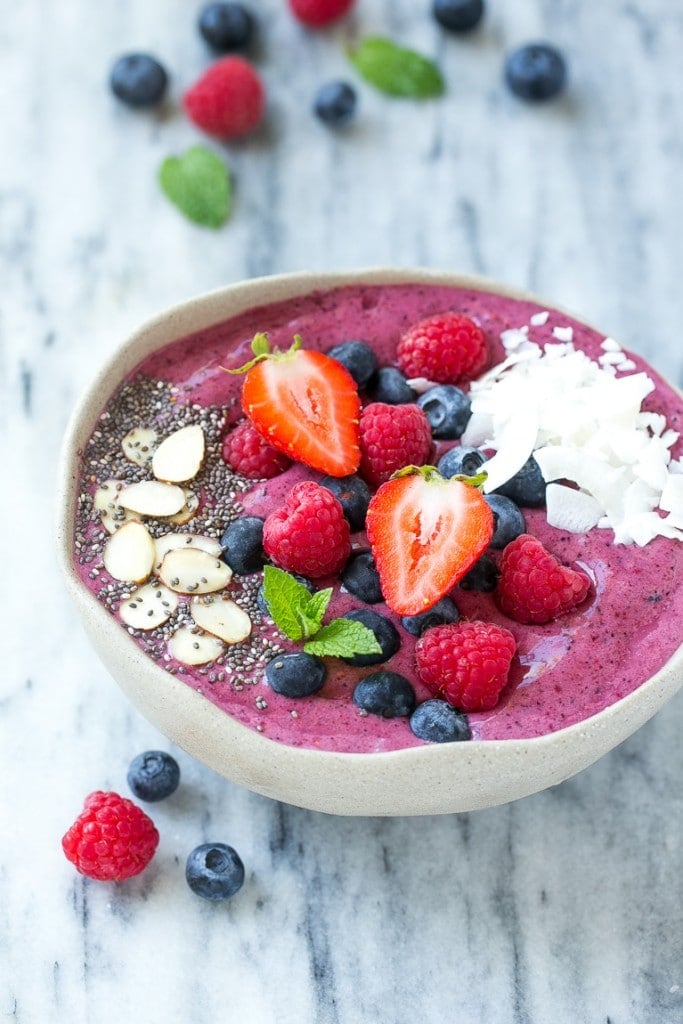 These acai bowls are actually very quick and easy to make, and your family will never guess that they're full of good-for-you foods! The recipe starts with a smoothie base. I used frozen banana, apple juice, vanilla yogurt, frozen berries and acai berry puree. Let's talk about the acai berries first – they're a small fruit native to Central and South America and are considered a superfood because of their high antioxidant levels. They're definitely becoming a trendy ingredient, there are acai smoothie bowl shops popping up everywhere in my town! You can find packets of acai berry puree in the freezer section of most grocery stores, either with the frozen fruit or the cans of frozen juice. Just break up your acai packet into pieces, toss it into the blender with the other ingredients and you're ready to go!
What you end up with is a thick and creamy smoothie – you don't even taste the acai, it marries nicely with the other fruit flavors.
You want your acai smoothie to be on the thick side because you're going to pour it into bowls and eat it with a spoon.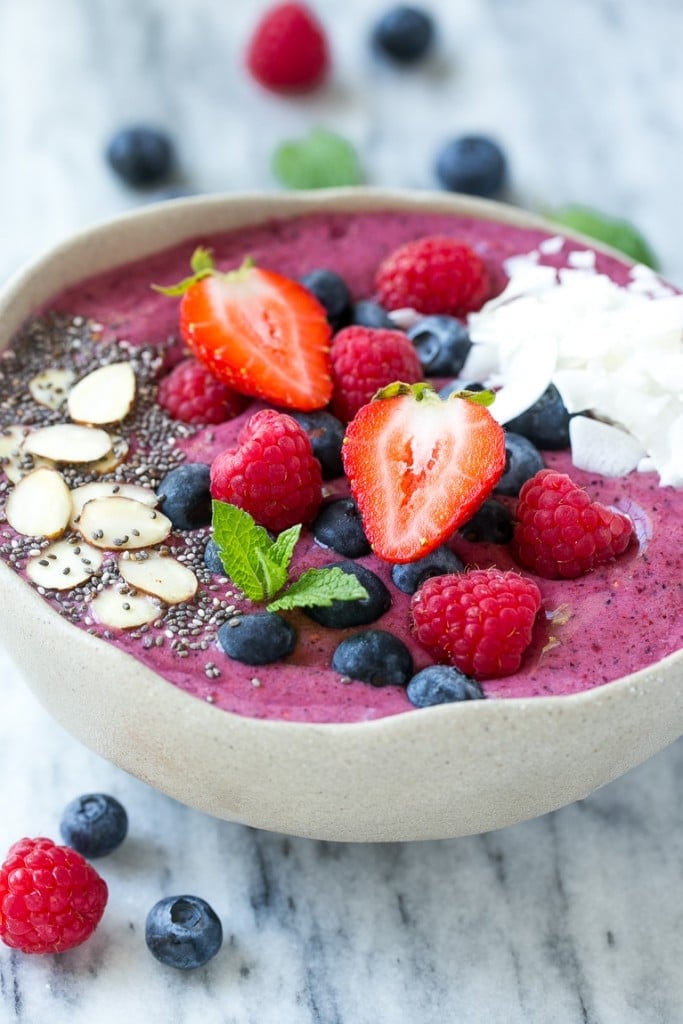 Next up comes the fun part – the toppings! I top my acai bowls with fresh fruit and nuts; sometimes I also do coconut or granola. In this case I topped these acai bowls with fresh berries, sliced almonds, shredded coconut and a sprinkling of chia seeds. It's totally fine to get creative in the toppings department. You could even set out a topping bar and let everyone design their own. Regardless of what toppings you choose, these acai bowls will be a big hit!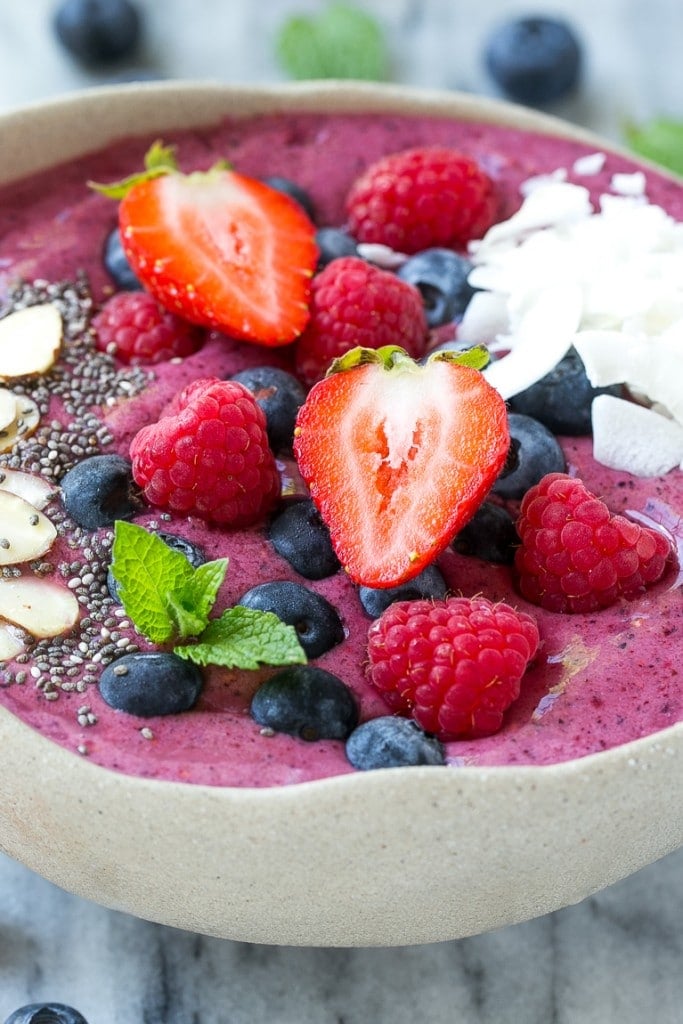 Still hungry? Follow Dinner at the Zoo on Facebook, Twitter, Instagram and Pinterest for more great recipe ideas!
This post was originally sponsored by Honey Bunches of Oats.
Easy Acai Bowl
This recipe for an acai bowl is a smoothie made with fruit, acai berry puree and yogurt that's served in a bowl and finished with a fun and colorful variety of toppings.
Ingredients
1

cup

of apple juice

1

large banana

, sliced

1 1/2

cups of frozen berries

1/2

cup

vanilla greek yogurt

1

tablespoon

honey

1

frozen packet of acai berry puree

(100 grams), broken into pieces

Assorted toppings such as sliced almonds

, berries, shredded coconut, granola, chia seeds, sliced banana, mint sprigs, etc.
Instructions
Place the apple juice, banana, frozen berries, yogurt, honey and acai puree in the blender.

Blend until thoroughly combined and smooth.

Pour the smoothie into 2 deep bowls.

Arrange the desired toppings over your smoothie bowls and serve.
Nutrition
Calories:
187
kcal
|
Carbohydrates:
43
g
|
Protein:
5
g
|
Cholesterol:
1
mg
|
Sodium:
23
mg
|
Potassium:
387
mg
|
Fiber:
1
g
|
Sugar:
34
g
|
Vitamin A:
0.8
%
|
Vitamin C:
7.6
%
|
Calcium:
1
%
|
Iron:
1.7
%