These St. Patrick's Day recipes include festive options for main courses, side dishes, desserts, appetizers and drinks. The ultimate Saint Patrick's Day menu planning guide!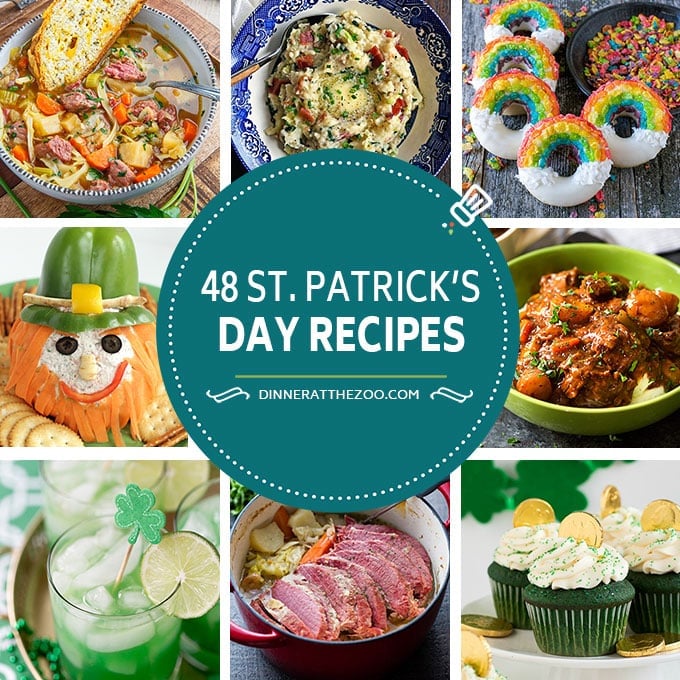 Saint Patrick's Day is right around the corner and you may be wondering what to do for meal planning on this festive occasion. St. Patrick's Day recipes are fun and many have bright colors (with rainbows and all!). Cabbage Roll Soup could also be considered a St. Patrick's Day recipe and it's one we really love.
I wanted to make your menu planning incredibly simple and give you sort of a "one-stop-shop" for recipes. I have gathered 48 of the best St. Patrick's Day recipes. Starting with appetizers and ending with desserts, I even cover your festive drink options!
48 St. Patrick's Day Recipes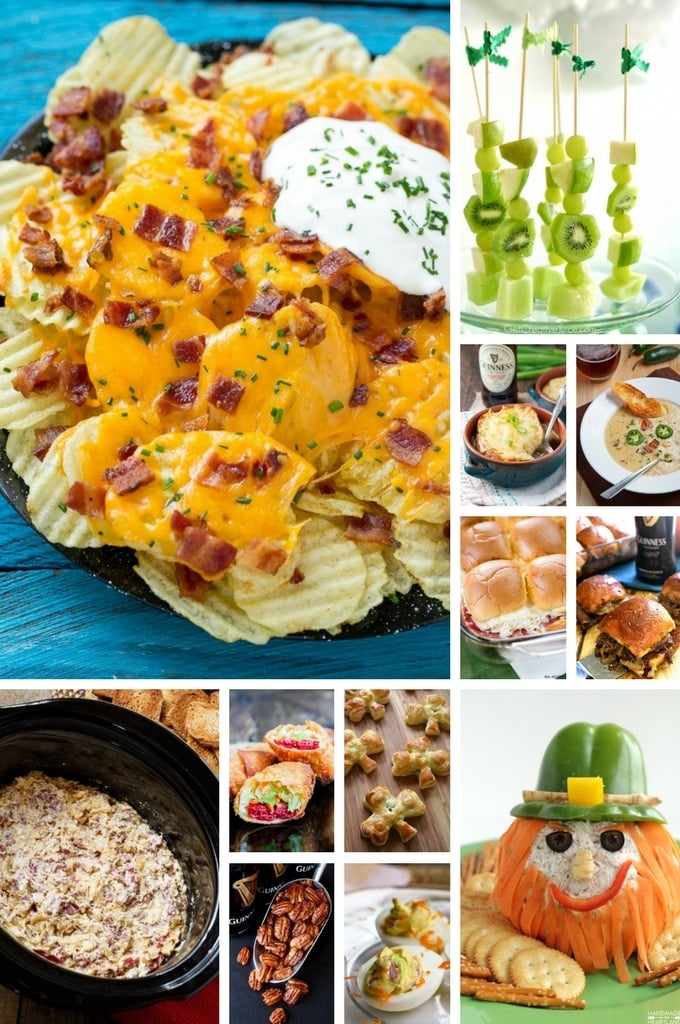 APPETIZERS
MAIN COURSE
Pork Chops in Irish Whiskey Cream Sauce
SIDE DISHES
DESSERTS
Leprechaun Snack Mix

(recipe below!)
DRINKS
This leprechaun snack mix is a sweet blend of white chocolate muddy buddies, rainbow marshmallows and green M&M candies. Kids absolutely adore this fun and festive snack! It does require a little work to separate out the marshmallows from the Lucky Charms cereal box and the green M&M's from a mixed bag, but my girls had the best time doing the sorting for me.
If you don't want to take the time to sort out the marshmallows and M&M's, you can actually buy just the cereal marshmallows on Amazon, and many stores sell single colors of M&M's, or you can use the mint variety which typically comes in shades of green.
Do you make a special St. Patrick's Day recipe every year out of tradition? I'd love to hear about it in the comments below.
Leprechaun Snack Mix
Serves 8
4 1/2 cups Rice Chex cereal
2/3 cup white chocolate chips
2 tablespoons butter
1 cup powdered sugar
1 cup rainbow marshmallows such as Lucky Charms Marshmallows
1 cup green M&M candies
Place the white chocolate chips and butter in a large bowl. Microwave in 30 second increments until melted. Stir until smooth.
Pour the cereal into the white chocolate and gently stir to coat evenly.
Pour the cereal mixture into a gallon sized resealable bag. Add the powdered sugar to the bag and shake to coat. Spread the chex onto a sheet pf parchment paper and let dry.
In a large bowl, mix together the white chocolate chex, marshmallows and M&Ms. Serve