This braised cabbage recipe is wedges of cabbage slow cooked with carrots, onions, butter and seasonings until tender. The absolute best way to eat cabbage!
When I'm looking for a simple yet satisfying veggie dish to go along with a meal, I turn to glazed carrots, parmesan zucchini or this succulent braised cabbage.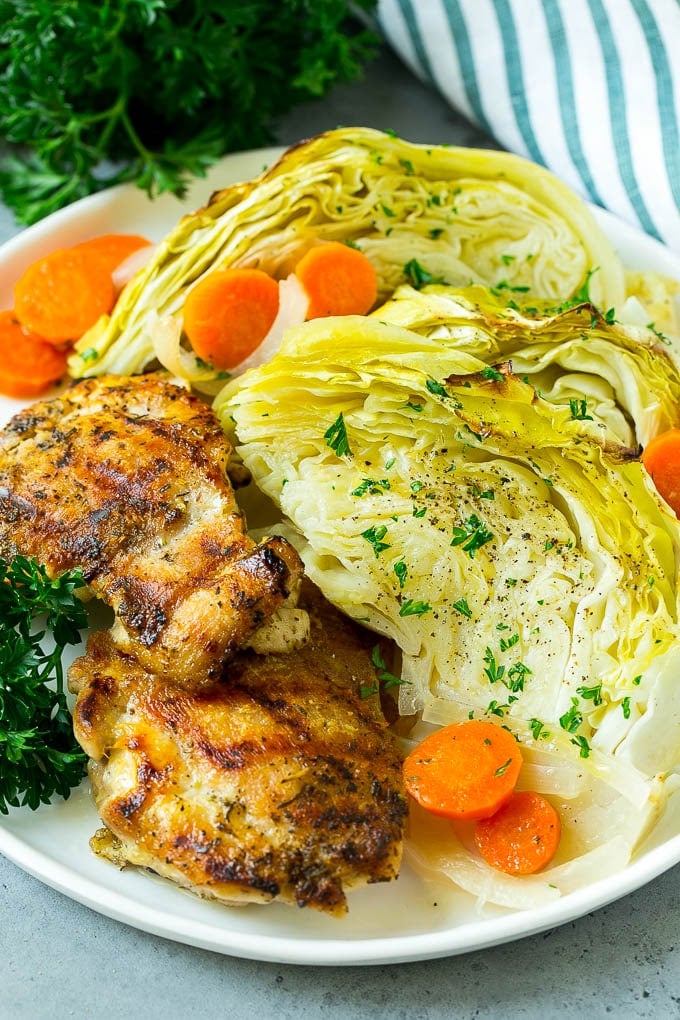 In my opinion, cabbage is a totally underrated vegetable. It's inexpensive, readily available year round and is totally delicious when prepared properly. This braised cabbage is my family's favorite way to eat cabbage. The long cooking time transforms the cabbage into a tender and flavorful side dish that is mild enough for even the kids to enjoy.
What is braising?
Braising is a method of cooking that involves slow cooking meat or vegetables with a small amount of liquid in a covered container. It's a great way to tenderize tough cuts of meat, and many food greatly benefit in flavor and texture from being braised.
How do you make braised cabbage?
The first step is to cut your cabbage into wedges. I use a small to medium sized cabbage for this recipe, but if you're feeding a crowd, you can grab a large cabbage and double the rest of the ingredients in the recipe. Be sure to leave the core attached so that the wedges will hold together in one piece.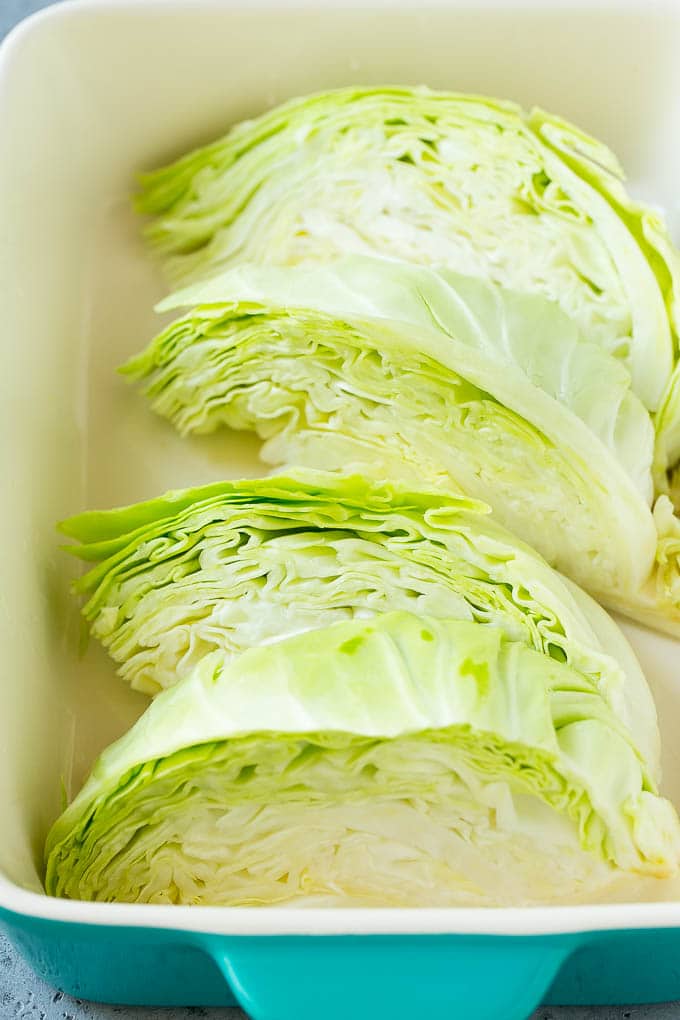 After the cabbage wedges go into the pan, it's time to add the carrots and some sliced onion. The finishing touch is butter, salt and pepper, along with a little chicken broth. The pan is covered and everything gets braised until tender.
How do you slice a cabbage?
The best way to slice a cabbage for this recipe is to cut a thin slice off the bottom of the cabbage core. From there, cut the cabbage in half lengthwise, then cut each half into 4 equal pieces.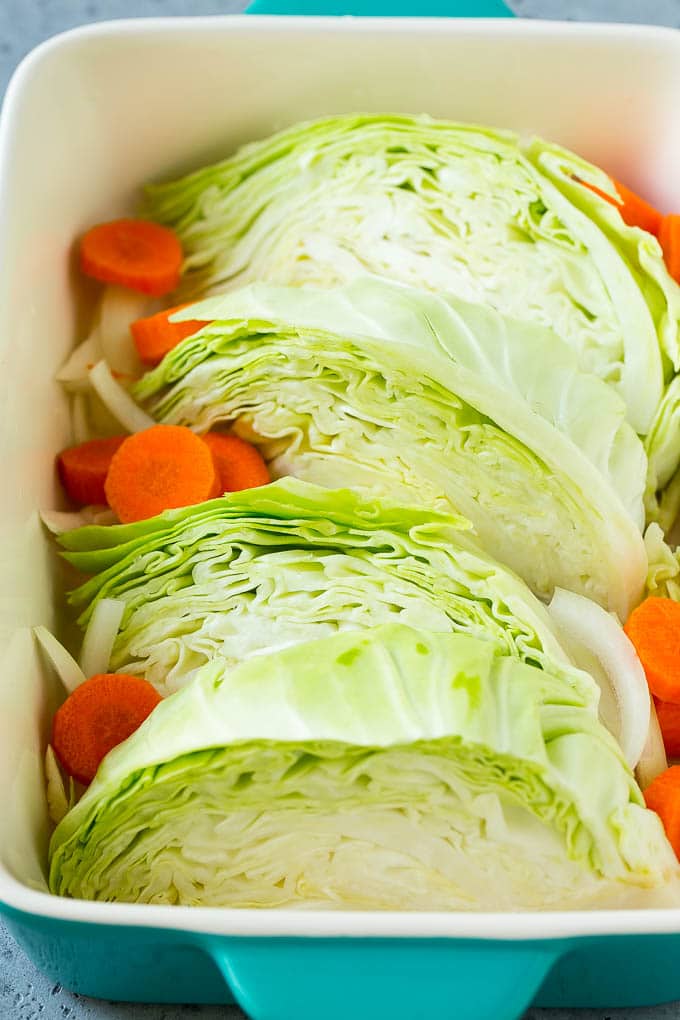 Braised cabbage variations
This is a simple recipe, yet there are so many different ways to customize it to make it your own. Here are some of my favorite add-ins to this dish.
Bacon: Add 1/2 cup of cooked crumbled bacon right before serving.
Garlic: Add 1 teaspoon minced garlic when you add the carrots and onions.
Vegan: Substitute olive oil for the butter and vegetable broth for the chicken broth.
Spicy: Sprinkle crushed chili flakes over the top of the cabbage before it goes into the oven.
Cheese: Add 1/2 cup parmesan cheese after you uncover the dish for the final bake.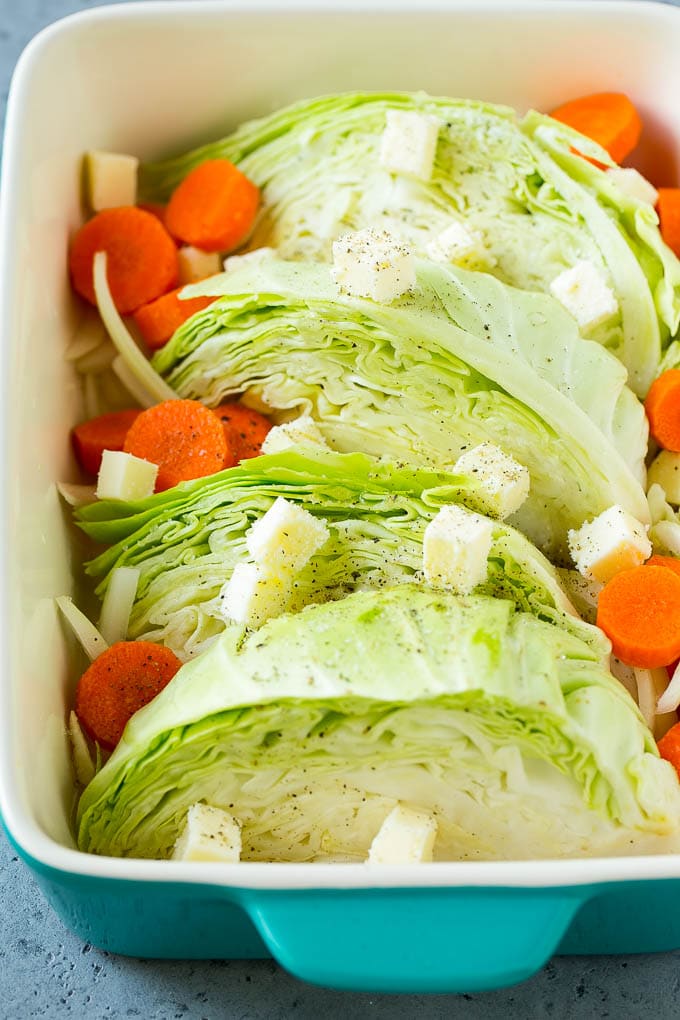 What do you serve with braised cabbage?
I serve braised cabbage as a side dish alongside a starch and a protein. Braised cabbage pairs perfectly with chicken, pork and beef.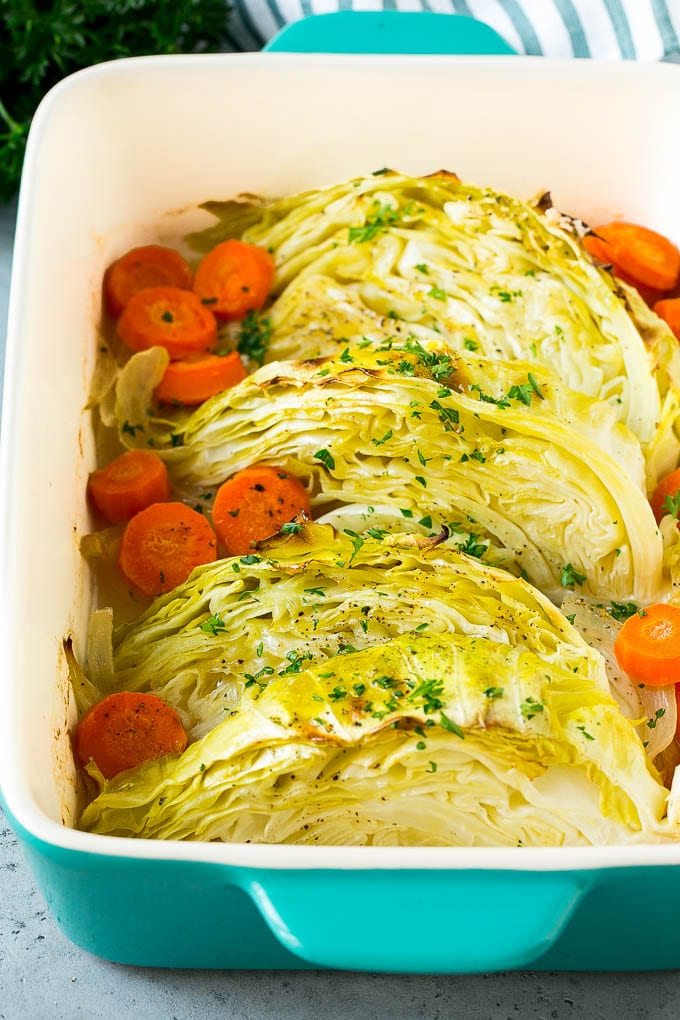 Once you try this cabbage, you'll want to make it all the time. It's totally worth the long wait time as it braises. I often make this recipe on the weekends when we're home relaxing and I have a little more time to prepare dinner. This one is sure to get rave reviews!
Braised Cabbage
This braised cabbage recipe is wedges of cabbage slow cooked with carrots, onions, butter and seasonings until tender. The absolute best way to eat cabbage!

Ingredients
1

head

cabbage

cut into 8 wedges

1/2

cup

onion

sliced

2

carrots

peeled and sliced

1/2

cup

chicken or vegetable broth

1/4

cup

butter

cut into small pieces

salt and pepper to taste

2

tablespoons

chopped parsley

cooking spray
Instructions
Preheat the oven to 325 degrees F. Coat a baking dish with cooking spray.

Arrange the cabbage wedges in the baking dish, then scatter the carrots and onions around the cabbage.

Pour the chicken broth into the pan. Sprinkle the butter pieces over the cabbage and season everything with salt and pepper to taste.

Cover the dish with foil, and bake for 2 hours. Uncover the dish halfway through the bake time and use tongs to carefully flip the cabbage wedges over.

Increase the oven temperature to 425 degrees F. Uncover the dish and bake for 15-20 minutes or until cabbage starts to brown at the edges.

Sprinkle with parsley, then serve.
Nutrition
Calories:
89
kcal
|
Carbohydrates:
8
g
|
Protein:
1
g
|
Fat:
5
g
|
Saturated Fat:
3
g
|
Cholesterol:
15
mg
|
Sodium:
82
mg
|
Potassium:
256
mg
|
Fiber:
3
g
|
Sugar:
4
g
|
Vitamin A:
2835
IU
|
Vitamin C:
43.1
mg
|
Calcium:
54
mg
|
Iron:
0.6
mg