This pork chop brine is a blend of salt, sugar, herbs and spices that infuses the meat with flavor and helps to keep it tender and juicy. A good brine is the secret to perfectly cooked chops every time!
I always brine my meat when I have time, it's a sure fire way to get great results with minimal effort. I use chicken brine, turkey brine and this pork chop brine; you won't believe how this simple salt mixture can impart so much flavor.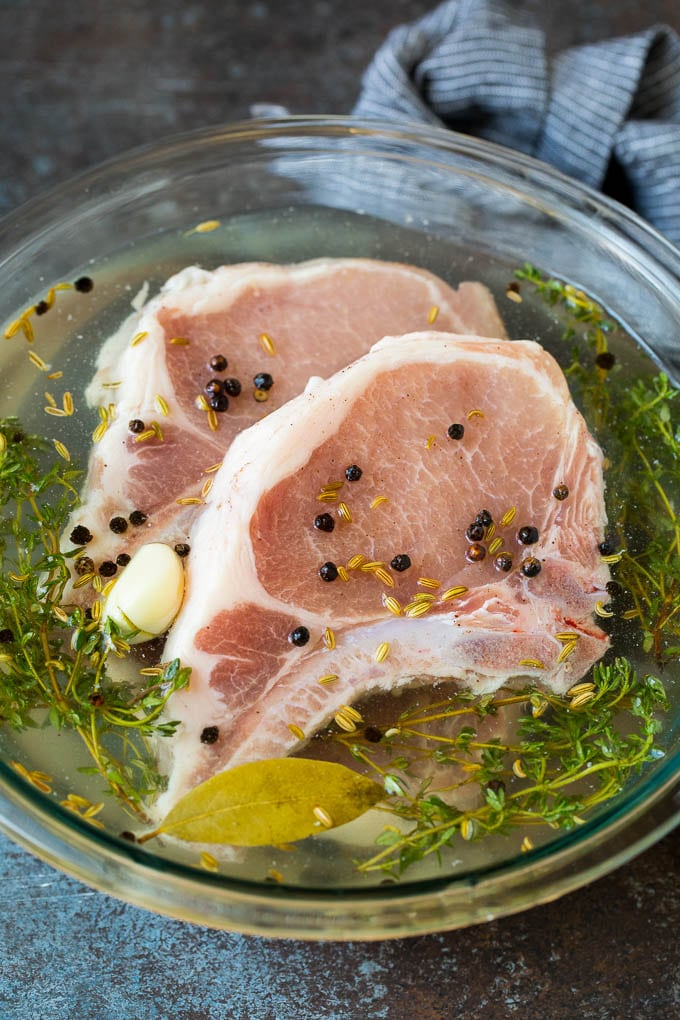 In my opinion, pork chops are an underrated cut of meat. They're inexpensive, readily available and full of flavor. This cut of meat is fairly lean, so a good pork chop brine is the key to achieving perfectly juicy results time and time again.
Why do you brine pork chops?
Brining is essentially a form of marinade with a higher salt content. The salt adds flavor to the pork, and also helps it to retain moisture, which mean you don't have to worry about dry pork chops! Using a brine makes the meat more flavorful and tender than a chop that has not been immersed in brine.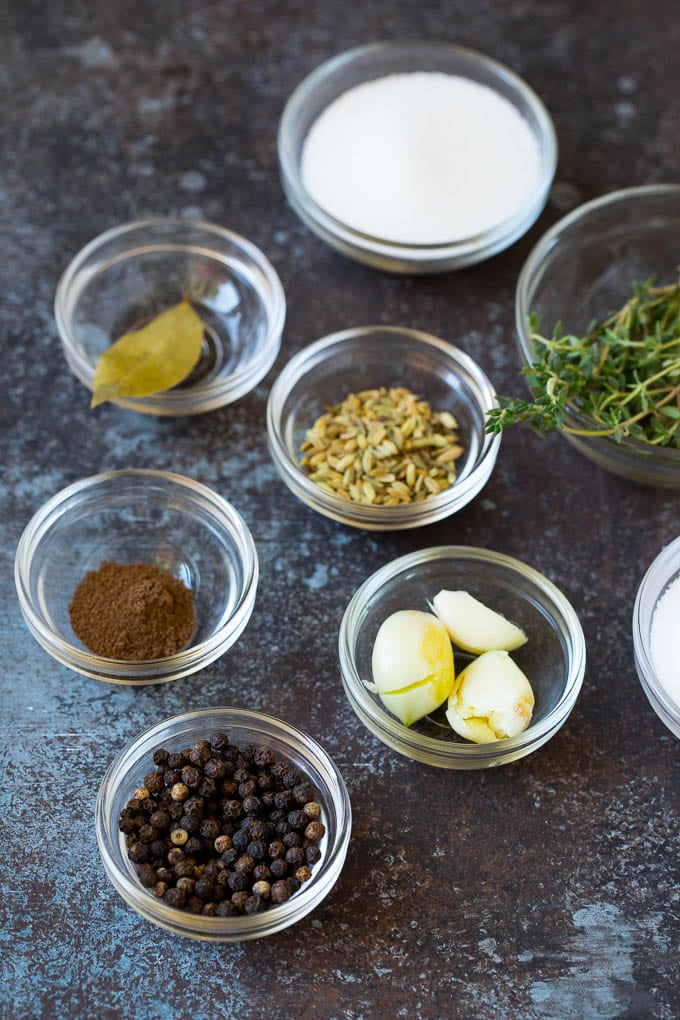 How do you make pork chop brine?
Start by dissolving salt and sugar in boiling water. Add garlic, peppercorns, herbs and spices to the pot, then turn off the heat and let the mixture cool. Pour in cold water, then add pork chops to the brine. Let the chops soak up the brine, then cook your pork as desired.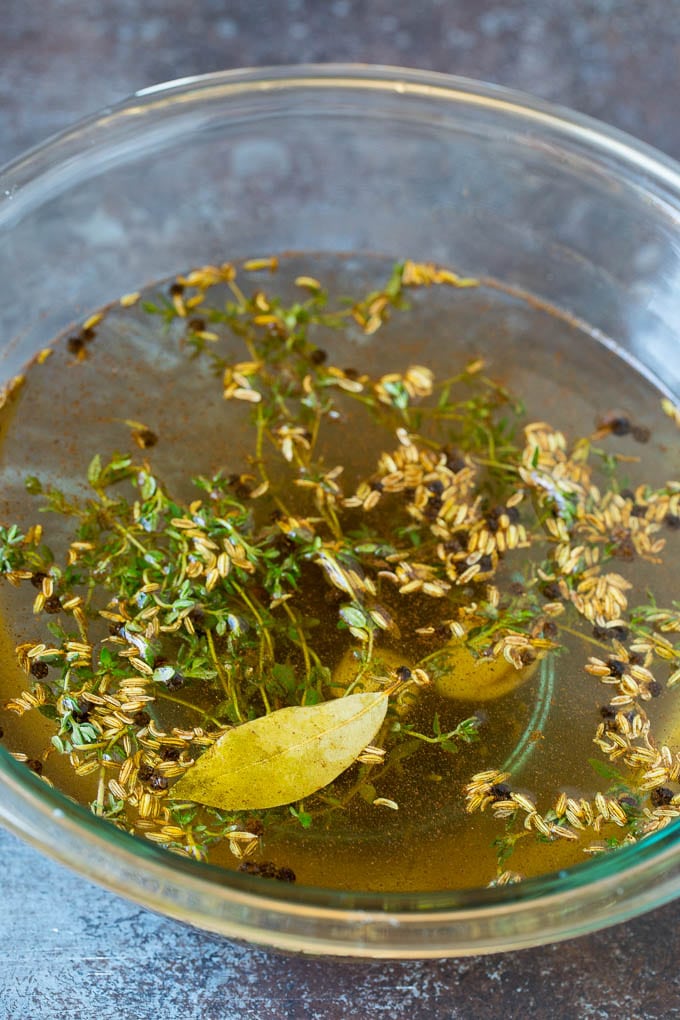 Tips for the perfect brine
Make sure that your brine is cool before you add the pork. If you need it to cool down faster, you can add some ice cubes.
This recipe calls for kosher salt. If you'd prefer to use table salt, use 3 1/2 tablespoons.
You can make the brine up to 3 days before you plan to use it.
I typically brine my pork in a very large bowl, but a brining bag will also work. You can find brining bags online or at kitchen stores.
If the brine doesn't completely cover your chops, it's fine to add a little more water until they're fully submerged.
This recipe calls for fennel seeds and allspice, which are somewhat unusual ingredients but add SO much complex flavor. You can find both items in the spice aisle of every grocery store.
How long should you brine pork chops for?
I recommend brining your pork for at least 6 hours, but no longer than 24 hours. If you go for less than 6 hours, the pork won't have time to absorb all the flavors. Do not exceed 24 hours or the meat can become overly salty. I typically aim for about 12 hours when possible.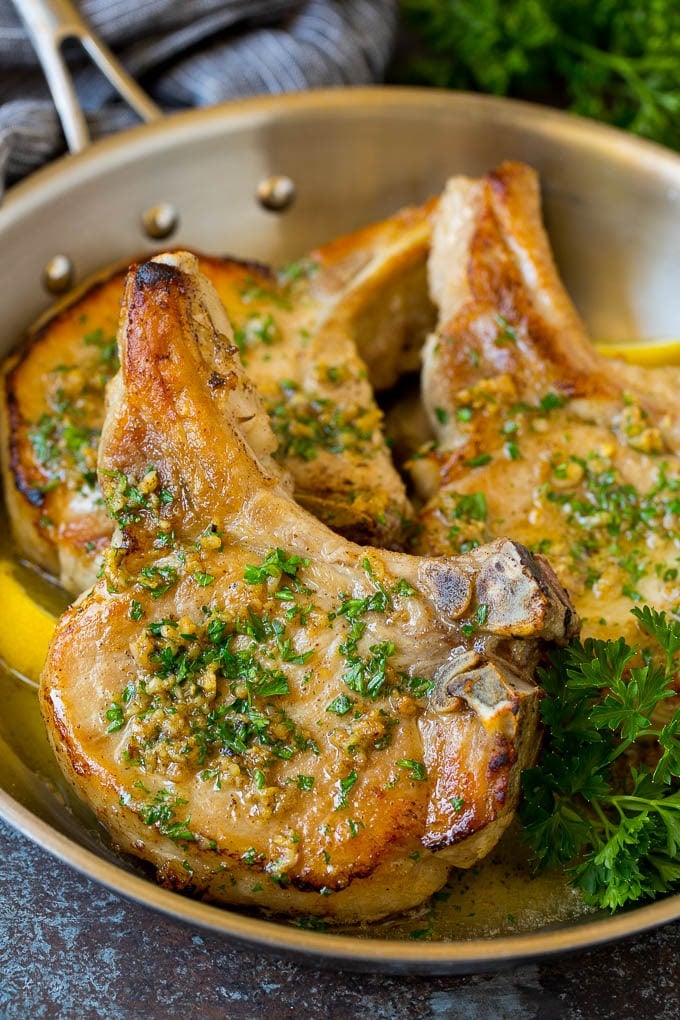 Flavor Variations
This pork chop brine is great as-is, but you can add other ingredients to customize the flavors to your tastes.
Sweetener: Instead of granulated sugar, try using brown sugar, honey or maple syrup.
Spices: Feel free to add other spices to the mix such as BBQ rub, smoked paprika, onion powder, dried chiles or whole cloves.
Herbs: Swap out the fresh thyme for sprigs of rosemary, sage or parsley.
Citrus: Add 1/2 cup of sliced lemons or oranges to the brine.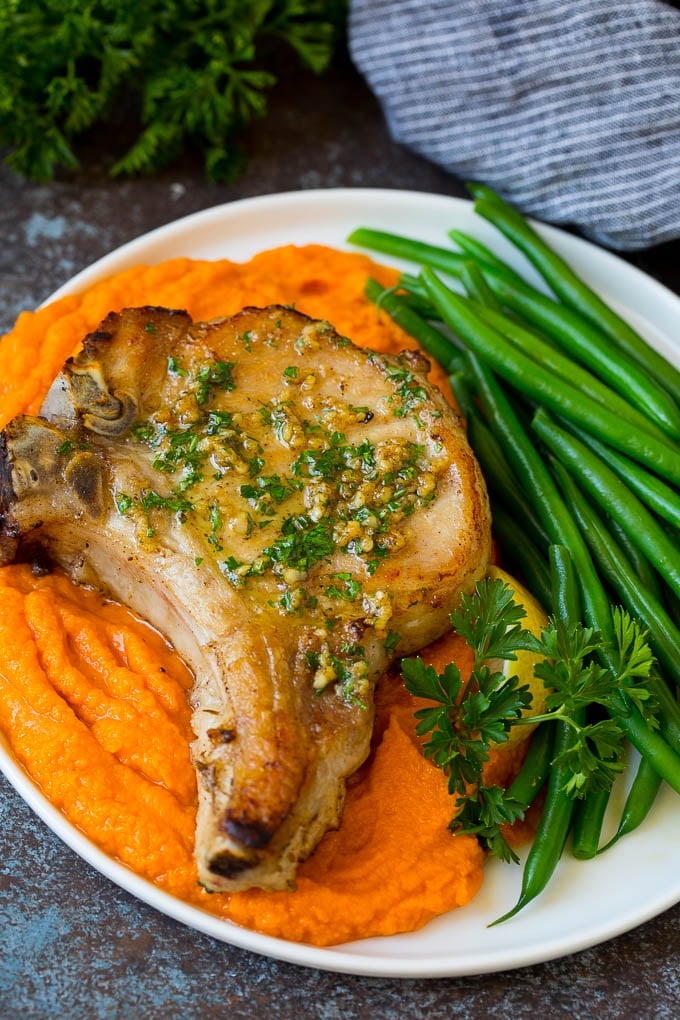 This brine works perfectly for baked, grilled, pan seared and smoked pork chops. Once you try it, you'll find yourself making it on a regular basis.
More great pork chop recipes
Pork Chop Brine Video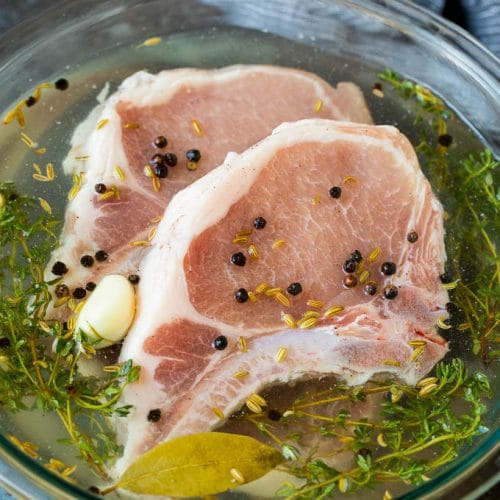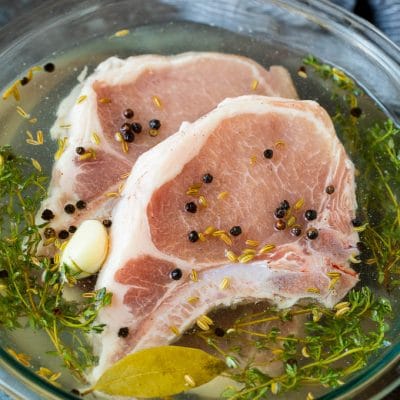 This pork chop brine is a blend of salt, sugar, herbs and spices that infuses the meat with flavor and helps to keep it tender and juicy. A good brine is the secret to perfectly cooked chops every time!
Ingredients
8

cups

water

divided use

1/4

cup

kosher salt

3

tablespoons

granulated sugar

1/2

teaspoon

ground allspice

2

teaspoons

fennel seeds

lightly crushed

2

teaspoons

whole peppercorns

1

bay leaf

2

cloves

garlic

crushed

3

sprigs

fresh thyme

or 1 teaspoon dried thyme
Instructions
Pour 1 cup of boiling water into a large bowl that will fit all of the pork chops. Make sure the bowl will fit into your refrigerator.


Add the salt and sugar to the water and stir until dissolved


Add the allspice, fennel seeds, peppercorns, bay leaf, garlic and thyme to the bowl.


Add 7 cups of very cold water to the bowl and stir to combine


Place the pork chops in the bowl, making sure that they're completely submerged. You can add more water if needed.


Cover the bowl and place it in the refrigerator for at least 6 hours, or up to 24 hours.


Remove the pork chops from the brine and pat dry with paper towels


Cook the pork as desired. This brine is enough to for 6 pork chops.
Nutrition
Calories:
32
kcal
|
Carbohydrates:
8
g
|
Protein:
1
g
|
Fat:
1
g
|
Saturated Fat:
1
g
|
Sodium:
833
mg
|
Potassium:
31
mg
|
Fiber:
1
g
|
Sugar:
6
g
|
Vitamin A:
24
IU
|
Vitamin C:
1
mg
|
Calcium:
31
mg
|
Iron:
1
mg